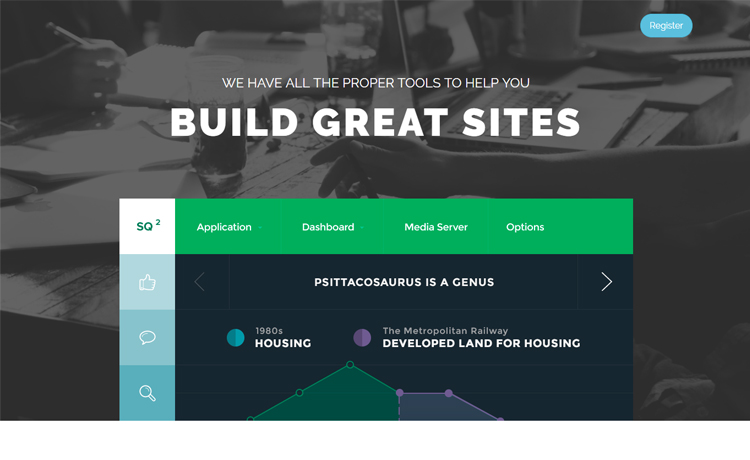 Free HTML landing page templates are some essential tools for creating a welcome page where people will get information about your upcoming products. Also, they can register with their emails to get updates. Landing pages are for actions because people have to make a decision here.
#1 Free HTML Template for Multipurpose Use
In this carefully made list of Bootstrap-based free HTML landing page templates, you'll find some of the marvelous, awe-inspiring, and creative products. Because of the expansion of modern web technology these themes make your development process faster, more comfortable, and utmost beneficial.
As you know selling and user engagements depend too much on landing pages alone, you should select only the best grade templates. Therefore, this curated list will help the users who wish to build a polished, compelling, and mobile-optimized website with less effort.
Free HTML5 Templates for Online Stores
Bundle Offer: 100 Templates Free Download
Free HTML Landing Page Templates
A limitless number of resources are available online to produce excellent websites. We have amassed only the best free HTML landing page templates. Start reading and enjoy the awesomeness.
Titan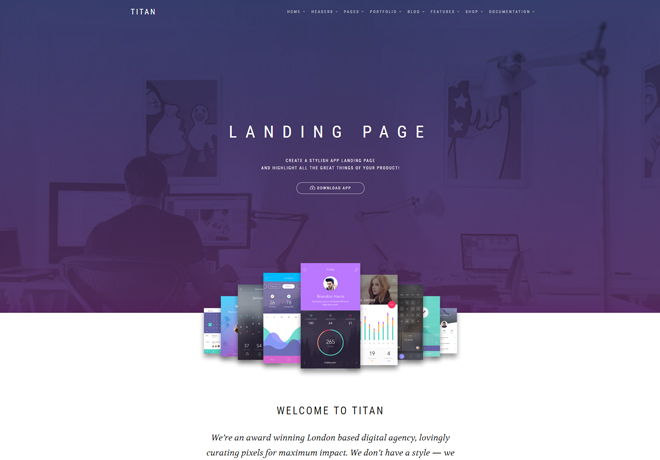 Here's Titan, a high-end, multipurpose, free website template with multiple demos and hundreds of HTML files. It's built for the people who love adventures because Titan brings a lot of amusement inside it. With this free HTML template, one can build their dream website with a myriad of ready components. The landing demo is so brilliant that you can choose it for your next promotion. In the world of free HTML landing page templates, Titan is a truly brilliant one. Let's download the template and build whatever you want.
Features:
Unique and Elegant Design
Clean and Commented Code
Masonry Layouts
Working Contact Form
Custom Google Maps
Countdown Timer
Blog and Portfolio
Shop Layouts
---
Tasty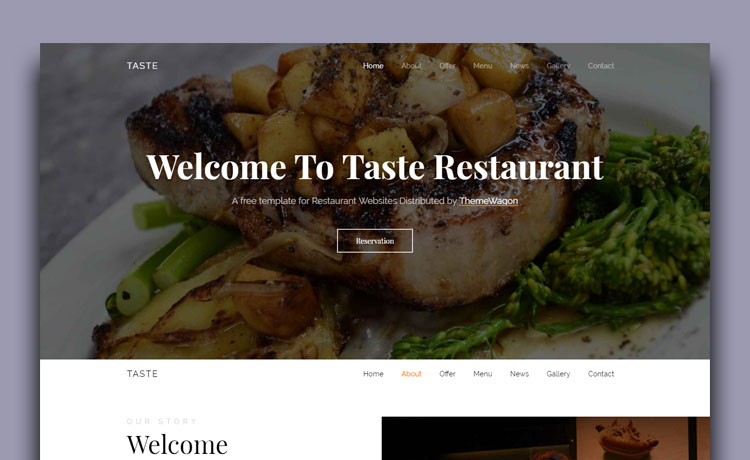 Are you planning to start a new cafe? Or how about opening a restaurant? Tasty is a free Bootstrap food and restaurant template. Create a stunning, contemporary website with this free bootstrap template for food and restaurants. You may save time and money this way without sacrificing quality.
Features:
Bootstrap Sticky Navigation bar
Hero Header
Smooth Parallax Effect
Modern Browser Compatible
SEO Friendly
Vibrant Typography
Social Media Support
---
Garo Estate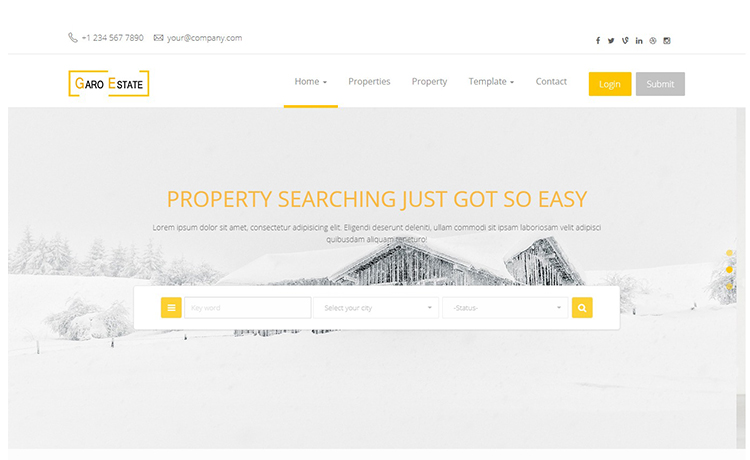 The new Garo Estate template, which is a free HTML5 real estate template, has come. Both real estate agents and property owners can use this template. This clean and simple template is ideal for selling villas, apartments, land, and houses, among other things. What is the most intriguing aspect? Garo Estate is completely free to use! The style of the template allows it to be used on a website for real estate brokers or property owners. Right after you download it, you'll receive social network icons, simple search panels, various homepage layouts, an email subscription form, and a visitor counter. Its eye-catching color palette, along with a clean and easy user interface, enables you to customize your website to your own.
Features:
SEO Friendly
Owl Carousel
Mobile Friendly
Bootstrap v3.3.5
Unique Preloader
CSS3 Animations
Count-up Counter
Easy Search Panel
Social Media Icons
Top Navigation Bar
---
MobApp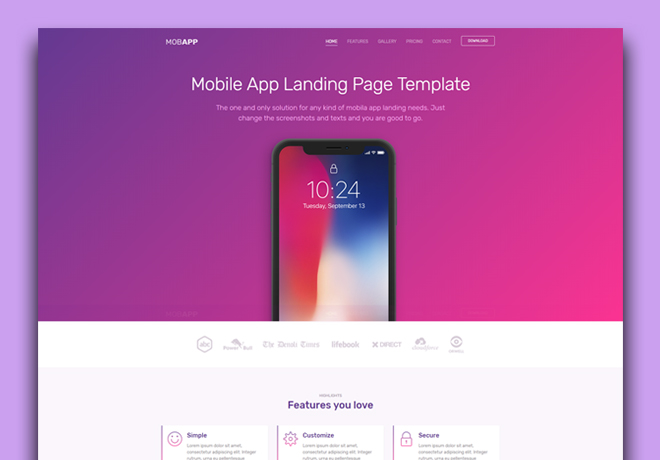 MobApp is a free Bootstrap 4 landing page template with a vivid color scheme. For making landing pages for mobile or desktop apps, this an awesome choice. At the beginning, the header section is the most significant part which contains text and screenshots although you can organize that in your way. Every section is designed to add more features, media, and more. Sticky navigation, hover effects, CTAs, smooth scrolling, and more charming opportunities are available with the template. It's one of the best free HTML landing page templates.
Features:
One Page Layout
Sticky Navigation
Vivid Colors
On-hover Animation
Carousel Slider
Social Media Icons
Pricing Plans
Themify Icons
Fully Responsive
Responsive Burger Menu
Foodee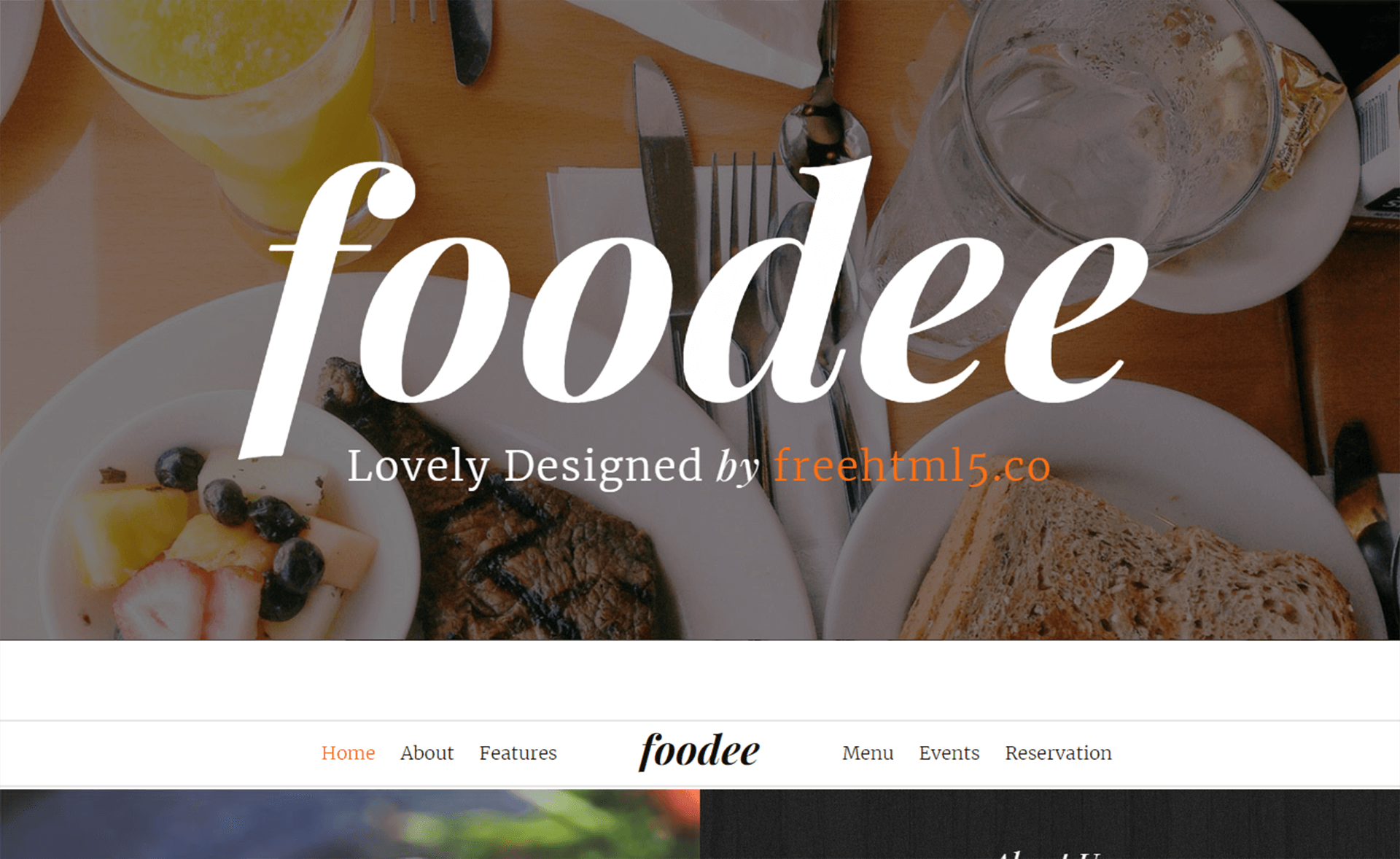 We'd like to introduce you to Foodee, a beautifully designed free template. It includes all of the necessary user interface components and functionality for creating a restaurant website, including anything from general restaurants to coffee shops, bars to nightclubs, ethnic to casual dining, and so on. Based on current HTML5 website template users, we believe that more and more restaurateurs are now utilizing restaurant website template online ordering to create websites. Many of them don't know how to build a website and have asked us whether there is a free website template that follows the current web design trend.
Features:
Hero Header
Sticky Navigation bar
Smooth Parallax Effect
Vibrant Typography
IcoMoon and Simplae Line Icons
Table Booking Form
Parallax Backgorund
One Page Bootstrap Template
---
Small Apps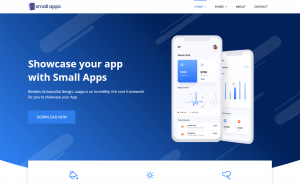 Small Apps is an astounding, sensational, vigorous, aesthetic, and responsive free landing page template. Constructed with Bootstrap 3 and HTMl5, the template gives you an incomparable opportunity for making landing sites without much effort. If the codes are clean and well-organized then search engines will favor it that results in a rank on the top. With Small Apps, your site will be SEO-friendly as well as mobile responsive. Since the design is Bootstrap-made, it will naturally adapt to both larger and smaller screens.
Features:
Mobile Friendly Layout
CSS3 Animations
Cross-browser support
Full-width and boxed layout
Enticing Contact Form
Font Awesome Icons
---
Flame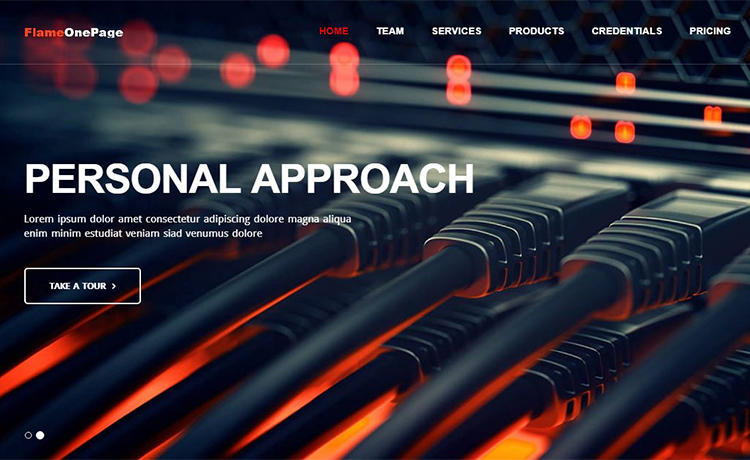 Nowadays, having an online presence is a good thing that leads to more effective outcomes. A website is required for every commercial company agency or personal portfolio. Flame is a free Bootstrap one-page template that can be used for any kind of website. Flame one page is a lovely HTML5 template for a small agency, office, corporate, company, or portfolio. Without any coding expertise, anybody can modify this free template to their own. Simply change the text and content with your own, and you're ready to go live. You don't need to know a single line of code or be an expert programmer to participate. This template would be ideal for a personal, marketing, multipurpose, hosting, photography, or any other kind of homepage.
Features:
Full Screen Sliding Header
Sticky Navigation Bar
Smooth Scrolling
Back to Top Button
Portfolio Gallery
Clients Logo Section
Integrated Google map
CSS Animation
Ghost Button
---
30 Templates for Education -Mobile-friendly and Ready To Download
Exclusivity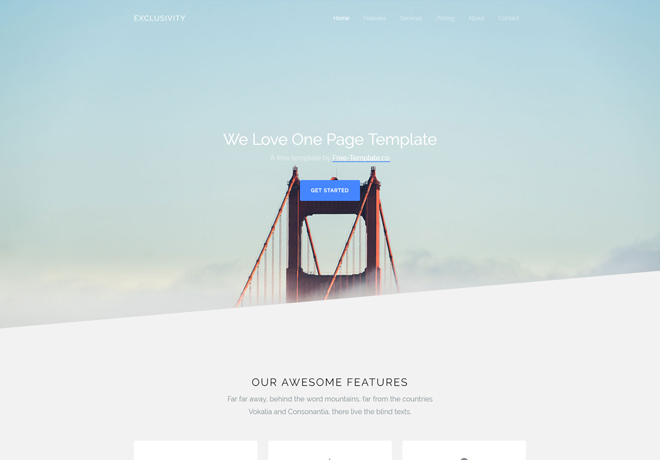 Free website templates for landing pages are some superb options to create website with no hassle. Exclusivity has a simple layout and powerful options for pro users. With sticky navigation, hero header, counters, Google Maps, and other first-class features are there to organize your website easily. For those reasons, it's one of the best free HTML landing page templates. Moreover, you can complete a lot more with the integrated jQuery plugins. Also, it's very easy to use especially for the people with no coding background.
Features:
Full-width Header
Bootstrap 4 Template
Sticky Top Navigation
Google Maps Integrated
Clean Typography
Animated Counters
Beautiful Price Table
Google Fonts
Detailed Footer Area
---
Made One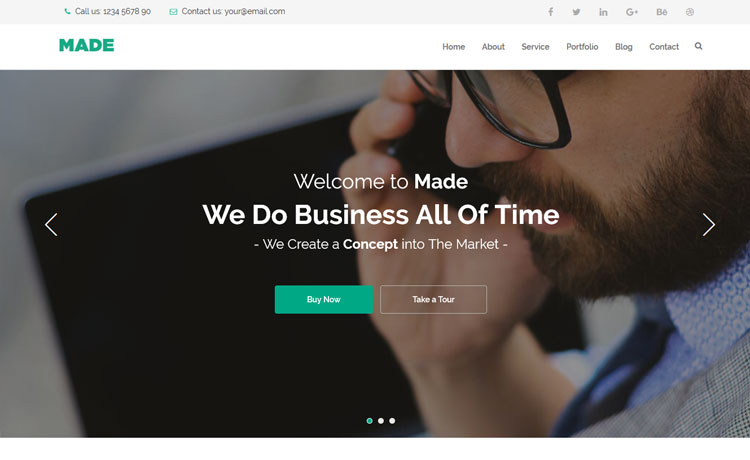 Made One is a free business website template. HTML5 Template is one such template that lends a website's originality and sophistication. It's designed specifically for websites that provide commercial services. The Bootstrapthemes Team created it in a professional manner, with customized body design rather than a generic approach. It is responsive since it is designed using the Bootstrap grid framework. In the home area, a beautiful descriptive owl-carousel slider will highlight your organization's short description at a glance. You may also provide information about your organization in the about section. The service section's slider will assist you in focusing on your abilities. As needed, there is also a portfolio, a blog, and a testimonial area. Simply said, the Made One free business HTML5 template is an excellent choice for your company's website.
Features:
Stunning Eye-pleasing Visuality.
Clean and Modern Design.
100% Responsive Layout.
Powered by Bootstrap GRID System.
Solid Typography.
Charming Preloader.
W3C Valid Markups.
Cross Browser Supports.
---
Notes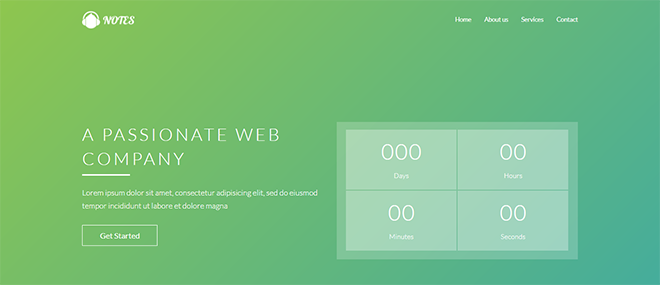 People have to undergo the path for exploring the best-suit templates that help them make their websites unbeatable and extraordinary. As you get overwhelmed in the ocean of free HTML landing page templates and looking for a ray of hope we created the list. The eye-pleasing design, fluid responsive layout, engaging color scheme, and minimal vibe of Notes leave every user satisfied. For product launching and showcase page, use the template to harvest email addresses and know about your enthusiast audience.
Features:
Well-Optimized Code
Stylish Navigation
Google Fonts
CSS3 Animation
Readily Customizable
Cross-browser Compatibility
---
Avilon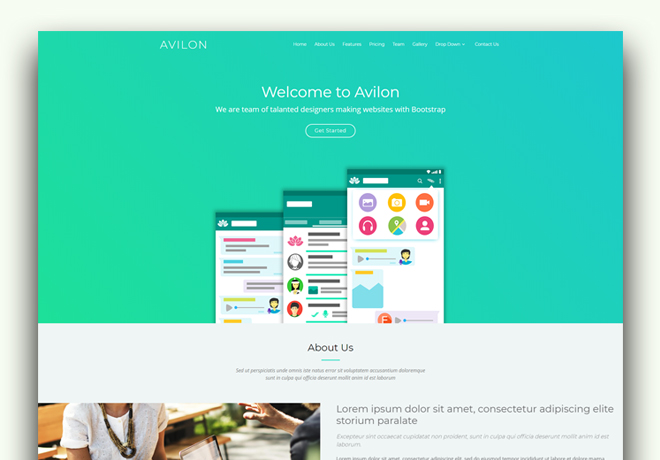 Avilon is clean, feature-rich, and appropriately built to build a landing page for all. In the list of free HTML landing page templates, Avilon makes its stance with strength and power. With the flawless design and powerful options, a developer or non-developer can comfortably build a website for their promotion. Made with Bootstrap 4, Avilon is ready to take your business to the next level. Also, users can get benefits from Font Awesome icons. Not to mention that it incorporates Google Fonts and gradients effect.
Features:
One Page Layout
Parallax Effect
Sticky Top Navigation
Gradient in Color Scheme
Social Media Links
Scrolling Animation
Lightbox Gallery
FontAwesome Icons
On Hover Zooming
Accordions
Multi-level Drop Down
Custom List Item
---
Lucy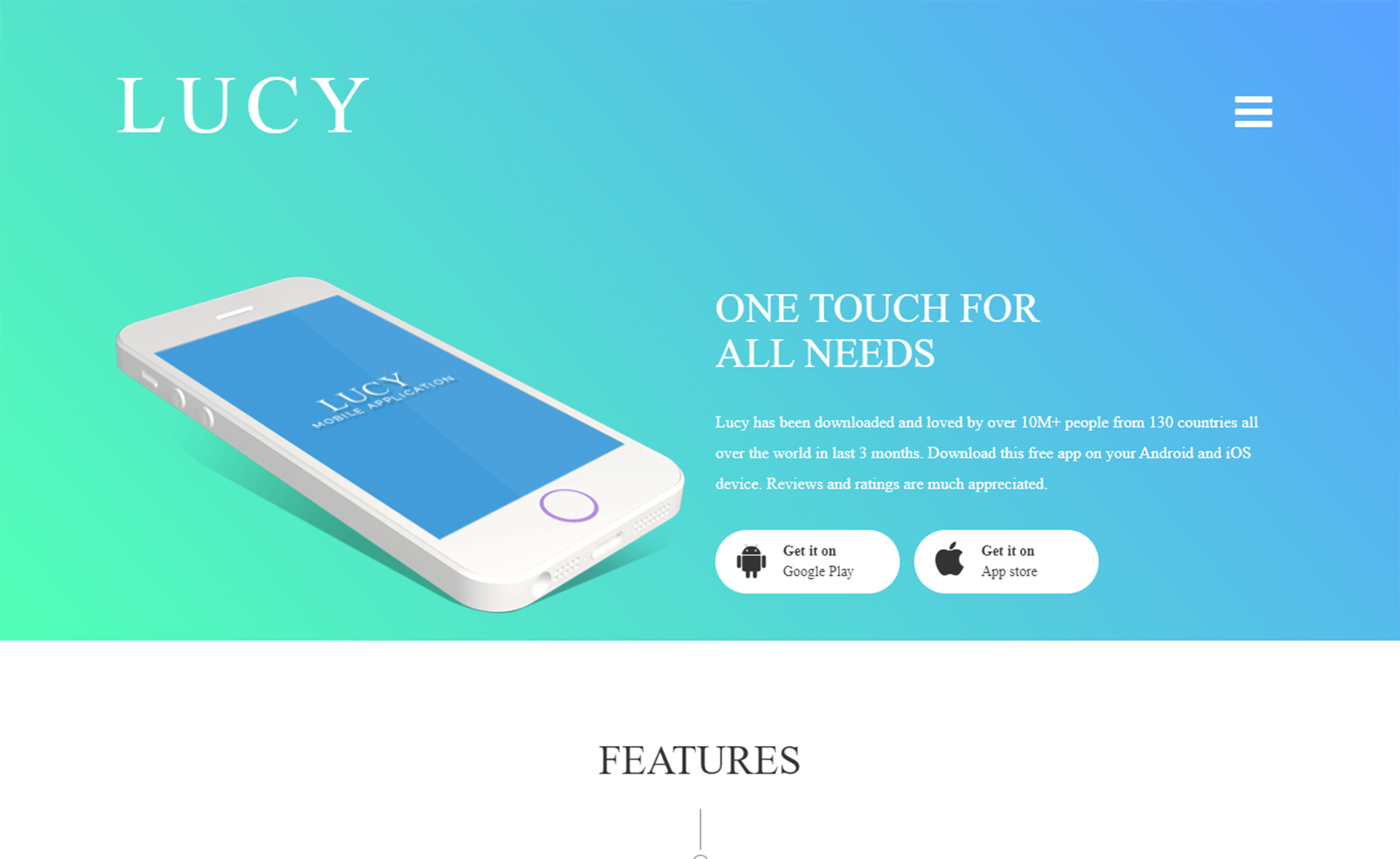 Lucy has all the top-quality features that help the users right under the way they surpass while being creative and imaginative. It's also scintillating, astonishing, fast-paced, user-friendly, remarkable, and avant-grade. Not only this theme has a clean and simplistic design but it shows a real easy way to create sites as users desire also. Implementing the concurrent design rules this site template is an exemplary embodiment free HTML landing page templates.
Features:
Refreshing, Elegant Design
Twitter Bootstrap Framework
Numerous Sections
Imressive Layout
Inspirational Elements
Download Free
---
Bino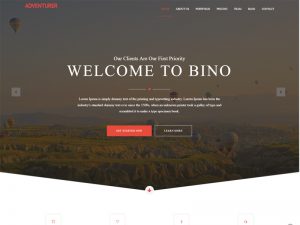 Bino is a bootstrap template that is available for free. With this high-quality template, you can create an eye-catching website without paying a dime. Combined with the contemporary style and the innovative arrangement, it looks fantastic! It has nearly all of the general parts you need, as well as some more creative ones. The good news is that it is compatible with all browsers. It will function flawlessly on every browser size and on whatever screen resolution you choose. It is critical that your website be user-friendly on mobile devices. If your website is not mobile-friendly, Google will punish your site's search engine rating.
Features:
Responsive Layout
Unique Design
Creative Template
Made with Bootstrap
Free to use
---
App Landing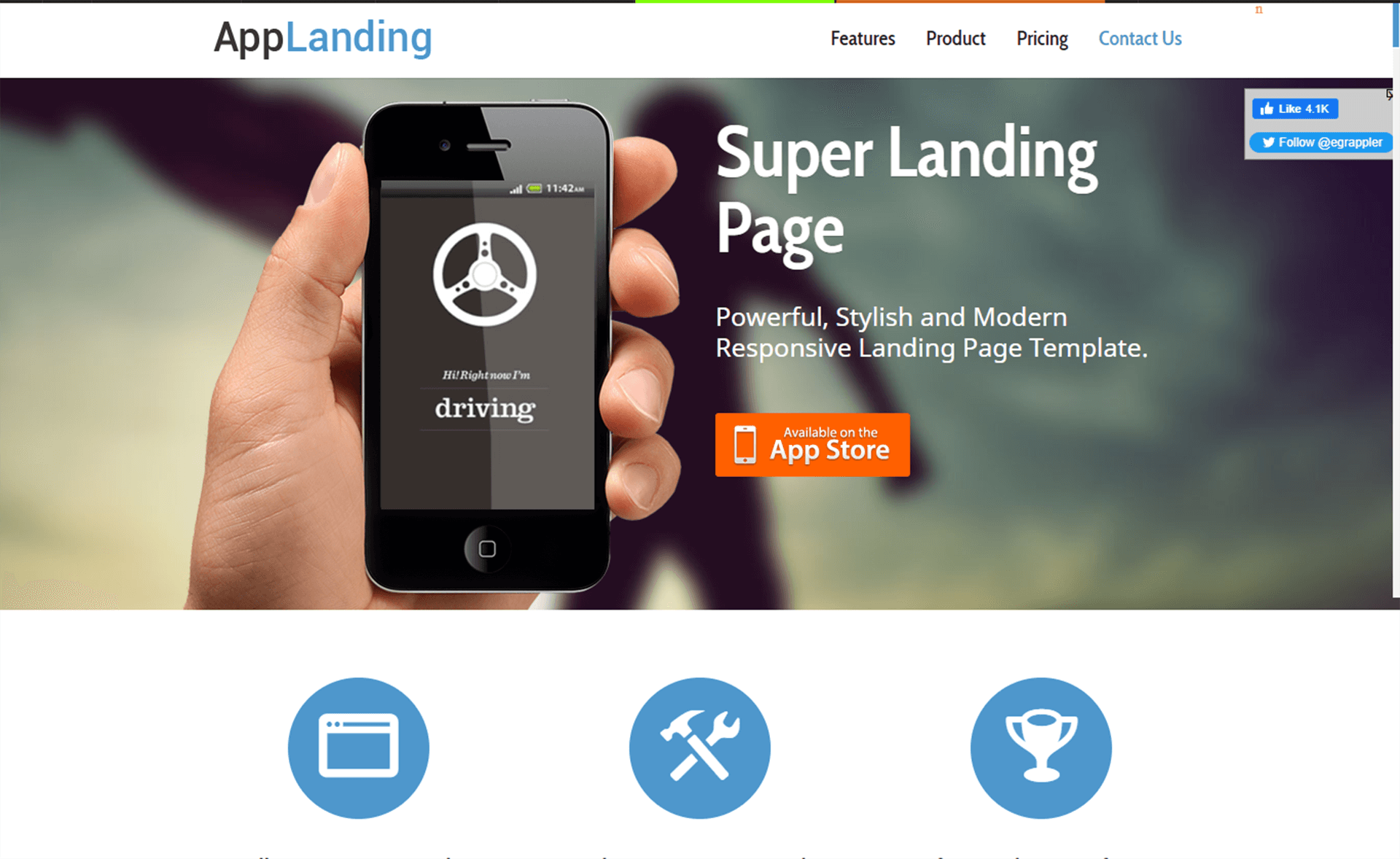 Even sometimes we get exhausted to find the beautiful as well as yielding template so that users don't have to face any complexity in the endeavor of making landing sites. Here we have compiled some of the top-grade and responsive free HTML landing page templates only for your convenience. Online advertising is totally different from the real world. Here you need to present your content so that users tend to click on the actionable buttons. Not to mention that an exclusive template like App Landing can do that job most appropriate way.
Features:
Exquisite and Minimal
Tousch-friendly Design
SEO-focused Markup
User-engaging Elements
Lucrative Color Scheme
Free To Download
---
Landing Zero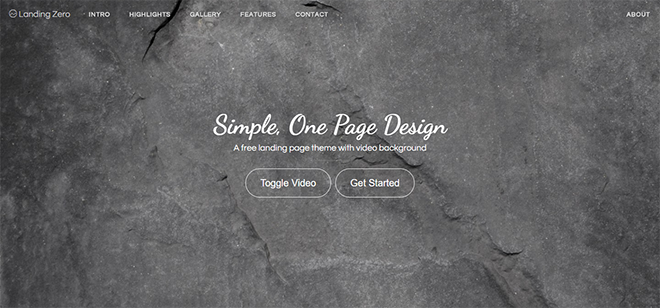 Landing Zero is a high-class, mesmerizing, impressively-built, amazingly mobile adaptive, and free to download landing page template. It has a full-width video background, mobile-optimized layout, easy customizing facility, email subscription form, and well-polished design. With this Bootstrap-based template, webmasters can build a niche-specific landing page for making more customers engaged with your products. Without spending much time and any money, Landing Zero helps your effort make easy and convenient. The fresh design coupled with the Bootstrap framework, this template is a big addition in free HTML landing page templates.
Features:
Clean Responsive Design
Full-screen Image
Video Background
Ionicons Font Icons
Smooth Scrolling
Awesome Gallery
---
AKAD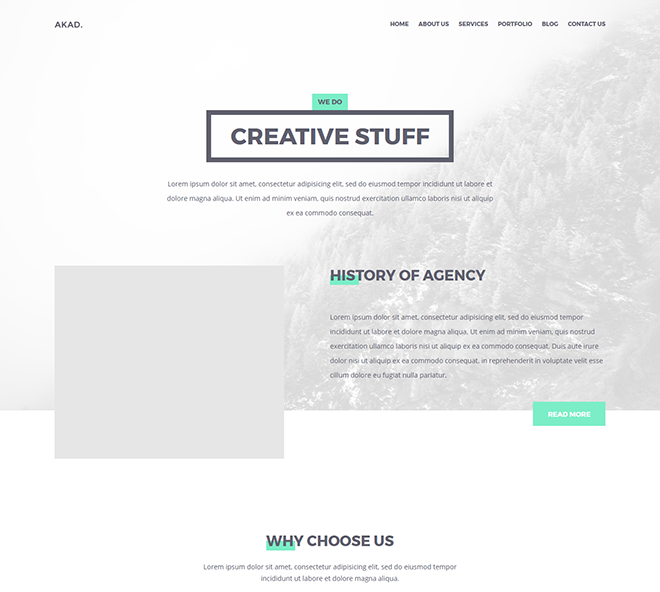 You probably faced many troubles to find free HTML landing page templates that match your idea and need both. But thousands of free templates may obfuscate you and block your sense to differ the good from the bad. The endeavor was never easier. Rest assured. It's our sole job to aid you so that you can make an impressive move to keep a place in people's mind. Take AKAD as an example of sophistication and excellence. It's a well-crafted web template that draws the way easy to follow for every passionate folk. Additionally, it has modern features for doing more works with less effort.
Features:
Charming Design
Twitter Bootstrap
Extraordinary Template
Customize Easily
For Digital Agency
Download With No Cost
---
Backyard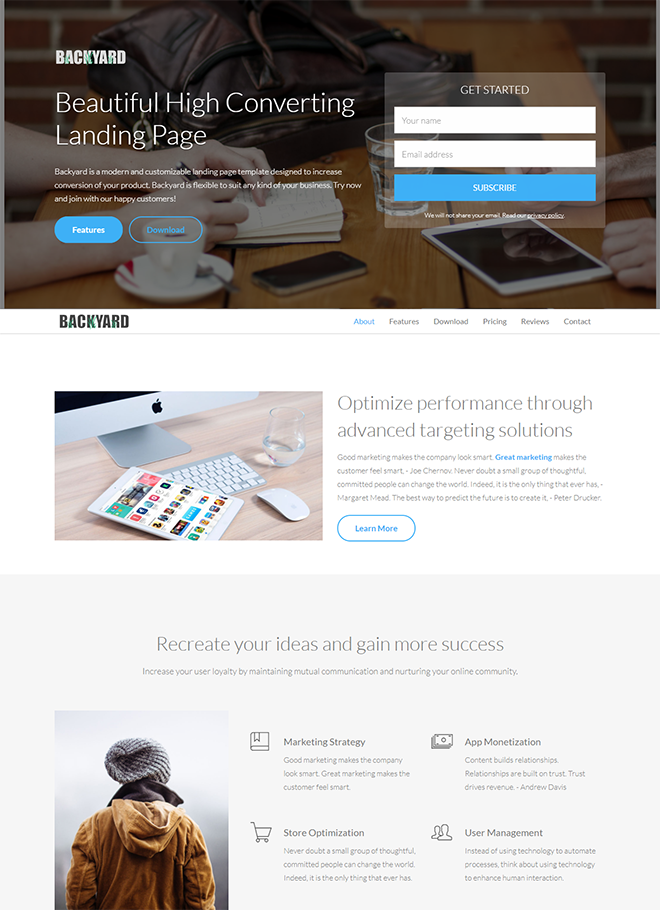 Before trying Backyard for creating a landing page, you really don't know how a highly-functional web template looks like. And how it works when you have no prior deep coding knowledge. This powerful landing page template made the site building easier and more comfortable. As you know it's equally important to keep the site well-adaptive on different screen sizes. However, Backyard was built on all latest web technologies and hence you can offer more functionality for your users. Color variations, multiple header styles, clean markup, parallax optimization, and responsiveness, all are for an impressive and eye-catchy website.
Features:
Parallax Backgrounds
Pricing Table Included
100% Responsive Template
Multiple Layouts and Color schemes
Active Contact Form
Mailchimp Incorporation
---
Logic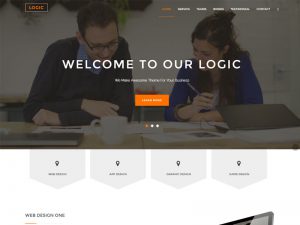 Logic is a multipurpose HTML5 responsive website template. It's a great template for any agency, whether it's a creative design firm, a web development firm, a public relations firm, a fashion firm, a startup or a well-established firm. It would also work well as a landing page or microsite for a product or service. After all, it is a fantastic template for any new business, with a large variety of components from which to pick and showcase your goods. HTML5, Bootstrap, CSS3, and jQuery were used to create the template. It's a vibrant responsive website template. The Logic is a stunning free bootstrap template created using the Bootstrap Frontend Framework. For versatile websites, use this free HTML5 template.
Features:
Responsive Design
HTML5 and CSS3
Cross Browser Compatible
Bootstrap Framework
HTML5
100% SEO Friendly
CSS and CSS3
Wow Animation
Smooth Scroll
---
Balay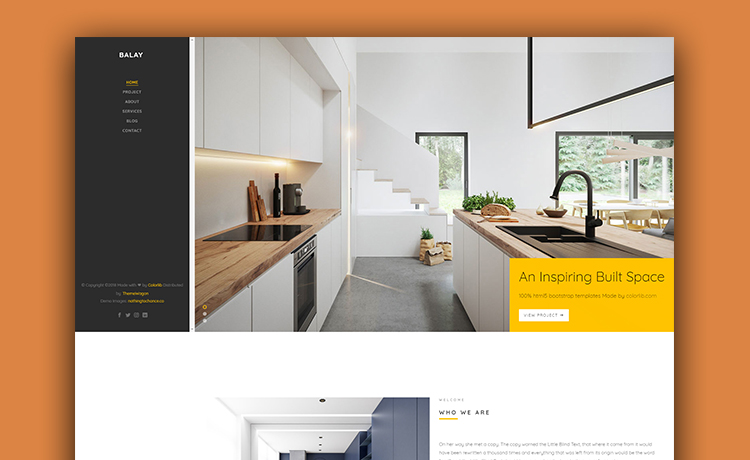 We'd like to introduce you to Balay, a free interior design portfolio template. A responsive, well-built template for those that need to get their agency website up and running quickly. Furthermore, it is unquestionably a great fit for any house-related company, such as building, painting, interior design, and remodeling. In addition, the portfolio has a beautiful structure with an on-hover effect. If your blog or portfolio has more than one page, pagination will make it easier for visitors to browse. Furthermore, Balay is a multi-page template, allowing you to experiment with different sections and finish your website. The about page, on the other hand, enables you to explain the company's history and what it does. With accordions provided on that page, you may create a FAQ section. They also created the blog page, and everyone understands how important it is to have a blog in order to boost visitors.
Features:
Leftside Navbar
Flexsider Integrated
Interactive Scrolling
On-hover Animation
Parallax Effect
Countup Counters
Multi-page Layout
Owl Carousel
Pagination Available
---
Amado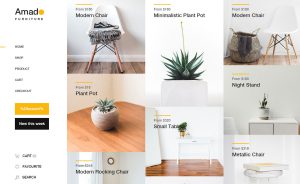 Using this multi-page template, you can ensure that your customers have a pleasant buying experience. It's a free website template that's straightforward yet well-designed. Because to its exquisite animation and color combination, Amado has a charming and endearing presence. The initial impression will be formed by a combination of the product picture, price, and tile. On-hover animation is present in all of them, resulting in a seamless user experience. After that, it features a static menu bar that is oriented to the left. You may use it not only as a navigation bar, but also to connect to the current discount offer and new arrivals through two call to action buttons that have been included into the design.
Features:
Bootstrap 4
Smooth Scroll
Built-in Search Box
Back to Top Button
Multipage Template
FontAwesome Icons
Cross Browser Support
Email Subscription Box
---
CreativeZone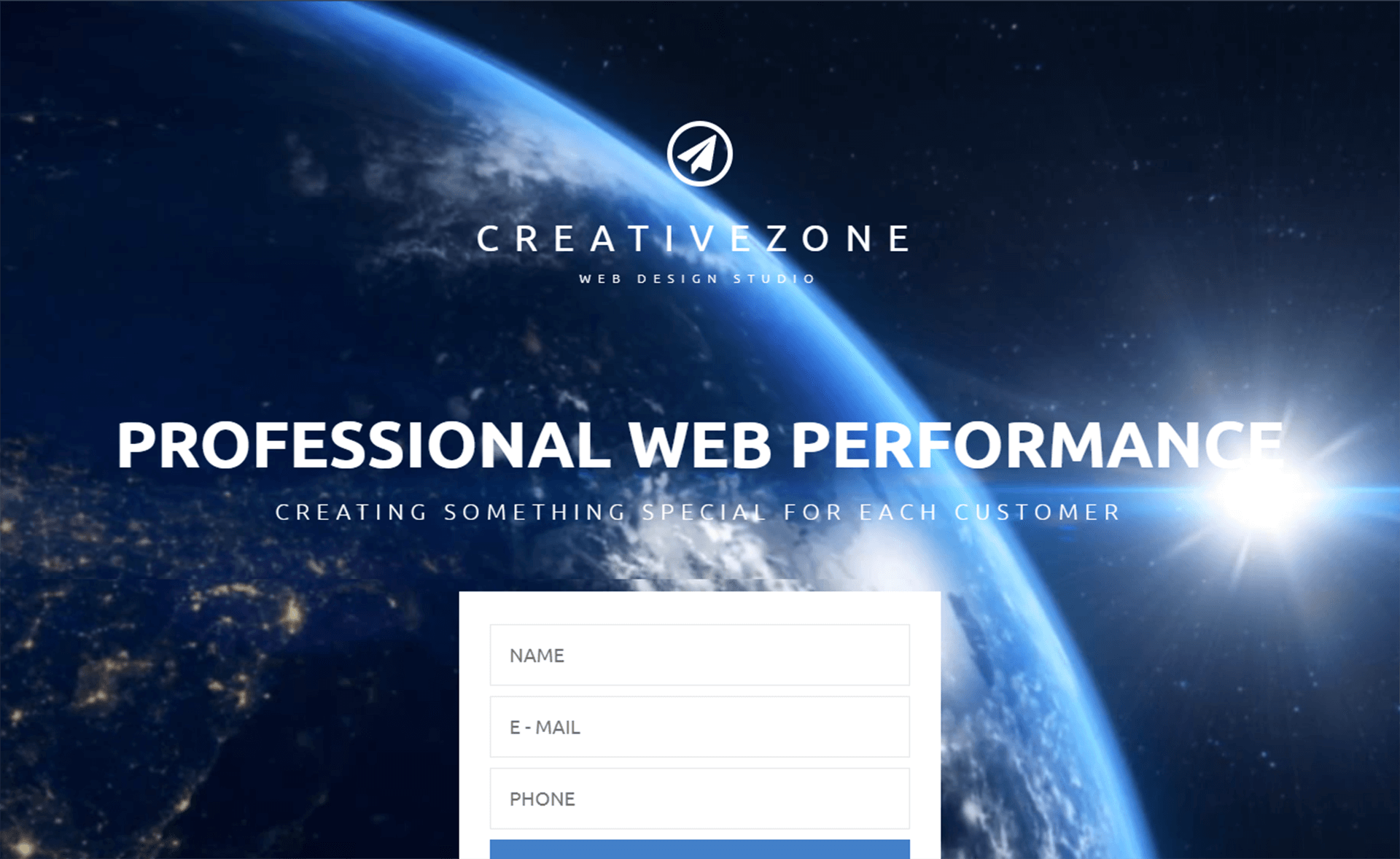 CreativeZone is a terrific site template for a digital agency, art studio, startup, design firm, and business site. To build landing page templates, it will greatly support your effort while you want to draw your imagination on real canvas. The contemporary design trends and beautiful layouts are there to make your struggle painless and comfortable. Put your true focus on the business idea and make them highlighted with a real gem like CreativeZone. You will surely accomplish the project with no complication and more benefits.
Features:
One Page Template
Responsive Layout
Background Video
Parallax Effect
Retina-ready Gallery
Valid Markup
---
Air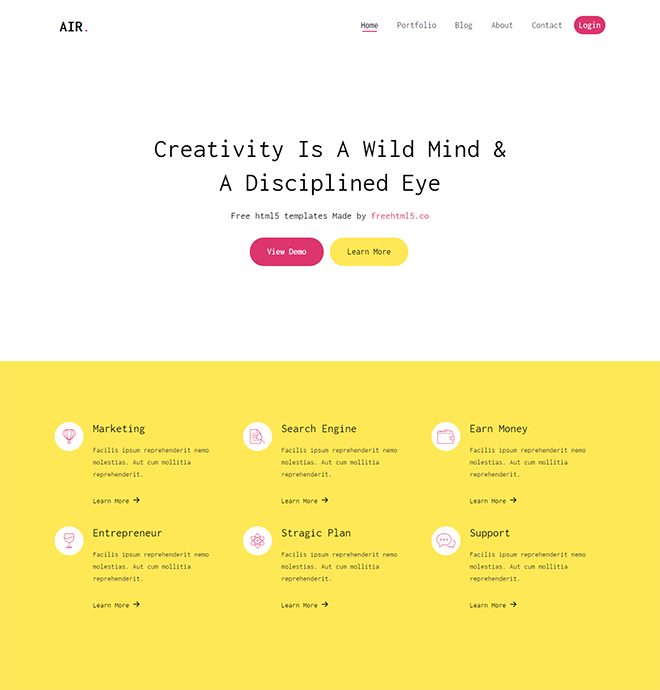 Because Air is robust, astounding, charming, and elegant we added this to the list of free HTML landing page templates. It's a high-quality and superior template, indeed. If you haven't found the right design then Air is there for your ultimate necessity. A fully responsive layout and functionally efficient Bootstrap theme can escalate the productivity right under the hood. Furthermore, Air incorporates the features that are limited on other free landing pages.
Features:
Astounding Design
Adaptive to Mobile Screens
Nice Color Tone
Smooth Animation
Sliding with Flex-slider
Off-canvas Menu
Royal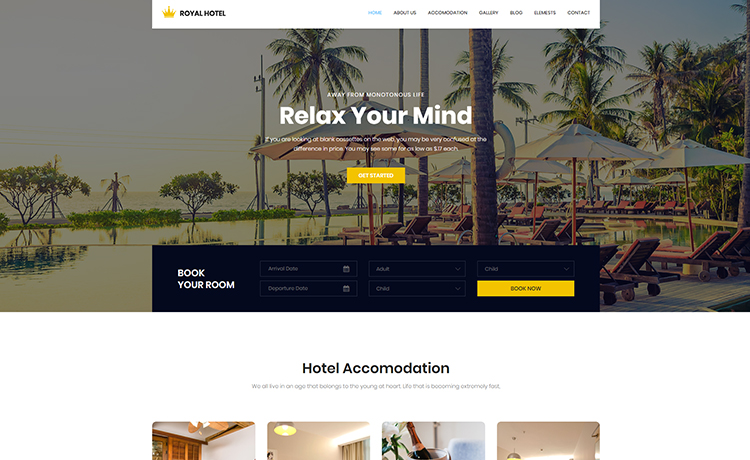 Royal is a free multipage template built with the Bootstrap 4 framework that has been specifically intended for resort and hotel websites. It is simply beautiful in its simplicity. It is a highly responsive template that comes with a comprehensive range of practical contemporary features. To give you an example, the visually appealing UI of this free Bootstrap template will undoubtedly grab your attention. The sticky navigation bar, in conjunction with the drop-down menu, will assist you in determining your location within the site.
Features:
Fully Responsive
Multipage Template
Hero header
Hotel Reservation Form
On Hover Effect
Parallax Scrolling
On Hover Button
Slider Testimonial
Blog Section
Instagram Feed
Newsletter Box
Lightbox Image gallery
Dropdown Menu
---
Landing Sumo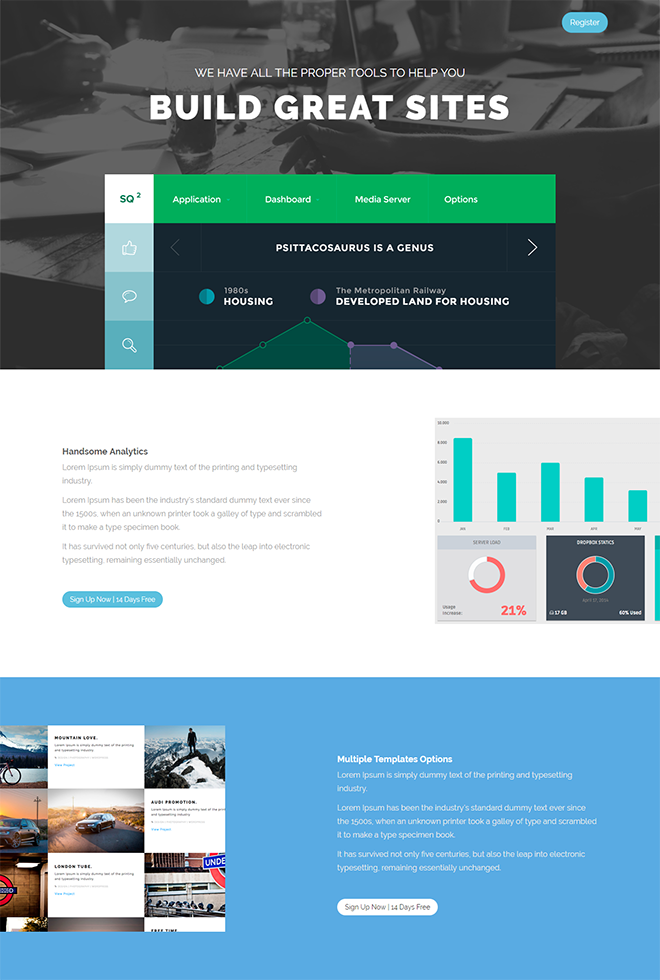 What makes people great? Of course, their work; remarkable, genuine, and creative work. To demonstrate this type creation you must need some tools for assistance. Landing Sumo, although it's a premium product a free version's also available, is a surprising, plentiful, stout, graceful, and fascinating template. The smooth animation and color scheme of Sumo are some enticing matter you should care about. In other words, within free HTML landing page templates, Landing Sumo is an irresistible invention.
Features:
Awesome Color Combination
Breathtaking Design
Fresh and Clean
Touchscreen Friendly
Clean Commented Markup
Free Version Available
---
ActiveBox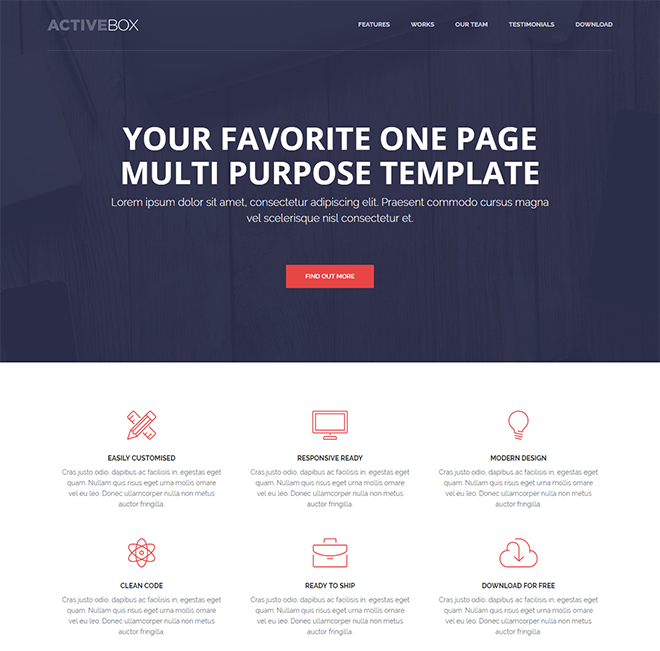 If you're looking for a template that's clean yet sturdy, minimal yet enticing, then you should look nowhere else than ActiveBox. Moreover, for better usability and true functionality, choose this theme with no doubt in mind. Above all, free HTML landing page templates have some great features that make the users even more powerful to build effective websites.
Features:
Super Cool Design
Clean and Powerful
Multipurpose Template
Adjustable To Any Screen
Easy To Customize
Impressive Quality
---
Sedna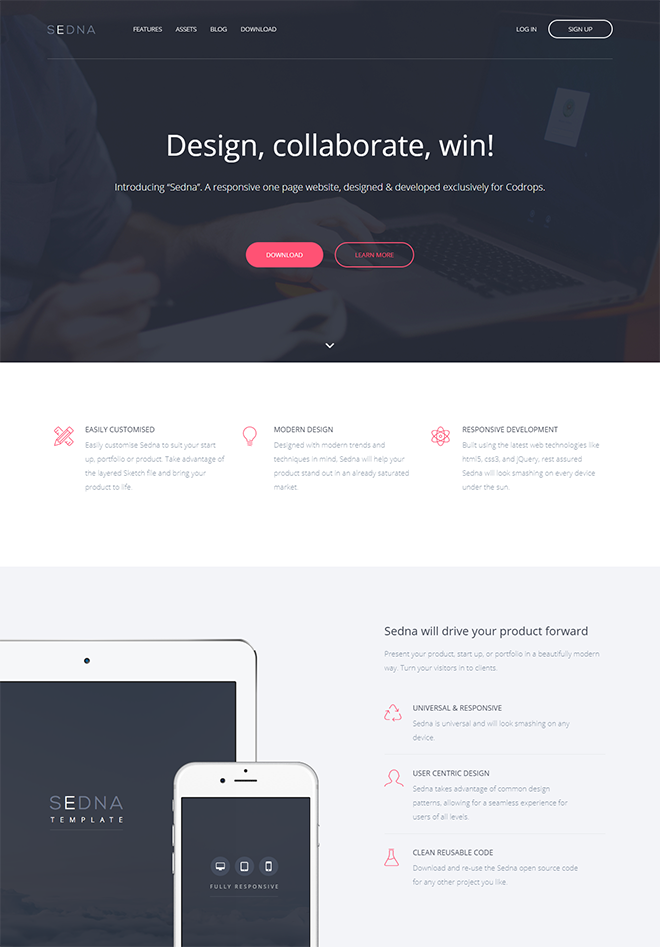 Sedna is an awesomely built, responsive free HTML5 one page template that gives you enormous flexibility towards sites creation. This carefully created list of free HTML landing page templates has accumulated some great products. Not only that Sedna is a free template but it's easy-to-edit also. Sedna will give you features that are generally not found in free items.
Features:
Twitter Bootstrap
CSS Animation
Sliding With FlexSlider
Modern, Latest Technology
Well-oriented Template
Fresh, Simple and Flexible
---
Forkio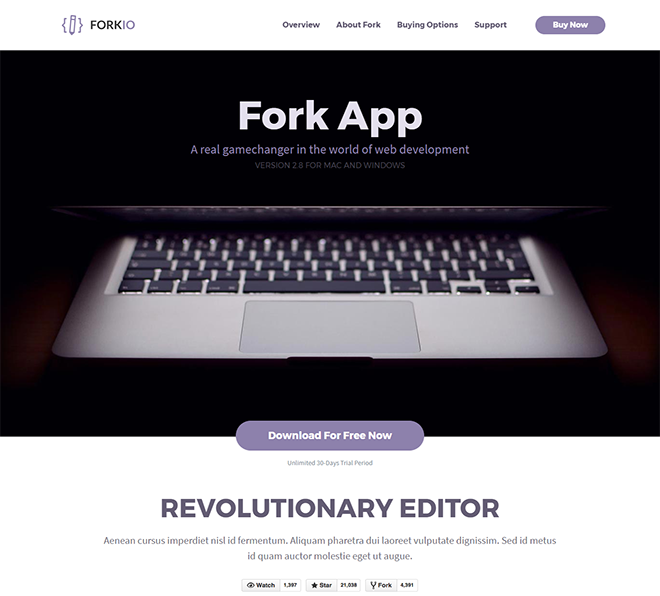 For high-grade quality, Forkio makes its bold stance amidst free HTML landing page templates. We're happy to share a stunning, eye-catchy, and mind-soothing template with you. It's a one-page template that comes with so many compelling features that will make your sites unforgettable to your visitors. And, Forkio is adjustable to any project regardless of their size or type.
Features:
One Page Template
Built With Bootstrap
Minimal Design
Intuitive Layout
Responsive for Mobile Devices
Available Free
---
In the end
Free HTML landing page templates will alleviate your torment of being fast and efficient while creating websites. Use this list for getting all the high-quality free Bootstrap landing page templates made with HTML5 and CSS3. For more top-grade responsive templates, visit our blog.