GARO ESTATE – Free HTML5 Real Estate Template
If you are in search of a template for real estate company which is built with Bootstrap, super responsive, well documented yet free, you are in luck! Brand new "Garo estate" template has arrived which is a Free HTML5 Real Estate Template.
This template can be used for both real estate agents and property owners. A clean and simply designed template like this is just perfect for selling Villa, Apartment, Land, Houses and more. Most interesting part? "Garo estate" is free and open for you to use!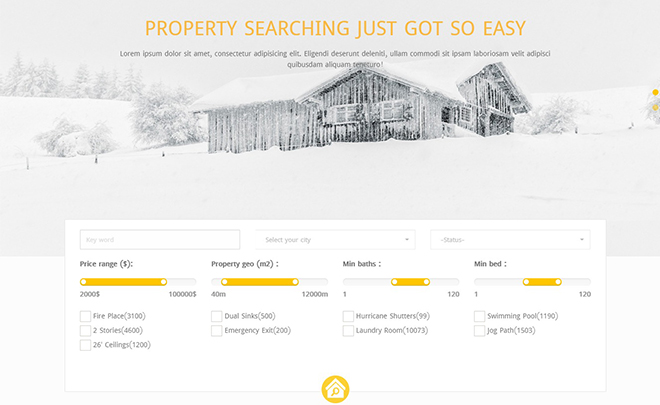 Using Free HTML5 Real Estate Template GARO ESTATE
The template's design enables you to use this on a website for real estate agents or property owners. You will get social media icons, easy search panels, several homepage styles, Email subscription form, visitor counter right the moment you download it. It's eye catchy color scheme with a clean and simple UI allows you to design your website as you want it. For the new users creating a website might need a lot of effort. But this Free HTML5 Real Estate Template is designed such a way that you feel comfortable while using. You need not worry about the expenses, this template is completely free.
Features of Garo Estate
For a properly functioning template, the importance of suitable sections is just as crucial as a good design. Garo estate comes with some pre-installed plugins which give an elegant feel to the template. Visitors will have a view of a count up counter near the bottom of the homepage. Social media sharing links are also located in the widgetized header area. Here are some features of this Free HTML5 Real Estate Template
Powered by Bootstrap Framework:
Garo Estate is based on Bootstrap framework version 3.3.5, a CSS farmework famous worldwide. It contains HTML5 and CSS3 based design templates and optional JavaScript extensions as well. Bootstrap v3.0 has the unique ability to adjust web pages in all devices and web browsers.
Responsive Layout:
As a result of the previous feature, this template is one of the most responsive templates available when compared with other related templates. Any viewer from any devices, be it desktop, smart-phone or tablet, will have a perfect view of the website. This template's design keeps the mobile-ready concept in mind. Thus, it's quite easy to navigate all-throughout. You can check the responsiveness at Am I Responsive.
Mobile Devices and SEO Friendly Template:
Everyone wants their web pages to be in the top position of the Search Engine Result Page (SERP). As Garo Estate has SEO optimized code base and functions, it enables your website to be indexed by search engines like Google, Bing, Yahoo and give them the quickest rank in the SERP. SEO-readiness can certainly increase the odds of your success.
Moreover, for the responsive layout, Garo estate has a super mobile-friendly environment. Meaning, this Free HTML5 Real Estate Template never fails to impress a visitor even he is from a mobile device. Check the mobile-friendly behavior of Garo Estate here.
Cross Browser Compatibility:
For a website to be able to support all the web browsers, cross-browser compatibility is a must. It gives the site the ability to look same in every modern web browsers eliminating all possible errors. As a cross-browser compatible template, Garo Estate is prepared with great caution to get automatically adapted in all most widely used browsers.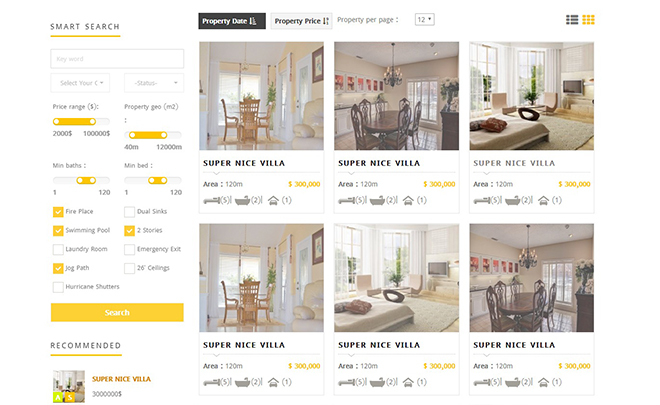 Exclusive Features in Brief:
SEO Friendly
Owl Carousel
Mobile Friendly
Bootstrap v3.3.5
Unique Preloader
CSS3 Animations
Count-up Counter
Easy Search Panel
Social Media Icons
Top Navigation Bar
Social Log-in Option
On-hover Drop-down
Log-in / Register Page
Email Subscription Form
5 Unique Homepage Styles
Sliding Header Background
Widgetized Header & Footer
Cross-browser Compatibility
FAQ Page & 404 Page Included
Wrapping Up
Last but not the least, for a real estate website nothing short of excellence, will be good enough. This Free HTML5 Real Estate Template makes life easier for the creator of a beautiful real estate website. So why is the delay? Download it for free now!
You can also browse all premium templates and free responsive templates offered by Themewagon. For instance, Hideaway is a stunning template carefully crafted for your luxurious Resort or Inn website.