Tasty – Free Bootstrap Templates for Food Restaurant Cafe Websites – Download Now
Are you aiming to open a brand new cafe? Or starting a restaurant business? Tasty is a free Bootstrap template for food and restaurant. Download this free bootstrap template for food and restaurant and build a beautiful, modern website. This way you can save time and money without even compromising the quality.
Free Bootstrap Template for Food and Restaurant
In a well-functioning website template, appropriate sections matter along with the good design. Here, we are introducing Tasty, a restaurant template just as good as those who are trending in the free HTML5 templates market right now. Tasty is a free Bootstrap template for food and restaurant. It comes with the UI elements and features which help you create a different types restaurant websites like:
Bakery
Barbecue
Brasserie
Fast food
Ethnic
Buffet
Bistro
Seafood
Casual dining
Cafe
Food cart
Coffeehouse
And many more
Get Bootstrap 4 templates for multipurpose website creation.
Features of Tasty Restaurant Business Teamplate
This visually appealing and graphically designed template can satiate your sights. It designed with all open source attribution free assets. It's a versatile, fashionable and clean template accurately crafted for an audience that expects nothing lesser than performance and quality like upscale restaurants or cafes. Here are the main features.
Bootstrap Sticky Navbar on Scroll
The Tasty is perfect for those who are expecting such a template optimized for greater UX and usability. It's coupled with the bootstrap sticky navbar that fixed with the website header while scrolling down and let visitors visit their desired section easily and quickly.
Powered by Bootstrap Frontend Framework
Tasty based on the foundation of Bootstrap frontend framework. You are fully capable of using all reusable UI elements and content block. The grid system, buttons, carousel, affix, panel, modal, accordion, glyphicon, tabs, progress bar and more Bootstrap premade elements will save you from thousand and one line of CSS and JavaScript coding.
Complete Responsive Layout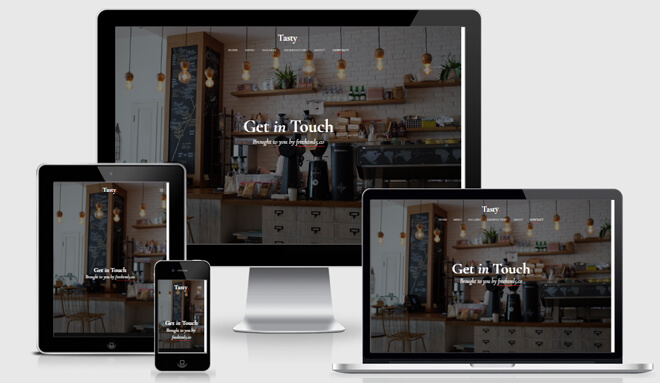 Tasty works smoothly on different devices because of its fluid layout.
It is completely mobile-friendly due to the Bootstrap Grid System, so you do not have to worry about keeping your site mobile adaptive.
Blazing Fast Loading Speed
Loading speed is now mandatory whatever website you own. Otherwise, you will lose your visitors and have the bounce rate higher. Tasty contains optimized code base and technologies so that it helps unnecessary bandwidth consumption.
Search Engine Friendly Codebase
If you want to widen your business range, your web pages must have the high position on the Search Engine Result Page (SERP). It helps to get handsome traffic for the long run. From this perspective, Tasty included all the SEO optimized features expected so that search engines will index your pages and give them quick rank in the SERP.
Crossbrowser Compatible
Providing supports for each major browser, developers have to do multiple separate code structure and tricky to select HTML and CSS elements. Tasty is crafted with great care which automatically gets adapted inside throughout the Chrome, Firefox, IE, Microsoft Edge, Opera, Safari and more.
Features at a Glance
Bootstrap Sticky Navigation bar
Hero Header
Smooth Parallax Effect
Modern Browser Compatible
SEO Friendly
Vibrant Typography
Social Media Support
Widgetized Footer
IcoMoon Icons
Reservation Form
Credits:
The developer company used these additional technology to make the template more awesome.
Summary
Which template you might use, depends on your individual choices and requirements. Differentiated by the features and facilities, we encourage you to use this for your site. The latest and cutting-edge technology inside this leads your website to the long run of success and perfection.
N. B.This restaurant business template is completely free to use for private and commercial websites under the Creative Commons Attribution 3.0.
Like this free Bootstrap template for food and restaurant? Then don't forget to check out free restaurant category templates in ThemeWagon.
Connect with us via Facebook, Twitter, Google+, and Instagram to get the latest updates.
Tasty – Free Bootstrap Templates for Food Restaurant Cafe Websites – Download Now
Live Preview
Open source
Use in commercial projects

Life time free updates
Get new themes or big discounts in your inbox. Never spam.