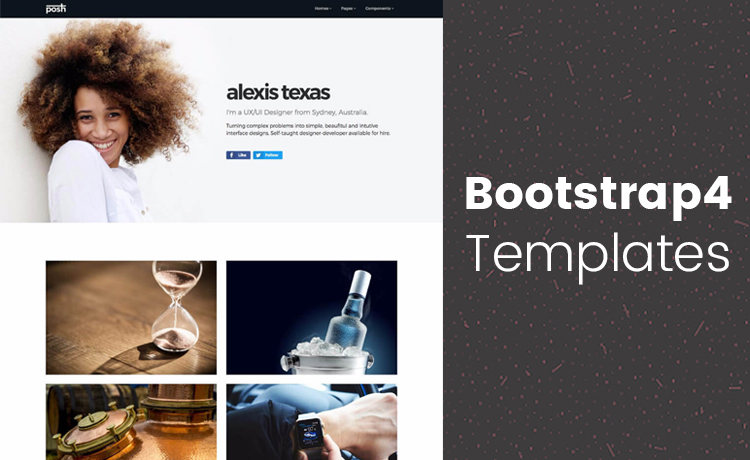 When we're writing this post about Best Bootstrap 4 Templates in 2018, there's scarcity of this particular category. Because the framework is "just arrived" and needs time to be stable, you guys have to wait for a bundle of products. Nevertheless, we have collected some of the best Bootstrap 4 templates available in the market right now.
Bootstrap 4 is the most expected release for web developers. After several alpha releases, Bootstrap 4 has now come to beta. And, there's so much new in the latest version. It'd be better to read the Bootstrap 4 exciting features first. Along with much novel inclusion, there are several components they dropped. Let me help you go through the Best Bootstrap 4 Templates till now.
Best Bootstrap 4 Templates in 2018
Here's a line up of best Bootstrap 4 templates in 2018 we compiled with our sincere judgment. Every template of the list below is a terrific one due to their excellence in performance and supremacy in design. Let's just get into it.
Posh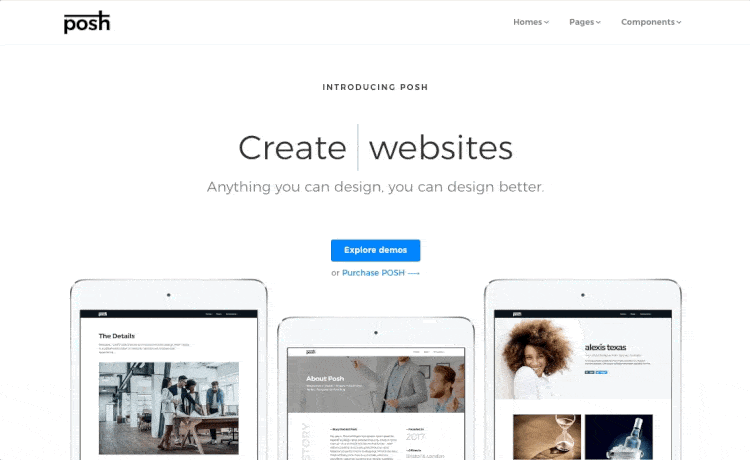 Posh is one of the best Bootstrap 4 templates, for the users who seek only for the high-standard templates. Besides all the top-notch features, Posh is made for the users of all skill levels. From big nerd designers and developers to newcomers – everyone can customize and build a site. Whatever your need is, this creative and multifold template will take care of it. Posh is for the designers and developers who want to see a polished and captivating website without spending too much time or effort. Hundreds of ready helper class, homepage demos, pre-made components, and unique sections make this template the fastest and most persuasive. Besides the design, it's equally important that a template must be highly-efficient.
Features:
Built-in CSS Helpers
174 Pre-made Layouts
Flexible Setting
Powered By Bootstrap 4
11 Niche-based Demos
Ready-to-use Components
Boots 4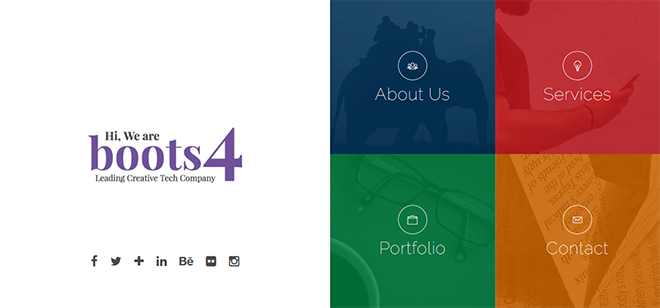 Boots 4 is an early creation amidst best Bootstrap 4 templates in 2018. Right after the release of the newest Bootstrap 4, ThemeWagon surprised the world with this wonderful template. If you want to make a mobile-friendly website that works smoothly on every platform, you should get Boots 4. Not only the functionality but also the design is too engaging to blow visitor's mind. We update the template regularly and make it available for the buyers. Also, free customer support is always available no matter what's the issue regarding Boots 4.
Features:
Built With Bootstrap 4
Creative Design
Cross Browser Compatible
Excellent Navigation
Well-documented Codes
Improved Grid System
Focused On Better UI/UX
100% Technical Support
BizPage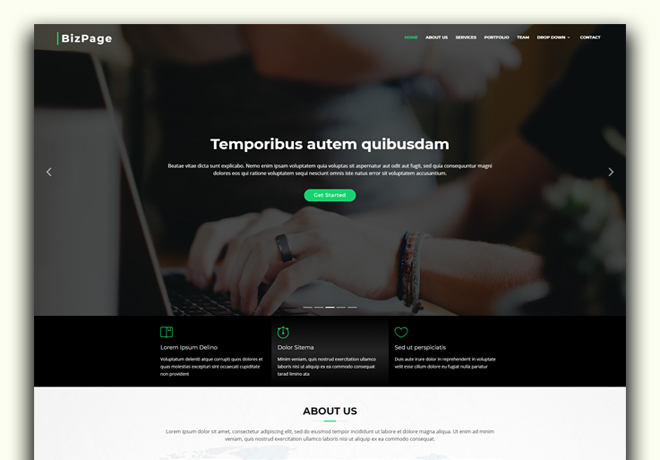 When you're looking for the best Bootstrap 4 templates, here's a stellar template at your fingertip. BizPage is the ultimate solution to your business websites that need to be made right away. Of course, there are many free templates available out there but not anything much like BigPaze. Not only the template is mobile-friendly but it also has an off-canvas menu for the mobile devices only. Other than this, the dropdown menu, carousel slider for testimonial and clients, and 14 beautiful section will help you big time. And, the most telling part is the working form it brings, I think. The parallax scrolling and smooth browsing will come handy at times.
Features:
One Page Layout
Smooth Scrolling
Lightbox Portfolio Gallery
Off-canvas Navigation
Counters for Fun Facts
Mutliple Carousel Sliders
Font Awosme Icons
Sticky Navigation
Full-screen Slider
Parallax Background Effect
Social Media Icons
Filter on Gallery
Back To Top Button
Modualar Admin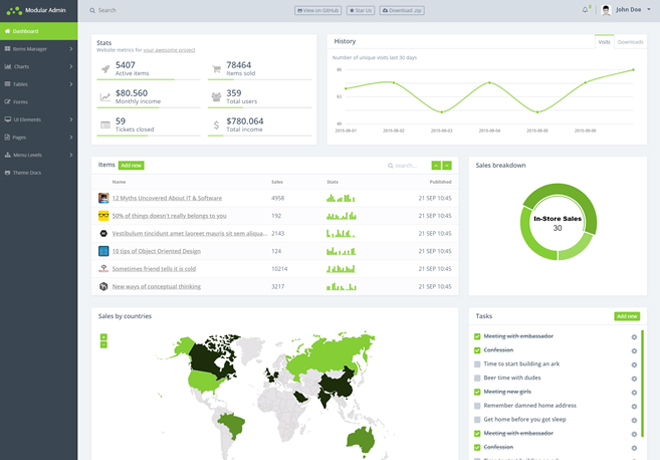 We tried to cover various categories while writing the post on best Bootstrap 4 templates. From that view to carrying on, here's a free Bootstrap 4 admin dashboard template. Built with the modular base, this template has all the ready components to personalize your dashboard according to yous need. As you'll get buttons, tables, forms, cards, you'll also get different tabs, grids, typography, and other elements. Powered by Morris and Flot, it will give you several charts variation to present data. In addition to all of these, there's a fourth-level dropdown menu. And, icons from Font Awesome are truly useful. The 7 ready pages for login, registration, 404, and 500 are also beneficial.
Features:
Bootstrap 4 Design
HTML5, CSS3 and Gulp
Open Source Template
Multiple Charts
Static and Responsive Tables
Forms With Validation
Sass Based Code
Colored Buttons
Unlimited UI Elements
Multi-level Dropdown
7 Prebuilt Pages
Fixed and Static Sidebar
Shards UI Kit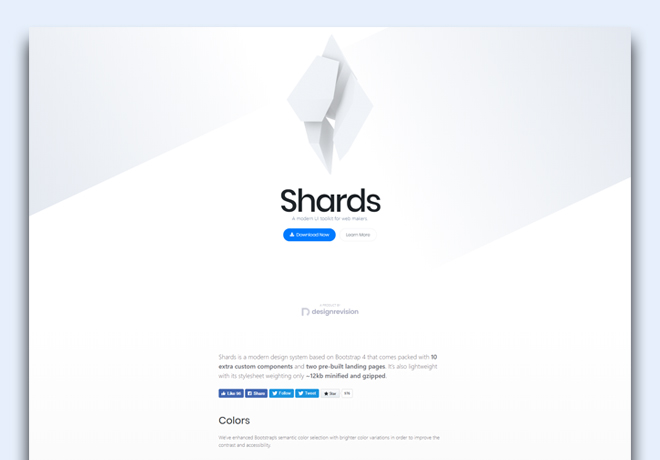 A UI kit is a blessing to save your time and effort while you're going to build a website for your purpose. Shards is lightweight yet competent UI kit that has enormous features for reducing your labor. It has eight color schemes to choose from and a great number of options for the form control. In addition, there are sliders and date pickers allowing an easy control. Moreover, cards, buttons, tooltips, alerts, navbar, there's everything if you are seeking for the choice that can make your journey more comfortable. Considering all the benefits, Shards is a great member of the best Bootstrap 4 templates.
Features:
Responsive On All Devices
Built With Bootstrap 4
FontAwesome and Material Icons
Sketch and Scss Files
Very Useful Elements
Awesome Color and Typography
Form Control Options
Poppins and Roboto Fonts
Sliders and Datepickers
Bootstrap 4 Cards
Multi-color Buttons
Engaging Progress Bars
Three Styles in Badges
Variation in Alerts
7 Color Styles for Navbar
Modals, Tooltips, and Popovers
Avilon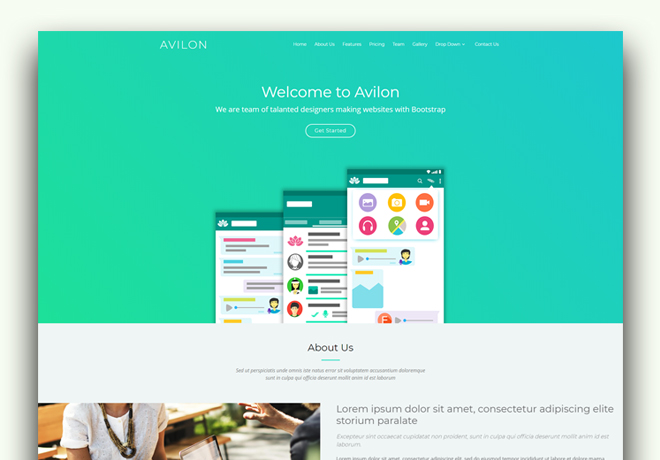 Do you love clean and intuitive interface? Avilon surely comes with that and some more. It's a landing page template and one of the best Bootstrap 4 templates in terms of design and quality. Websites made with Avilon are great, especially on mobile screens. In like manner, there's a dedicated off-canvas menu for the mobile devices only. For software, mobile apps, and any other digital products, Avilon offers the perfect platform. A contact form with JS validation is surely a superb advantage. Then, the dropdown menu, call to action, and gradients simply add more value to the template.
Features:
One Page Layout
Well-arranged Sections
Parallax Effect
Gradient
Social Media Icons
Animated Scrolling
Lightbox Gallery
FontAwesome Icons
On Hover Zooming
Accordions
Sticky Navigation
Dropdown
Custom List Item Styles
Back to Top Button
Personify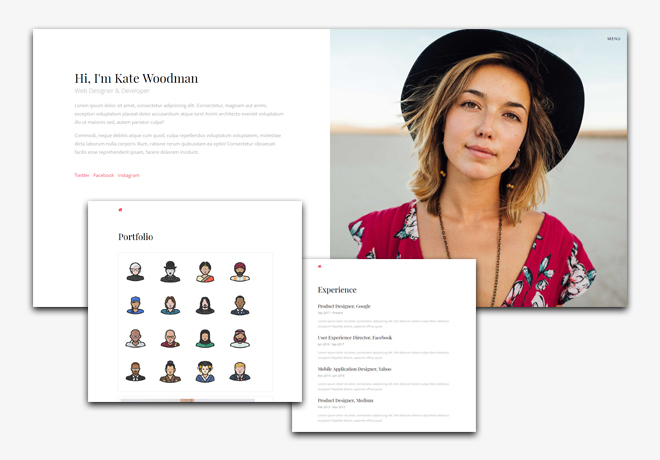 Personify is a well-built, promising, mobile-adaptive, fast, and reliable CV/resume template. In order to make a personal or portfolio website Personify offers a well-rounded facility that covers everything. Also, the wide and simple layout is ready to make your employer or audience satisfied. Furthermore, you will get four pages to tell stories and describe the qualifications. While you can add your portfolio to the profile page you can add your qualification details on the resume. Similarly, the contact page allows the users to connect you with their queries. It's one of the best Bootstrap 4 templates because of the advanced features it contains.
Features:
Built On Bootstrap 4
Multi-Page template
Drawer Menu
Social Media Icon
On-hover Effect
Contact Form UI
Fully Responsive
Clean and Simple
SEO and UI-friendly
Font Awesome Icons
Owl Carousel
Pages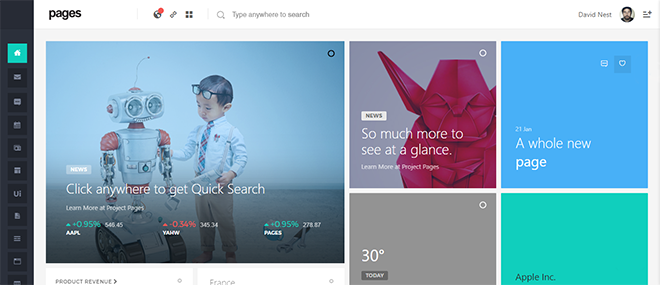 Pages is an admin dashboard template based on Bootstrap 4. For creating a functional, easy, and efficient web interface, use Pages. It has top-class editing choices and mobile-ready structure. With enormous customizable features, each layout of this template will let you create a wonderful dashboard. Many style options are available so that you can design the way you want to see. Above all this template is one of the best Bootstrap 4 templates in 2017. After all, you don't want to spend your money for some crap. That's why we have significantly reviewed the list so that it can assure the ultimate value.
Features:
Elegant, Clean and Fully Responsive
Bootstrap 4 Framework
Full SASS Support
Quick layout Builder
6 Color Themes
5 Useful dashboard Layouts
MaterialPro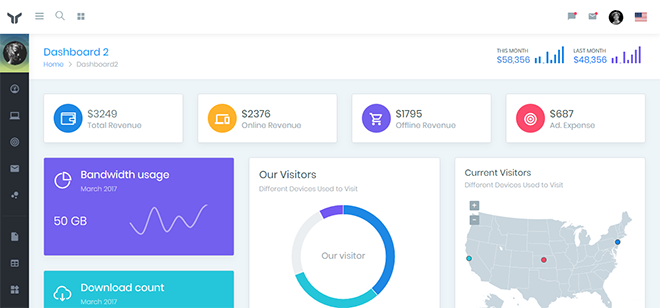 Material Pro is also an amazing creation based on Bootstrap 4. This is an admin dashboard to control over a large website. On every mobile device, the template looks totally fit regardless of the screen size. That's the real beauty of it. By utilizing all the Bootstrap components, Material Pro gives you an unforgettable layout to be awesome with your website. If you're looking for best Bootstrap 4 templates in 2018, you must check out this outstanding template. Instead of looking hard here and there choose Material Pro.
Features:
5+ Different Dashboards
Many Charts Options
12 Color Skins
Multi-Level Dropdown
15 Sample Pages
Many UI Elements
Basic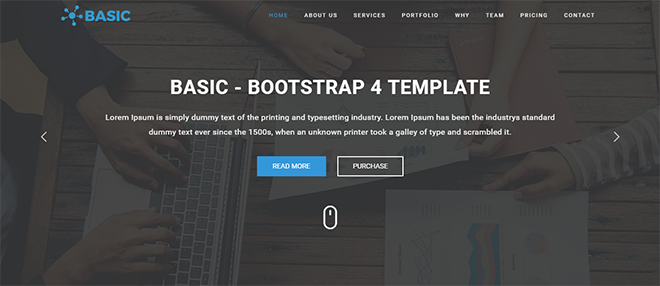 Basic is a well-crafted, outstanding, magnificent, and 100% responsive template built with Bootstrap 4. As it's a multipurpose template, it's a perfect match for business, portfolio, landing, and agency websites. The simple, unique, and modern design of this template let you make a wonderful, user-attracting site with easy steps. Basic is a crucial part of the best Bootstrap 4 templates in 2018. An exemplary template like this one will ease your effort as well as let you make a mobile-friendly website.
Features:
Based on Bootstrap 4 Framework
Unique and Modern Design
Filterable Portfolio
Feature-Rich Elements
CSS3 Animations
Regular Updates
Mazel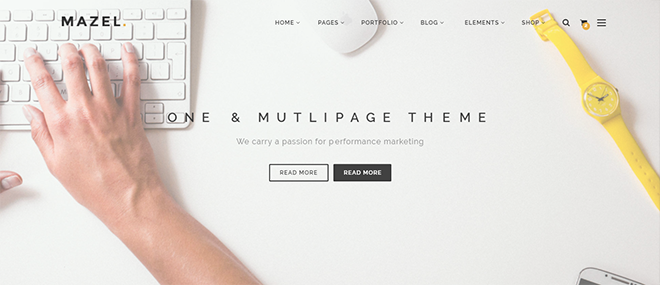 If you're in search for best Bootstrap 4 templates, you must try Mazel, an amazing new generation template. 100+ pages, easy-to-edit templates, ready elements, and more features are available with Mazel. No matter you are a professional developer or a beginner level webmaster – the template is uncomplicated to customize. For business, online shop, portfolio, agency, blog, make whatever you need. Mazel will give an endless freedom to convert your dream to become real. Several demos, homepage variations, one page layouts, and all other ready elements. Just use them and feel the flexibility from a carefully made HTML5 template.
Features:
Revolution Slider
Working Contact Form
37 Homepage Layouts
Google Map Integrated
Fullscreen Youtube Video Background
Html5, Bootstrap 4 Template
Conclusion
With these best Bootstrap 4 templates, one can create websites that will work on every device with different screen size. Besides that, these templates are easy-to-use with commented codes. Get high-quality HTML5 templates to accomplish massive level jobs.