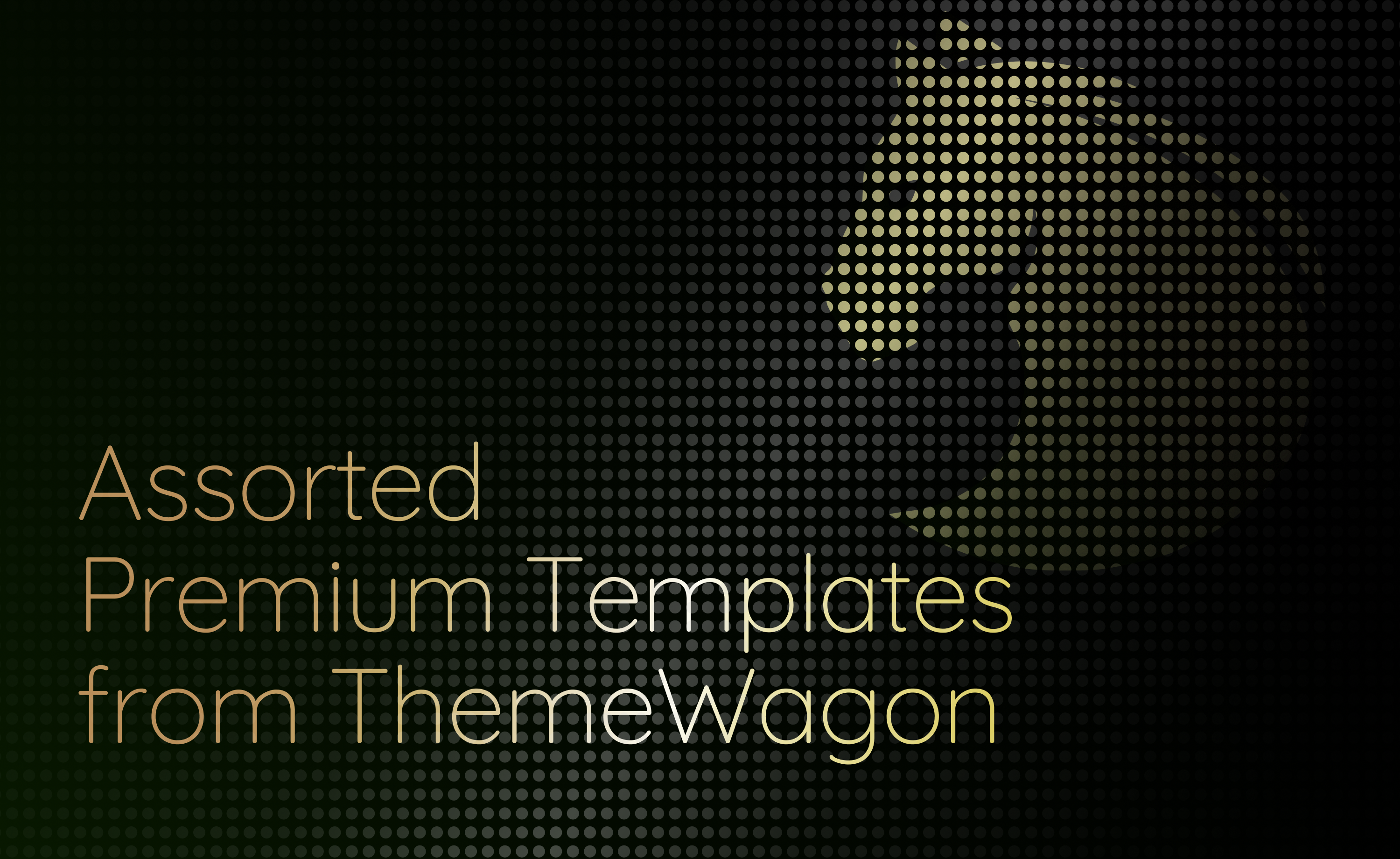 With the rise of a strong online presence all over the world, web development took a huge turn. Many platforms now offer pre-built website templates that have all the necessary features set up in a neat way. ThemeWagon, a template place, has been working on developing responsive and interactive website templates.
They create and distribute free themes for those in need, as well as some premium ones to take the creative process to another level at a minimum cost. These templates are all designed to be user-friendly, responsive, and interactive. Moreover, these templates incorporate some unique features that might be hard to find in popular themes.
We have arranged all the premium templates from ThemeWagon in one place so that you won't have to go back and forth to compare them. You'll get a better insight into the products, and hopefully, this blog will be of great use to you.
Phoenix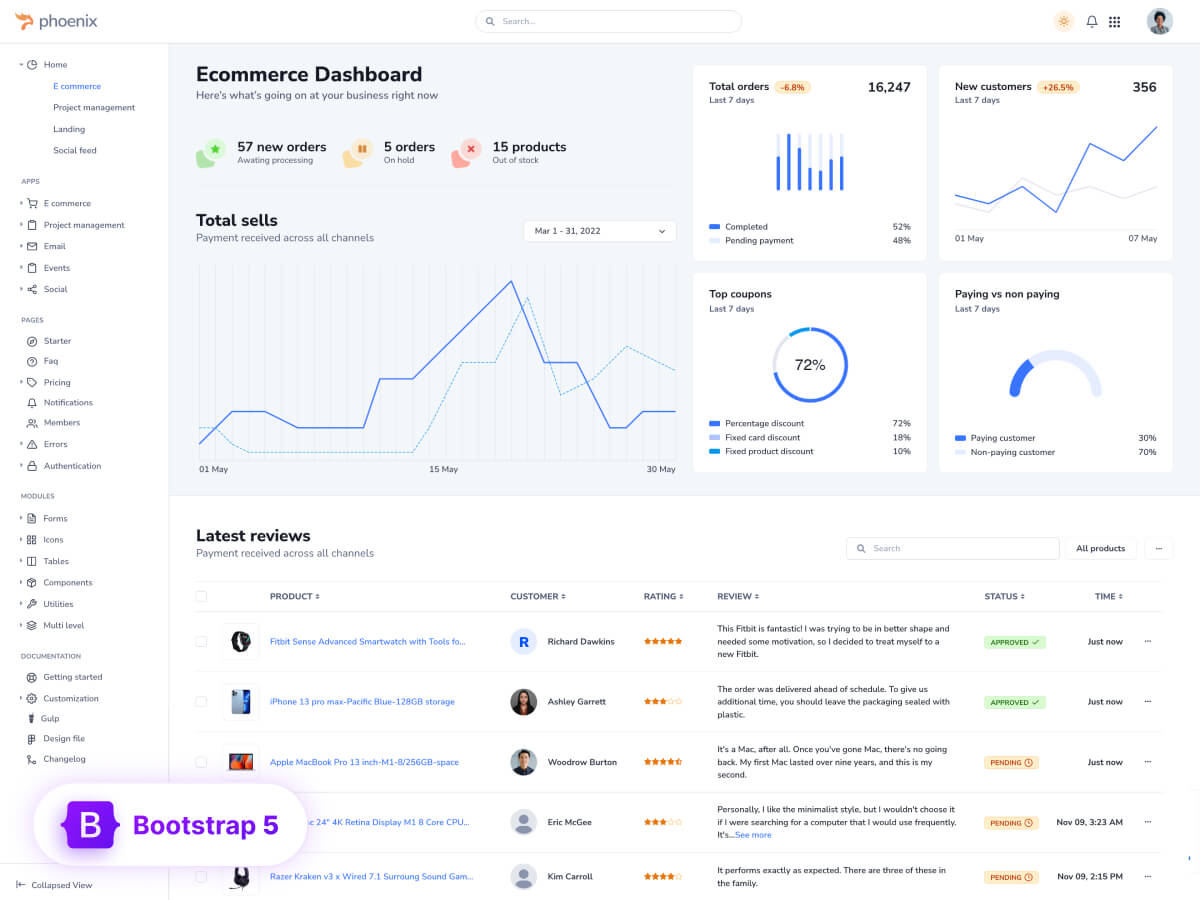 The ThemeWagon team has just released a brand new in-house template called Phoenix. This is an HTML5 and CSS3-based admin dashboard template built on the popular Bootstrap 5 framework. The modern UI elements included in this template have been thoughtfully integrated to provide a satisfying browsing experience. When you build with Phoenix, you'll have access to all the UI elements you need for a powerful e-commerce dashboard at a low price.
Key Features
115 HTML Files
2 Dashboards
6 Authentication Pages
4 General Pages
1 Starter Page
2 Error Pages
Cross-browser Compatible
Boots5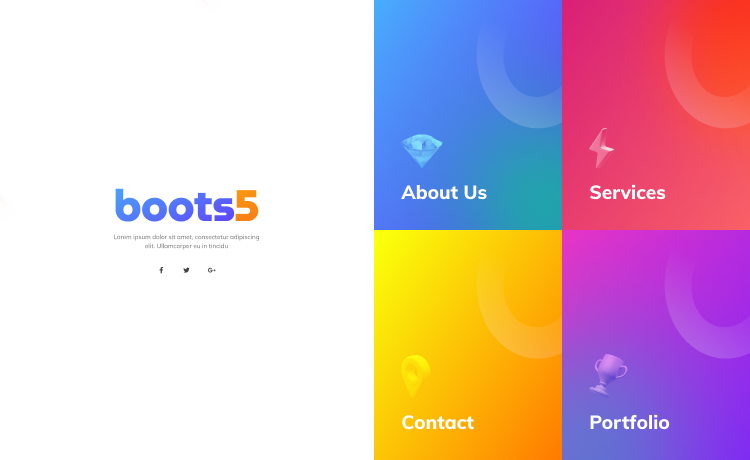 Are you striving to create something extraordinary? Sparrow can give your creation the flair you desire. This is a landing page template that may be used for a variety of purposes. The landing page template is built using the most up-to-date technologies, including Bootstrap 5, HTML5, and CSS3. To help it rank higher in search engine results, the template includes a basic, seamless design and a clean codebase.
Key Features
Based on both Bootstrap 4 and Bootstrap 5
74 HTML Pages
100+ Unique Layouts
RTL Support
YouTube & HTML5 Background Videos
Uncompressed JavaScript source codes
Interactive animations
Falcon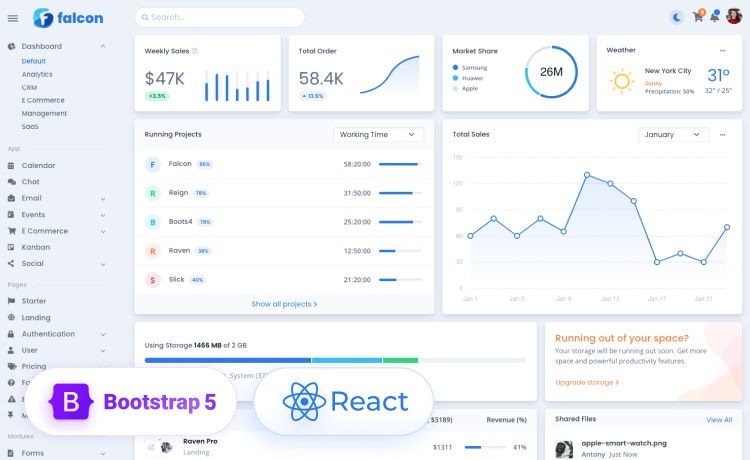 Falcon is one of ThemeWagon's most popular admin dashboard themes, and it is well-liked by users. The dashboard features a variety of modern UI components that are properly organized in a responsive style. This dashboard is built with the most contemporary frameworks to be responsive, user-friendly, and cross-browser compatible. Furthermore, its clean codebase aids in SEO rankings.
Key Features
Bootstrap 5
Bootstrap 4 available (see demo)
Dark & Light Design
RTL Support
153 HTML files in the Bootstrap 4 version
180 HTML files in the Bootstrap 5 version
Lifetime free updates
Falcon (React)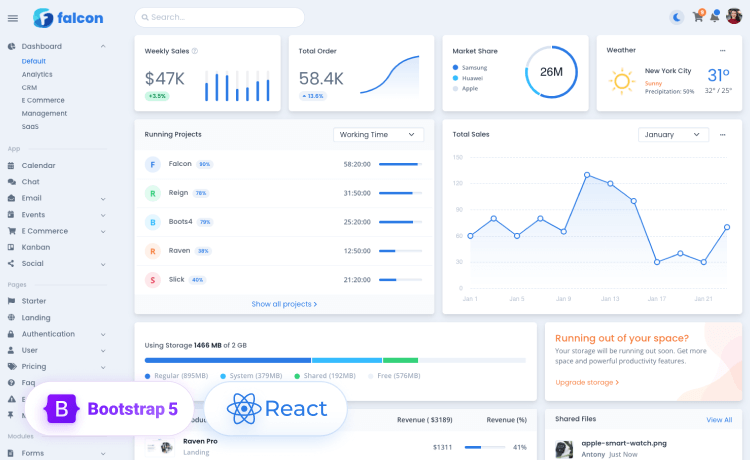 In light of its rise in popularity, the ThemeWagon team has developed a React version of the Falcon dashboard. Because it doesn't rely on jQuery, this version of the editor loads and processes data much more quickly. The same React version also works with the bundle's pre-built ReactJS-based components.
Key Features
No jQuery Dependencies
PropTypes checking for all components
React hooks for state management
React Context API
Fluid and Boxed layout
Full RTL Support
Grid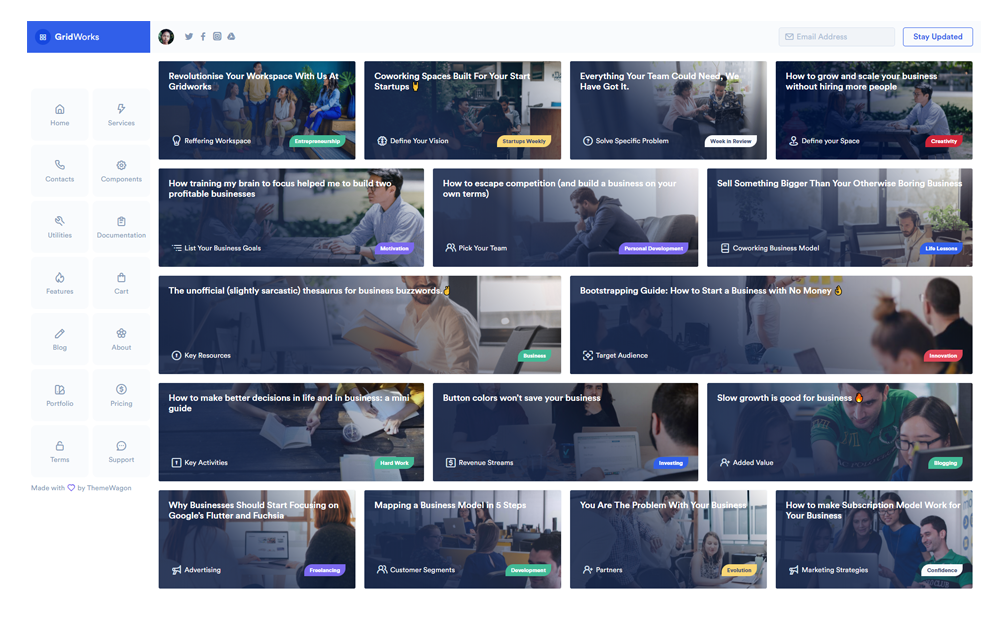 Grid is a modern wall-mount template. It enables you to construct with all of the latest trends, such as modal-based pages and allows users to navigate and browse through the contents with ease. The theme responds nicely on all devices and screen sizes thanks to its unique layout, which incorporates all modern UI components. Grid can be used to provide a more unique user experience and design.
Key Features
20+ UI components
RTL support
Functional subscription form with MailBluster
Modal layouts
Preloader
62 HTML files
SCSS source codes
Gulp file
Shape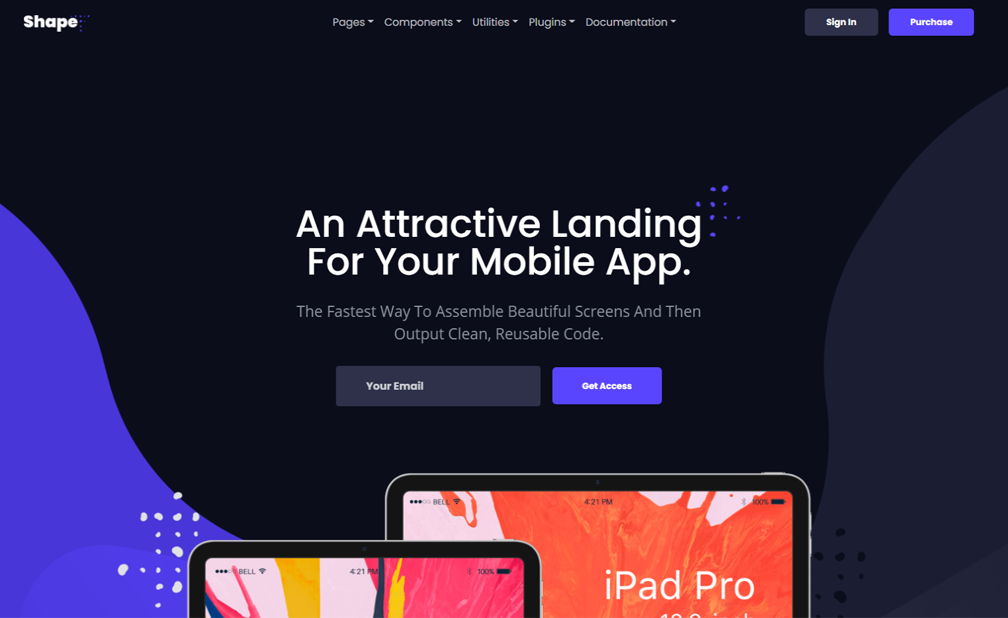 Shape is a landing page template built with the newest versions of Bootstrap and other popular frameworks, making it fully responsive. The specifications of the template have been tailored to the requirements of the business world. The template works in all major browsers and is packed with state-of-the-art user interface elements. You may use Shape to make multi-faced websites that stand out from the crowd.
Key Features
Gulp based workflow
Video section
Load on scroll animation
25+ UI elements
Go down button
Functional newsletter signup form using MailBluster
Extensive documentation
Lifetime free updates
Spin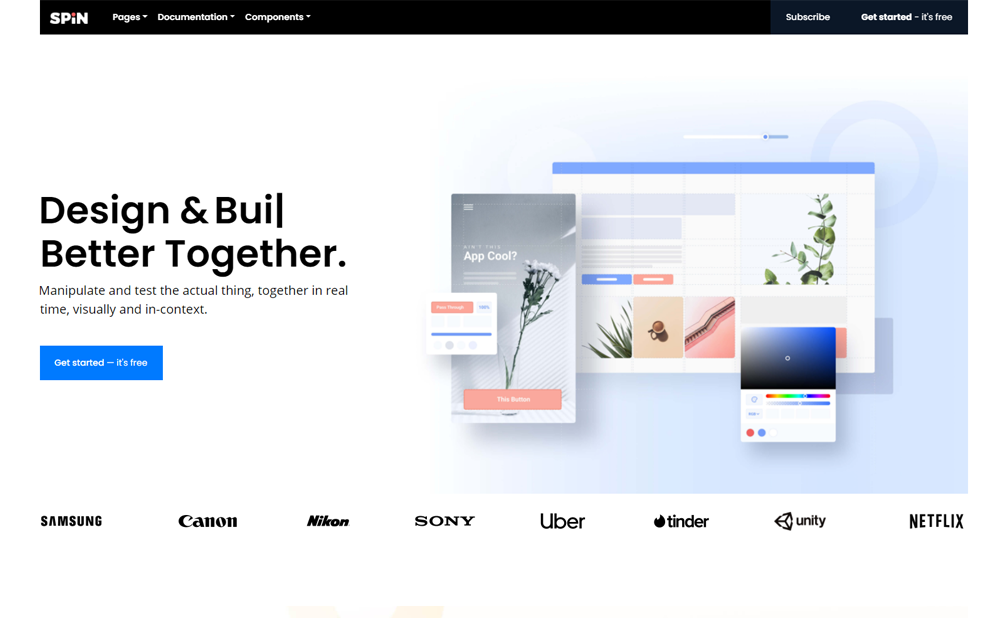 Spin is a modern landing page template created using modern technologies such as Bootstrap, HTML5, and CSS3. You may be confident that this theme is completely responsive since it performs nicely on all devices and screens. The theme includes numerous cutting-edge components and plug-ins. Furthermore, excellent documentation allows you to construct with less effort.
Key Features
Gulp based workflow
Typed-text effect
Image slider
25+ UI elements
Extensive documentation
Full RTL support
Functional newsletter signup form using MailBluster
RTL & GULP files
Lifetime free updates
Raven Pro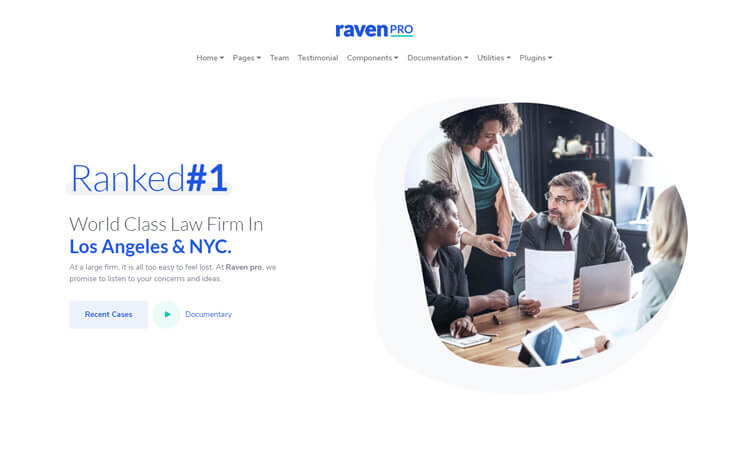 The Raven Pro theme is an extraordinarily professional theme with a complete array of tech-savvy features. This theme allows any legal consulting organization to present its services in a thorough manner. The extensive documentation helps to simplify the creation process. Make your project stand out by focusing on this theme.
Key Features
3 Different Homepage Style
YouTube Video Player With Modal View
Extensive Documentation
Portfolio Slideshow
63 HTML Files
Documentation
Medicare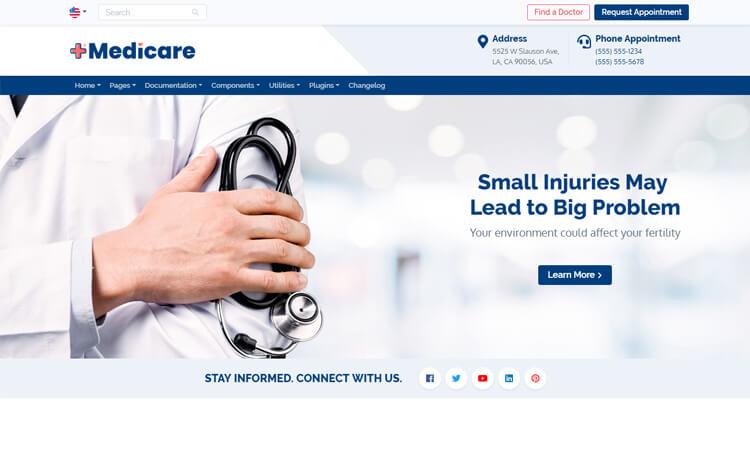 Medicare is a mobile-friendly Bootstrap 4-based site design for hospitals, clinics, and other medical facilities. This design includes a responsive style for the best viewing comfort on any device, browser, or screen size. The numerous user interface components available in Medicare can help your project look amazing across all browsers. The template's simple and developer-friendly codebase will make it simple to customize to your individual needs.
Key Features
Bootstrap 4
Animated preloader
Sliders
Modal appointment form
5 Header styles
5 Plugins
RTL support
Extensive documentation
68 HTML files
Slick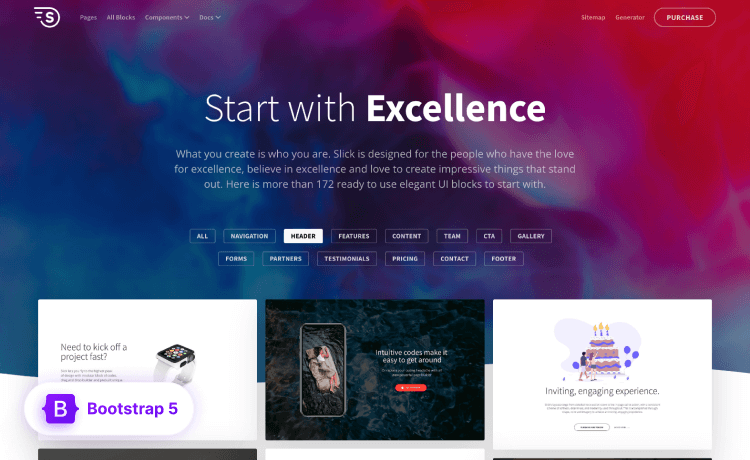 For those with aspirations for greatness, we provide Slick, a one-of-a-kind landing page template that can be customized with a few mouse clicks. Made with cutting-edge technology like Bootstrap 5, this theme is fully responsive and works with all major browsers. This layout is compatible with all modern platforms, browsers, and screen resolutions (including retina displays). To get started quickly, you can choose from more than 171 premade UI building blocks developed with the Slick framework.
Key Features
Drag & Drop generator
No jQuery dependency
171+ Unique layouts
Youtube & HTML5 Background Videos
Video players
Image, video, and content sliders
CSS utility class-based modular markup
RTL support
Lifetime free updates
Conference Pro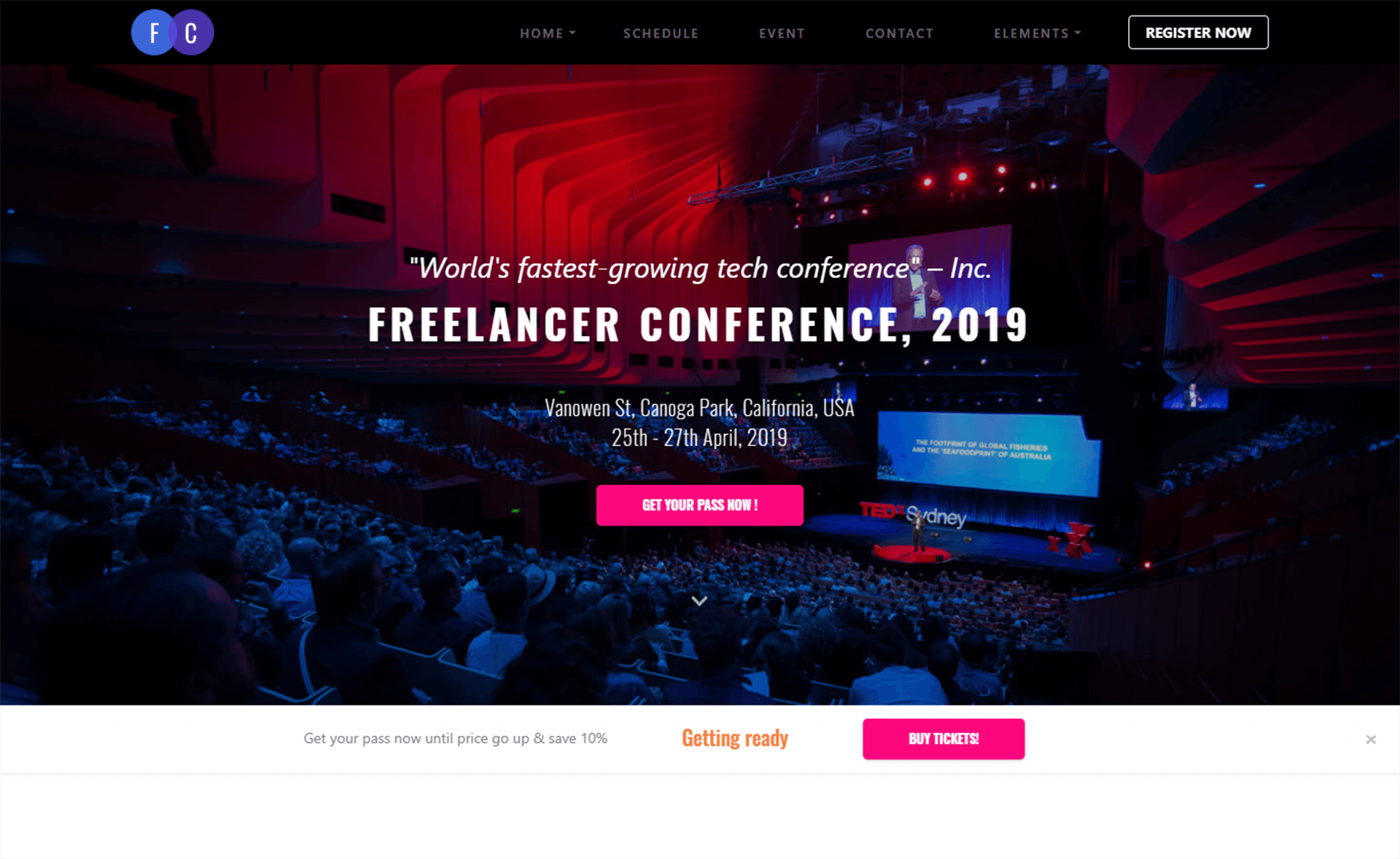 Conference is a modern landing page template made for event planning and management websites. The modern template is made with the latest technologies like Bootstrap 4, HTML5, jQuery, and SASS. This template is completely responsive and cross-browser compatible thanks to these frameworks. Its clean and well-commented codebase makes it rank higher in search engine search results. The developer-friendly codes help you tweak it according to your needs without much hassle or effort.
Key Features
YouTube and HTML5 Video Backgrounds
Sliders
Modular markup using CSS helper classes
18 HTML Files
Full RTL support
Cross-browser tested & optimized
Gulp based workflow
Lifetime free updates
Nirvana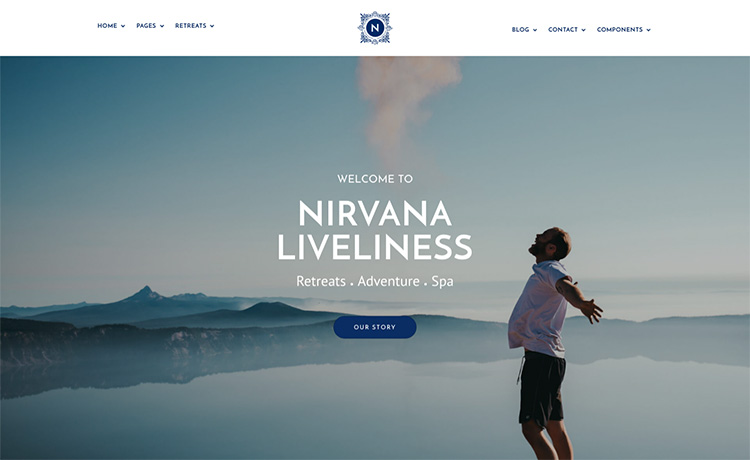 If you expect to provide your customers with an extraordinary welcome, you might want to look into what Nirvana offers. It's a Bootstrap 4 template with an elegant design and responsive UI components. The multi-page template welcomes visitors with a beautiful video background, Also, Nirvana stands out with its bold typography. With more than 50 unique layout designs, this template helps you develop without much hassle, and that's because it comes with a clean codebase.
Key Features
50+ Unique layouts
Interactive animations
Split top navigation menu
Youtube & HTML5 Background Videos
Inline Video player
Image, video, and content sliders
RTL support
Hideaway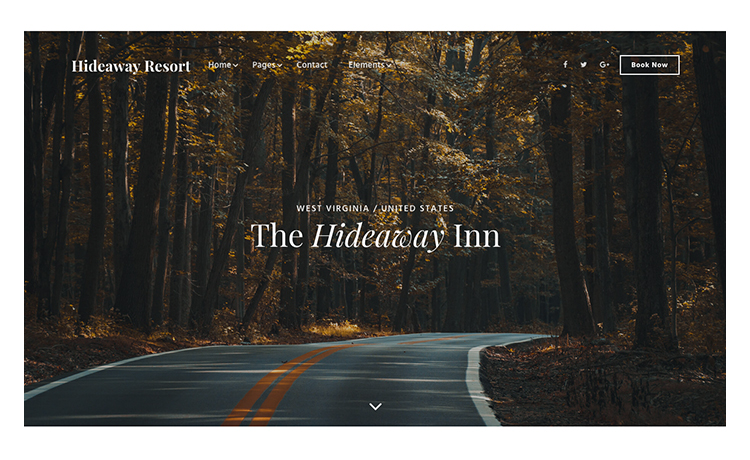 Hideaway is a visually appealing, minimalist template with powerful UI components. With CSS helper classes and highly customizable properties, this template is easy to tweak. The template works on all devices because it is compatible with all browsers. It has a unique preloader and an attractive parallax background. The cross-browser-compatible and fully responsive template includes eight homepage layouts, including a box layout, to help create a visually appealing experience. The template includes detailed documentation to assist you in working with it.
Key Features
Bootstrap 4.0 beta.2
10 Set of Components with Documentation
RTL support
Unique Preloader
Smooth Parallax Background
Responsive CSS Helper Classes
Smoother Animations with GSAP
Freya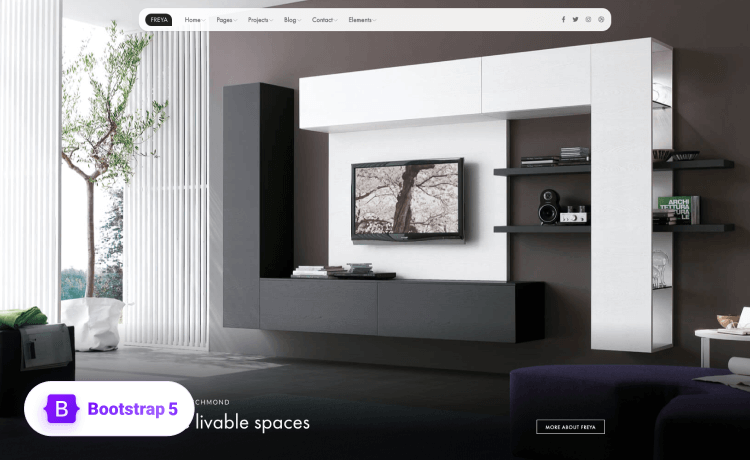 Freya is an awesome Bootstrap 5 template made for interior design websites. The atomic design makes this one a real time-saver with developer-friendly codes. The template was created with Bootstrap 5 to be cross-browser-compatible and completely responsive. With more than 29 prebuilt HTML pages and other UI components, this template attracts and engages a wider range of visitors. This simple template can be your first step toward a successful project.
Key Features:
Bootstrap 5.1.3
no jQuery dependency
Parallax Background
Responsive CSS Helper Classes
Smoother Animations with GSAP
10 Set of Components with Documentation
30 HTML5 Demo pages (With Dimension Imprinted Placeholder Images)
Baikal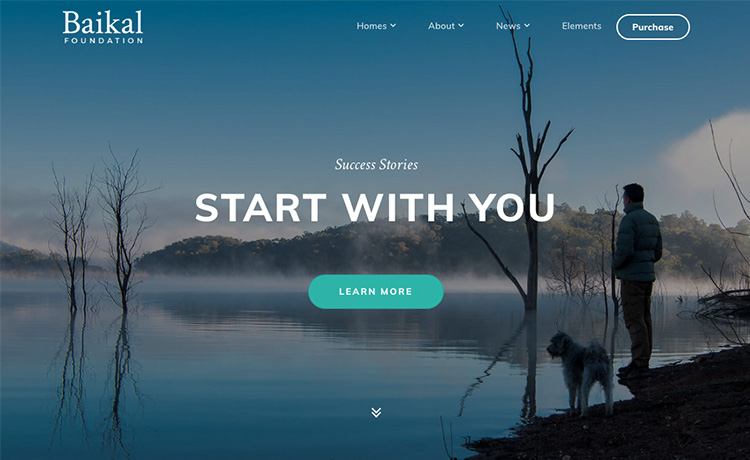 Baikal is a responsive Bootstrap template for startups and other business agencies that ensures cross-browser compatibility around any screen and device size. The design is a time-saver as it's made with a very customizable codebase. It is also very lightweight and modern to look at. A well-thought color scheme to blend in with the theme, composition, and typography gives this one a great visual appeal. you can create an ample amount of layouts with this template and ace any project you work on with this template.
Key Features
Bootstrap 4.0
Built in documentation
Flex-box Layouts
15 HTML files
RTL support
Smoother animations with GSAP
Posh
Posh is a unique template with an atomic design that allows you to use its UI components anywhere by copying and pasting. With built-in CSS helpers, you can create a wide range of layouts without having to write any CSS. The template is fully responsive and cross-browser compatible, so you won't have to worry about broken layouts while working with Posh.
Key Features
Jquery 3
Flex-box Layouts
Atomic Code structure
Built-in documentation
RTL support
76 HTML files
174 Built-in Layouts
32 Set of Components
Elixir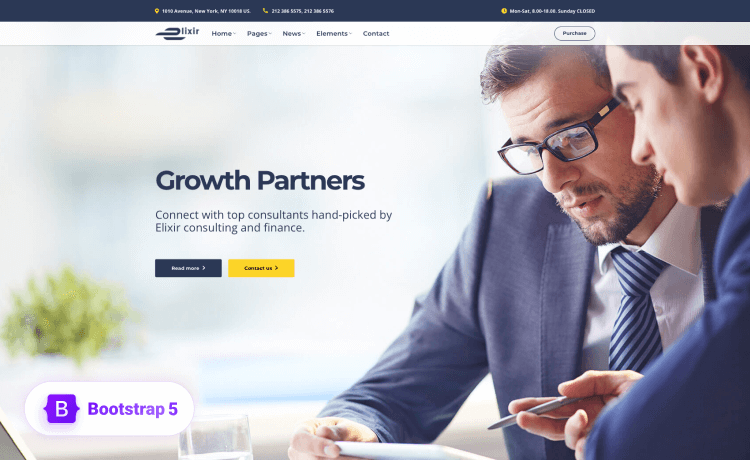 Elixir is a responsive Bootstrap 5 template designed for websites that offer consulting and advisory services. The pixel-perfect design stands up to current design trends. Moreover, it has well-thought-out typography, a color scheme, and a design that attracts more users on-page. Its responsive layout helps you create worry-free. A well-documented codebase lets this template rank higher in search engine results. Furthermore, the template incorporates modern UI components to make it more user-friendly.
Key Features
Responsive Layout
Clean Code
Easy to Customize
Built with Bootstrap 4 and Bootstrap 5
Restaurant Pro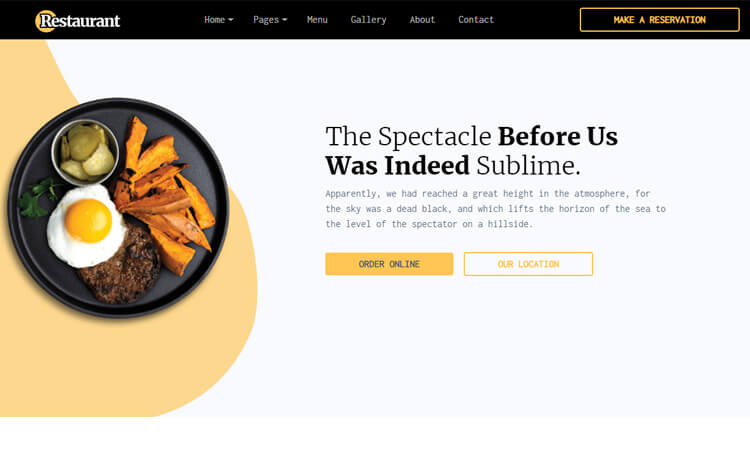 RestaurantPro is a clean and creative template made using Bootstrap 4 and HTML5. This template attracts people with a well-chosen color scheme on its white background. Its responsive layout works on any device or screen size and doesn't break down while being run on different browsers. The template allows fancier options for development with modern and stylish UI components.
Key Features
Smooth and interactive animations
5 header styles
Interactive animations
Menu slideshow
RTL support
64 HTML files
A ready-to-use version of the theme
Boots4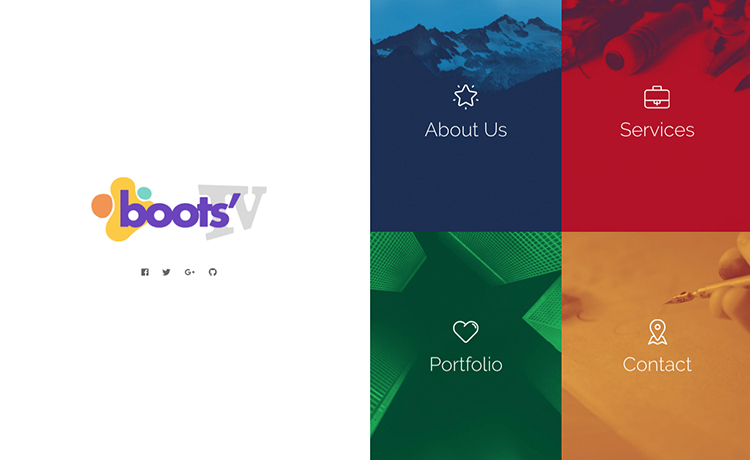 Boots 4 is the first template made with Bootstrap 4 that is visually appealing to all. The simple and sleek design, combined with its one-of-a-kind navigation, makes it unique among all other templates. Modern UI components like a sortable portfolio grid with a modal view make this multi-purpose template one of the most popular templates. Its developer-friendly codebase will help you in the creation process.
Key Features
Split header with YouTube video background
One of its kind navigation
Video players
Sortable portfolio grid with a modal view
Lightbox modal image gallery
PHP/Ajax-based working contact form
Extensive documentation
7 HTML files
Reign Pro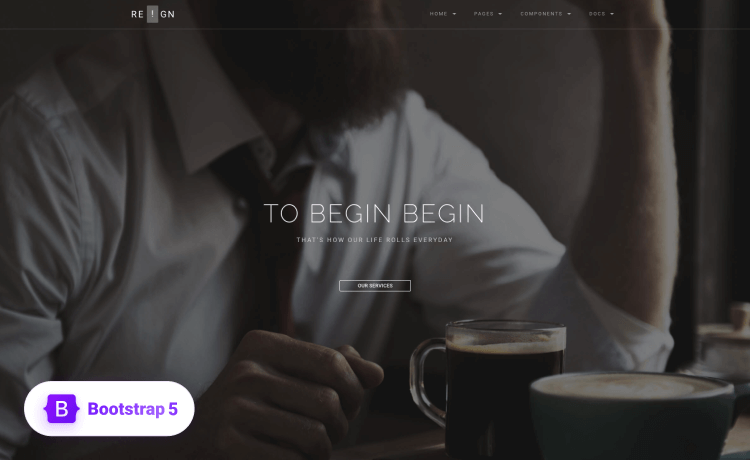 ReignPro is made with nifty details based on Bootstrap 5, while also offering a Bootstrap 4 erosion of the theme for those in need. This template is made to be completely responsive to any web browser, device, and screen size. Also, ReignPro has a well-made layout with modern UI elements that have been meticulously placed on it. You can create anything with this template easily, as it offers extensive documentation as well.
Key Features
Based on Bootstrap 4 and Bootstrap 5
50+ Unique layouts
Interactive animations
YouTube & HTML5 Background Videos
CSS utility class-based modular markup
Full RTL support
Gulp based workflow
Lifetime free updates
31 HTML Files
People who want their online identity to stand out from the crowd and achieve a one-of-a-kind outcome can consider upgrading to premium templates as the next level step. Unlike our free themes, the premium templates come with lifelong updates, so you can feel free to go about your business without any concerns.
You'll have access to a consistent update system as we keep on updating our products with the latest technologies, you will be able to accelerate your growth while the developers take care of the difficulties. Because of this, you will have more time to devote to growing your business and your profile.
Feel the thrill of creation with these premium templates, and watch yourself ascend to the pinnacle of success.