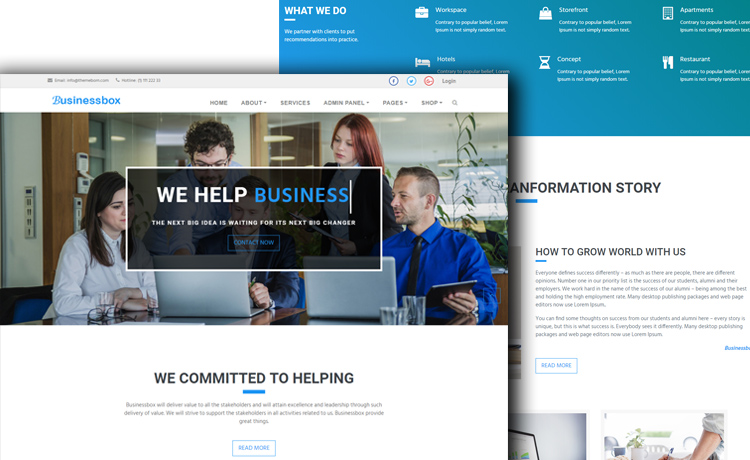 Landing pages are the essential part of an online marketing campaign. In normal terms – a landing page is a standalone page where a visitor "lands" while surfing the search engine optimized search results or clicking an online advertisement. In other words, if you are on a webpage that contains any call-to-action, then you are on a landing page! Landing page exhibits the products or services to the audience for best results! So, the importance of landing pages is very high.
Effective and lead generating landing pages carry a lot of weight for the whole digital marketing process. You must be very precise while choosing a landing page. That's why, before going to create a landing page you need to know some fundamental principles like
– The headline of the landing page must be attractive and informative about the product or service
– The call-to-action ( CTA) should be very big and clear
– There should be a hero part, and that part should be focused on details about the products or services
– It should have a single purpose and a targeted message
– Add photo or video content, etc
Making a high converting and dynamic landing page is a not an easy task. There are a lot of landing page designs out there but top lead generating and top converting ones are always difficult to select!
We are here with the collection of Top 23 HTML landing page templates 2019 built with HTML5 Bootstrap 4. These top-notch landing pages are crafted with all the necessary features and assets-an high lead generating, and top converting landing page needs to have!
Check The Template Collection 2019 – One Hundred FREE HTML5 Templates in One Pack!
1. Slick – Drag & Drop Bootstrap Template Generator (Premium)

Excellence is the motto of Slick. If you want quality with performance, then Slick is the best premium Bootstrap 4 landing page template for you. Slick is an inspiration for other landing page designs. Moreover, it is a flexible and dynamic theme with responsive layouts. Besides, Slick follows all the modern web technologies and comes with tons of trendy features. Drag and drop generator, 171+ unique UI blocks, YouTube and HTML5 background videos, video player are bundled with it. Slick is compatible with all major browsers with W3C validated HTML pages. You are getting a lifetime update too! Get your project rolling with Slick and make that a stunning one.
2. Namari – Free One-page HTML5 Landing Page Template

Namari is a free responsive HTML5 landing page template. It is a single-page design with a clean and minimal layout. Moreover, artistic images on a white background make it look beautiful. Namari comprises a preloader, sticky navigation, parallax background, ghost button, a modal photo gallery, pricing table in the box. What's more, FontAwesome font icons and nice typography are also in the package. Namari has an easy to understand and edit code structure. Create your project with Namari and make it look different!
3. Standout – Free HTML5 App Landing Page Template

Standout is a free HTML5 app squeze page template to solicit opt-in email addresses from prospective subscribers. It is a single-page responsive theme with a stylish dark look. Standout has a beautiful split header with a modal Lightbox video player on it. Furthermore, the load on scroll animation, pricing table, sticky navigation, back to top button to name a few are the cutting-edge features of it. Standout will be suitable for a mobile app, software, email app or other kinds alike. FontAwesome font icons, Newsletter subscription form with custom JavaScript validation, feature carousel are some goodies. It is easily customizable, so, no worries! Just tweak and use it in your project.
4. Posh – A Revolutionary New Way of Creating Websites (Premium)

Posh is an all-rounder theme. It made creating a website very fast. Posh is a premium Bootstrap 4 HTML5 multi-purpose landing page template. Besides, it is fully responsive and designed with atomic code structure. Posh fits on every screen as well as optimized for mobile screens too! 174 Built-in UI blocks, 32 Set of components, 76 HTML files are the assets packed in the box. Moreover, it comes with tons of features like parallax, scrollspy, accordion, grid system, pricing tables, just name it! You won't believe Posh will help you to build a website without even knowledge of web development. Craft with Posh and explore more!
5. Kairos – Free HTML5 Mobile App Landing Page Template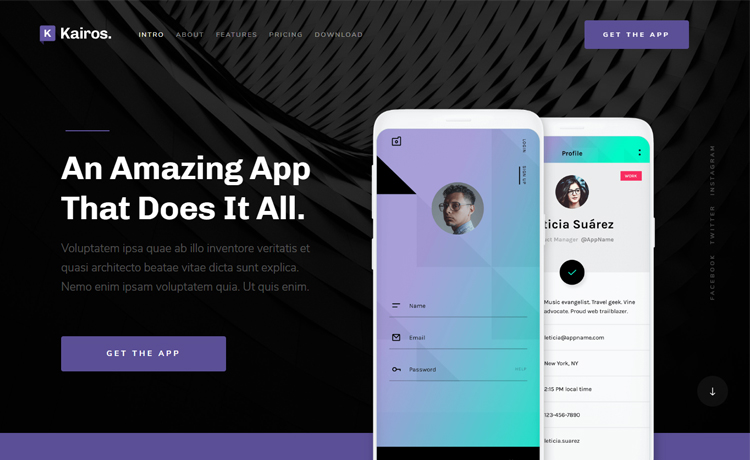 Kairos is a free HTML5 responsive mobile app landing page template. It is a single -page theme with retina ready stylish graphics. Moreover, Kairos has a clean and simple yet impressive design. A sticky top navigation bar is there to make browsing smooth and faster. Lots of tech-savvy features and assets are packed with Kairos, for example – scroll down button on header, Call to action buttons, pricing table, sign -up form with custom JavaScript validation, parallax background, hero header to name a few. Kairos is a very dynamic template to craft your project with it. Go, create and discover it!
6. CA – Free Bootstrap 4 HTML5 App Landing Page Template

CA is a beautiful theme with a gradient hero header. It is a free one-page Bootstrap 4 HTML5 app landing page template. CA is specially created to showcase Android and iOS mobile apps. It is a responsive tool with sticky navigation to make navigating smart. 10+ unique UI blocks, YouTube video player, app slideshow are some of the goodies CA is coming with. CA contains well-organized and easy to understand code structure which will help you build simply. Moreover, it has all the necessary elements to promote mobile apps, and it follows the latest web technologies. So setting up your project with CA will be fun!
7. Elixir – HTML5 Bootstrap 4 Multi-purpose Template (Premium)

Elixir is an elegant multi-purpose theme. Elixir is a responsive HTML5 Bootstrap 4 landing page template for websites of business and corporate agencies. It excellently matches the genres like consultancy business, agencies, financial adviser agency, audit firms or other professional organizations or businesses alike. Home – with slider, home – with static image, login page, registration page, blog, single blog post are some awesome assets wrapped together with it. The imagery, color scheme, spacing, typography, etc. are used so well on the tool. Editing Elixir is super easy. Extensive documentation and well-documented code are inside the box. So, kick start your project with Elixir and get an outstanding output.
8. Nexus – Free Bootstrap 4 HTML5 App Landing Page Template

Nexus is app squeze page template for SaaS, apps and other software. It is a free Bootstrap 4 HTML5 landing page template. In addition, wonderful features like full-screen banner, call to action button, drop-down menu, sticky navigation, on hover effect on features card, pricing table, 15+ Unique UI block elements are included in the package. It is responsive, mobile ready and a multi-page design. Vivid color scheme, nice typography with a simple yet attractive look makes it a good option of your list. Start creating your project using Nexus because it has all potentials to be a high lead generating and converting app landing page.
9. Dazzle – Free Responsive HTML5 App Landing Page Template For Software and Mobile applications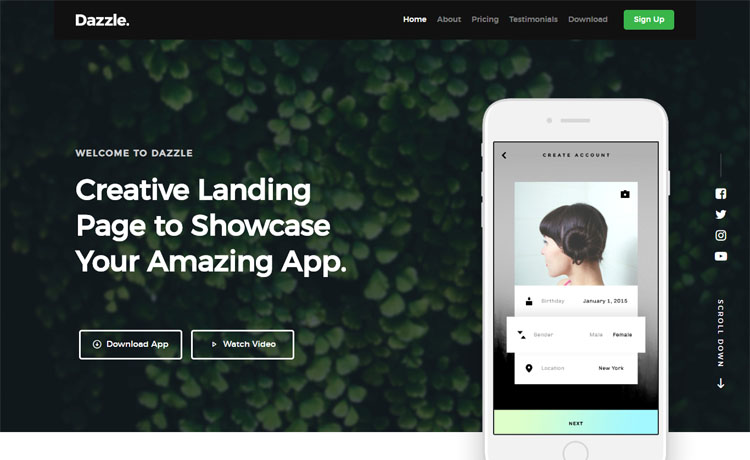 Dazzle is a free HTML5 responsive app landing page template. It is a high-quality theme to showcase software, mobile apps, and applications. Dazzle is a single-page theme with a clean, minimal and polished design. Moreover, it is chock-full of happening features and assets – parallax background, sticky navigation, hero header, modal Vimeo video player, load on scroll animation, pricing table are few of them. 15+ unique UI block elements are included with this theme. Blog and newsletter subscription widget is two handy option it has got. Dazzle is provided with intuitive code, and it is easy to customize which makes your development process silky.
10. Boots4 – First-Ever Bootstrap 4 Template (Premium)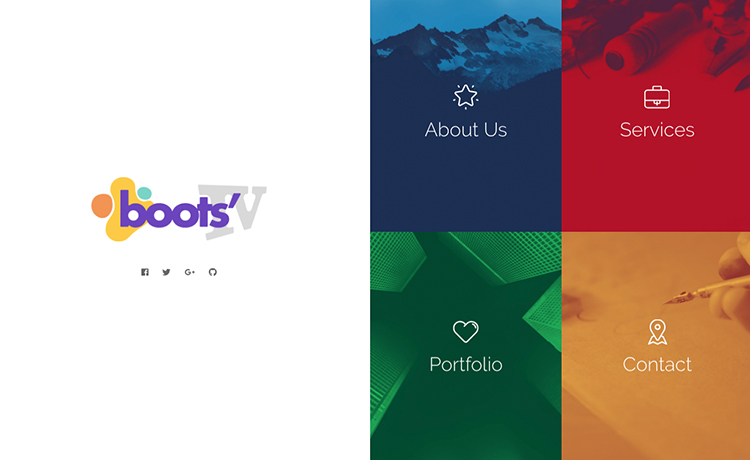 Boots'4 is designed as a blend of art and technology to bring the best out of it. It is one of the finest and streamlined themes whatsoever. Furthermore, Boots'4 is a Bootstrap 4 responsive template for portfolios, agencies, corporate websites, startups, landing pages, and other similar projects. Artistic canvas gives it noteworthy looks. It encompasses top-hole features, such as- Split header with YouTube video background, sortable portfolio grid with a modal view, lightbox modal image gallery, pricing table, PHP/Ajax based working contact form, etc. Customization is very simple because it has an intuitive code-structure. Start off your project with Boots'4 and make it an outstanding site.
11. Businessbox – Free Multi-Page HTML5 Bootstrap Landing Page Template for Business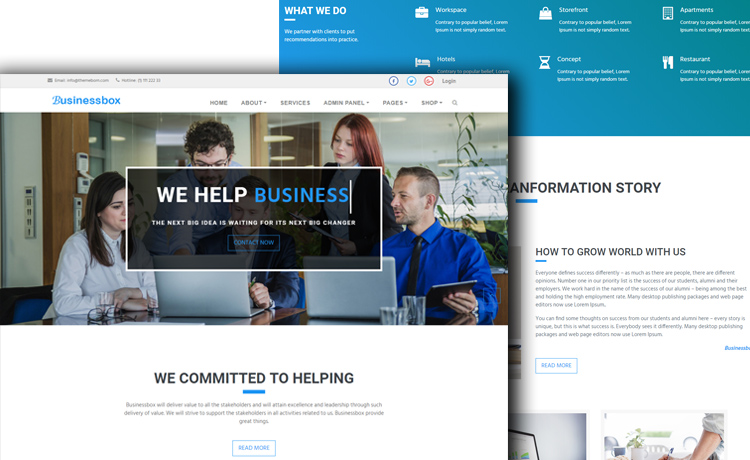 Businessbox is a full-fledged website template with admin dashboard and other necessary features. It is high quality and powerful theme for landing pages, business websites or other professional fields. Businessbox is made with Bootstrap 4 framework and HTML5. Moreover, it is a free responsive multi-page site canvas with a simple yet effective design. Reveal animation, drop-down menu, sticky navigation, call to action button, back to top button, on hover effect on images are some state-of-the-art features filled with it. Contact form UI and footer widget are the two useful options. This premium like free template will be the best selection if you want to set up a business website.
12. Newsbox – Free Bootstrap 4 HTML5 Landing Page Template for Online Newspaper and Magazine Websites

If you are looking for a news website template then here we have brought Newsbox – a Bootstrap 4 HTML5 landing page template for newspapers, or online magazine websites. It is a responsive multi-page tool and designed very efficiently for news related sites. Besides, it is a minimal, neat and clean theme with all the necessary features like breaking news scroll, space for advertisement, footer links, drop-down and mega menu, single post and archive, newsletter subscription form, etc. FontAwesome font icons and contact page with google map are also inside the box. Create a beautiful news site with Newsbox with minimum time!
13. Freya – Interior Design Agency Website Template (Premium)

Freya is the top-quality modern premium Bootstrap 4 website template. It has the most elegant and revolutionary design called atomic-design. For its atomic-design structure, Freya has become a great time saver along with tons of most recent features. 29+ pre-built pages are there to create whatever you think of. Freya is super responsive, from a tiny handheld mobile device to a big screen, it fits in perfectly. This sophisticated theme can be used as an interior design agency website, any other professional agency or corporate organization website.
14. BizPage – Free Responsive and Seamless Bootstrap 4 Business Landing Page Template

Bizpage goes with websites like design firms, consultants, advisors, business, agency, and other related corporate organizations. It is a free Bootstrap 4 business landing page template. Bizpage is designed seamlessly following the latest web technologies and trends. Off-canvas navigation, drop-down menu, lightbox portfolio grid, testimonial and clients carousel are some convenient components. Moreover, the smooth scrolling, service section, parallax, call to action button, and a working contact form are also incorporated with Bizpage. Besides, Bizpage is fully responsive one-page theme with easily editable code and 14 prebuilt sections to make your development faster and troubleless. Bizpage will be beneficial for your startup or business.
15. Razor – Free Bootstrap Landing Page Template For Barbershop Website

If you need a free squeze page template for your barbershop, then Razor is one of the best options you have. It is a responsive one-page theme made with Bootstrap 4 and HTML5. Furthermore, it is stuffed with a ton of state-of-the-art features and assets. Full-width header image, parallax effects, sticky navigation, pricing section with on hover effect, testimonial carousel, to a lot more tools are inside the pack. There is a contact section with pop-up Google maps. Create a salon or e-commerce barbershop website with Razor very easily because latest web technologies and rules power it. Razor is a good time saver theme too, try it!
16. Baikal – HTML5 Bootstrap 4 Landing Page Template for Startups & Business Website (Premium)

Here is another star rated Bootstrap 4 template namely Baikal. It is high quality and high performing theme for startup agency, business or organization website. The only skill you need to know is copy-pasting to use Baikal in your project. Baikal is fully responsive to fit itself into any screen and device along with lightweight atomic-design structure. It supports all modern browsers and mobile browsers. Drop-down menu, call to action, parallax effects, portfolio, FontAwesome icons are all bundled with it. There are 5 different header styles with many unique layouts and thousand of CSS helper classes to start with. So, start crafting with Baikal and dig it deep!
17. Royal Estate – Free Bootstrap 4 HTML5 real estate website template

Royal estate is a free real estate website template made with Bootstrap 4 HTML5. It is a multi-page theme with responsive layout. Royal estate has a clean, minimal and beautiful design. Moreover, hero header, animated SVG preloader, fully responsive, sticky top navigation, load on scroll animation, slider on header, magnific popup modal video player, google maps are some of trendy feature Royal estate comes with. Besides, it has a contact form and newsletter subscription form for communication purpose. Well managed and organized codes to turn customization into an easy task. Create an awesome website with Royal estate easily and save time and effort.
18. Shoppers – Free Bootstrap 4 HTML5 Squeze Page Template For an e-commerce Website

Shoppers is a free dynamic e-commerce website template. It is fully responsive and made with Bootstrap 4 HTML5. Shoppers is a multi-page theme with an eye-catchy yet clean and simple design. Prebuilt product single, checkout and shopping cart pages are noteworthy assets in the bundle. Shoppers is well-equipped with top-grade features like search box, newsletter subscription form, product carousel, drop-down menu, breadcrumbs and call to action buttons, google map, magnific popup modal video player, etc. Moreover, shoppers is ready to use e-commerce website, creating with Shoppers is like child's play, just unpack it, edit and use it as your desired project!
19. Mixtape – Free Bootstrap 4 HTML5 Landing Page Template For Music Website

Mixtape is a multi-page template for music and music related website. It is a landing page for musical albums and instruments. Moreover, it is a free Bootstrap 4 HTML5 music website theme. It has a dark look with a hero header. The Mixtape has a clean and minimal design, but it looks awe-inspiring. This site canvas is fully responsive and optimized for all modern browsers. Mixtape contains fantastic features like the call to action buttons, newsletter subscription form, audio player, feature album, upcoming show schedule, YouTube player and more. A contact form and a blog section also included with it. Shape your project with Mixtape and build a stunning website.
20. Webuni – Free Bootstrap 4 HTML5 Online Course Education Website Template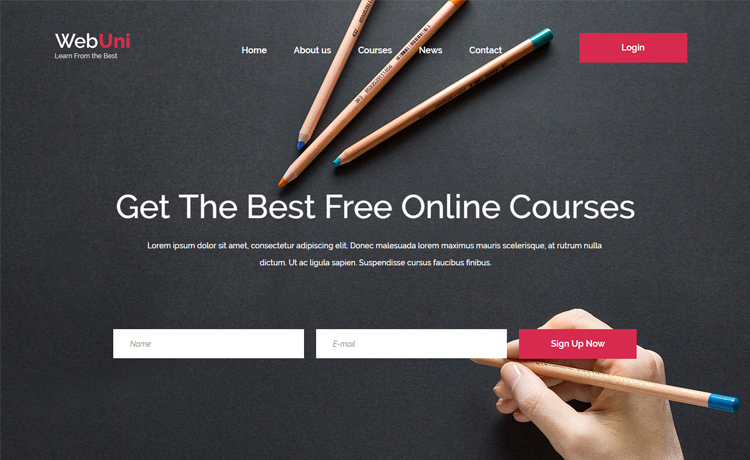 Webuni is a free Bootstrap 4 HTML5 landing page template for educational website, online course offering website. You can build a site like Coursera, Codecademy, udemy, udacity with Webuni; It's all ready! It is a responsive multi-page template. Besides, Webuni has compelling features and assets, for example- MixitUP sortable course gallery, Google map, CSS3 preloader, pagination UI, hero header, search bar, on-hover effects, etc. There is a contact form, newsletter subscription form, sign-up form, and a blog section to share news and updates. Intuitive code and easy altering nature will help you build fast with Webuni. Create with Webuni and have a wonderful site.
21. Burnout – Free HTML5 Bootstrap 4 Website Template for Health Related Websites

Burnout is a free Bootstrap 4 landing page template for gym, fitness center, yoga center, and other alike organization websites. It is a responsive and well-designed theme. Burnout has all the necessary features, such as preloader, sticky navigation panel, filterable gallery, parallax effect, animated footer menu, etc. Furthermore, it has a contact form UI to user interaction. All latest browsers support it, and it is optimized for mobile browsers too. Burnout can save a lot of time and effort because it has prebuilt features which you will need to build a fitness website. So, craft your project with Burnout and save time!
22. Maxitecture – Free Bootstrap 4 HTML5 agency website template

Maxitecture is a free Bootstrap 4 HTML5 landing page template for architecture agency, interior design agency or creative design agency website and similar kind of websites. It is loaded with all the latest features and assets. Sticky navigation, parallax background, the on-hover effect on buttons, Google map, footer widget, newsletter subscription form, etc. Moreover, it is a responsive multi-page theme with 12+ unique UI block elements. Working contact form with validation is also inside the pack. Well-organized and flexible code structure will help you to set up your project quickly. Roll your project out with Maxitecture and get it done in a tight time.
23. Comply – Free HTML5 Product Landing Page Template Powered by Bootstrap 4

A beautiful product squeze page template namely – Comply. It is a free Bootstrap 4 HTML5 theme with full responsiveness. Besides, Comply is a one-page layout with a stylish and minimal design. Comply is perfect landing page template for mobile or web app, startups, agencies, marketing or digital agency websites. For its retina ready feature it will look outstanding in every device. Features, team, blog or pricing sections are also compacted in the box. Ionicons icons are provided with it. The code inside is clean and well commented which will help you to customize it as per your desire. Developing with Comply is super easy. So, create with Comply and enjoy!
Hey, congrats! You have reached the end of this article. Thank you a lot for reading this article with patience. You may also like 14 Top HTML5 Bootstrap 4 Startup Business Website Templates 2019.