From all the small to large multi-national companies, every business needs a web presence nowadays. Professional businesses are providing their services and getting payment online.
Massive collection of responsive HTML5 Bootstrap 4 startup business website templates are available on the internet, but there are only a few which stand for quality. These 14 HTML5 Bootstrap 4 startup business agency website templates are the best of 2019.
However, Building websites is an expensive and time-consuming process, it also needs proper attention to develop from scratch design to a final template, for a multi-million company or business it is not a big deal but when it comes on startup businesses or agencies it really difficult to spend a handsome amount or even a little amount.
No worries! Many developers and designers from all around the globe have contributed to solving this problem by making ready to use responsive and streamlined HTML5 BOOTSTRAP 4 agency website templates. These ready to use templates are not expensive, and they are easy to use. With the minimal knowledge of coding, people can make their high-quality professional business website.
Fantastic one-page or multi-page responsive agency website templates built using Bootstrap framework are here for you to use as your professional business website. Just customize a bit and get your project rolling with these high-quality templates. You may check the best template collection of 2019 out!
1. Slick – Drag & Drop Bootstrap Template Generator (Premium)

Slick is a fully responsive Bootstrap 4 template for business and corporate or agency website. It is a drag and drop template creator for who don't want to write code. Slick comes with more than 171 ready to use streamlined UI blocks to start with and RTL support, W3C validated HTML pages, and cross-browser tested & optimized layouts. Interactive animations, Youtube & HTML5 background videos, video players, image, video, and content sliders are some handy options. Slick is a top-graded site canvas to kick-start your project.
2. Jumper – Free Multi-Page HTML5 Bootstrap 4 Agency & Personal Portfolio Website Template

Jumper is a specially designed landing page template for web designers and developers, portfolios, and digital agencies. It is a free Bootstrap 4 HTML5 agency website template. Agencies like creative, digital, marketing, SEO, startup business and portfolios like web developer, graphics designer, and web designer are the best match for Jumper because it is a multi-purpose website template. A beautifully animated portfolio grid and a working PHP/ Ajax contact form with HTML5 validation are packed in the box. Sliders, ghost button, newsletter subscription widget, footer widget are some goodies comes with it.
3. Freya – Interior Design Agency Website Template (Premium)

Freya is a multipurpose responsive HTML5 Bootstrap 4 business website template. Specially crafted for any interior design agency, creative agency, design agency websites. Be that agency, corporate and other professional organizations or blog; this Bootstrap 4 premium business website template is totally up to it. Modern technologies like jQuery, CSS3, HTML5, with the brand new Bootstrap 4 framework is used to build Freya. Parallax background, responsive CSS helper classes, smoother animations with GSAP, 10 set of components with documentation, cross-browser support are the top graded features comes with it.
4. Elixir – Bootstrap 4 HTML5 Template for Agency Website (Premium)

Elixir is an HTML5 Bootstrap 4 template for responsible consulting agency website. Different kind of sites can be created with Elixir. There are more than 15 pages and 30+ sections included in this template. Features like the slider, load on scroll animation, modal YouTube video player, preloader, drop-down menu are bundled with it. Elixir is suitable for consultancy agency, advisory agency, counselor agency, financial adviser agency, audit firms and other professional organization or businesses who offer a wide variety of services.
5. OnNext – Free Bootstrap 4 One-Page Agency Website Template

OnNext is a smart and tech-savvy solution for your creative agency or digital agency. It is a free Bootstrap 4 HTML5 creative agency website template. OnNext is a one-page responsive modern and stylish design. It is a perfect match for small business or startup, marketing agency, digital agency website or other agencies alike. A working PHP contact form with custom JavaScript validation also comes with it. Typing text effect on the header gives it a unique look. Create with OnNext and dig it deep!
6. Baikal – HTML5 Bootstrap Template for Startups, Business & Corporate Website (Premium)

Baikal is a versatile Bootstrap 4 HTML5 template for any small agency, startup business or organization website. It is a responsive multi-page design. Baikal has a nice, clean and minimal look. The new modern atomic-design saves a lot of time. Baikal only needs copy-pasting. Setting-up your website is smooth like silk. Extensive documentation is also there to guide you throughout the customization. It is cross-browser compatible and mobile-ready. Discover more and craft with Baikal to make your project a stunning one.
7. Estateagency – Free Bootstrap 4 HTML5 Agency Website Template

EstateAgency is an estate agency website template made with Bootstrap 4. It is a free site canvas with a lot of modern features and assets. Hero header with slider, sticky top navigation bar, drop-down menu, off-canvas property search form, and many more options are boxed with it. EstateAgency is a fully responsive multi-page template with a clean and simple design. It best suits the real estate agency, property dealer, and property-business related agencies. Intuitive and easy to customize code structure makes it super flexible and dynamic.
8. Boots4 – First-Ever Bootstrap 4 Template (Premium)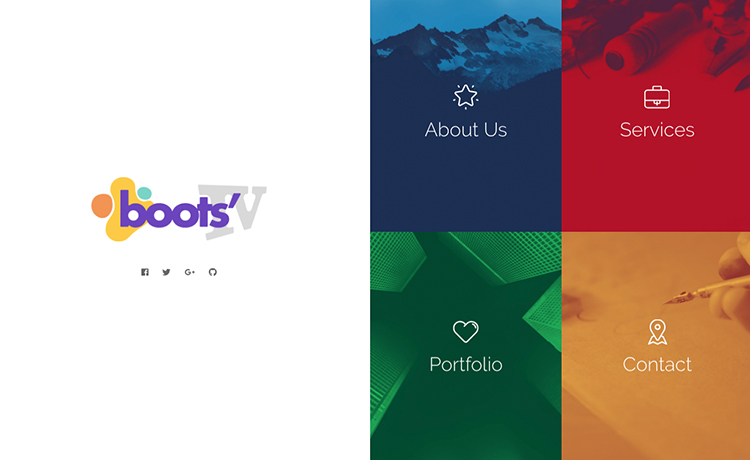 Boots'4 is a blend of art and business. This premium business website template looks artistic, yet it is a professional business portfolio website canvas. It can be easily cast as digital agency, creative agency, digital marketing agency, web design and development agency or portfolio website for professionals. Split header with YouTube video background, sortable portfolio grid with a modal view, lightbox modal image gallery, and PHP/Ajax based working contact form with extensive documentation are the top-class features of Boots'4. Craft your project with Boots'4 to get a unique design and modern features together.
9. Ronald – Free Bootstrap 4 HTML5 Website Template for Digital Agency

Ronald is a free Bootstrap 4 HTML5 website template for business and corporate agency website. This multi-page template fits the sites like web design, web development, creative design, digital marketing, SEO agencies, and startup IT business websites. Right sidebar navigation, testimonials, call-to-action buttons, hero header, and portfolio are some of the modern features it encompasses. It is compatible with all popular browsers. Furthermore, sticky navigation, breadcrumbs, accordions, Instagram feed are some handy options which are bundled with it.
10. Posh – Bootstrap 4 HTML5 streamlined business agency website template (Premium)

Posh is a revolutionary new way of creating websites. Latest Bootstrap 4 framework blended with modern web technology has made Posh a top-notched multi-purpose business agency template. 174 Built-in layouts, 32 set of components, cross-browser compatibility and more authentic options. It is the best premium multi-purpose professional business & corporate website template. The built-in schemes for color, composition & typographic styles give you an outstanding experience of creating with it. Customization is easy with Posh because of extensive documentation and easy to understand code-structure. Create with Posh and feel the difference.
11. Fables – Free Bootstrap 4 HTML5 Business Website Template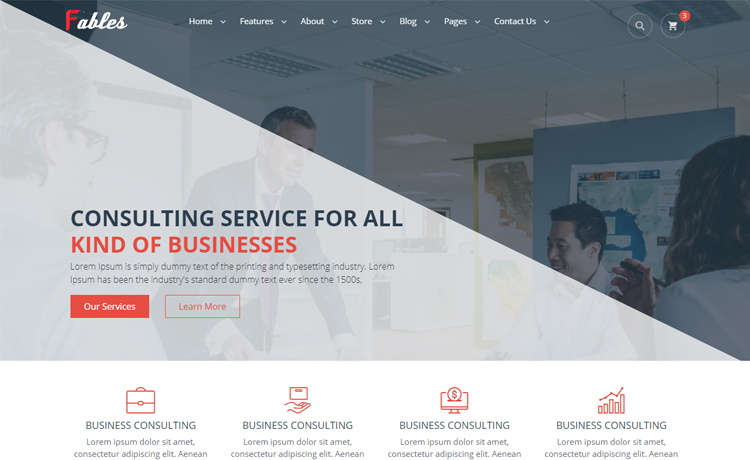 Fables is an outstanding free business, agency website template. It can be the best web solution for your company, startup or agency. Fables is a compelling and eye-catchy design with a mobile ready layout. 4 different header styles give you a choice to make your project look unique. Besides, It is a free Bootstrap 4 HTML5 responsive template with multi-pages. Fables goes with business, creative agency, consultation agency, digital agency, and other business websites alike. Accordions, parallax effects, multi-layer drop-down menu, cart button, fun fact counters, and pricing table are some of its trendy features. Creating with Fables is easy and smooth for it's easy to customize code-structure.
12. Coffee Blend – Free Bootstrap 4 HTML5 Landing Page Template

Coffee Blend is a free Bootstrap 4 HTML5 landing page template for almost any kind of coffee-based startup business. It is a responsive and multi-page template, following a clean and stylish design. Loads content on scroll, fun fact counters, on-hover effect, filterable menu, and a blog section are some of the handy options. Online appointment system UI with date-picker, Cart, checkout, and single-product page templates are some special features of it. Easily alterable and flexible codes inside the box. Build with Coffee blend and enjoy creating.
13. Pixel – Free HTML5 Bootstrap 4 Multi-Page Creative Agency Website Template

Pixel is a free responsive HTML5 Bootstrap 4 multi-page creative agency website template. Features like a unique slider, CSS3 preloader, sticky navigation are packed with it. Nice and simple typography with hundreds of icon fonts making it look beautiful. Pixel comprises a magnific popup modal portfolio grid to showcase your projects. It is perfect for small business, creative business or agencies, corporate business, and other alike business websites.
14. Pure – Free One-Page HTML5 Bootstrap 4 Agency Website Template

Pure is a free one-page contemporary Bootstrap 4 HTML5 business agency & corporate website template. It is a perfect match for agencies, businesses and professional portfolios like creative agency, digital agency, freelancers, graphic designers, photographers, web developers, digital marketer, etc. Pure comes with three different header styles. In addition, it has some great features like SVG portfolio grid, sticky navigation, google map, pricing table. Pure also has a working HTML5 validated contact form.
---
Thank you for visiting ThemeWagon and reading this article. You can check this article too 100 FREE Best One Page Responsive Bootstrap HTML5 Templates of All Time