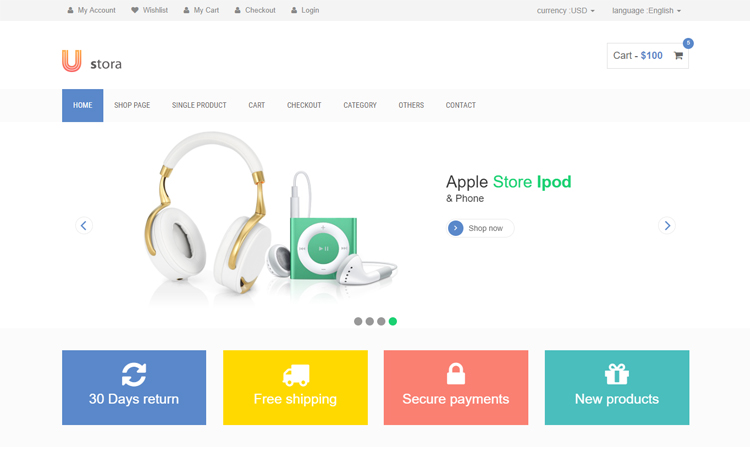 For the beginner level entrepreneurs, free HTML eCommerce templates are real gems to get started with power and comfort. Read the whole post to know more.
Creating your own business is an interesting and inspiring idea and it results best when you do the works from your home. Before quitting your day job, make sure your idea is a sumptuous and a creative one. Rest we will help you out here to start with a prolific step. You've already picked the right eCommerce platform for your business, therefore, now it's time to choose the best eCommerce website template for you. It is easy! Although it requires serious attention.
Free Template Bundle – Download Now
If you just wish to write your name in the line up of successful people, you need to make decisions at the right time with right choices. eCommerce is a modern day business and the field is expanding in a large aspect, so you're in a very positive and a demanding track, I must say. How come you will follow the latest design trend with proper UI and UX thinking to nurture in mind?
The standard is well set, you just need to be more accurate while you're updating the site and setting up the shop. Let's clear the fuzz, the list here is created solely so that you have to face no trouble at all. In the revolutionary time of the internet, your business needs to be globalized, as well. To make the web building process faster, choose an HTML5 template from the list below.
No.1 Free HTML5 Template With Alluring Features
Free Business Templates – Responsive and Free
Free Blogging WordPress Themes
Free HTML eCommerce Templates
Let's start reading as we added only the top-grade bootstrap eCommerce templates for your success and prosperity. With the ecommerce website templates, one can easily create their online shop that will bring more traffic and more revenue. Get started.
Grocery Store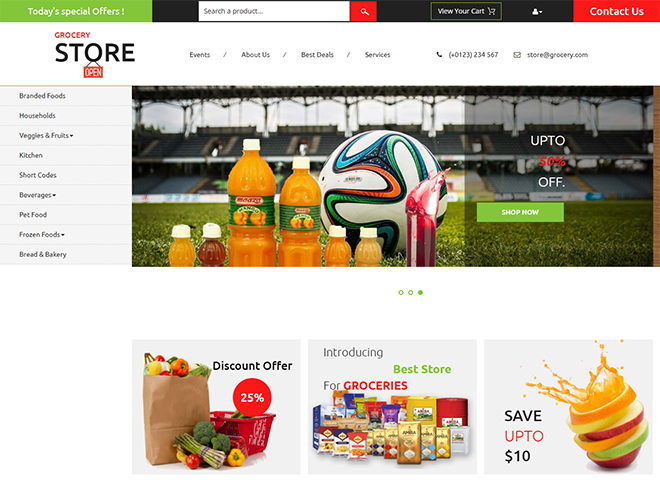 Grocery Store is an impeccable, magnificent, splendid and easy-to-use template. While you're constantly looking for a well-designed and well-functional template, this theme here is a surprising one for your best purpose. Because of the modern, robust web technology like HTML5, CSS3, Bootstrap, and beautiful sliders – this template will help to reach far. To explore the business prospects, use Grocery Store and enjoy the functionality it provides for all, even if you're not a coder. As the beautifully crafted design will make your visitor's mind pleased, it will give you to be more powerful in the back, as well. Regardless of the browser types, it views nicely on every platform, and it appears with an uncluttered shape on mobile screens, not to mention that. Grocery Store is one of the best free HTML eCommerce templates.
Features:
Clean and Flat Grid Design
Beautiful Flex Slider
Left Sidebar Option
Cross Browser Support
Responsive Web Template
Dynamic Shop Cart
---
Titan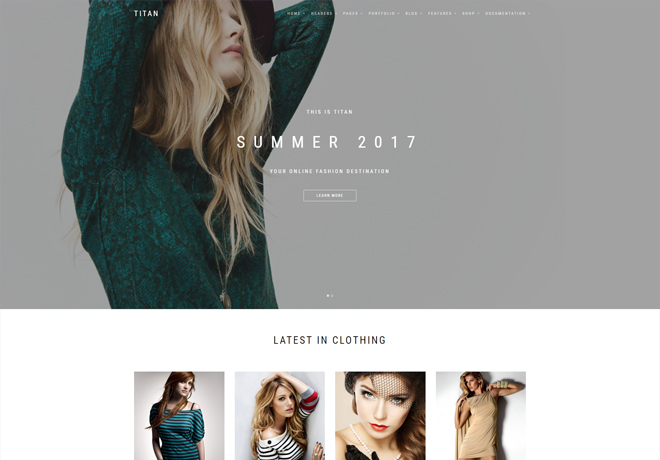 Titan is a multipurpose template with several engaging demos inside. Amid free HTML eCommerce templates, Titan is a magnificent one because it incorporates an amazing shop demo. Besides that, it's easy to use and the design is eye-catchy. If you go through the whole template several functionalities will amaze you. For instance, sticky navigation, on-hover animation, video background section, multi-level dropdown, and more. The design speaks itself while the features are outstandingly beneficial for all-level users. You'll find multiple headers and pages inside the template which helps you big time to make a website easily and instantly.
Features:
Sticky Navigation
On-hover Animation
Multi-page Layout
Background Video Section
Descriptive Footer
Font Awesome Icons
Contact Form
Google Maps
Multiple Layouts for Blog
---
Big Store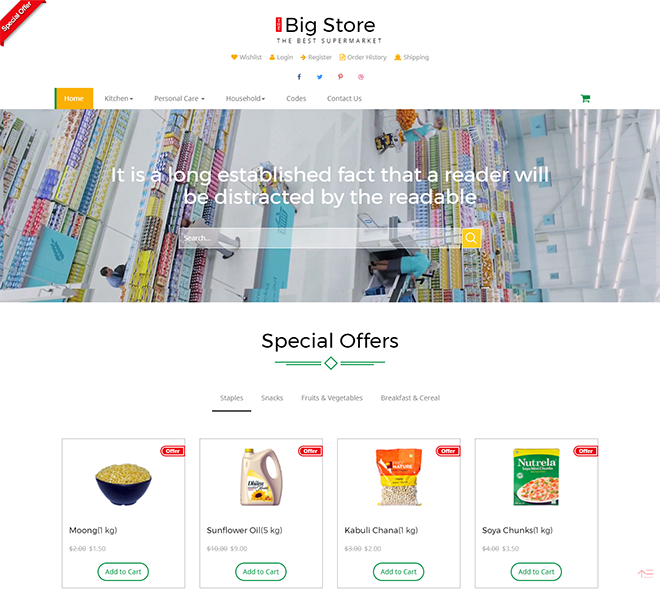 An eCommerce shopping web template is an integral part of this kind of business. Free HTML eCommerce templates are for making the webmasters powerful while they are constructing websites for online shops. Big Store is an outstanding, splendid, exceptional, robust, and astonishing template for the professional users as well as for the novice people. The easy customization and easy-to-understand process will help you every user not to get panic. A complicated web structure is frustrating for beginner level webmasters. But you're lucky enough that you've got Big Store for your smooth and painless journey. When you have more than 15 ready pages for an eCommerce website, you must feel the comfort while making the site joyously. Features like Font Awesome icons, video banner, subtle colors, shop cart, and fluid layout make the template a desirable one.
Features:
Neat and Clean Design
Header Video Background
Mega Dropdown Menu
Compatible Browsers
Fluid Responsive Layout
Free To Download
---
Furn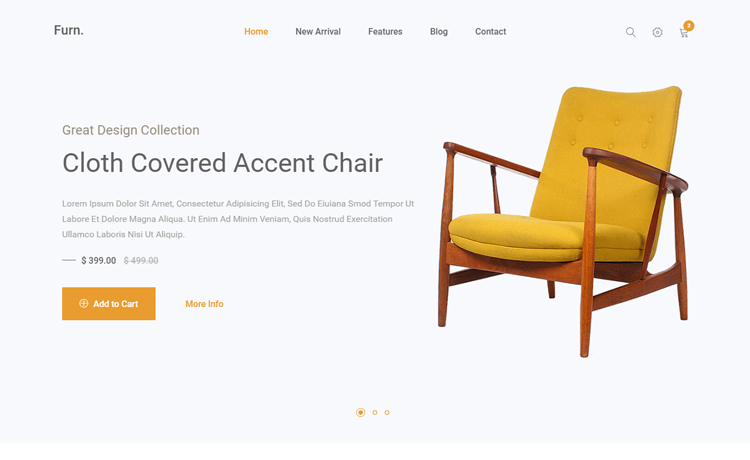 Furn is a free template for online shopping website made with HTML5 and Bootstrap framework. It is fully responsive and optimized for all modern browsers. On top of that, all the devices regardless of their screen size, show it flawlessly with pixel-perfection. Furn is completely ready to present your business online with a little alteration. Besides, it comes with all cutting-edge features like sticky navigation, slider on header, off-canvas search box, shopping cart and on hover effect on images. Furn is designed for professional usage and thus, it looks awesome and eye-catchy. Its inciting graphic options hook the visitors on their first visit. Well-managed and flexible code will make tweaking as smooth as a knife through butter. Create with Furn and have fun!
Features:
Clean and Minimal Design
Header with Slider
Sticky top Navigation Bar
Compatible Browsers
Fluid Responsive Layout
Free To Download
---
Amad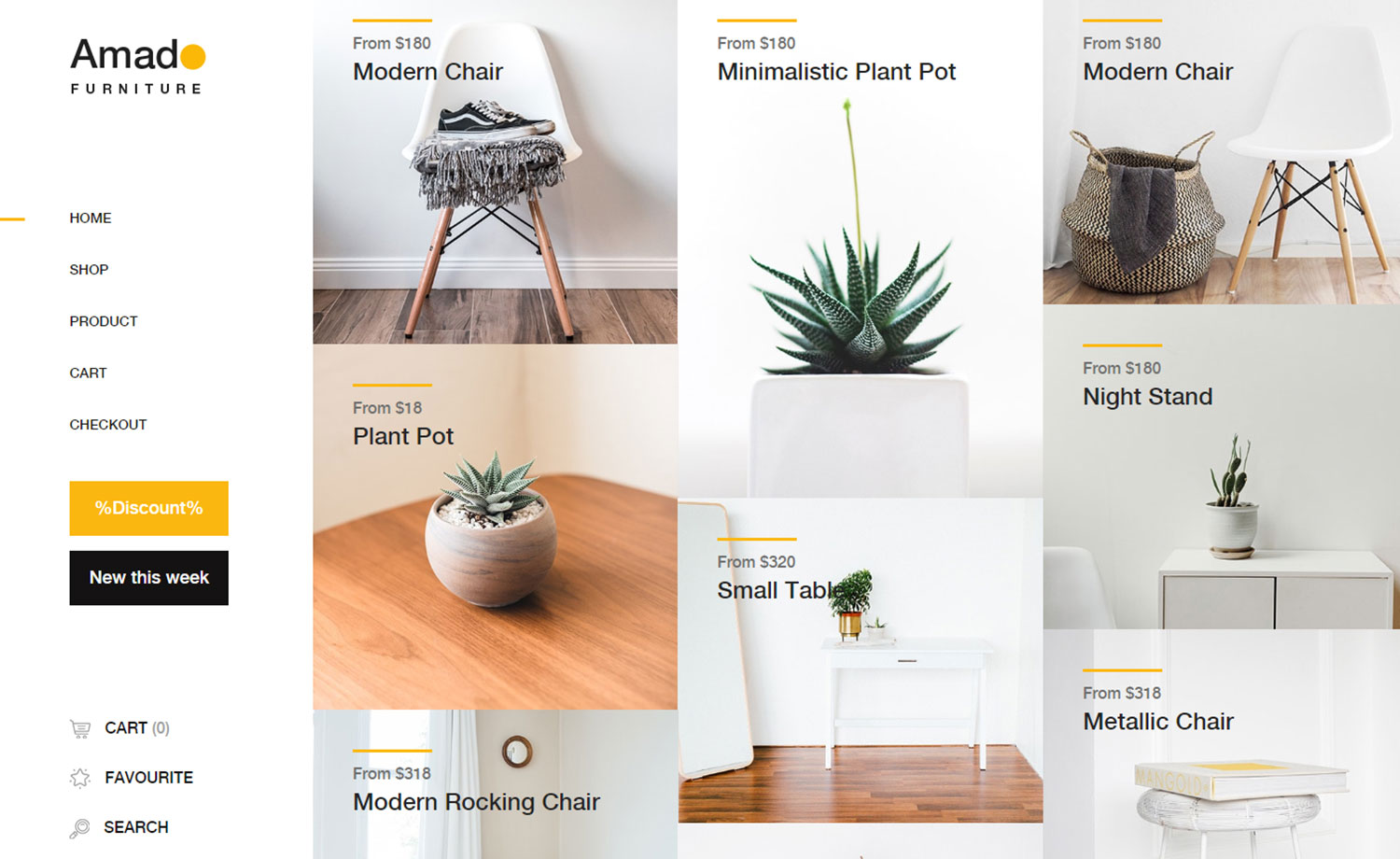 Amad is a free Bootstrap 4 HTML5 online furniture shop website template. It has an eye-catchy design plus inciting looks. Moreover, every device displays Amad flawlessly and utterly. It comes with recent features and assets like call to action button, footer navigation, back to top button, beautiful icons, fixed sidebar to name a few. There are some advanced options, namely price ranger, color picker, pagination UI, shopping cart are also packed with the bundle. Your visitors will surely be hooked with the website at the very first visit. So, make your project with Amad and have an attractive, user-friendly and efficient website!
Features:
Clean and Minimal Design
Bootstrap 4
FontAwesome Icons
Navigation Menu in Footer Section
Specialized Pages for Different Services
Multi-page Template
---
E-Shopper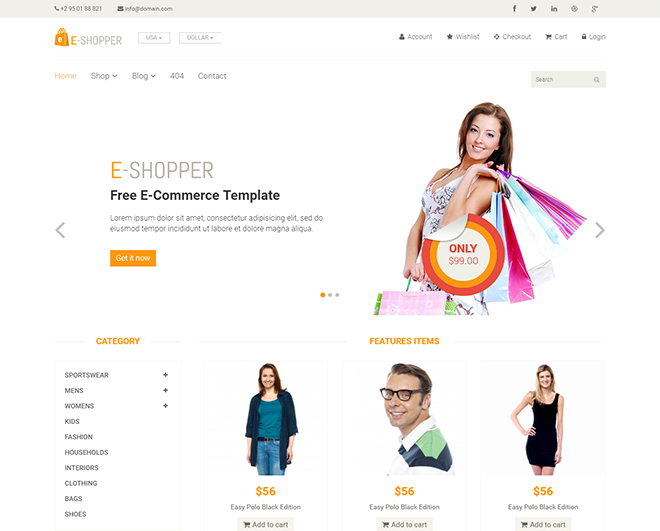 E-Shopper is a brilliantly designed, amazingly built, awesomely responsive, and wonderfully flexible high-quality template. Powered by the excellent Bootstrap 3 and sturdy HTML5, this theme marvelously aids towards your adventure of the constructing the site. Major browser compatibility makes the template to show smoothly on every platform no matter what your users are using. Also, the site works fantastic on multiple devices since it's made on Bootstrap framework. Well-documented code is another easy and comfortable option for the users to get the maximum benefit of a well-organized web template. Moreover, the template is compatible with any website whether it is static or dynamic. For the above reasons, this bootstrap template is one of the best free HTML eCommerce templates.
Features:
eCommerce Ready Template
Bootstrap 3 Powered
Cart and Checkout Page
Ajax Contact form
Stunning Slider
Blog Single Page
---
Shop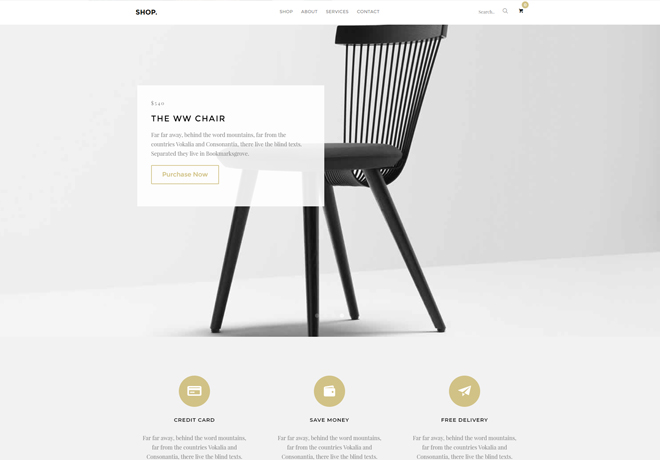 When you're following the list of free HTML eCommerce templates, they all are great on the basis of different criteria. Shop is a freshly designed, carefully built, comparatively fast free HTML website template for online shopping store. With Shop, the entrepreneur of any business can start-off their site and create a great impression on the user's mind. If you really need a powerful website then Shop will accompany you whenever you need a easily customizable template. Built with Bootstrap framework, it conveys modern features like parallax effect, counters, hover effect, Google maps, and so on.
Features:
On-hover Effect
Counter and Animation
Search Bar
Parallax Background
Google Maps
Carousel Slider
---
eElectronics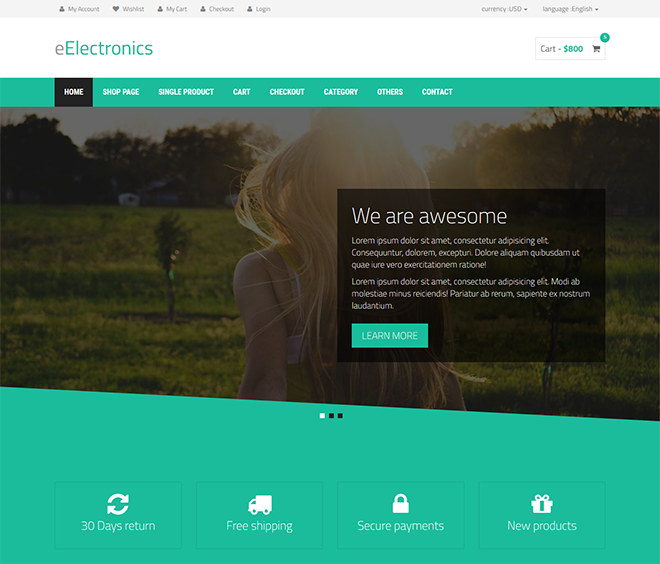 eElectronics is a ready-made shop for electronics shop yet it's an ideal suit for any store. Amid many top quality bootstrap templates, this one is a specially chosen. The pages it includes have necessary elements and layout to create further options so that customers can find easily what they want. You can add all the links to other products and related categories for more user engagement. A complete web template that has decent typography, eye-pleasing design, and latest technology can boost your sell, of course. Among free HTML eCommerce templates, electronics made a really admirable existence.
Features:
Fresh and Alluring Design
Modern Web Technology
100% Responive
Clean and Robust Markup
Easy To Edit
Free To Download
---
Electronic Store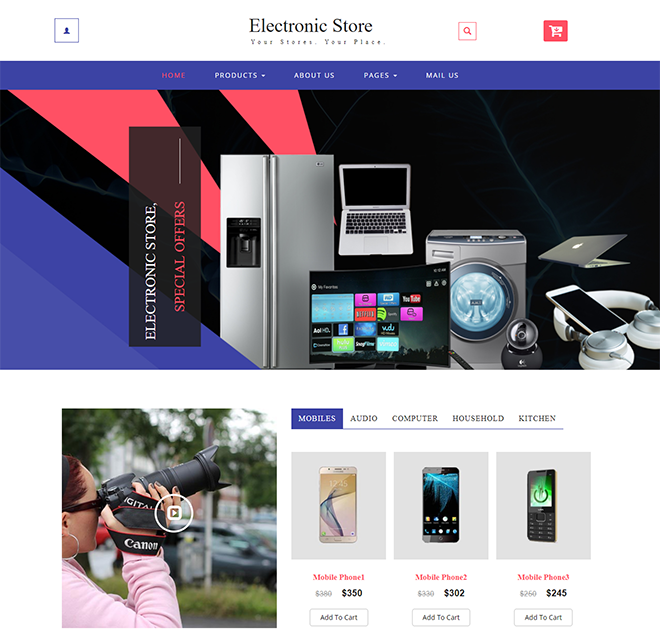 In the line up of free HTML eCommerce templates, Electronic Store is an ultimate, compelling, fabulous, well-oriented, and genuine template. With this high-calibre template, one can comfortably build a multiverse website for eCommerce and online shopping. No matter what is your business type or how expert you are because the Electronic Store is for everybody who wishes to form their desired business. For fashion and clothing, gadgets and electronics, grocery and food, firms and agencies – this awesome template is amazingly capable of doing all. Furthermore, it has many top-grade features like shopping cart, hover effects, stunning slider, responsiveness, and modern technology.
Features:
CSS hover effects
Timer — Countdown
High Resolution
Popup — Magnific Popup
Brands slider — Flexslider
Cart — minicart js
Smooth animated search button
---
Elite Shoppy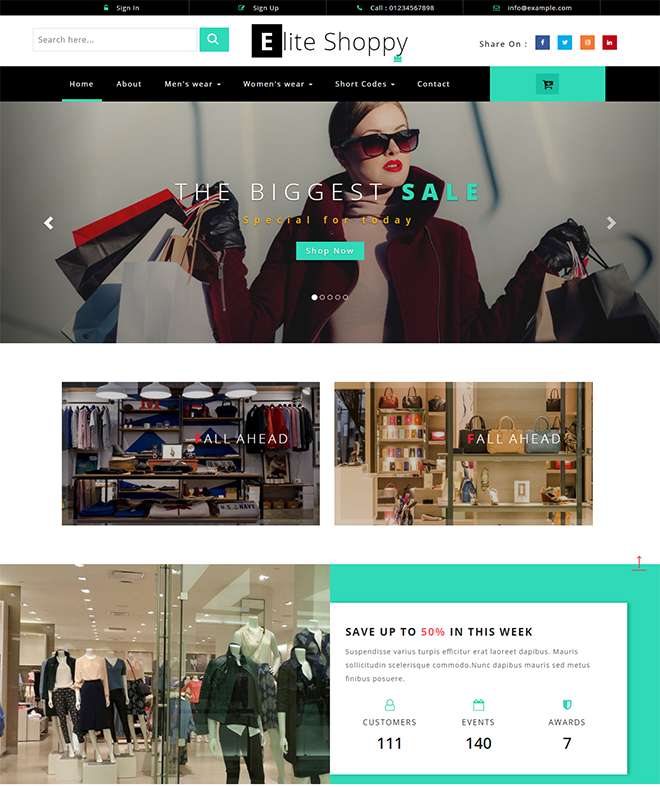 Elite Shoppy is another magnificent product amid free HTML eCommerce templates. It's undoubtedly a great choice if you're just looking for an eCommerce template that is compatible with modern browsers as well as smart devices. You can build sites for fashion, jewelry shop, furniture, digital goods, laptop and tablet, and anything you like. For your information, there's no actual boundary for making websites in varieties domains. Elite Shoppy has a unique design and fresh elements that intuitively makes your site much beautiful and assist your endeavor to step forward from the competitors. The elegant and versatile design, Bootstrap based short codes, browser and device compatibility – everything's there for better and amusing creation. If you find the right ecommerce website templates, your effort will just be easier.
Features:
Creative and Modern Flat Design
Flex Slider and Image Zoom effect
Font Awesome Icons
Carousel Banner Slider
Validated HTML5 & CSS3
Effective Transition and Hover effects
---
Shop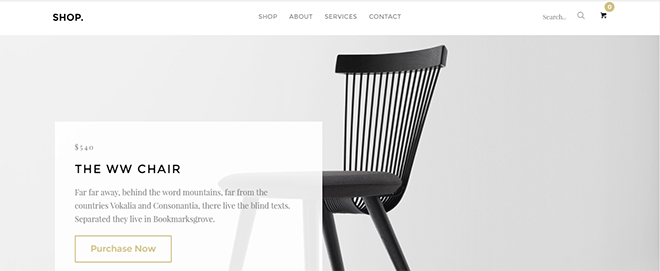 Before creating this post, we have studied a huge number free HTML eCommerce templates so that we can present you only the best in the market, which is free as well as highly functional. If you check the complete list, you can see yourself that how honest is our justification. Shop is one of the top bootstrap eCommerce website templates for building online shopping sites. Such a clean, versatile, modern, powerful, and minimalist template will significantly provide you the most appropriate solution. Top features like animated scrolling, google map integration, up-to-date technology, drop-down menu and all others give you best experience while you start the business site.
Features:
Modern Compelling Design
HTML5, CSS3, jQuery
Bootstrap Web Framework
Very Easy To Edit
eCommerce-ready Template
Free Download
---
Fashion Club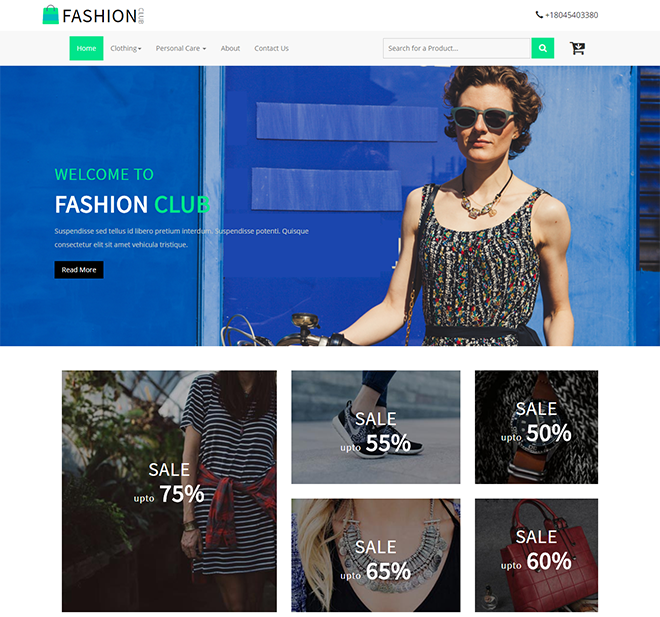 Fashion is obviously the hottest industry and one of the most profitable business categories among thousands of trading ideas. If you're already in the clothing business or planning to start now, then we must congratulate you for that selective choice. But before you begin, you certainly need some powerful supportive tools and one of these is a high-quality eCommerce template. Its paramount features will let anybody to dominate with a stylish and functional website. Adaptive to any screen and compatible with all browsers, Fashion Club offers an extensive opportunity for making beautiful websites at ease and comfort. We wanted to give you some industry-leading ecommerce website templates and we brought a robust creation like Fashion Club.
Features:
HTML5, CSS3, and
Font Awesome Icons,
Bootstrap framework
Parallax Images
Cross browser supportive
Hover Animations
---
Ustora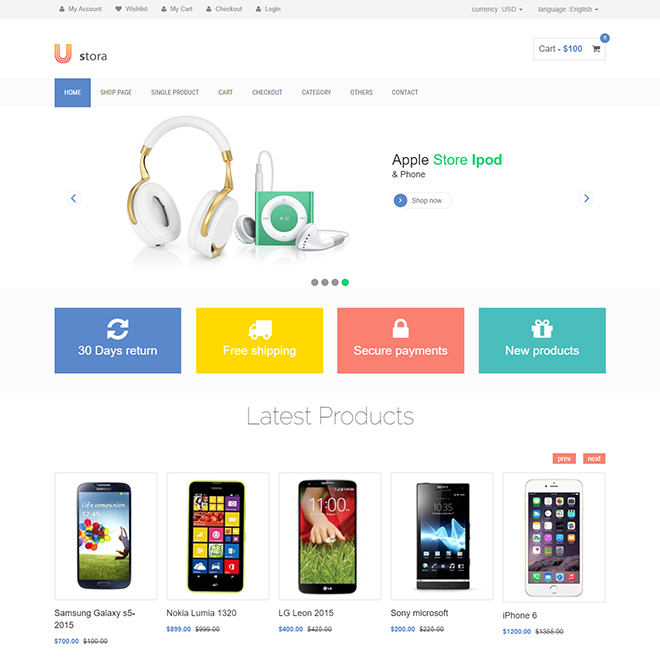 Ustora is a free, flat, clean, simple, beautiful, enchanting, tremendous, and incredible web template for making an eCommerce website. Any website for online stores is possible to build effortlessly with Ustora. It provides many features only high-grade template seekers will understand. One thing we believe that the better the functionality the comfortable your journey will be. You can easily organize your shop with all the products along with the necessary links for additional information. Undoubtedly this is an exemplary web template among free HTML eCommerce templates. Moreover, you can add some exclusive links like featured products and most selling products for better user attraction.
Features:
Responsive HTML5 & CSS3 design.
Bootstrap Based Template
Compatible to all Mobile Devices
Google Fonts
Beautiful Sliders with Bxslider
Well Commented Code.
---
New Shop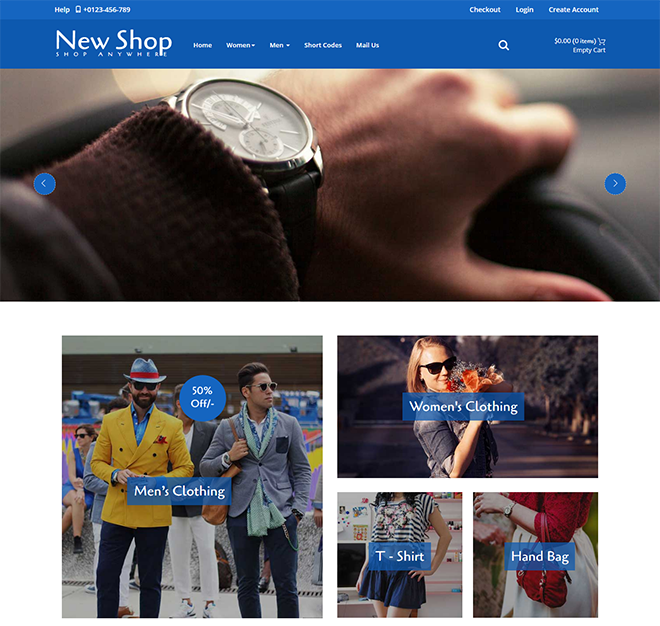 New Shop is an elegant eCommerce website template to do more work with less effort. It will escalate the efficiency of your endeavor which eventually results in a prominent growth. This list of free HTML eCommerce templates is complete because of the New Shop. For many reasons, we recommend this terrific template for your future project. As this theme is flat and pretty simple, it will obviously ensure the peaceful visibility for the users. Although several necessary pages are given with the template you can add as many as you want. Also, you can customize the whole template implementing your idea and thought. HTML5, CSS3, Bootstrap and modern technology have made New Shop a powerful tool for you.
Features:
Modern, Sleek, Beautiful
HTML5, CSS3, Bootstrap
Easy and Smooth Navigation
Multi-browser Compatible
Easy To Customize
Powerful Plugins
---
Majestic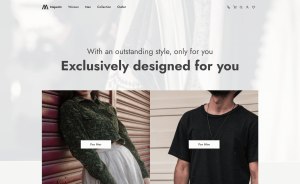 Majestic is a free Bootstrap 5 template for ecommerce websites that was developed by themewagon team. You should build a page with the assistance of Majestic if you want to showcase your brand in the best possible light. All retina displays and devices are supported, and this well-organized template is 100 percent responsive, precisely tuned, and appropriate for all browsers and devices. In addition to being very user-friendly and profitable, the template's design will attract more visitors to your site.
Features:
Bootstrap 5
CSS3 & HTML5
Gulp-based workflow
Fully responsive
SCSS and pug files
Single page template
Clean & Minimal design
Cross-browser compatibility
Hero header with split design
Fixed top navigation bar
---
Obaju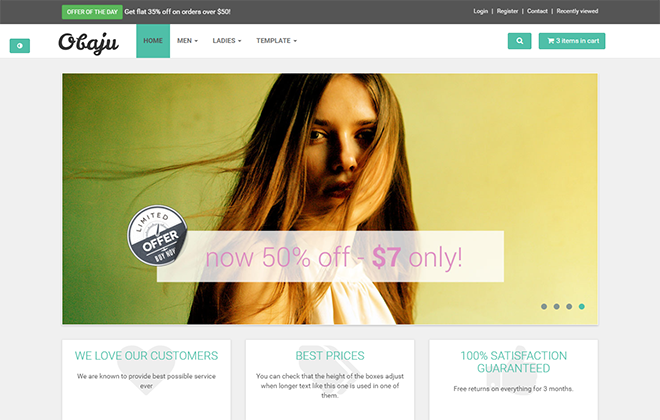 Literally, there are hundreds of free html5 eCommerce templates available to download. But to search and find the right template with modern features and amazing design is a tedious work. That's where this post of free HTML eCommerce templates comes into play so that you feel confident while making websites for eCommerce. Otherwise, you'll fall into a confusing situation where no one is helping you out. People who want to run some extra mile should use this template.
Features:
Megamenu and Animation
Shopping Cart and Order Process
Contact Page
Custom Google Map
Customer and Product Pages
Templates for Blog and Post
---
Ogani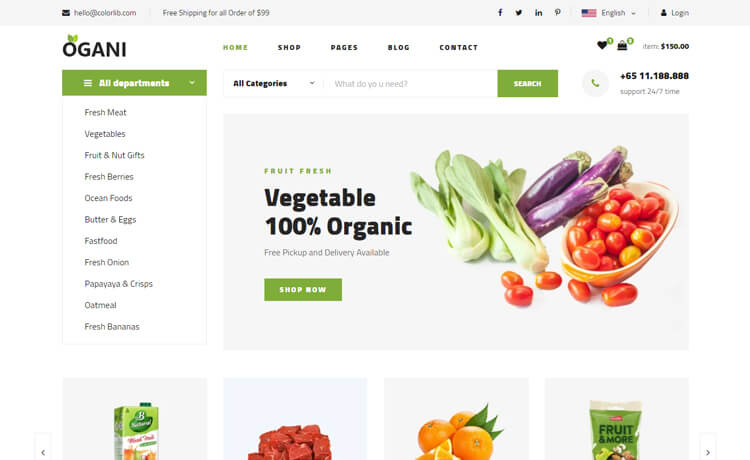 Ogani is a free Bootstrap template for ecommerce and organic food websites that can be downloaded from the Internet. It is possible to create an effective and neat website for your online store or other comparable companies without having to do any heavy lifting. Furthermore, its clean, simple, and attractive style, as well as its 100 percent responsive layouts, will capture the attention of visitors at first glance.
Features:
Built on top of Bootstrap 4
Cross-browser compatibility
Clean and minimal design
Fully responsive
Multi-page template
Drop-down menu
Search option
Call to action button
Hover effects
Vegefoods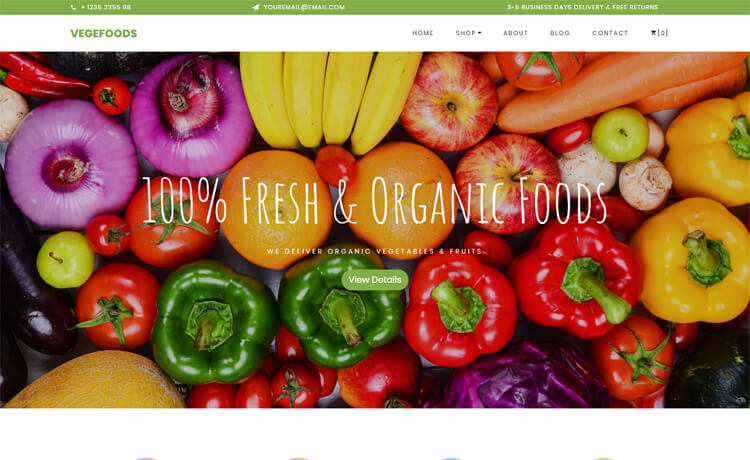 Fruits and vegetables are the focus of this free responsive e-commerce website template, which was created using HTML5 and the newest Bootstrap 4 framework. It is an excellent option for websites such as online vegetable buying sites, organic farming websites, and other similar types. Additionally, Vegefoods has a clean and simple design that has a lovely appearance.
Features:
Bootstrap 4
Clean and minimal design
Fully responsive
Cross-browser compatibility
Multi-page template
Hero header
Full-screen slider
SVG preloader
Sticky top navigation bar
Drop-down menu
---
Classic Style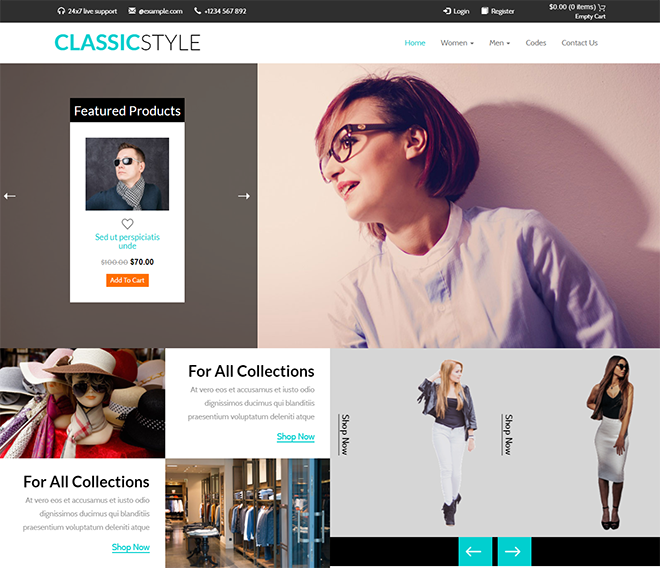 Classic Style is another sophisticated, stunning, powerful, and charming web template for making eCommerce websites. It's the ultimate, robust, and exquisite addition to the compilation of free HTML eCommerce templates. This ultra-responsive template works fast and fantastic on every device available in the market. Besides that, for the creation of online shopping websites for any category, you don't need different template rather than Classic Style. However, get this template and customize with your content. When you get free ecommerce website templates like Classic Style, there's no need to look for anything else.
Features:
Responsive Web Template
Visually Stunning
All Screen Compatible
Bootstrap Framework
Ready To Customize
Highly Functional
---
Concluding Remarks
As the online shopping trend is burgeoning, the demand for free HTML eCommerce templates is increasing in a great manner. Download one of these templates and stand out from the crowd. Visit our blog for amazing templates for business, photography, restaurant, agency, and multipurpose.