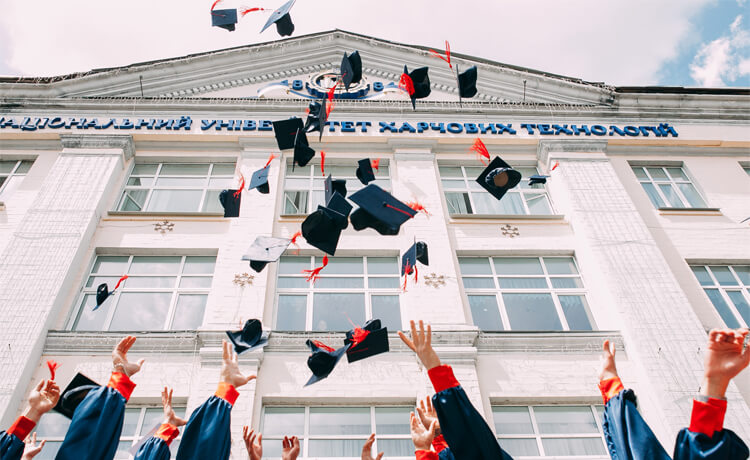 The primary factors you need to focus on while choosing educational templates are features, functionality, usability, and optimization. A website reflects your organization, services, and your products, so we need to make sure the right templates have been selected. A well-developed website can create a positive impact and keep engaging visitors on your site.
ThemeWagon has made a collection of the best 34 education website templates for school, colleges, universities and other educational institutions. These top-notch and high-quality web canvases are designed with elegance to ensure better performance. Moreover, all these themes are well-equipped with cutting-edge features and assets.
Clean and simple code is packed inside each bundle to make your customization job more comfortable and smooth. In addition, all these templates are mobile-ready and fully responsive. Latest Bootstrap framework has been used to build these themes; that's why all the devices display them flawlessly and perfectly regardless of screen size.
Let's jump to the list and explore the themes one-by-one to choose the one which best suits your requirements.
01. Edusite – Free HTML5 Bootstrap Education Template With Simple Layout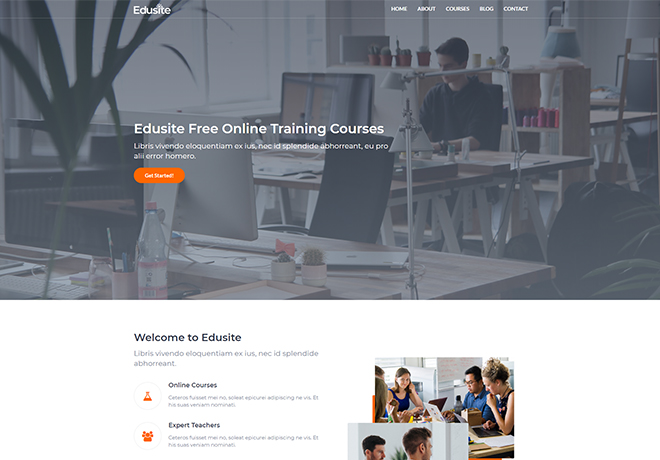 Edusite is a modern theme for educational institutions like schools, colleges, and other similar organizations. It is built with the Bootstrap framework and the latest technologies like HTML5, CSS3. In addition, This multi-page template is designed with a clean and minimal approach to ensure pixel-perfect look on any device and smooth loading of the webpage. Parallax effect, video sections, off-screen navigation, animated buttons are some of the eye-catchy features it is packed with. On top of that, 4 ready to use pages and a pre-built blog page is also bundled with it.
Key Features
Off-canvas Navigation
Parallax Background Effect
Lightbox Image Gallery
Google Maps
Video Section
02. Posh – A Revolutionary New Way of Creating Websites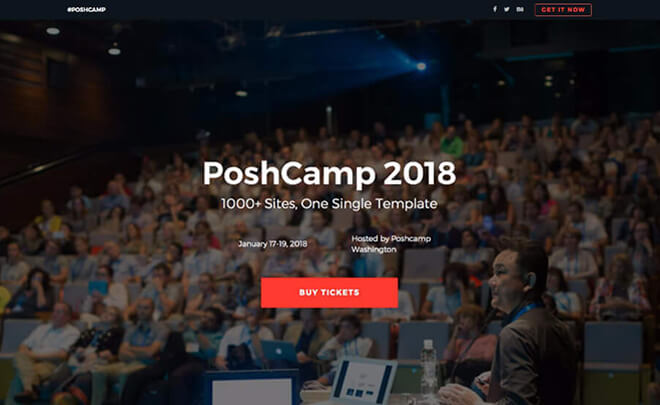 Posh is one of the finest web templates in the world. Building websites with Posh is fast and seamless. No matter what the organization or service is, Posh is ready with its variety of unique Bootstrap 4 layouts even for building an educational website too. Moreover, built-in schemes of color, component and typographies will give you the liberty to craft an extraordinary webpage even if you are a newbie. Posh is designed to get fit into every screen and device of any size. Besides, the atomic code structure makes it immensely scalable.
Key Features
174 Built-in Layouts to choose from
32 Set of Components
Built on CSS helper classes for super easy customization
Built-in documentation
Functional contact form
RTL support
03. Academics – Free Bootstrap 4 HTML5 Education Website Template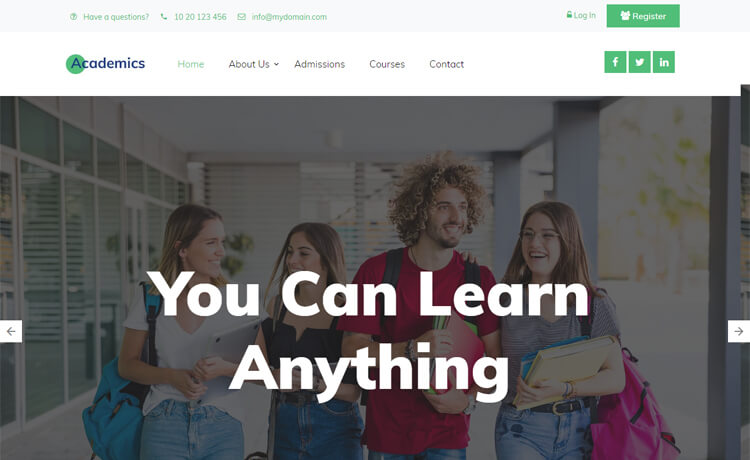 Academics is a free Bootstrap 4 template for responsive educational websites. With this theme, you can quickly make any school, college, university or online education website. Moreover, it fits into all devices and screen sizes and looks flawless. Full responsiveness and cross-browser optimization are ensured while designing the layouts. Features like drop-down menu, full-screen slider, sticky top navigation bar, testimonial carousel are encompassed with the package. What's more, pricing table, blog section and 2 authentication forms are inside the box too. Explore Academics and find out more exciting options!
Key Features
Fully responsive
Full-screen slider
2 Authentication form
Testimonial carousel
Drop-down menu
04. Webuni – Free Bootstrap 4 HTML5 Online Course Education Website Template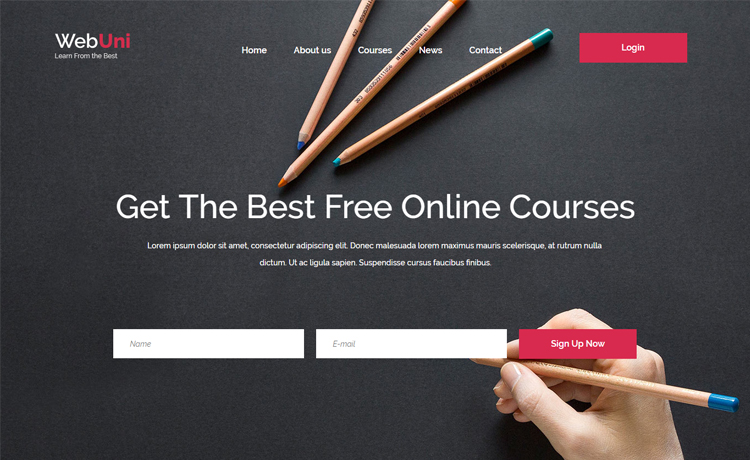 Webuni is a Bootstrap 4 HTML template for offering online courses. It is fully responsive and designed for online educational institute websites like Udemy. Webuni is a clean, minimal and straightforward theme with an attractive look. Besides, it has all the latest options to facilitate you with the best service. Compelling features, such as – preloader, hero header, MixitUP sortable course gallery, google maps are packed inside the bundle. Well-organized and easily editable code will help you create an excellent website in minimum time.
Key Features
Animated CSS3 preloader
Blog section
MixitUP sortable course gallery
Google map
Search bar
05. Eclipse – Free Bootstrap 4 HTML5 e-Learning Website Template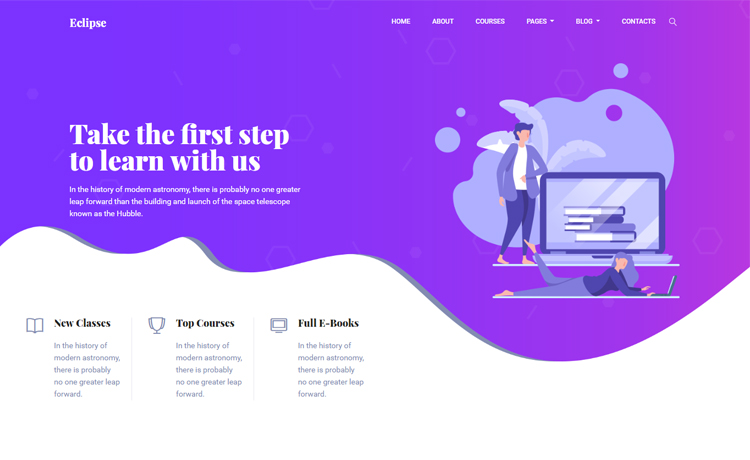 Eclipse is a free Bootstrap 4 HTML5 education website template. A blend of custom illustrations, stylish look and up-to-the-minute options turn Eclipse into a top-hole template. Eclipse has all the functionalities to be an e-learning site. For example – gradient style, drop-down menu, YouTube video player, testimonial carousel, google maps and a whole lot more. In addition, beautiful icons from the latest FontAwesome font icons have been used. Get your project running with Eclipse and get a stunning one!
Key Features
Gradient Style
Sticky-top navigation
10+ UI elements
YouTube Video player
Extensive documentation
06. Provision – Free Responsive Education Website Template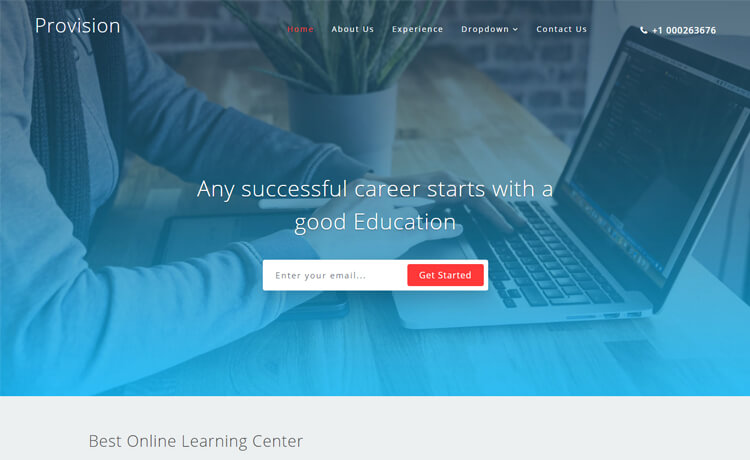 Provision is a free HTML5 responsive theme for education websites. The latest Bootstrap 4 framework has been used to build this theme. Provision best suits websites for educational purposes like online courses, e-learning, educational organization or information management system for schools, colleges and universities. It has an aesthetic design with a clean, simple and minimal look. Moreover, Provision is fully responsive and works well with all modern browsers. Additionally, it comprises plenty of tech-savvy features, for example – Gradient hero header, Drop-down menu, Google maps, etc. Kickstart with Provision and keep going!
Key Features
Bootstrap v4.0.0
FontAwesome font icons
Fully responsive
Cross-browser compatibility
Gradient style
07. Known — Free Education Responsive Website Template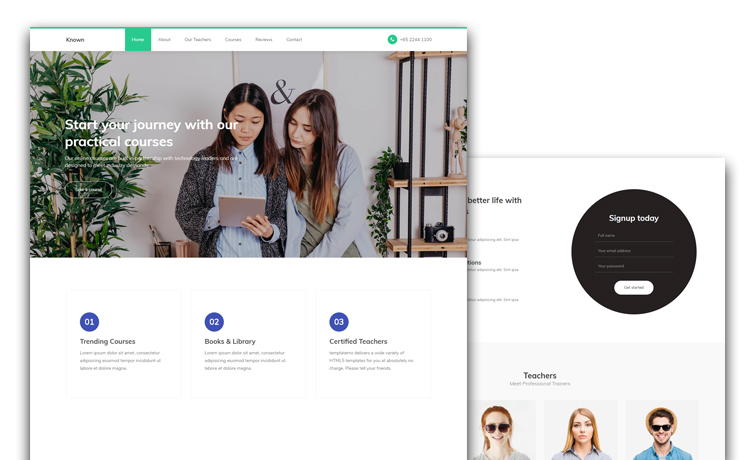 Known is a one page responsive educational institute website template. It is a premium like high performing free html5 theme. Known is designed with a clean, simple and minimal approach yet looks beautiful. Moreover, Known is optimized for all major browsers and fits perfectly into all devices and screen. Plus, all-new features and assets are included in the box. Header slider, call to action button, sticky navigation, testimonial carousel are some of the goodies. Well managed and easy to customize code for rapid development.
Key Features
Hero header with slider
Sticky top navigation bar
Bootstrap 4
Testimonial carousel
Single page layout
08. Education – Free HTML5 Responsive Education Template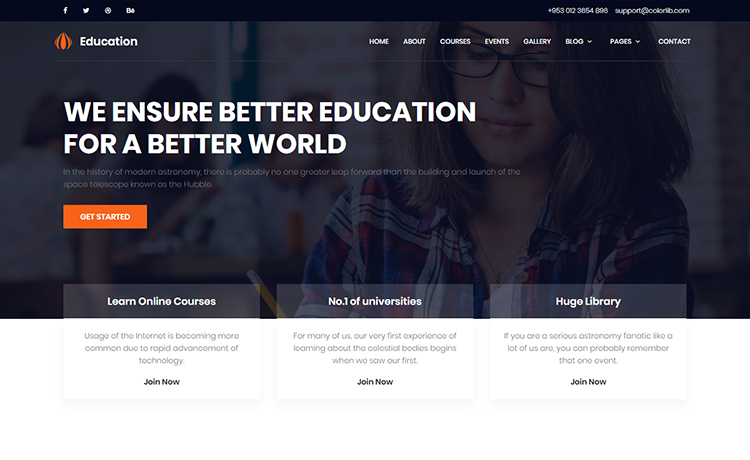 Education is a free HTML5 template for educational organizations like school, college and universities. This template will help you build the most engaging and professional website for your organization. Moreover, the latest Bootstrap 4 framework has been used to give it fully responsive layouts. Education is mobile-ready and displays pixel-perfect on any device regardless of the screen size. Most recent features like multi-level drop-down menu, sticky navigation, hero header, call to action button and a whole lot more are packed inside the package. Create with Education and explore more to make a professional-looking website like Udacity.
Key Features
Sticky Navigation
Advanced Course Search
Video Section
Google Maps Available
Multi-level Drop-down
09. One School – Free HTML5 One Page Responsive Educational Website Template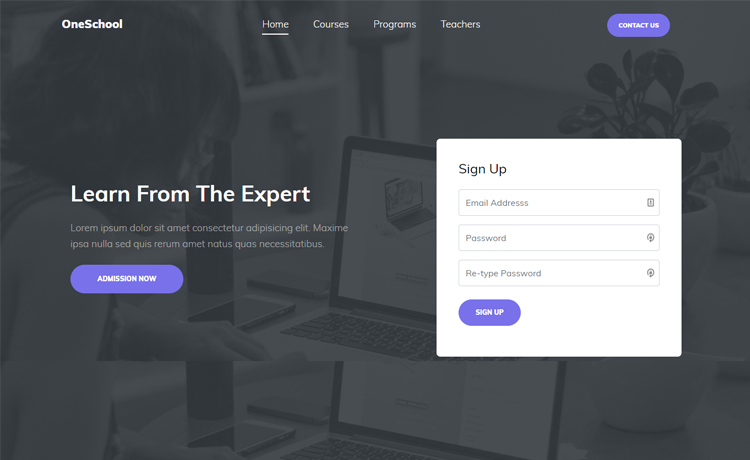 OneSchool is a free one page Bootstrap 4 educational institute website template. OneSchool is a ready to use theme for fast and smooth web development. It will help you build professional web canvas for your educational organization such as- school, college, university or other similar kinds. Moreover, it is a fully functional template with mind-blowing features like parallax effect, hero header, sticky navigation, load on scroll animation. Headstart your project with OneSchool and get an outstanding website.
Key Features
Sticky top navigation bar
Hero header
Parallax effect
Course carousel
Custom Illustrations
10. My School – Free Bootstrap HTML5 Responsive Education Website Template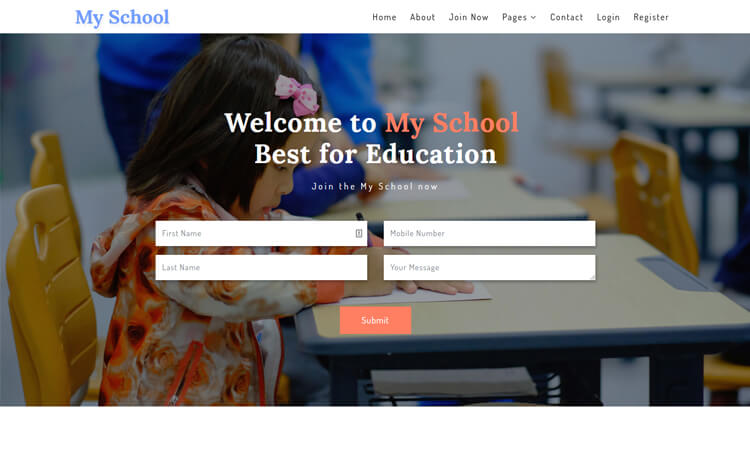 My School is a free Bootstrap 4 responsive education website template. The latest HTML5 & CSS3 technology is used to craft the web canvas. Full responsiveness, cross-browser compatibility, pixel-perfection are ensured while developing the theme. Besides, My School comes with a box full of modern and user-friendly features. Drop-down menu, parallax background, call to action button, photo gallery with modal image view are some of the goodies. On top of that, a contact form and a registration form UI is also encompassed in the basket. Enjoy creating with My School!
Key Features
One page template
Sticky top navigation bar
2 Authentication pages
Parallax background
FontAwesome font icons
11. Kiddos – Free HTML5 Bootstrap 4 School Management Website Template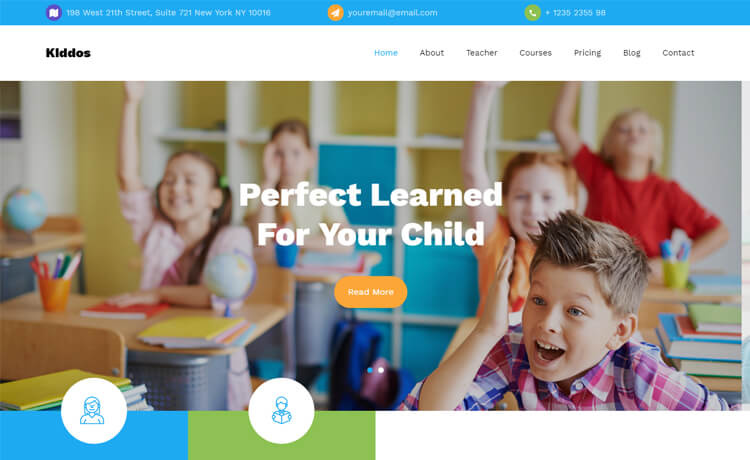 Kiddos is the best fit for website like school, college, kinder gardens, online course directory and other related kinds. It is a free Bootstrap 4 online education website template. Plus, Kiddos is HTML5 and CSS3 technology-based web canvas which is super responsive and mobile-friendly. In addition, it is optimized for all recent browsers to ensure high performance. Some of the cutting-edge options are also available with Kiddos, namely SVG preloader, sticky navigation, hero header, parallax effect, image gallery with a modal view, pricing table to name a few. The codes are extremely easy to alter like a knife through butter. Make your project with Kiddos and get an extraordinary education website.
Key Features
Slider on header
SVG preloader
Load on scroll animation
Blog section
Icomoon font icons
12. SmartEDU – Free HTML5 Bootstrap 4 Education Website Template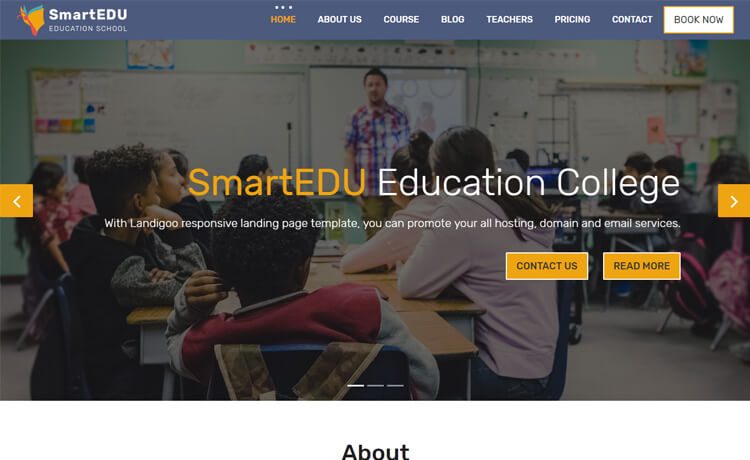 SmartEDU is a free HTML5 template based on the latest Bootstrap 4 framework. SmartEDU has a very special design. It accommodates all the functionality of educational institutes like school management system, students directory, students portal, online courses, colleges, universities and e-learning websites. Moreover, the latest features are provided with this theme to make it responsive, compatible with all the new browsers. Drop-down menus, pricing tables, classic full-screen slider, call to action button are few of the mega feature collection it is coming with. Dig it deep and turn your project into a striking one!
Key Features
Animated CSS3 preloader
Load on scroll animation
Timeline
Pricing table
Modal login/registration form UI
13. Course – Free HTML5 Multi-Page Education Template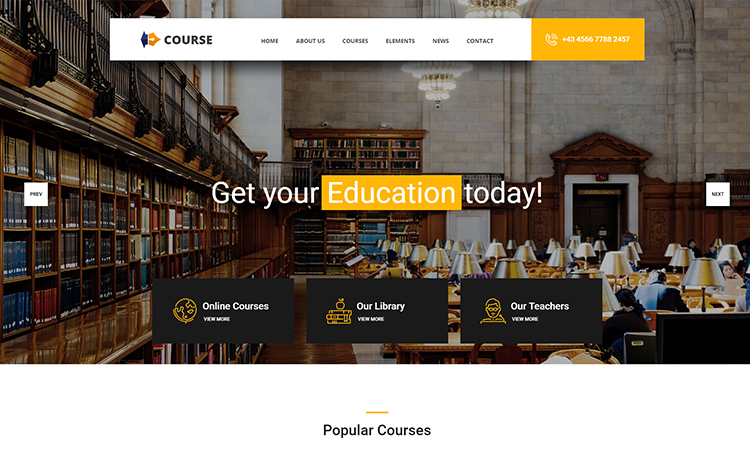 Course is a free multi-page responsive academic website template. The top-quality design will reduce the time for developing an education website. Moreover, the use of Bootstrap 4 framework provides full responsiveness to ensure proper display of the theme on any device. It looks beautiful on every screen, plus it is optimized for all major browsers. Besides, Course is a feature-rich template and comprises modern options like hero header, full-screen slider, sticky navigation, on hover effect, testimonial carousel to name a few. Craft your project with Course and tweak it according to your requirements.
Key Features
Full-width slider
Sticky navigation
Lightbox gallery
Progress bars
Accordions
14. Child Learn – Free HTML5 Bootstrap 4 School Management System Template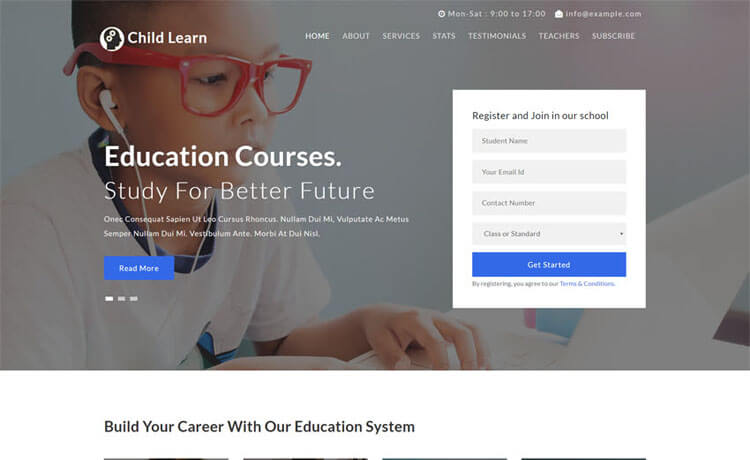 Child Learn is a free online learning website template crafted based on the latest Bootstrap 4 framework and HTML5. It is fully responsive and optimized for almost every browser. Child Learn works very smoothly on any device and looks sharp. It best suits websites like school management system, student portal, college website or other online educational institutes. Besides, Child Learn comes with plenty of impressive features, for example – content slider, hero header, registration form UI, fun fact counters and a lot more. Moreover, intuitive and flexible code will allow you to customize easily.
Key Features
Content slider
Call-to-action button
Sign-up form on header
Footer navigation
FontAwesome font icons
15. Skwela – Free Responsive Multi-Page Online Education Website Template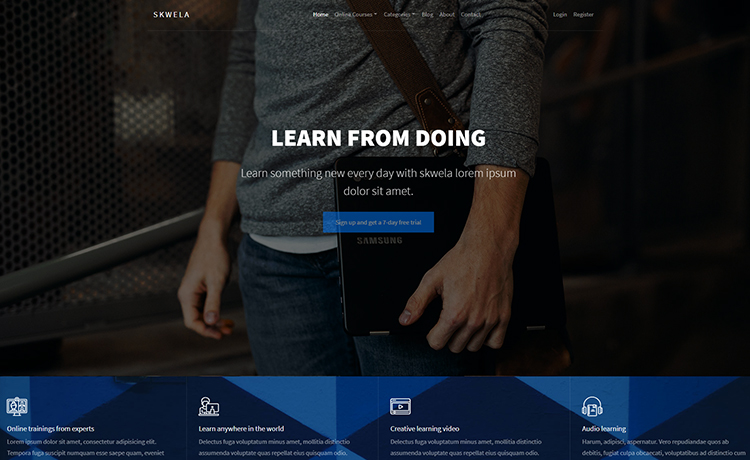 Skwela is a free responsive Bootstrap 4 HTML5 e-learning website template. It comes with an elegant design with clean, simple and minimal layouts. Moreover, Skwela comprises some good options which include hero header, parallax effect, drop-down menu, etc. An intuitive and easily alterable code makes project-specific customizations easy. Plus, a blog section will help the organization share what's happening to keep visitors hooked. Seamless display on every device is ensured by using the latest graphic technologies. Make a fast, eye-catchy and efficient education website with Skwela.
Key Features
9 ready HTML pages
Animated scrolling
Log in, register page
Parallax background
Drop-down option
16. Coaching – Free Bootstrap 4 HTML5 Education Website Template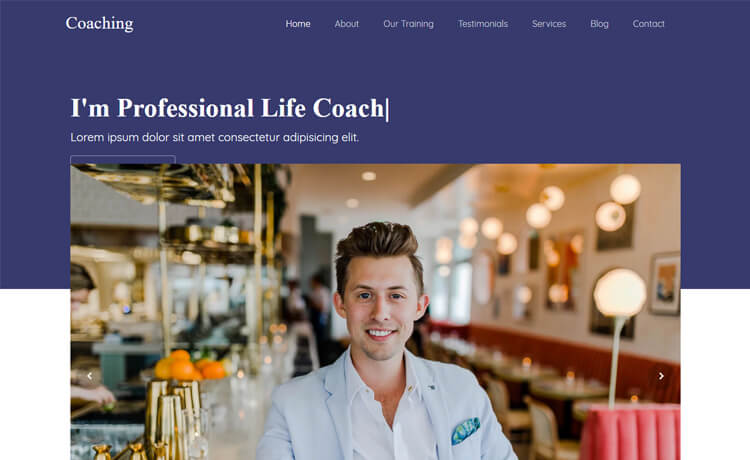 Coaching is a modern template for professional online learning website. It is built with the latest Bootstrap 4 framework and HTML5. Coaching is the best selection for websites like online learning, online education, online courses, e-learning and other educational organizations. Moreover, Coaching is entirely responsive and fits into all the screen sizes. Modern options like sticky navigation, type-text effect, full-width carousel, testimonials are packed with it. Create an artistic project with Coaching and shine online!
Key Features
One-page template
Load on scroll animation
Slider on the header
Typing text effect
Service slideshow
17. Fox – Free HTML5 Bootstrap 4 Responsive College Management System Template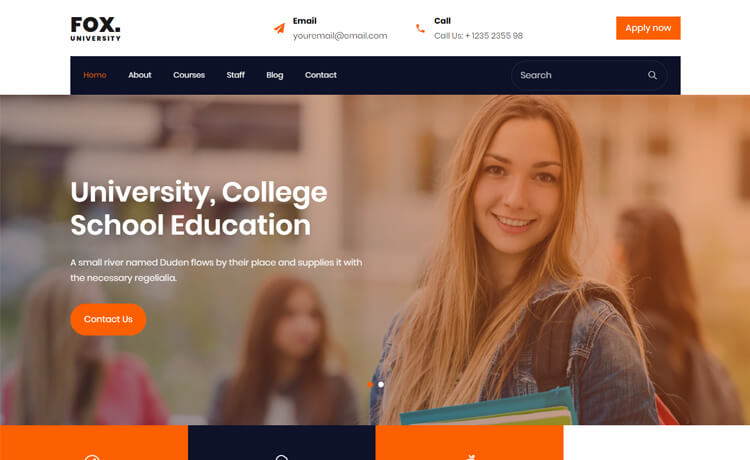 Fox is a free responsive HTML5 school, college management system template. The most recent Bootstrap 4 framework and HTML5 technology has been used to craft the theme. Moreover, full responsiveness gives it a fluid look to adjust itself into all the devices disregarding the screen size. It looks meticulously perfect because of the eye-catching design and its clean, simple and minimal looks. Besides, up-to-the-minute features and assets are encompassed in the box. Hero header, SVG preloader, slider, parallax background, video player with a modal view are some of the handy options it is coming with. Create a gorgeous website with Fox and bang online!
Key Features
Quote form
Blog section
Testimonial carousel
Modal image viewer
Google maps
18. Lingua – Free HTML5 Responsive Language School Website Template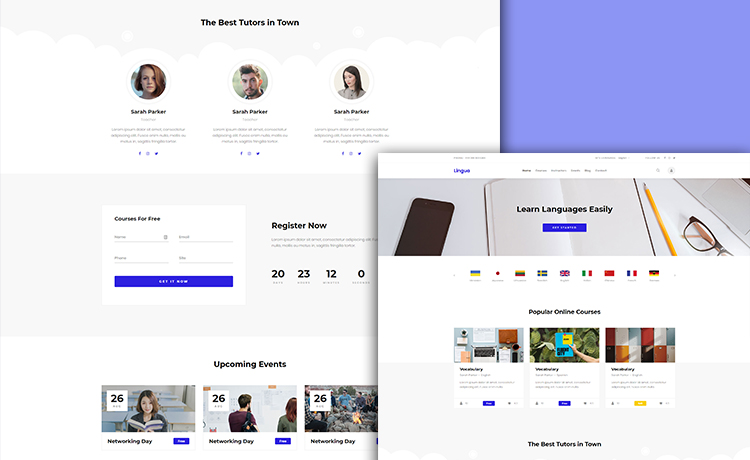 Lingua is a free Bootstrap 4 and HTML5 responsive language school website template. It is fully responsive and works very efficiently with all modern web browsers. Besides, Lingua is a ready to use theme and you can create your education website with it in minimum time. Features like sticky navigation, carousel slider, countdown timer, video section are bundled with it. On top of that, well-managed and easily customizable code are also coming with the package. Do your project with Lingua and enjoy creating.
Key Features
Fluid layout
Video section
Carousel slider
Descriptive footer
Search bar
19. Educature – Free Bootstrap 4 Responsive Education Landing Page Template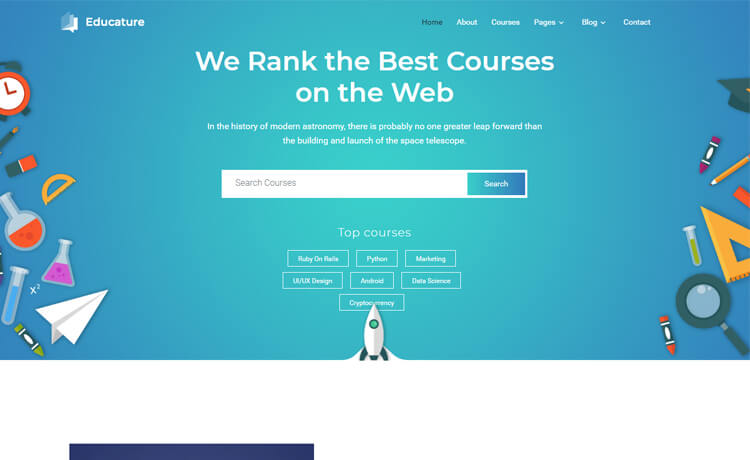 Educature is a free HTML5 responsive online courses website template. It has an attractive and inciting web design that will undoubtedly hook the visitors to this theme. Plus, a clean, simple and minimal look makes it an eye-catchy web canvas. Educature can be the best match for online education, online courses, e-learning, learning websites. Striking features like search box, animations, gradient buttons, testimonials are coming with the lot. Educature is super tweakable for its flexible and well-managed code. Try Educature for your project and get the best out of it.
Key Features
Gradient Buttons
Drop-down menu
Cool animations
Search box
Back to top button
20. High Edu – Free Bootstrap 4 HTML5 Responsive Education Website Template
High Edu is a professionally designed free Bootstrap 4 HTML5 responsive education website template. Noticeable design with a clean, simple and minimal look made it a visitor inviting theme. Moreover, its fully responsive nature ensures a faultless display of the template on every device. Besides, Hig Edu comes with a bag full of contemporary features and assets like hero header, drop-down menu, call to action button, google maps and many more. Simply editable code is packed inside the box to make further twist and tweaks comfortable for you. Explore High Edu and get yourself an outstanding website.
Key Features
Registration form UI
Gallery with modal view
Testimonials
Email subscription form
Back to top button
21. Edustage – Free Bootstrap 4 Online Education Website Template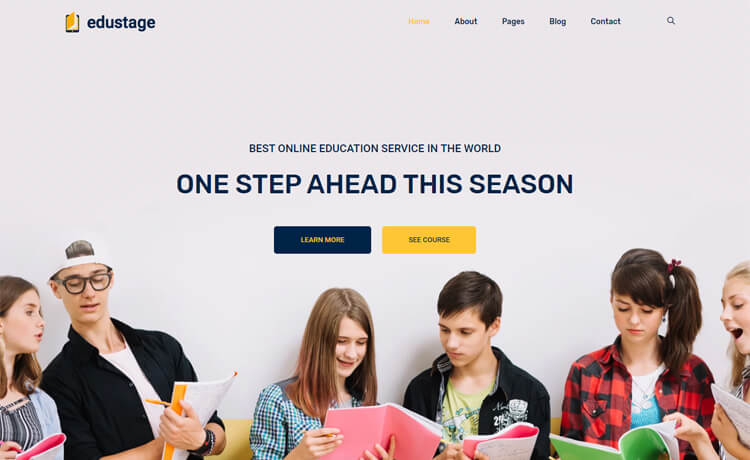 Edustage is a free Bootstrap 4 education website template. Whether your institution is a school, college, university or online learning website, Edustage has all the functionality to provide you with the best service. Up-to-the-minute features and graphic options are implemented on the theme to make it a standalone theme. It is fully responsive and well-crafted to work with all the latest browsers. Moreover, course registration form UI, testimonial carousel, stylish animations, sticky navigation bar, hero header and a lot more features are included in the box. Build a beautiful website with Edustage and get an outstanding outcome with a minimum effort.
Key Features
Off-canvas search box
Course registration form UI
Breadcrumbs
10+ UI elements
Blog section
22. Studies – Free Bootstrap 4 Educational Institute Website Template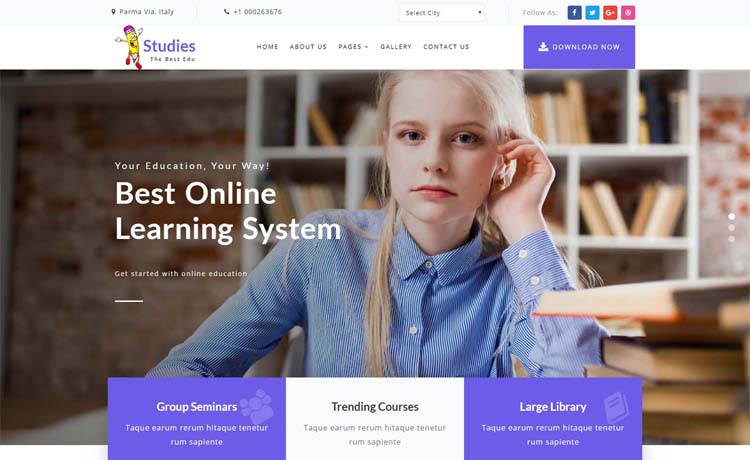 If you are looking for a professional educational institution website template, then Studies is the best choice for you. It has all the modern facilities of an education website. In addition, an eye-catchy design with fluid layouts makes it look pixel-perfect on every device. The most important thing is, it is a free Bootstrap 4 HTML5 template suitable for school, college, university or any other education-related organization website. Moreover, it is fully responsive and optimized for the latest browsers. Well-managed code will let you customize the theme without any hassle even if you are a newbie. Make a marvelous project with Studies and kickstart it.
Key Features
Progress bars
Full-screen slider
Parallax effect
Gallery with a modal view
Google maps
23. Indoctrination – Free Bootstrap 4 HTML5 Education Website Template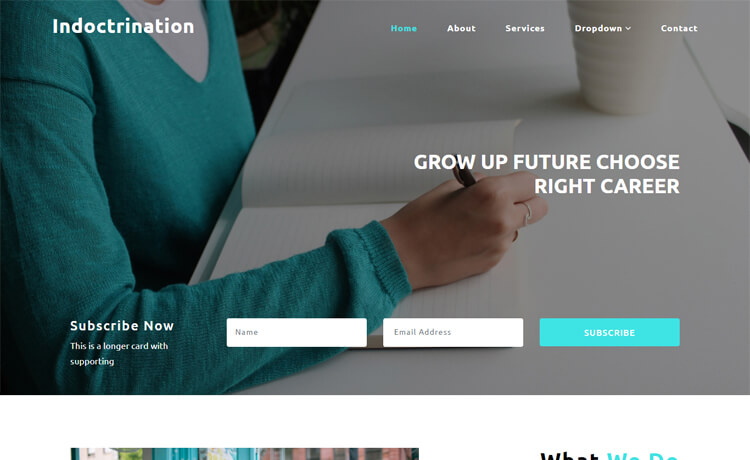 Indoctrination is a free responsive Bootstrap 4 template for educational website. It is fully responsive and created based on the latest HTML5 and CSS3 technologies. Moreover, it is pixel-perfect on any device or browser regardless of its screen size. Indoctrination has an elegant design plus a clean, simple and minimal look. In addition, it comprises a lot of cutting-edge features and assets. Hero header, parallax effect, fun fact counters, drop-down menu are some of the goodies it is packed with. Get your project rolling with Indoctrination and cheers!
Key Features
HTML5 & CSS3
100% responsive
Google fonts used
Google maps
Gallery with modal image view
24. Kiddy – Free Bootstrap 4 HTML5 Kindergarten Website Template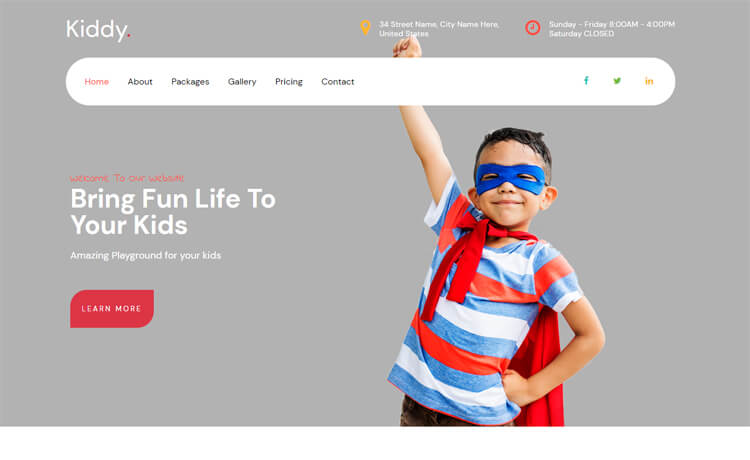 Kiddy is a free Bootstrap 4 HTML5 template for your kids. Kiddy is a trendy and fashionable theme with full responsiveness. It is optimized for and designed to look perfect on every device. Besides, the latest and tech-savvy features are included in the box. Hero header, call to action button, pricing tables are some of the special options. Kiddy best suits websites like kids playground, kindergarten, pre-schools, playschools, etc. Kiddy has mobile-ready and flexible layouts, plus its a fast loading theme. Get a website quickly with the professional theme Kiddy!
Key Features
Hero header
Testimonial carousel
Call to action button
Pricing table
Gallery with a modal view
25. Elearn – Free Bootstrap 4 HTML5 Responsive Online Education Website Template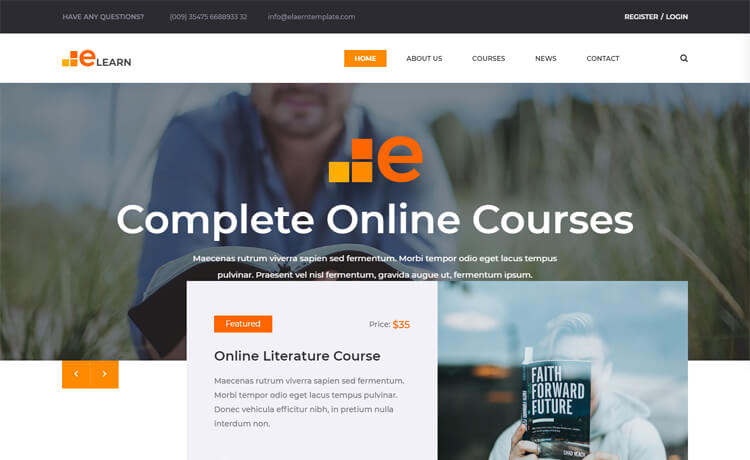 Elearn is a beautifully designed theme for online education website. Bootstrap 4 framework, HTML5 and CSS3 technologies have been used to craft the template. Elearn is a free theme with lots of premium-like features and assets. Modern and up-to-the-minute designing methods are implemented to make Elearn a sophisticated web canvas. In addition, full responsiveness and cross-browser compatibility are ensured in Elearn. Well managed code and amazing features are coming with the package. Sticky navigation, full-screen slider, widget-rich footer and parallax effect are some of the handy options. Make your project special by making your project with Elearn.
Key Features
Video section
Sticky navigation
Off-canvas search box
Slider
Parallax effect
26. Edusmart – Free Responsive Online Bootstrap 4 Education Website Template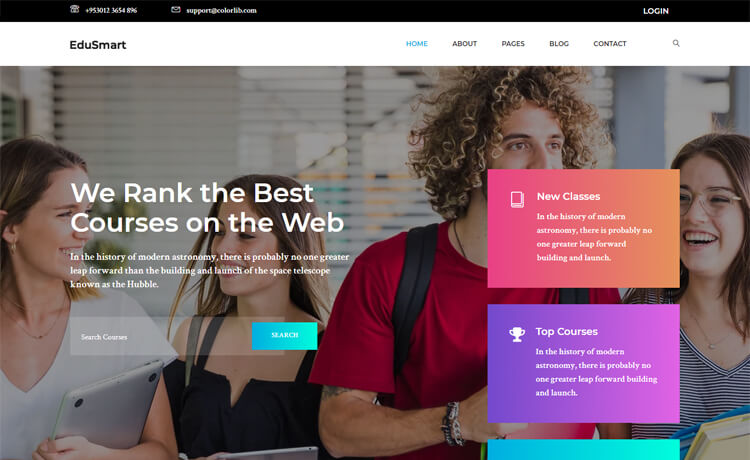 Edusmart is a free responsive education website template based on Bootstrap 4 and HTML5. It has a contemporary design with lots of advanced graphic options as well as a clean and minimal look. Moreover, full responsiveness, cross-browser compatibility and mobile-readiness are ensured in this theme. Edusmart can be used as multi-purpose web canvas for online courses, e-learning, school, college, university websites. In addition, Edusmart contains modern features and assets like off-canvas search box, course search, countdown timer, courses registration form UI to name a few. This free online education website template has a very adaptable and customization friendly code too.
Key Features
Gradient style
Hero header
Countdown timer
Newsletter subscription form
Sticky navigation
27. EduWily – Free Bootstrap 4 HTML5 Responsive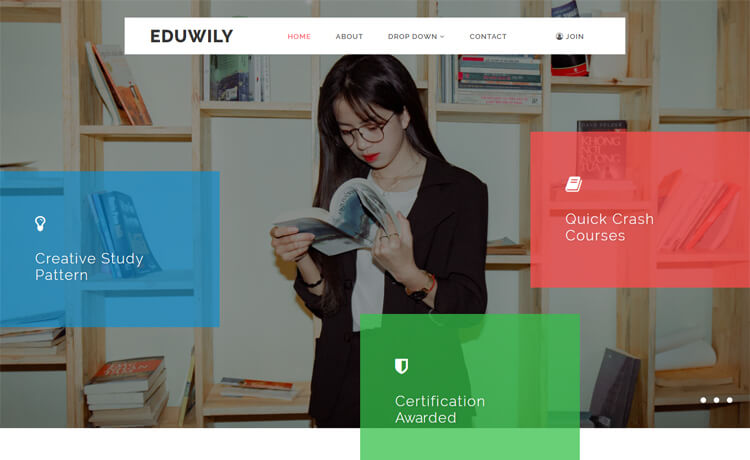 EduWily is designed with the latest Bootstrap framework and technologies like HTML5 & CSS3. Flat style is implemented on EduWily while creating. The most important thing is, it is fully responsive and looks inch-perfect on every device disregarding the screen size. Moreover, EduWily is absolutely ready for making school, college, university or other education websites quickly. Well-managed and flexible code to make customization easy and smooth for you. EduWily comes with features like full-screen slider, call to action button, image gallery with modal view, etc. Create with EDuWily and get your project done in less time and effort.
Key Features
Modal image gallery
Call to action button
Registration form UI
Testimonials
Back to top button
28. LearnIT – Free Bootstrap 4 HTML5 Online COllege Website Template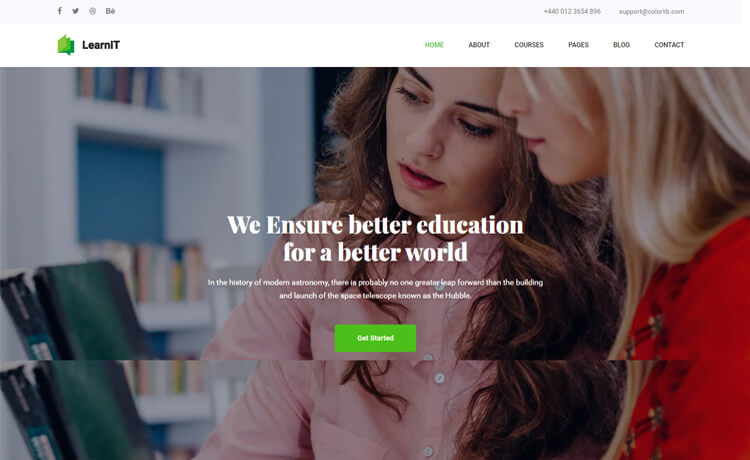 LearnIT is a top-quality free online college website template made with the latest Bootstrap 4 framework and HTML5. It has an eye-catchy design plus a clean, simple and minimal look. Moreover, from a small handheld device to a large desktop screen, each screen displays LearnIT with perfection because of its high responsiveness. On top of that, It is fully optimized for all new browsers and works best with them. You will find a lot of tech-savvy features packed with LearnIT package. Some of the handy options are hero header, call to action button, sticky navigation, testimonial carousel, etc. Try creating with LearnIT for your education website and make an outstanding project with minimum effort.
Key Features
Pricing tables
Blog section
Sticky navigation
FontAwesome font icons
Drop-down menu
29. Lecturing – Free HTML5 Responsive Online Education website Template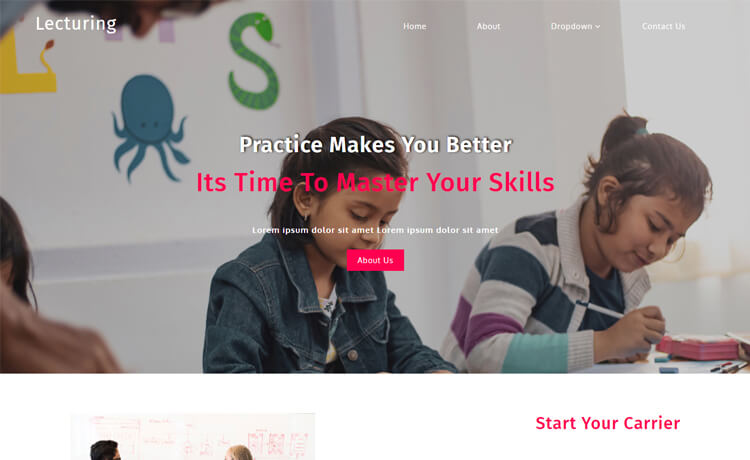 Lecturing is one of the beautiful education category web templates. It is built with Bootstrap 4 framework and fully responsive. All the modern browsers support Lecturing and it looks excellent. A minimal look with extra-ordinary design makes Lecturing a fast loading and inciting theme. About, gallery and blog pages are some of the pre-built pages it comes with. Moreover, a contact page with Google maps undoubtedly a plus point. Drop-down menu, breadcrumbs, call to action button, back to top button, hero header are some of the goodies encompassed in Lecturing bundle. Kick start your project with Lecturing to save your time and energy.
Key Features
Drop-down menu
Newsletter subscription form
Back to top button
Breadcrumbs
Gallery with modal image view
---
You May Also Like These Excellent Education Themes Made With Bootstrap 3 Framework
---
30. Enlight – Free Responsive Education Website Template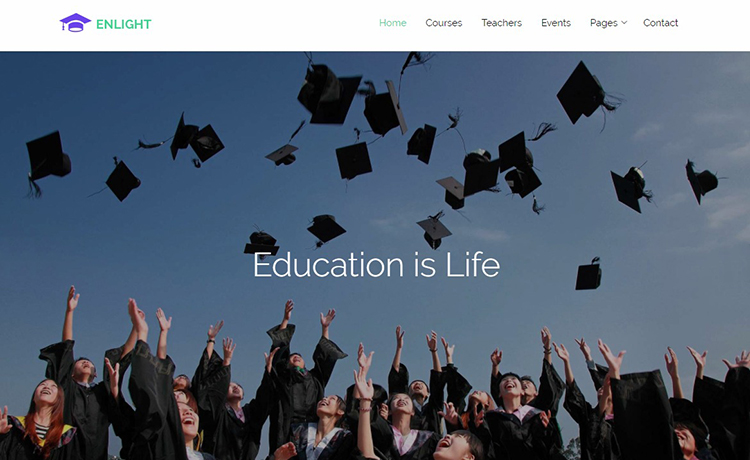 Enlight is a free Bootstrap HTML5 responsive education website template. Education providers like training centers, coaching centers, colleges, universities and schools are the will best cater Enlight. Eye-catchy design with a clean, simple and minimal look will hook the visitors at first sight. Moreover, Enlight is fully responsive and optimized for all modern browsers. All the device shows Enlight faultlessly and smoothly whatever their screen size may be. What's more, classic slider, drop-down menu, modal video player, fun fact counters to name a few are bundled with Enlight.
Key Features
Flex Slider
Smooth Animation
Widgetized Header & Footer
Multiple & Single Course Page
Built-in Search Box
31. Ezuca – Free Bootstrap HTML5 Online Learning System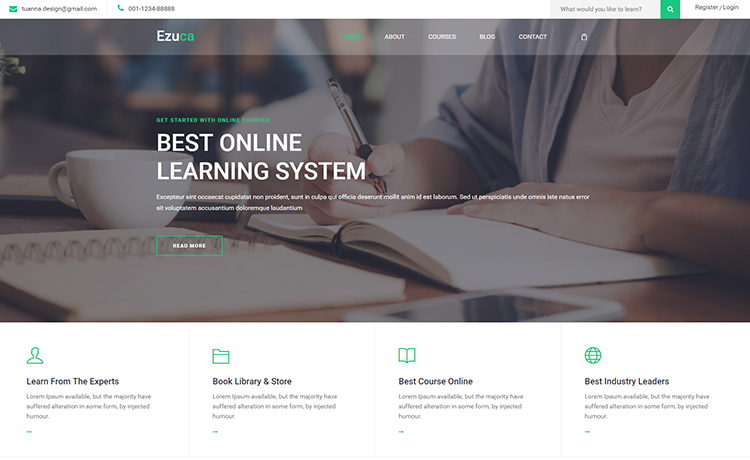 Ezuca is a free online learning system website made with Bootstrap and HTML5. It is designed to provide education digitally and offering online courses. Moreover, Ezuca is fully responsive and flawlessly fits into any device or screen. From a handheld smartphone to a large desktop monitor, it looks pixel-perfect. It comprises a bag full of up-to-the-minute features and assets. The bundle includes hero header, call to action button, fun fact counters, testimonial carousel and a whole lot more. Besides, well-organized code will guide you through the whole customization process.
Key Features
On-hover Effect
Full-width gallery
Detailed footer
Video section
Email subscription form
32. Edulogy – Stylish and User-friendly Responsive Education Website Template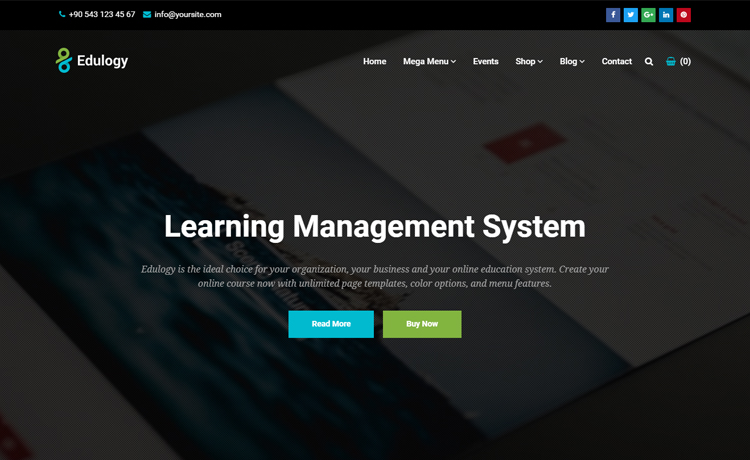 Edulogy is a stylist learning management system made with Bootstrap framework and HTML5. A video background header with call to action button, making the theme very inciting and engaging. Moreover, Edulogy is completely responsive and optimized for the latest web browsers. Sticky navigation, preloader, drop-down menu, testimonials and a lot more are packed in the box. Besides, Edulogy is crafted with the easiest code structure which will later help to re-decorate the theme according to your needs. Create with Edulogy and get your project going.
Key Features
Megamenu
Video background
Search option
Multi Page layout
Ready shop page
33. Kindle – Free HTML5 eBook Landing Template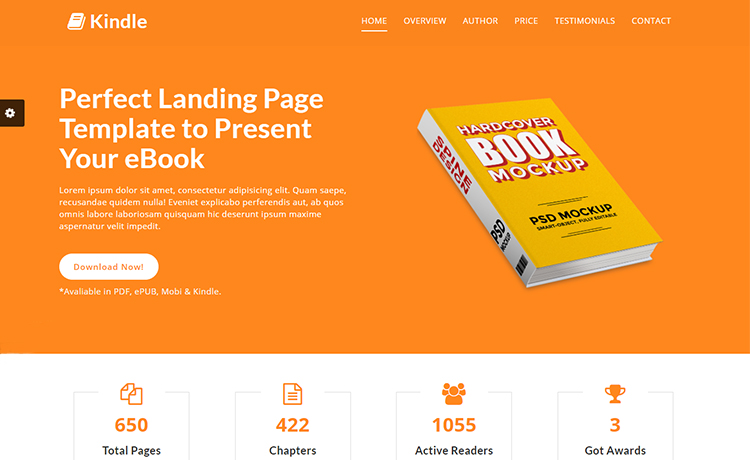 Kindle is a free HTML5 Bootstrap ebook template with great responsiveness and cross-browser compatibility. In addition, a bag chock-filled with latest options is also coming with the lot. Sticky navigation, call to action button, fun fact counters, parallax effect are some of the handy options. Very adaptable and intuitive code to make further development silky and smooth. It fits into all screen sizes and appears unbroken. Give it a try and make your project with Kindle to get a website effortlessly.
Key Features
Fullscreen image header
Sticky header with animation
10 Background color schemes
Pre-built contact form
Promotional YouTube video
34. Mentor – Free Responsive Bootstrap Education Website Template
Mentor is a free Bootstrap HTML5 education website template made for educational institutions like academy, university, school, college or other similar organization. It is a well-designed and crafted with elegance to attract the maximum number of visitors. Moreover, Mentor is a fully responsive theme as well as it works fine with all the recent browsers. It looks perfect on any device irrespective of its screen size. Well-organized codes with super tweakable features to make customization easy. Plus, modern options like sticky navigation, call to action button, newsletter subscription form, hover effect on images to name a few are encompassed with it. So create with Mentor and enjoy.
Key Features
FontAwesome icons
Well documentation
All browser support
Unlimited color combinations
Retina ready & much more
---
Start your journey with our enormous number of Free HTML Templates or look like a pro using our beautifully designed Premium Templates
---
Thank you for reading this article. For any questions or suggestions feel free to use the comment box bellow. 😊