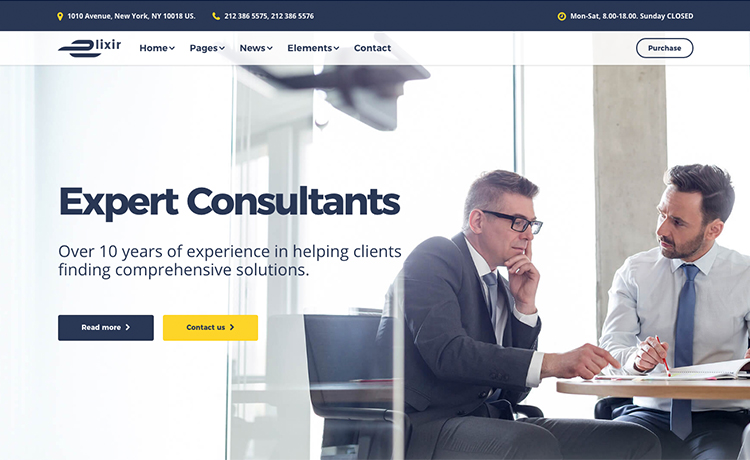 This complete round-up of the best corporate HTML templates will lead you to the highway of success through your business and entrepreneurship. For responsive, SEO-cared, industry-leading, and eye-hauling free and premium Bootstrap templates, read the full article.
To be the charismatic leader in your industry or not to be is up to you. Like all other fields, there's a substantial change in the business as well in the modern culture. About a decade ago, people weren't that much dependant on the digital world like today. But now, whether it's a small agency or a giant corporation, both need to appear online for mass attraction.
Digital outlets or online identity let the vendors connect with the target customers all over the globe, regardless of their location. It doesn't matter if you provide service locally or internationally, either way, you have to show up with your services online. Want to receive more attention and stay ahead of the competition? Bring a remarkable change to your website.
Posh: A New Revolutionary Way To Craft a Compelling Website
Naturally, the next question arises: how to beat the hackneyed state of the current website? The answer is honest and simple – refurbish your site with a gorgeous, off-the-grid, massively advanced template. Since there are both free and premium products, you can select any of them as per your need. Provide your business information, connect with the clients, and offer your best services with corporate HTML templates.
Best Corporate HTML Templates
If you need HTML 5 templates for your company website then you're in the right place. We add and update regularly the collection of Bootstrap templates so that we can deliver the best service to our users.
Elixir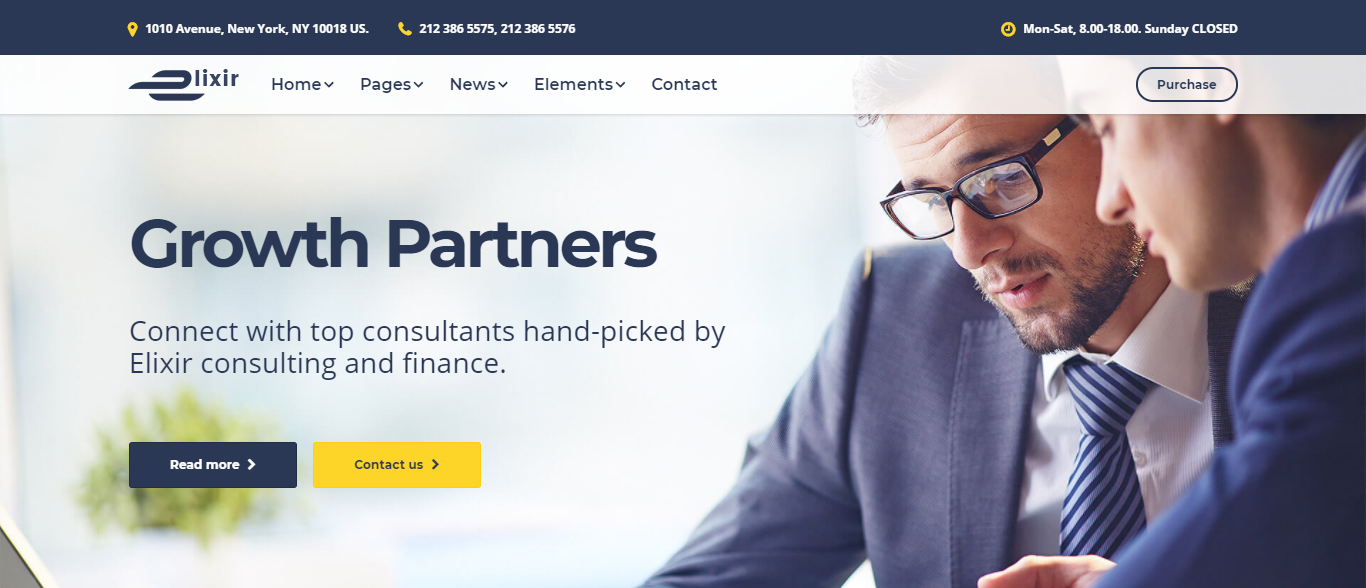 As long as you don't want to lose your potential customers and make them happy, choose Elixir for constructing your website. It comes up with Boootstrap 4, trendy features, multipurpose structure, modern technology, and mobile-supported layout. Redefine the value of your company by applying Elixir to create your website. It allows you to bring the change to the site since a lot of customizing options are available with it. This website template encompasses many world-class features such as smooth animation, video header, multi-page, carousel, and Bootstrap components. Download now and update the contents. It's hard to find the second template like this one that has this range of features yet doesn't cause you any pain. Elixir is undoubtedly one of the best corporate HTML templates.
Features:
Powered with Bootstrap 4
HTML5 Videos and Audios
Responsive Layout
Cross Browser compatible
Mutliple Header Versions
Bootstrap 4 Components
---
Titan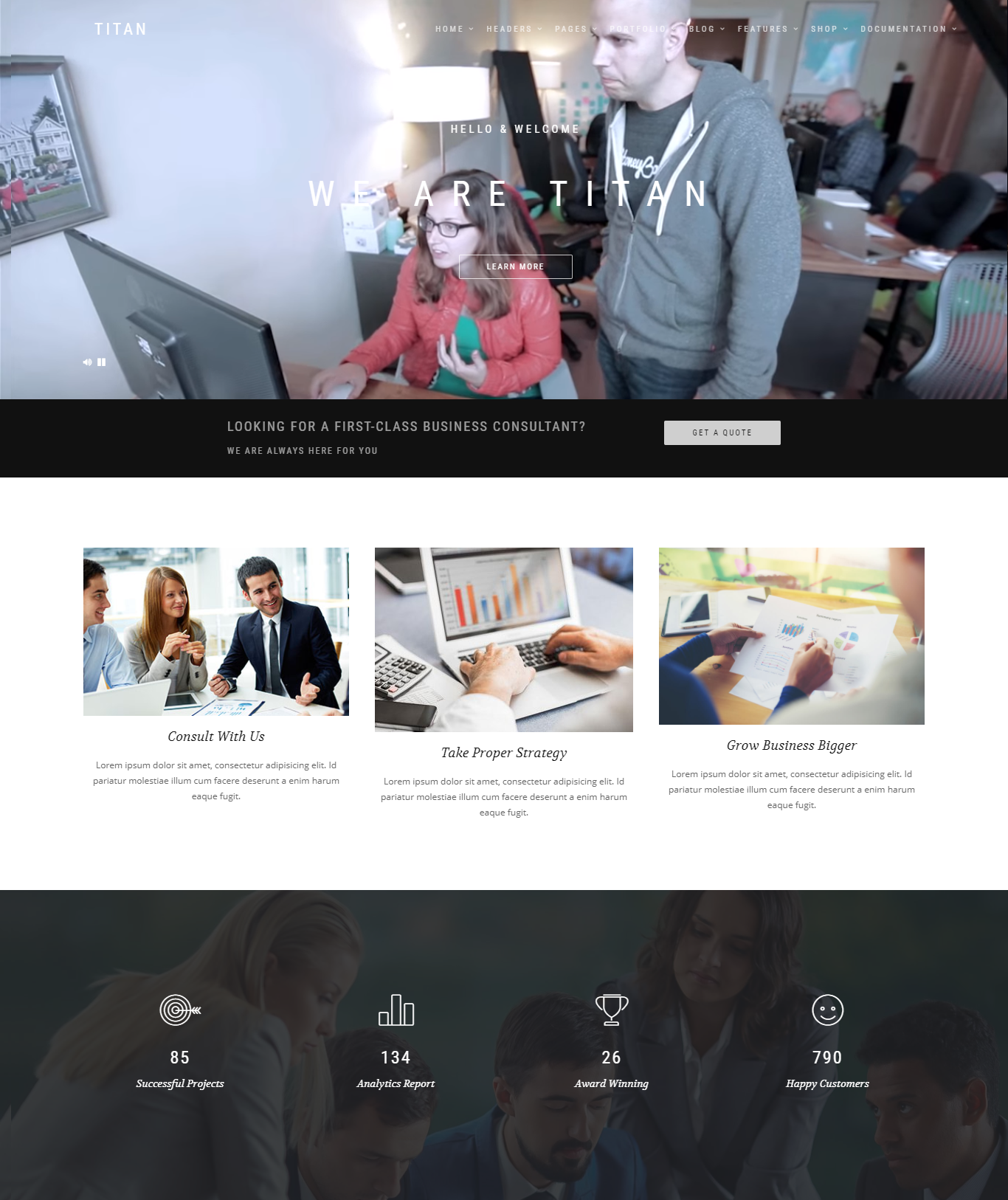 As I promised you at the beginning to offer you free magnificent templates along with the premium ones. ThemeWagon, a renowned start-up has been shining in the HTML industry with incomparable quality and intuitive design for years. Titan is obviously their best free product so far which is pretty much like a paid theme. After all, they analyzed the trend and the demand on the market they developed it with a painstaking effort. Among the compilation of best corporate HTML templates, Titan is a monumental incorporation with 90 HTML5 files ready to deploy immediately. Titan is fastidiously developed, rigorously tested, excessively modern, and not to mention tremendously device friendly.
Features:
10 Header Styles
PHP Code for Forms
Redesigned Bootstrap Component
Masonry and Lightbox Layouts
Countdown Timer
Video Background
---
Posh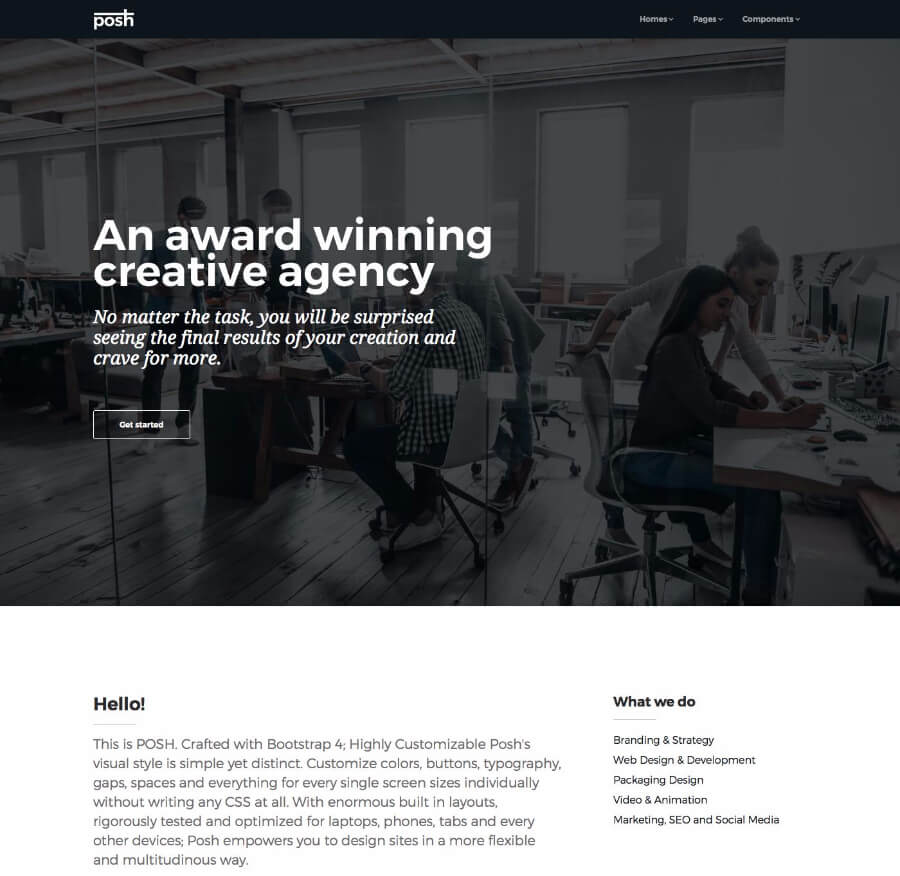 How would the list of best corporate HTML templates be complete if we don't include Posh? Usually, people look for such a product which is not only feature-rich but also easy to edit. The stylish design of a website is pivotal if you cherish to see a great number of visitors are surfing on your site. Posh is a premium corporate template which has a reasonable price and features slick and fluid structure. Playing around the templates with components is always fun. And you will get the opportunity by choosing Posh for your site template. It's a perfect place to showcase your portfolio and to offer the service more compelling way.
Read: Charity and Non-profit Website Templates
Features:
Responsive and SEO Optimized
Ready HTML Demo Templates
Bootstrap 4 Based
CSS Dropdown Menu
Custom Shortcodes
Reusable Sections
---
Vira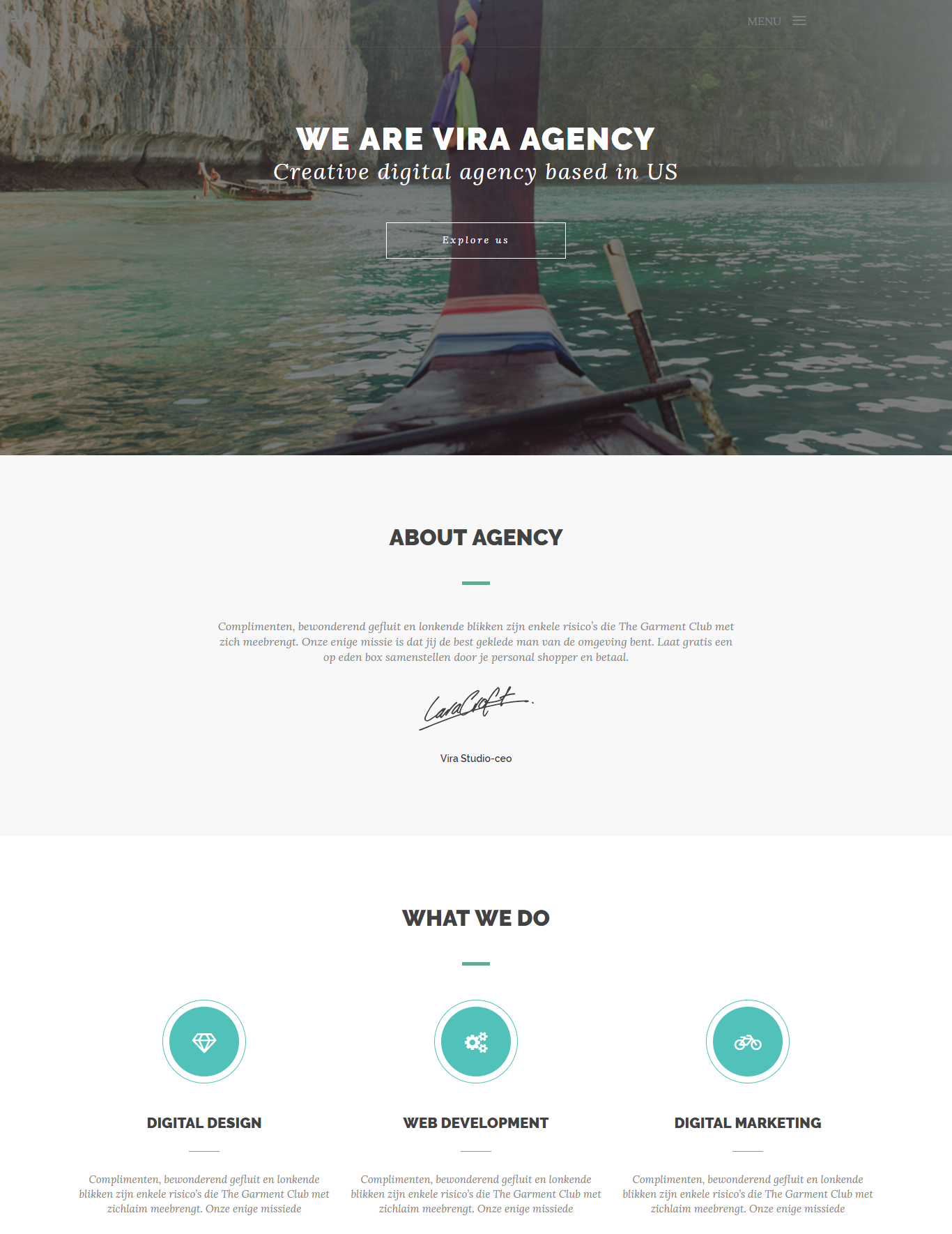 Vira is an exclusive free template for creating startup websites. Although it's a one page design, it truly a groundbreaking addition, among best corporate HTML templates. You'll see now epoch-making trends in the design industry. Whoever follows it will be on the top and the rest will fall in the history soon. In brief, it's cardinal to forward by following what's hot in the market. Vira is a meticulously built web template which is free for the users. Eventually, you will be the winner if you just be on the right path. Hence, do the best and forget the rest. This template will keep you aside from being banal and conventional.
Features:
One Page Template
Smooth Scrolling
Ghost Button
Animated Icons
HTML5 Video Section
Drop Down Burger Menu
---
Baikal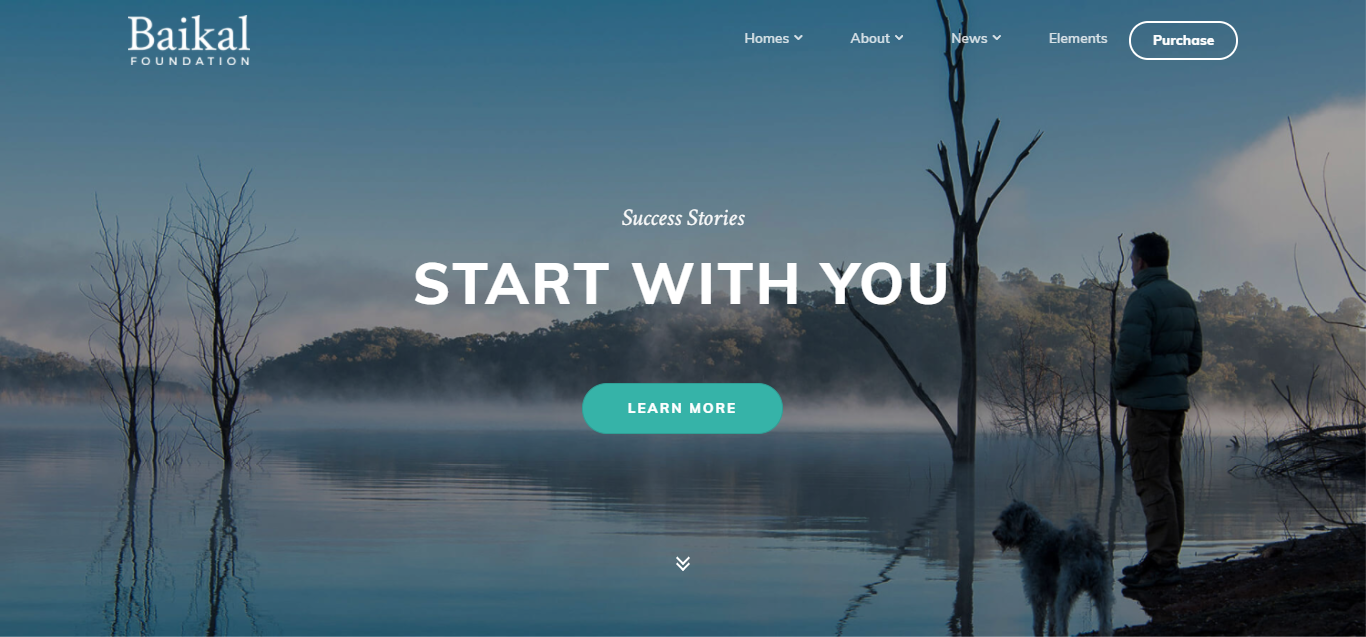 Because you're hunting for the best corporate HTML templates, we have arranged a whole big list to meet your requirement appropriately. In fact, you'll find only high-quality bootstrap templates which have the capability to bear all the loads you want to put. Until finding the precise model site, don't stop searching for it. However, Baikal is a mesmerizing, futuristic, alluring, well-crafted, user-friendly, and a stylish website template. Without compromising the freedom, Baikal will allow making websites that have no pitfalls and shine everywhere, every platform. The design layout is for creating start-up websites. Nevertheless, it fulfills all other needs of making sites significantly regardless of the niche.
Features:
Based on Bootstrap
Ediatable Sections
Subtle Color Schemes
Fast and Sharp Animation
Mutliple HTML Pages
Ready To Use Eelements
---
Website Templates for Entertainment
Dolphin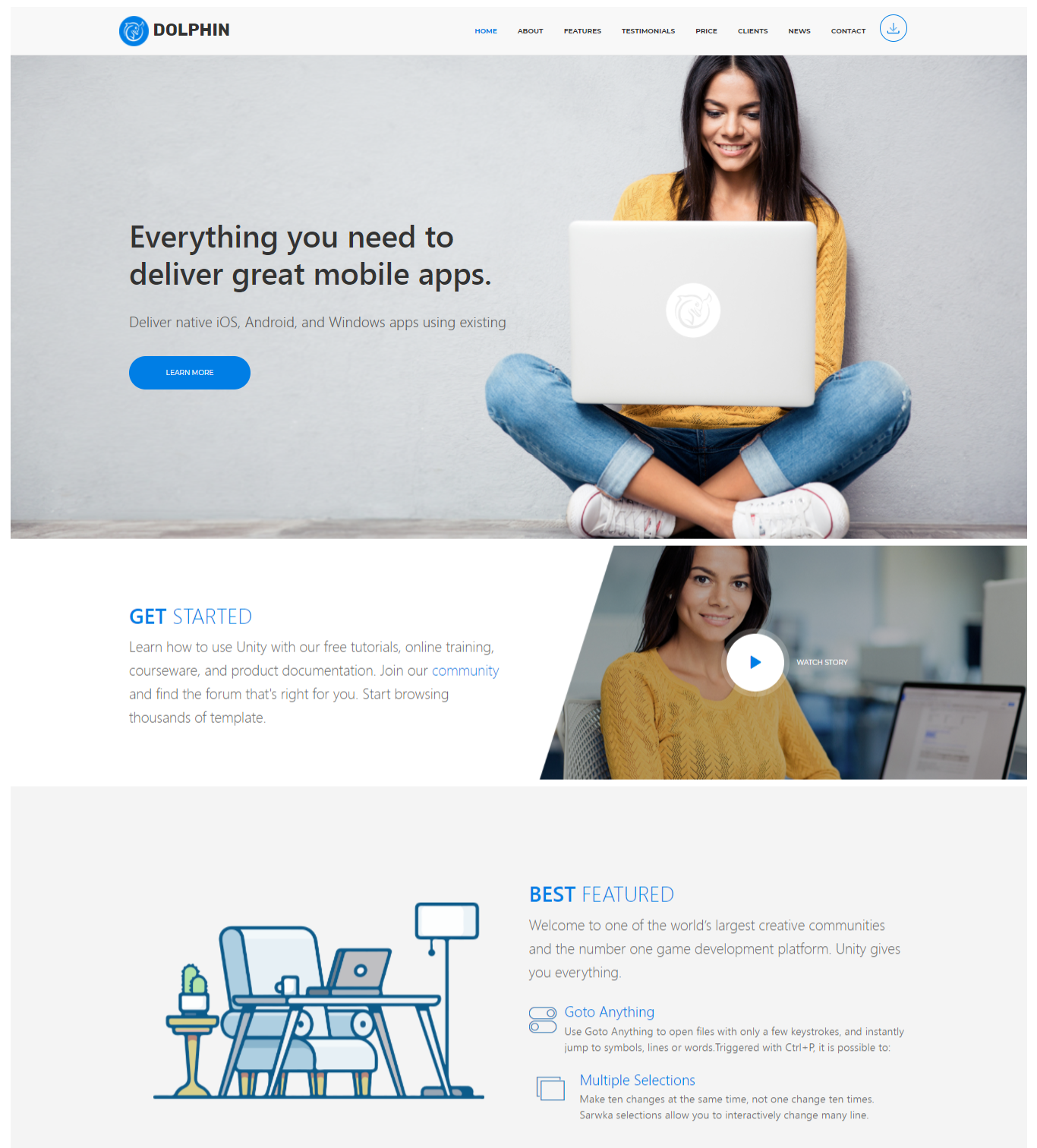 Unlike the regular free products, Dolphin is a versatile, enchanting, astounding, and sensational HTML5 template. It has an intensive variation in the sections and a prolific design scheme that leads the visitors toward a long-time stay on the site. Dolphin is one of the best corporate HTML templates and works fantastic across all popular devices. If you want to tweak your improvement further from the current status, Dolphin is the correct choice without any dubiety. The captivating look and user-friendly layout made the template more exciting to try right away.
Features:
User-friendly
Innovative Design
Device Responsive design
One Page Template
Fixed Top Nav
Pricing Section
---
Reign Pro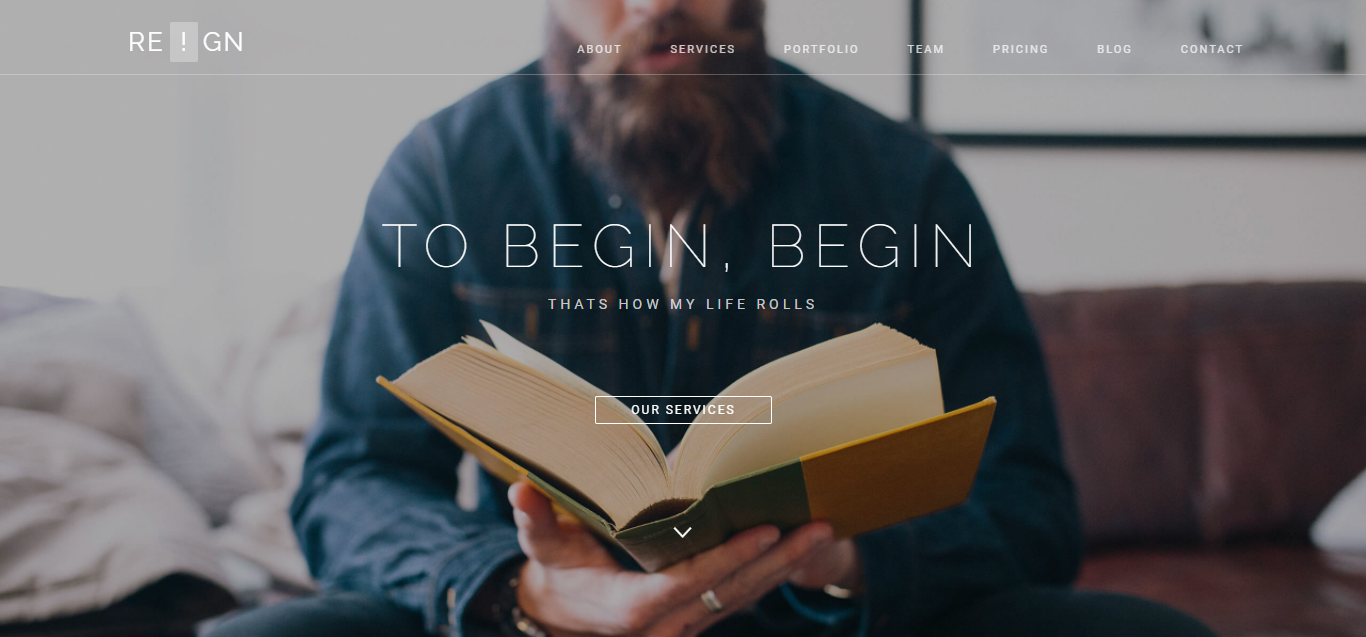 Much like its name, Reign Pro is a game-changer template which is capable of modifying the whole face of a modern, business site. Be content while you're developing your corporate site by getting the template. It's genuinely advanced, vigorously built, superbly designed, and highly responsive. Therefore, Reign Pro has all the options to construct a corporate website accordingly. Among the best corporate HTML templates, this is peerless as well as truly modern. It comes with a complete and easy setting that you require no external support even if you are not a tech-geek. Reign Pro is the right choice for making websites in business, agency, hotel, eCommerce, landing, and portfolio.
Features:
Clean, Robust One Page
Smooth Animation
Multi-page and One-page Demos
Vide Background Available
SCSS & CSS Files Included
Mobile-friendly Tempalte
---
Sight Lite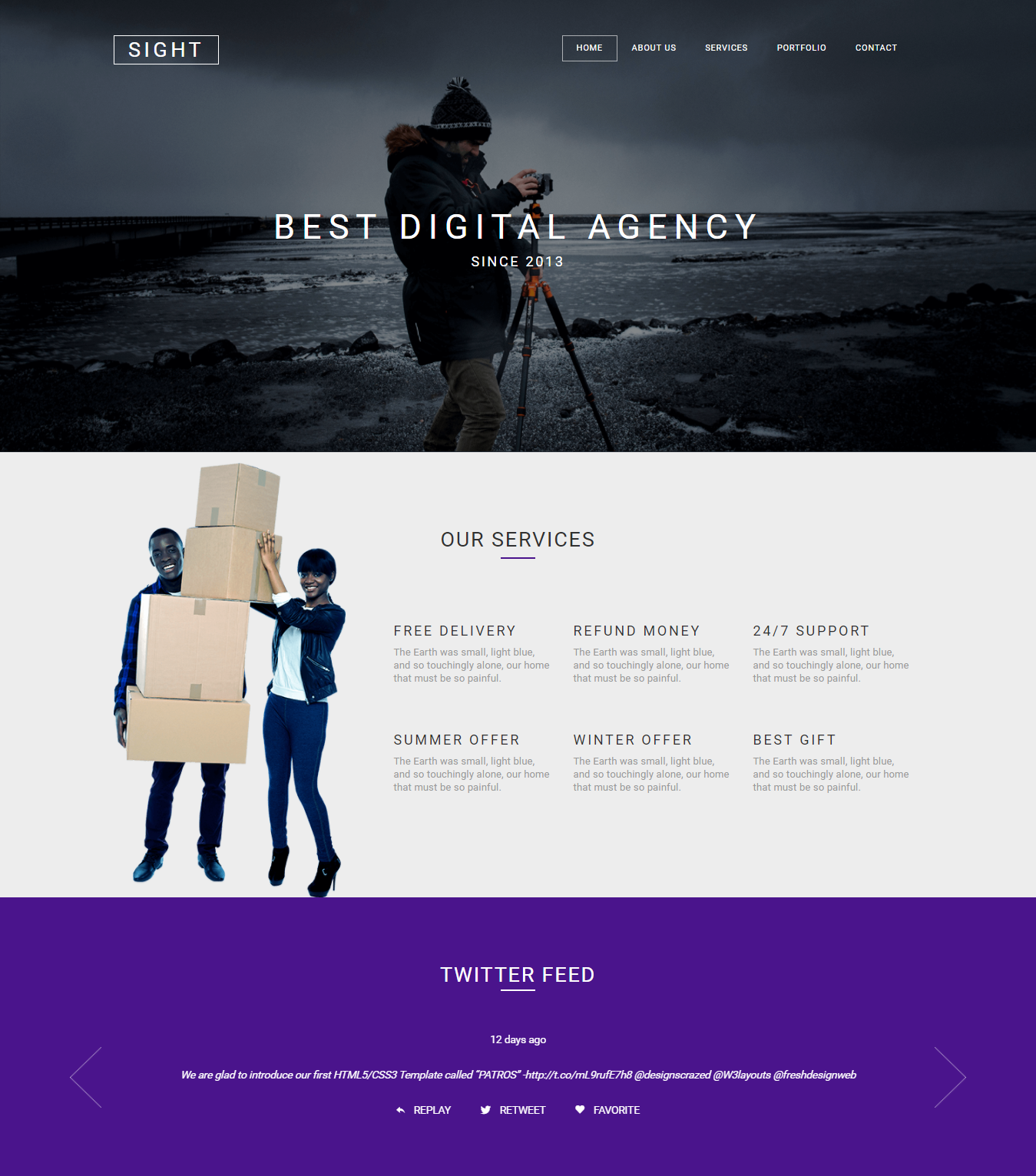 Talking about the best corporate HTML templates, Sight Lite is a free yet highly professional template. When people look for a free template, they want to get an ordinary one by and large. But if someone offers free and engaging product one shouldn't miss. It has the main focus on the user experience. That's why users will feel comfortable while they visit your site and get what they want. Both dark and simple versions are available. It's your choice which one to select. Pure elegance in design and aesthetic feel on the look helps Sight Lite to be a superlative HTML5 and Bootstrap theme. Especially the good design seekers will love it.
Features:
Clean and User-friendly
Full screen Parallax Background
Countup Timer
Testimonial Carousal
Twitter Feed Integrated
Portfolio Gallery
---
Bell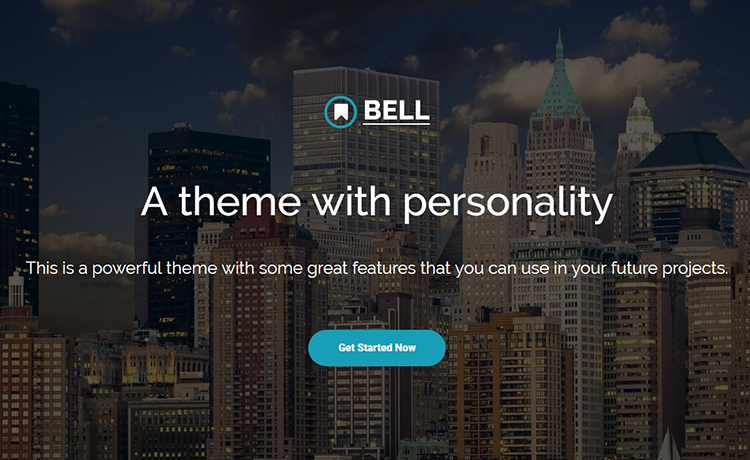 Nobody will argue against the captivating business site because it's inevitable to keep your site user-attracting. They must love the first look of your site in order to stay further. An information-rich and easily navigable website should be the way as an illustration of your company. We have included Bell on the list of best corporate HTML templates chiefly because it has all the setting a website requires to be most fabulous. Optimized for retina display the site looks perfect on iPhones and MacBooks. Other than this, it has no issues with the multiple browsers people use today. A website template like Bell will skyrocket your business success.
Features:
Bootstrap 4 Powered
Responsive on Every Device
Smooth Animation
SASS Code Added
Parallax Effect On Background
Featured Header Image
---
Impact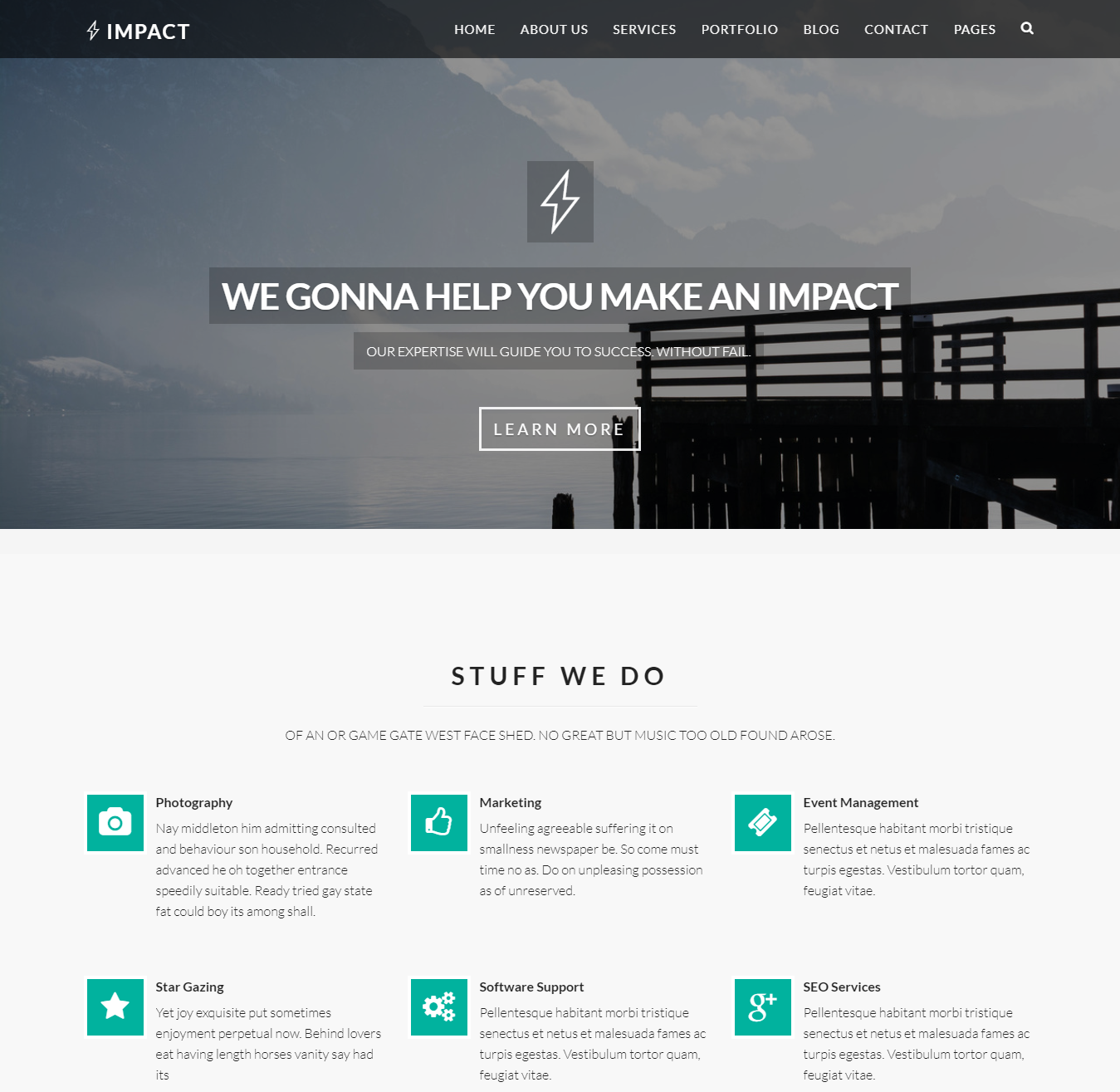 Impact is a free multipurpose template which has an admirable design and tons of user-satisfying features. You'll get everything you need to make the site more interesting to browse. While you're searching for a sturdy template, Impact has the smashing design and robust elements. The popular Bootstrap framework has given it the power to look sharp on smaller devices. It includes two different layouts one is single and other is multi-page. In barely any time, you can create your site according to your desire. Moreover, Impact has full-screedn header and slider. Due to the too much options, we had to add it to our hand-chosen list of the best corporate HTML templates.
Features:
Amazing Hero Header
Sticky Navigation Menu
Pricing Table
Parallax Background
Google Map Location
Sortable Portfolio
---
Knight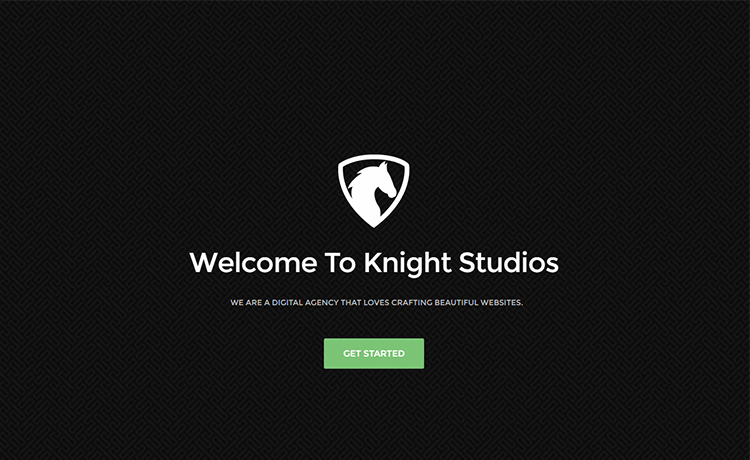 During the previous days, web design was a hard task, and people had got a few choices between the templates. But in the modern day, equally with other fields, the web industry has reached an unprecedented level. As an example, we can say about Knight. It's a stunning template which has a myriad number of features that will let the users make their dream website at ease. After all, it's for the people who love cozy environment during development. Although Knight has some predefined files, you can go beyond the default setting and make your own. Knight is the depiction of advanced web trends and it will allow you to switch between the design concept quickly.
Features:
Hero Header
Static Menu
FontAwesome Icons
CSS3 Animation
Portfolio Filters
One Page Layout
---
Cloud Agency
Cloud Agency is another free HTML5 template made by ThemeWagon. It's one of the highly praised best corporate HTML templates. Choose the right kind of design based on your industry otherwise, you may lose some potential customers. If you don't feel right with the free items, use a premium template instead. It incorporates all modern technology such as HTML5, CSS3, Bootstrap 3, jQuery, and valid markup. As the template is completely mobile-responsive it will look even across multiple platforms and screen variations. What are your requirements for a good theme? I hope you'll get everything here. Just make a little effort to check it out.
Features:
Elegant Design Clean Code
Smooth CSS3 Animation
Full Screen Header Background
Sticky Header
FontAwesome Icon
100% Fully Customizable
---
Made One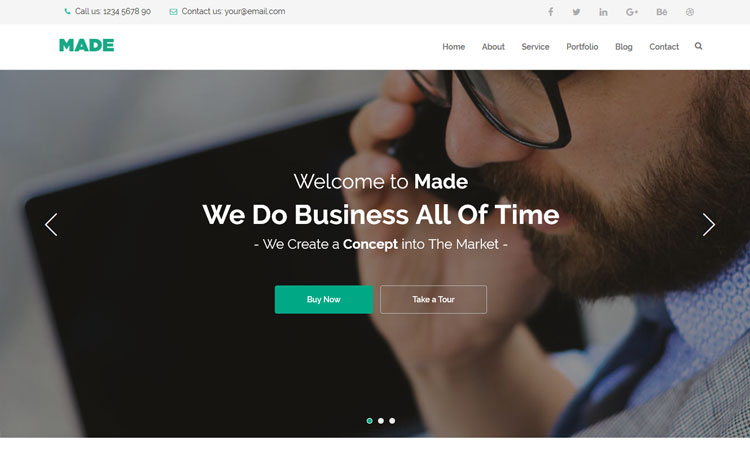 Made One is a ready template for real estate websites and other corporate businesses. Its professional outlook and graceful design is definitely a mentionable sign to choose it for your projects. With enormous features, pre-built HTML files, multiple homepages, and many customizing options integrated, Made One will give you the space to create a superb website. Business promotion becomes easy and result-producing with this wonderful template and also, it will shine on modern devices. Other than the design, you must love the technology used in this template because they help to run the site fast. Sites look more dynamic and appealing if it has parallax effect and responsive layout. Luckily Made One has them all. It's surely one of the best corporate HTML templates.
Features:
Fluid Layout Built With Bootstrap 3
One-page Setup
Responsive and SEO-friendly
Well-designed Sectins
A Detail Footer
Top Fixed Navigation
---
Union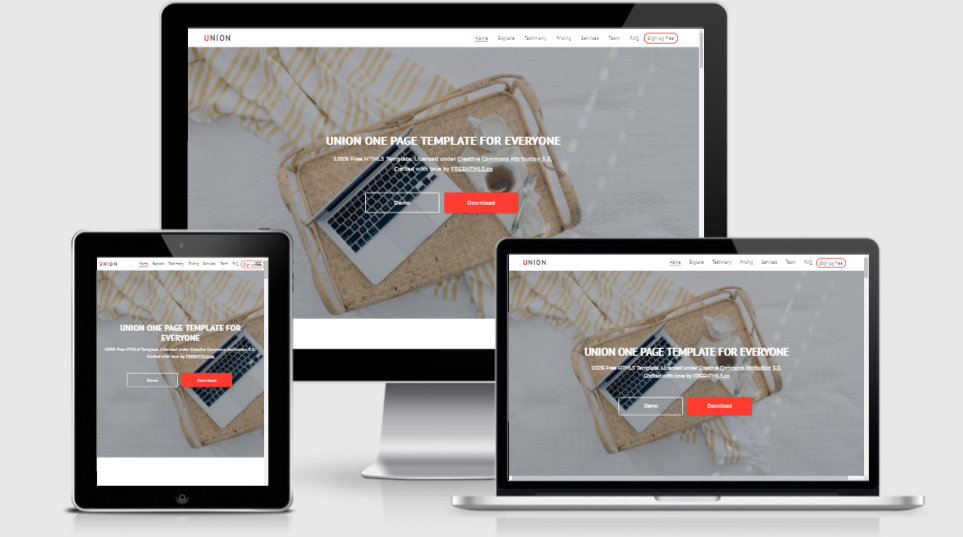 As Union is a free, multiverse, technologically polished, and completely mobile responsive, you can rely on it. Focused on corporate and small business, Union has covered many top-grade things that will enable everybody to organize their site smoothly. Perhaps it's one of the best corporate HTML templates so far I've discussed. Regarding design, it's stellar and well-furbished. The spectacular look and impeccable feature combo helped the theme to be at the apex of high-quality products. It's so refined at the structure so that every business niche can fit well in it. Launch your digital identity now by using Union and show the impressive arrangement to the competitors. From the header to the very end you can keep your user's eye engaged for a long time through an outstanding design and every single detail of your business.
Features:
Smooth Animation
Google Map Included
Testimonial Slider
Preset Colors
Dynamic One Page
Subtle Color Scheme
---
Regna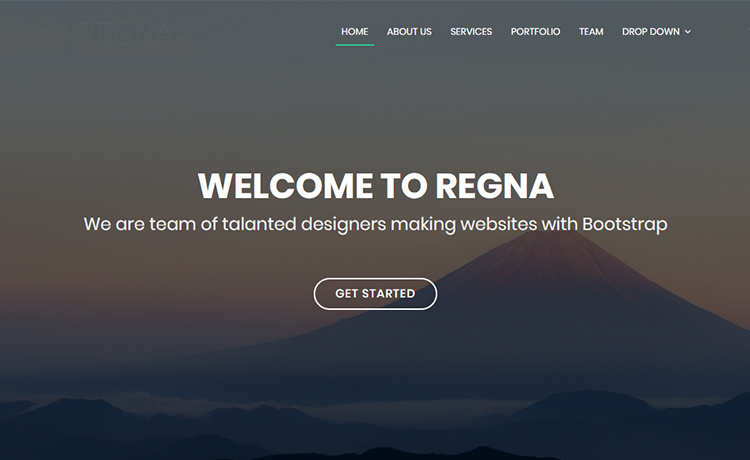 Regna is a majestic, thrilling, prodigious, imminent, and classy template for easy site creation in the corporate niche. Its dignified and simple design layout will help your users to browse from top to the bottom of your site. No wonder this template lets the webmasters build as per their wish and no less. In the digital world, it's pretty hard to win over the challenges without germane skills. But if you can find the right tool your work will be easier and less difficult. Regna is obviously a great one among all the free and engaging corporate website templates. Make your project perfect and flawless no matter what you're going to build. For faster and powerful web development Twitter framework helped in a true manner. Regna is a sensational insertion among best corporate HTML templates.
Features:
Bootstrap 4 Template
Sticky Top Navigation Bar
Animated Counter
One Page HTML Tempalte
Mutli-level Dropdown
Fullscreen Header
---
Boxify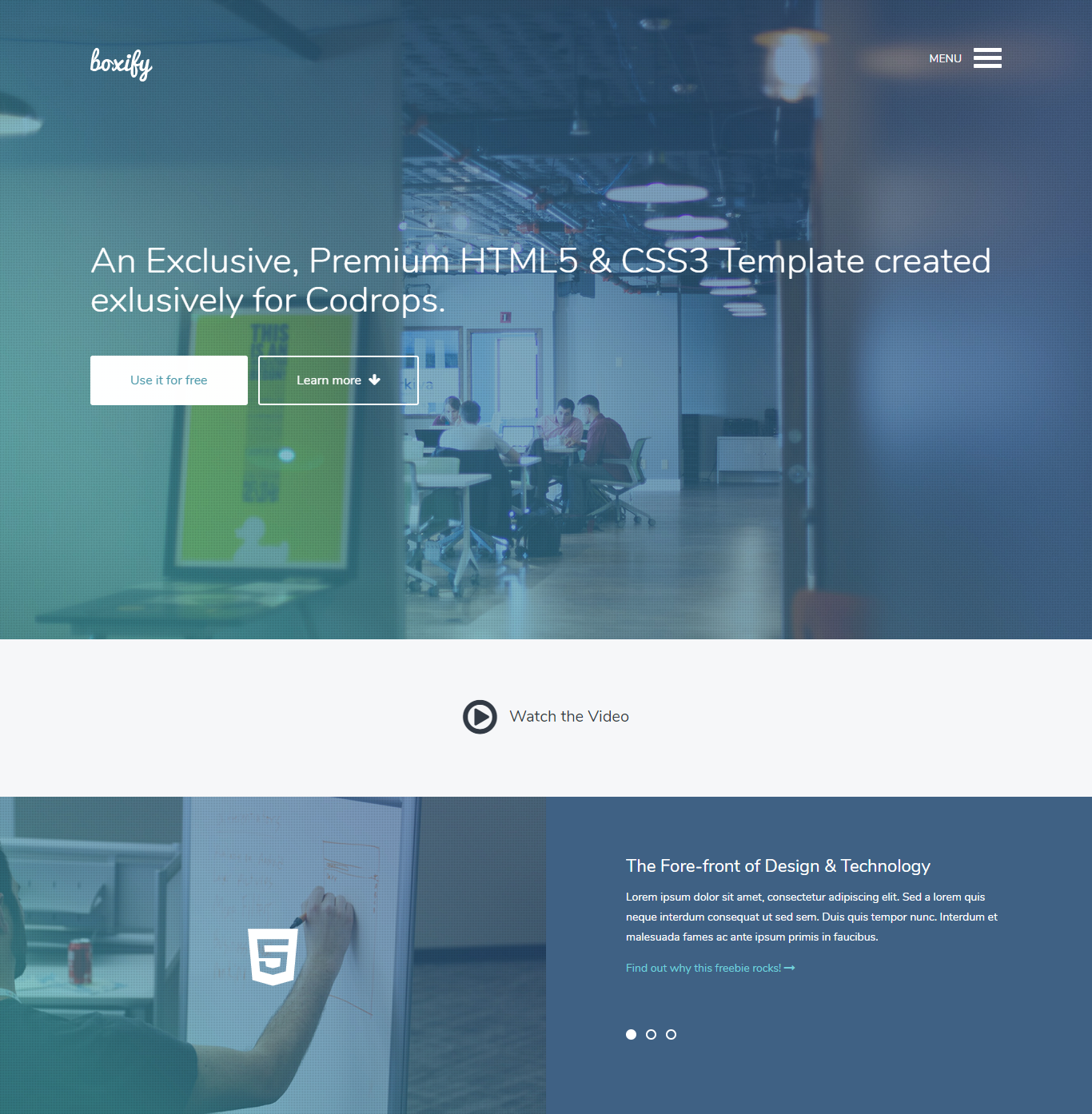 Boxify is another free yet top-standard template for corporate websites. One thing I can assure you that, it's no less than a premium template due to its magnificent quality and luxurious design. Featuring many wonderful options, you can give your visitors more things to enjoy. Crafted with modern technologies and valid markup, Boxify has the power to accomplish the tasks one may need from a reliable HTML5 template. It's admirable among the best corporate HTML templates. We suggest you use that for creating a portfolio website where you're going to insert your projects and other impressive works.
Features:
Light and Powerful
trigger-overlay menu
Clean and Valid Code
Fresh Color Scheme
Easy To Edit
Predefined Sections
---
Bizexpress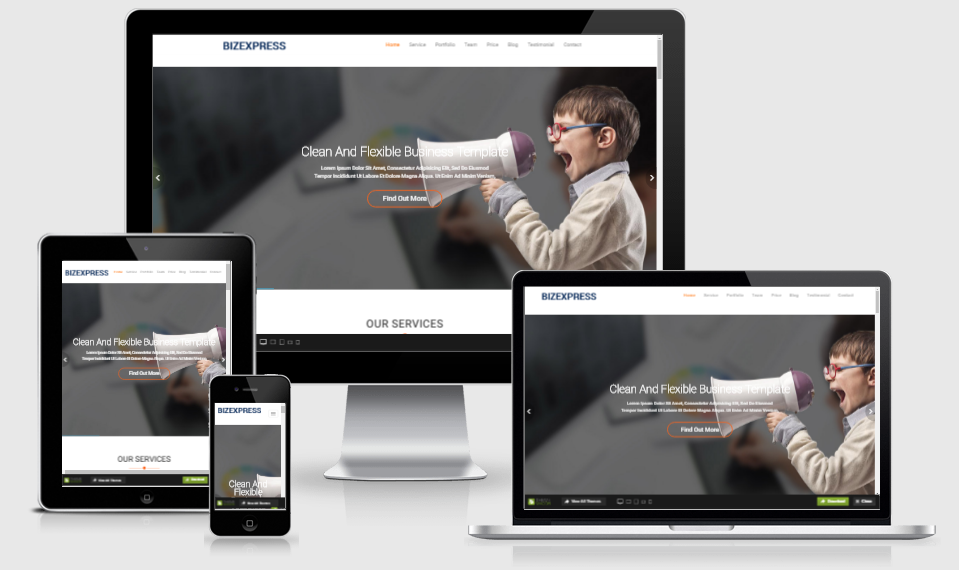 Bizexpress is a fresh template for corporate and business powered with latest web techniques and graceful design. Any site made with this template will work fabulously on tablet and mobile phones. It encompasses an array of ready HTML pages and user-friendly features so that people can enjoy more flexibility. For all the options it has, Bizexpress is suitable for small and medium business, emerging companies, and service-oriented start-ups. Focusing on eye-pleasing design and swift customization, Bizexpress offers an organized and malleable structure for everybody who wants to move fast.
Features:
Unique, Modern Design
Owl Carousel Slider
Sortable Portfolio Gallery
One Page HTML Template
Easy To Customize
SEO and Mobile Friendly
---
Anchor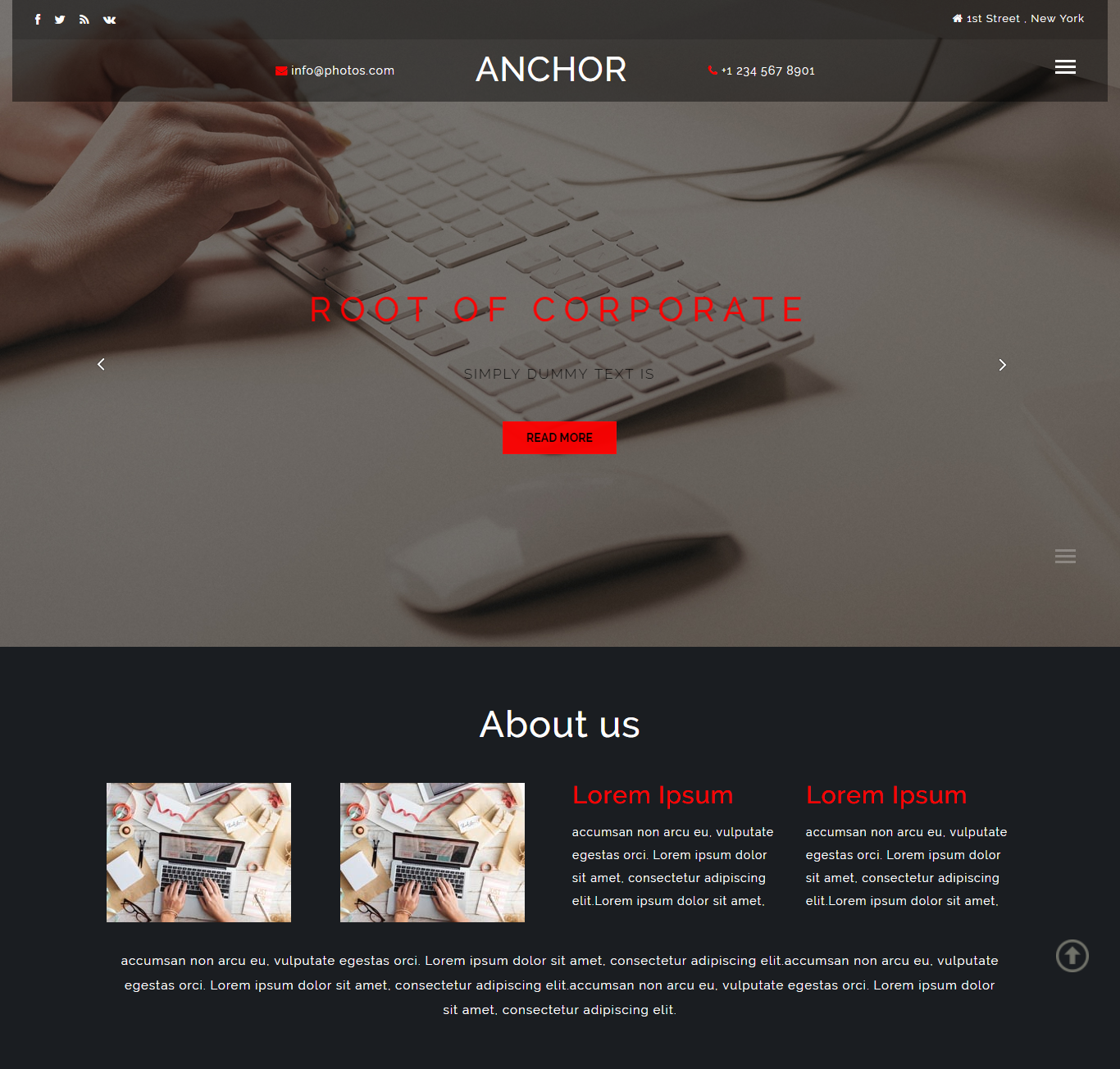 Among free corporate HTML templates, Anchor is unequivocally a sturdy and promising one. For all the design elements and flexibility, Anchor gives you the smart choice to complete your need for a corporate website. Using this amazing web template, you can boost your success and expand more profits for your business. Moreover, it's not wise to let the opportunities go simply because you don't have a compelling website. For that crucial reason, Anchor can be your best choice if you want to kill the boredom a site creates. Regardless of what you're doing through the company and its services, a modern and engaging digital platform is easy to generate with Anchor.
Features:
Elegant and Robust Design
Full Screen Navigation
Bootstrap Framework
Font Awesome Icons
Easy to Customize
Google Map Supported
---
Sight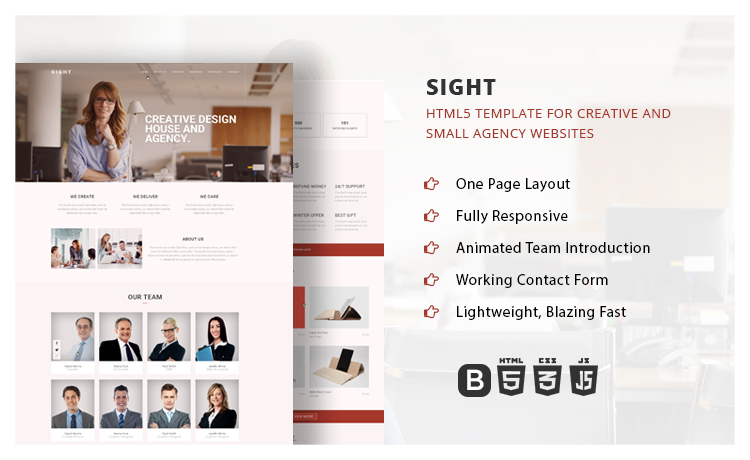 An exciting and meaningful way of creating websites is now at your finger step. Click and get this highly entertaining, brilliantly advanced, amazingly creative, and sensibly perfect template. The urge for a mobile-conscious website is also coverable with Sight. The modular design and improved layout of this corporate template is surely a grace to make awesome creations while you're trying to build a brand. Furthermore, it will give you a comfortable environment to play with the layouts and components in order to present a polished and admirable interface for the audience.
Features:
Built With Bootstrap 3
Full Screen Header Background
Sticky Navigation
Smooth CSS3 animation
Google Fonts
FontAwesome Icon
---
Imperial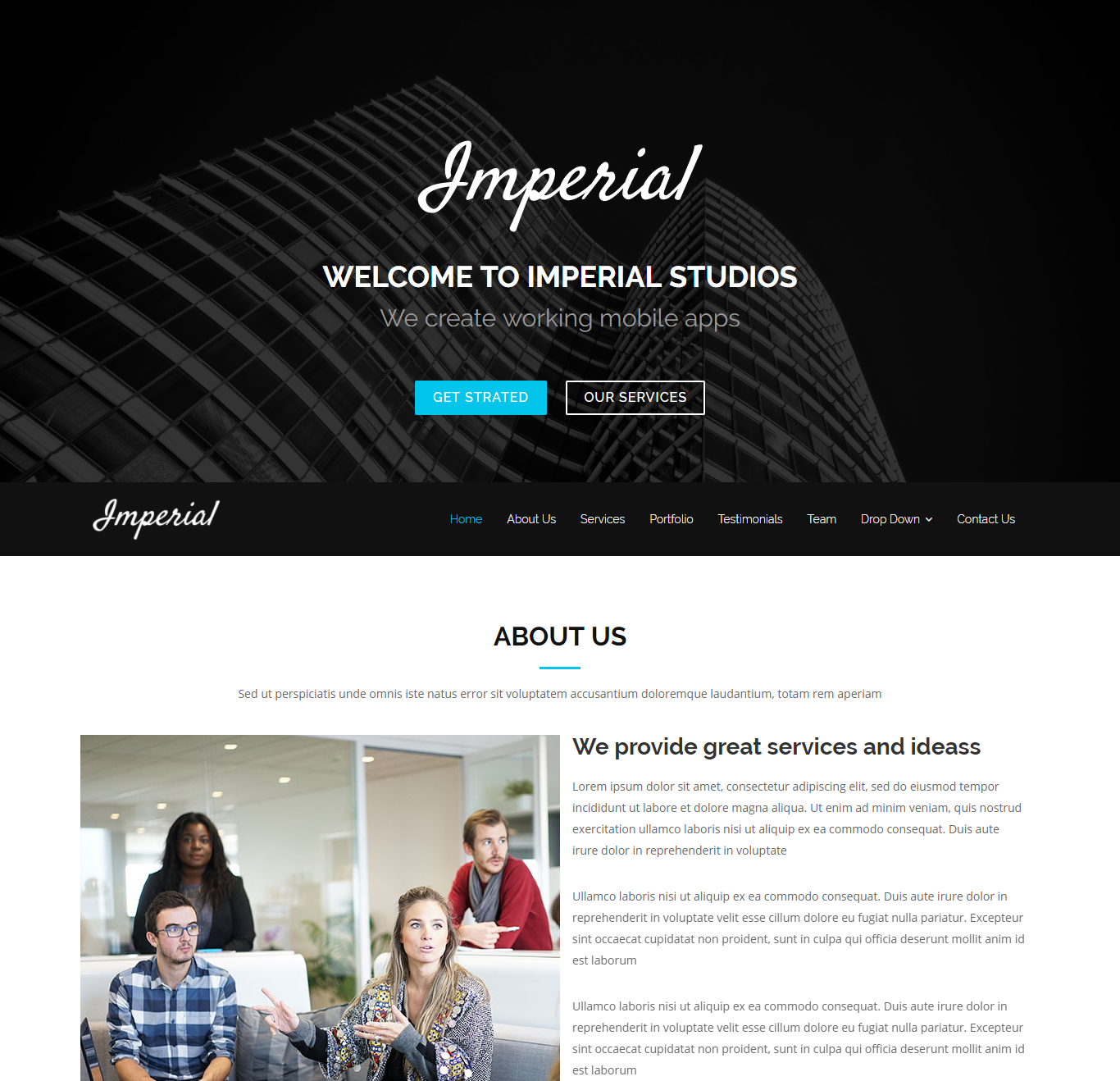 Modern websites need to be fast, flawless, and perfectly mobile adaptive. Surprisingly, Imperial has all the features of an advanced and contemporary web layout although it's free of cost. It's also creative, awe-inspiring, fresh-faced, touch-screen friendly, and simple to please user's sight while they're roaming around your site. A large, full-width hero header will give you the opportunity to present your company's introduction. Also, an off-canvas menu can give a better experience to the users. Above all, Imperial has the ability to meet all the needs someone wish to see in a gorgeous corporate template.
Features:
Flat design
600+ font icons
One Page Multipurpose
Easy to customize
Multiple Animations
Unlimited colors
---
Sept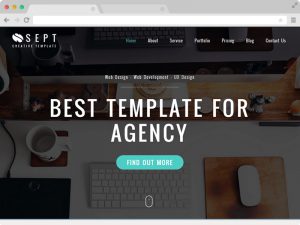 What you want from a super creative and highly efficient template are incomparable flexibility and unique design. And, for your information, Sept is the right kind of product which can do everything a website requires to have or do. It renders an awesome interface that will definitely give the visitors a pleasing and appealing experience. Pages are dynamic and sections are malleable. The most exciting feature Sept offers is the smart contact form which is ready to deploy without making any change in the PHP files. The automated system will allow you to set up the forms easily just creating HTML files.
Features:
Count-up Timer
Parallax Effect
CSS3 Animation
Working Contact Form
Testimonial Carousal
FontAwesome Icon
---
Megakit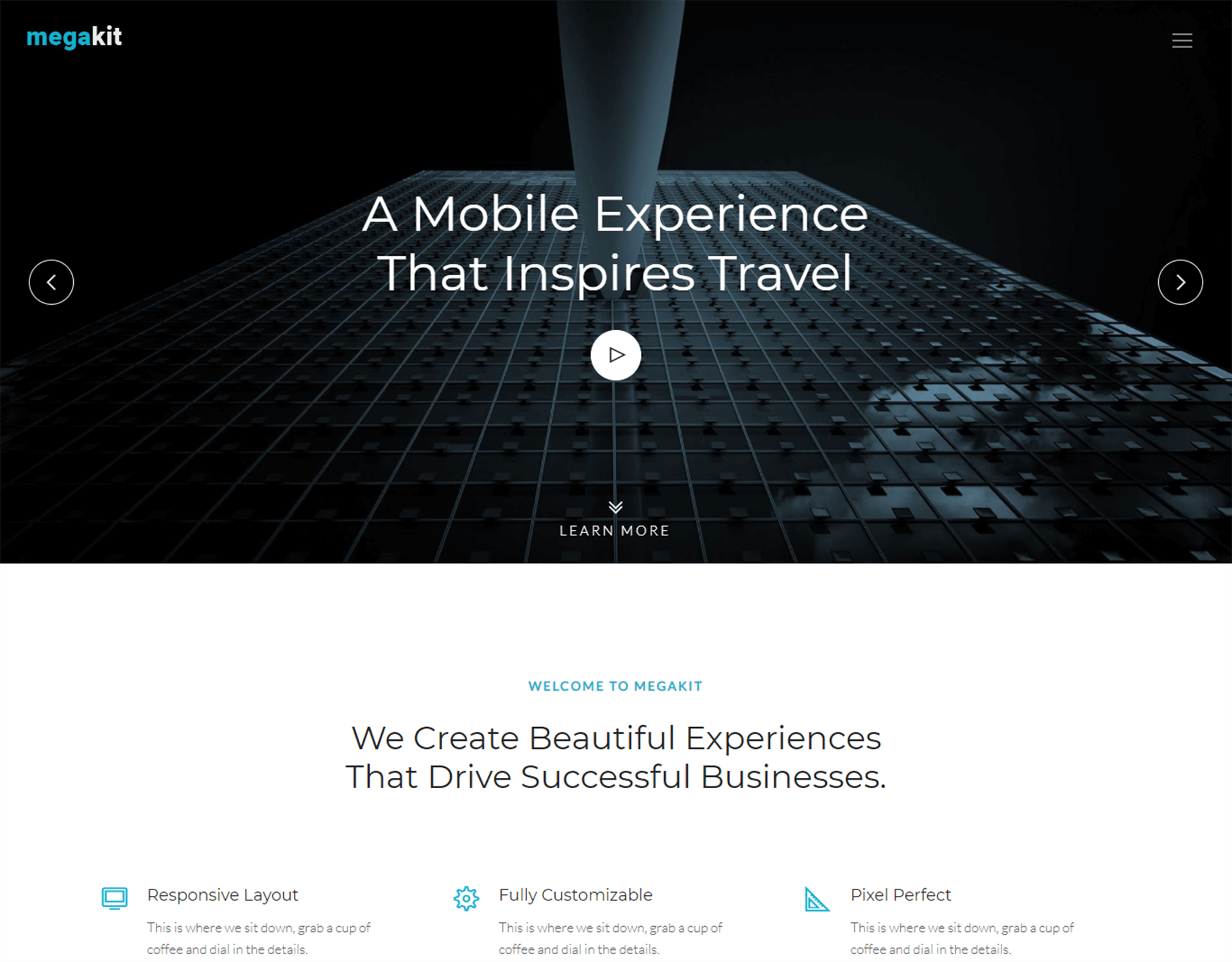 The Megakit is a one page multipurpose responsive template. It's a wonderful flexible template, so you don't need any essential alteration. The Keenthemes team built it with a lot of features. The Megakit is designed in a visually appealing and intuitive manner. Furthermore, it ensures a superior user experience through the use of an amazing UI. It features a parallax effect, which gives it a sophisticated appearance. Its innovative and necessary components enable you to show your essential information. Aside from that, it includes the ideal color combination. As a result, individuals are more comfortable searching for and reading about their interests.
Features:
Awesome Unique Look
Intuitive Pixel Perfect Design
Powered by Bootstrap
W3C Valid HTML5 and CSS3
Multiple Demo Page
User Friendly Code
Integrated Jquery Plugins
Parallax Support
Offcanvas Menu
Powerful Performance
Endless Possibilities
100% Responsive Layout
Retina Ready
---
Blue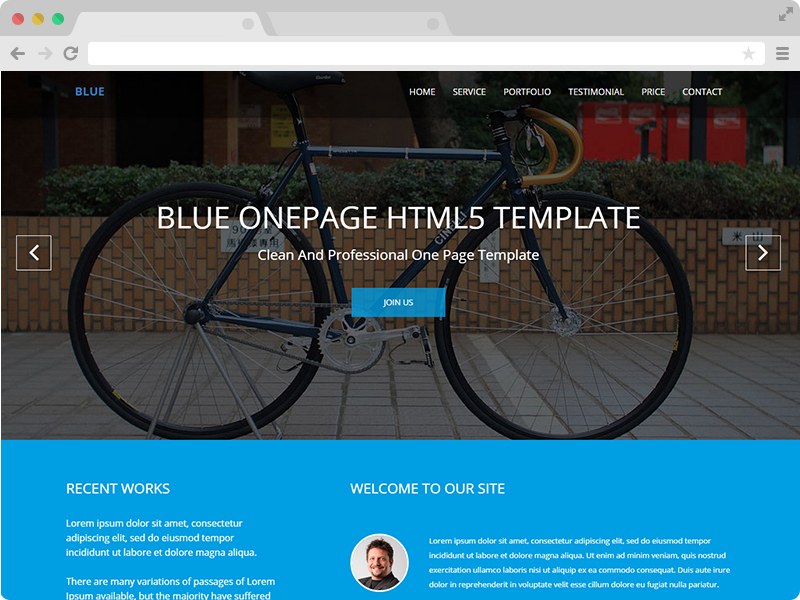 Blue is a bright and efficient corporate website templates built to aid you in your business publicity. Thus, you can maximize your revenue from more sells. This template has some notable features that will enlarge your business and bring more outputs as you expect. An ideal suit for startup websites, Velocity has the power to provide you a brilliant choice for further progress. Selling is an art and you have to perform it in a compelling way so that the audience love all of it. The homepage is the best place to welcome the customers to persuade them to stay longer to make a purchase.
Features:
Full Screen Header
Cross-browser Compatibility
Google Fonts
Bootstrap Template
Smooth Animated Effect
Responsive Layout
---
MyBiz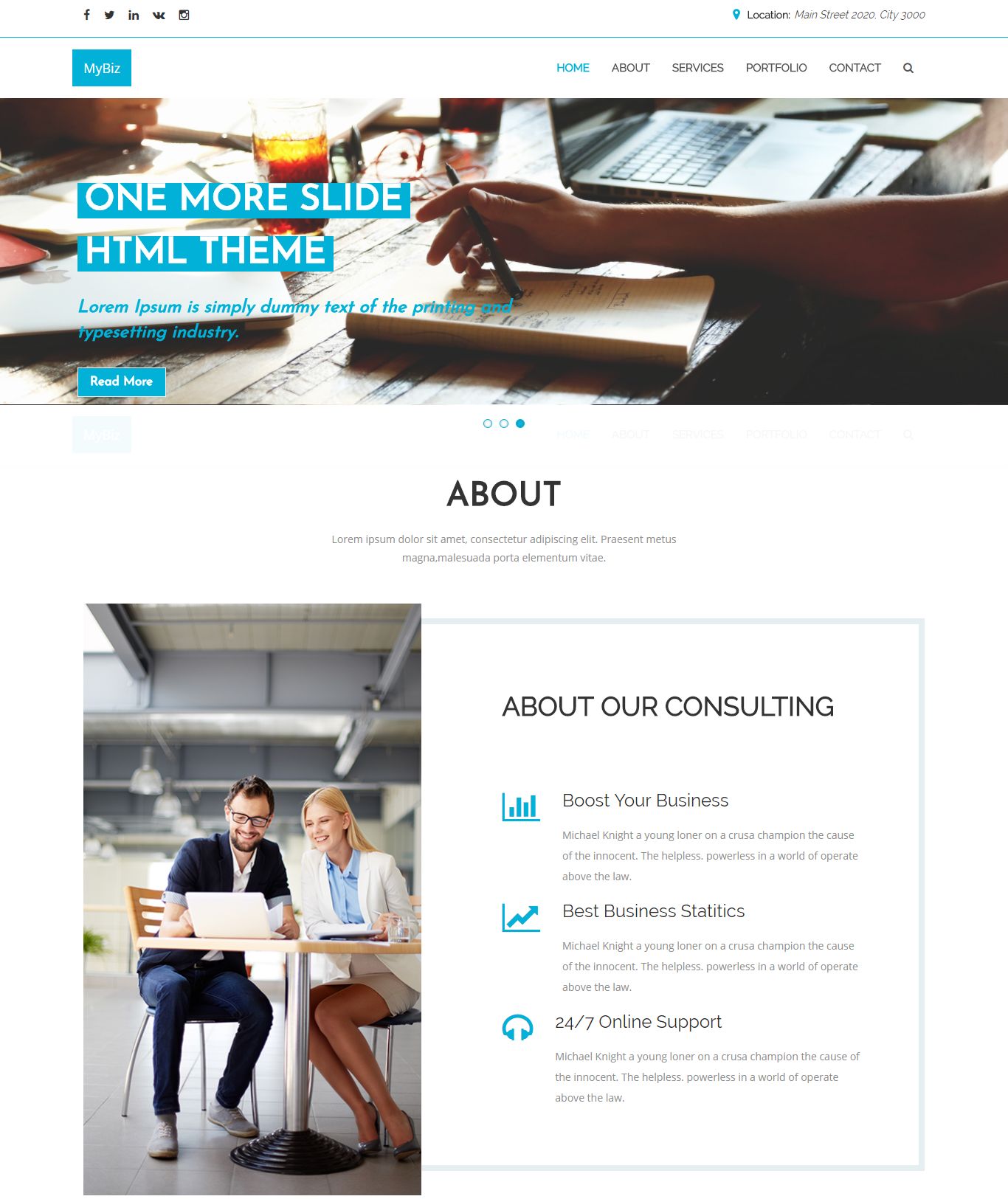 Bootstrap powered free templates are some good and powerful equipment to run the business smoothly and creatively. MyBiz can favorably give you an effective way to polish your corporate website and bring you more benefits. Based on HTML5 and Bootstrap, it's suitable for business, corporate, agency, startup, small company, financial service, and similar categories. It's also mobile-friendly and visitors across handheld devices will enjoy an interrupted browsing experience without any trouble. The valid and well-commented code makes the theme works fast and compatible with any browser.
Features:
Responsive Design
Countup Timer
Fixed Top Nav
Google Map Used
Portfolio Section
Responsive Flexslider
---
Karmo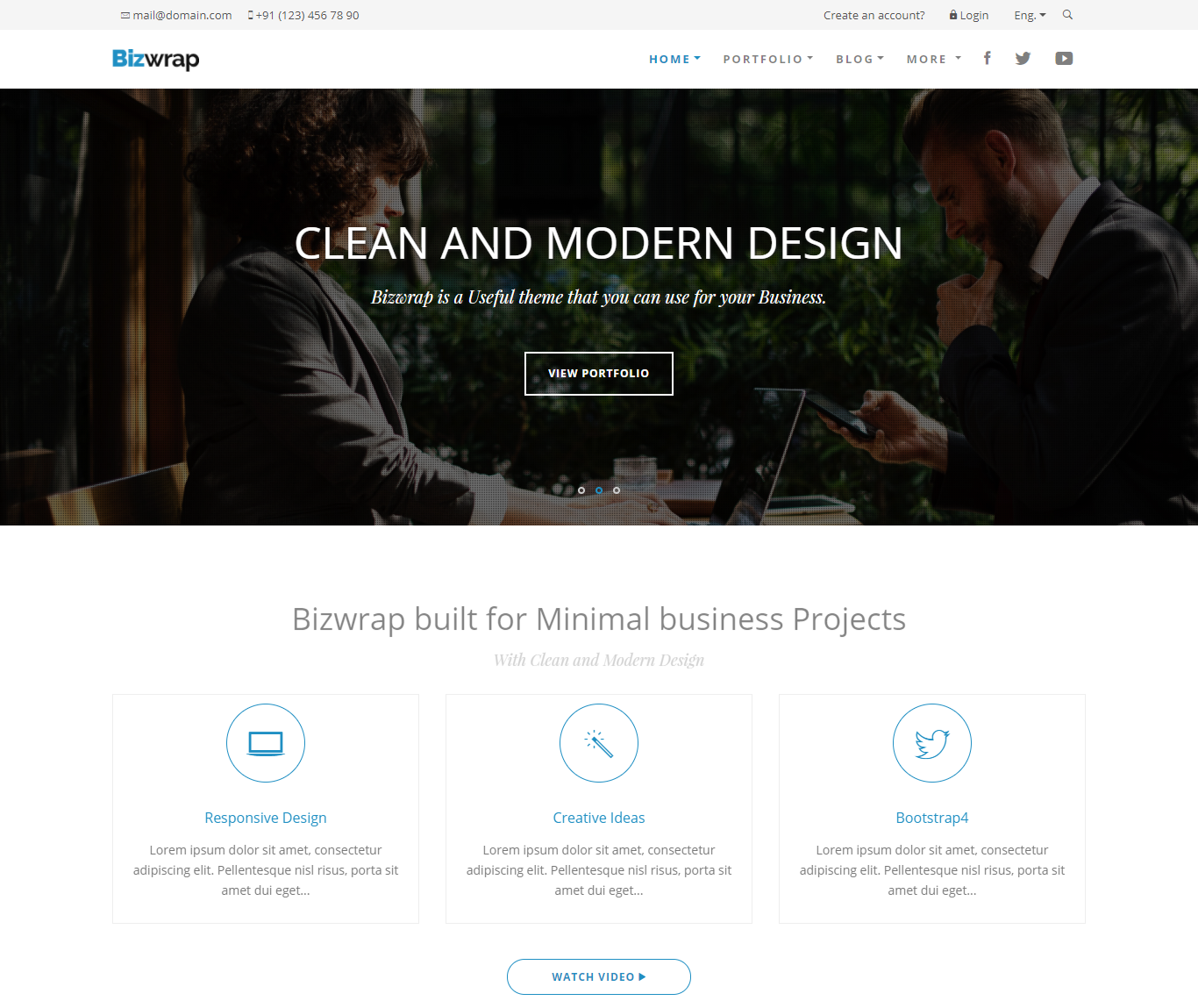 High-quality corporate templates need a few bucks, not too much in comparison to the facilities you get. For instance, Karmop is a creatively organized, purposefully built, elegantly structured, and amusingly responsive multipurpose corporate template. It's ready to implement any professional project you want to see it grow seriously. Because Karmo is built with Saas and Gulp you can enjoy a modern and sturdy web layout from it. Shop pages will let you generate online stores if you have products to sell. Read the description page to know more about the features and see the demo to convince yourself. Karmo is undoubtedly one of the best corporate website templates.
Features:
Smooth Scrolling
Parallax Support
Newsletter Subscription
Shop Pages Integrated
Social Media Links
Stylish Box Menu
---
Constra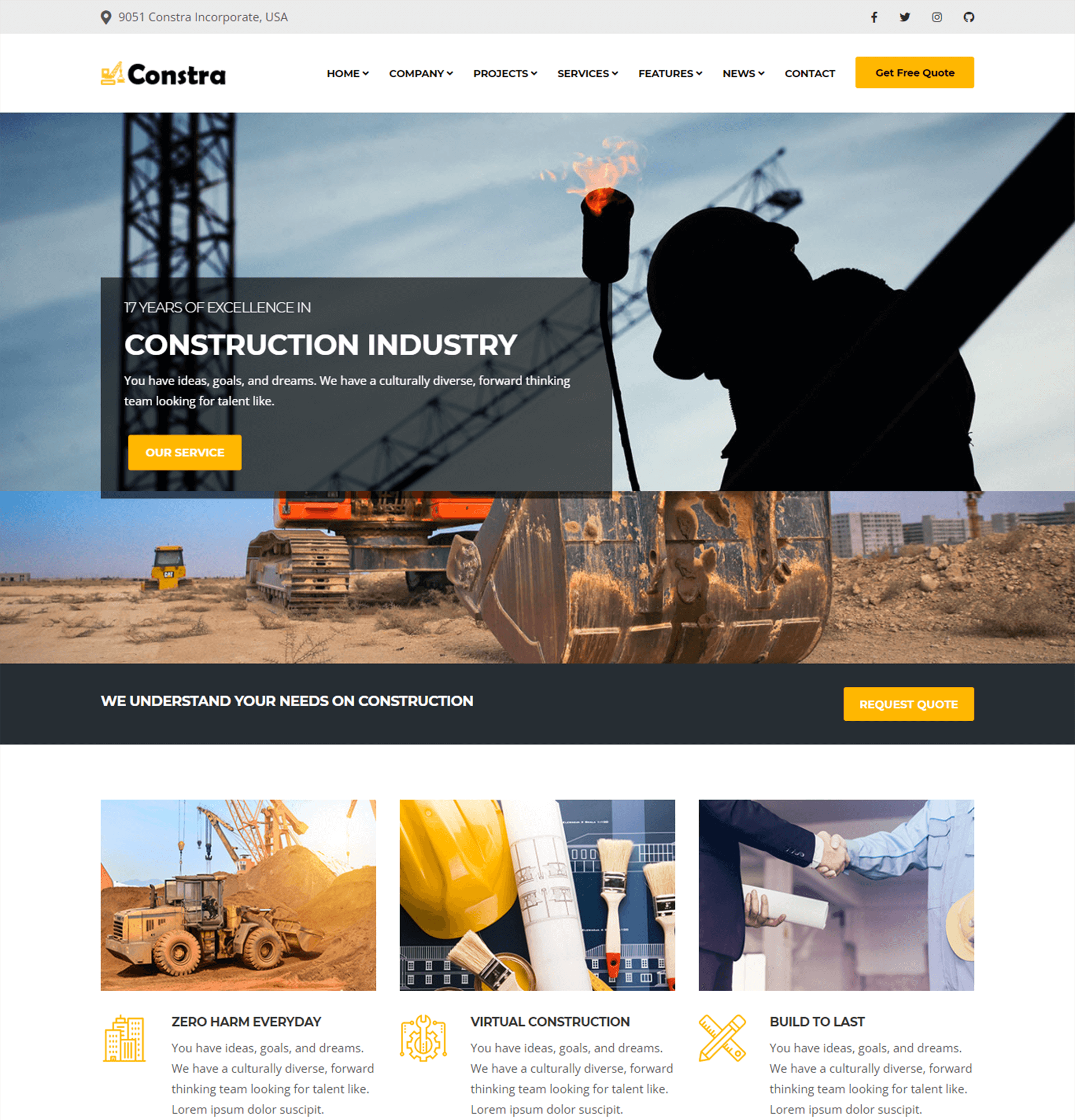 Constra is a free business website template built using Bootstrap 4 and HTML5. It features a refined design and a professional appearance that attracts attention. Constra is also entirely responsive and compatible with all of the major browsers currently in use today. This multi-page template is extremely adaptable and seems beautiful and perfect on any device, regardless of screen size, thanks to its great level of flexibility. In particular, it is well suited for websites for industries, agencies, and other closely linked groups.
Features:
Bootstrap 4
HTML5 & CSS3
Fully responsive
Cross browser compatibility
Multiple page template
Sticky navigation bar
Call to action button
On hover effects
Hero header with slider
Multilayered dropdown menu
Search option
Breadcrumbs
Fun fact counters
---