Premium and free charity website templates are appropriate for charity and human rights organizations. These templates are powerful tools for creating enticing websites with an effortless way.
Like the corporate and other serious ventures, charity organizations also require their online presence for more attention from both the help-seeker and donors. In order to get funds and supports they need to connect with the sponsors and show the activities to them. Today online platforms are more popular for interactive communication. A well-organized, informative, and beautiful website is a helpful technology to reach out further.
High-end Bootstrap 4 Templates
Both free and premium HTML templates will lead you towards the amazing creation of a reliable identity that helps to gain trust around your organization. As you know, charities are not to make a profit like the other business but they need to be on focus for their own good. We suggest you select a template from the list below which includes some of the high-quality charity website templates.
If you can construct a website with a clean, minimal, professional, engaging, and powerful web template, your site will accelerate your organization to grow. Let's not perplexed in the big world of free HTML templates. The collection of the high-standard products listed here are available on the internet. Some of them are free while others require being paid. Either way, these templates are fully capable of covering your need from a meaningful end.
---
---
Sport
Sport is for making websites around the sporting club. This template is a clean, flexible, easy-to-maintain, truly engaging, seriously organized, amazingly built, and a purposive template. It's one of the advanced charity website templates because of the robust quality and alluring options. The developers spent their hours to deliver a site that's compatible with the sporting and community club. Besides that, you can easily organize a site for other non-profit websites. It's easy to maintain, enticing to look, and fresh to enjoy. The modular customization of Sport will let anyone produce a beautifully structured site.
Features:
Working Contact Form with Recaptcha
Full Screen Slider
Retina Ready Design
4 Different Home Pages
Countdown Timer Available
HTML5 Video Header
---
Life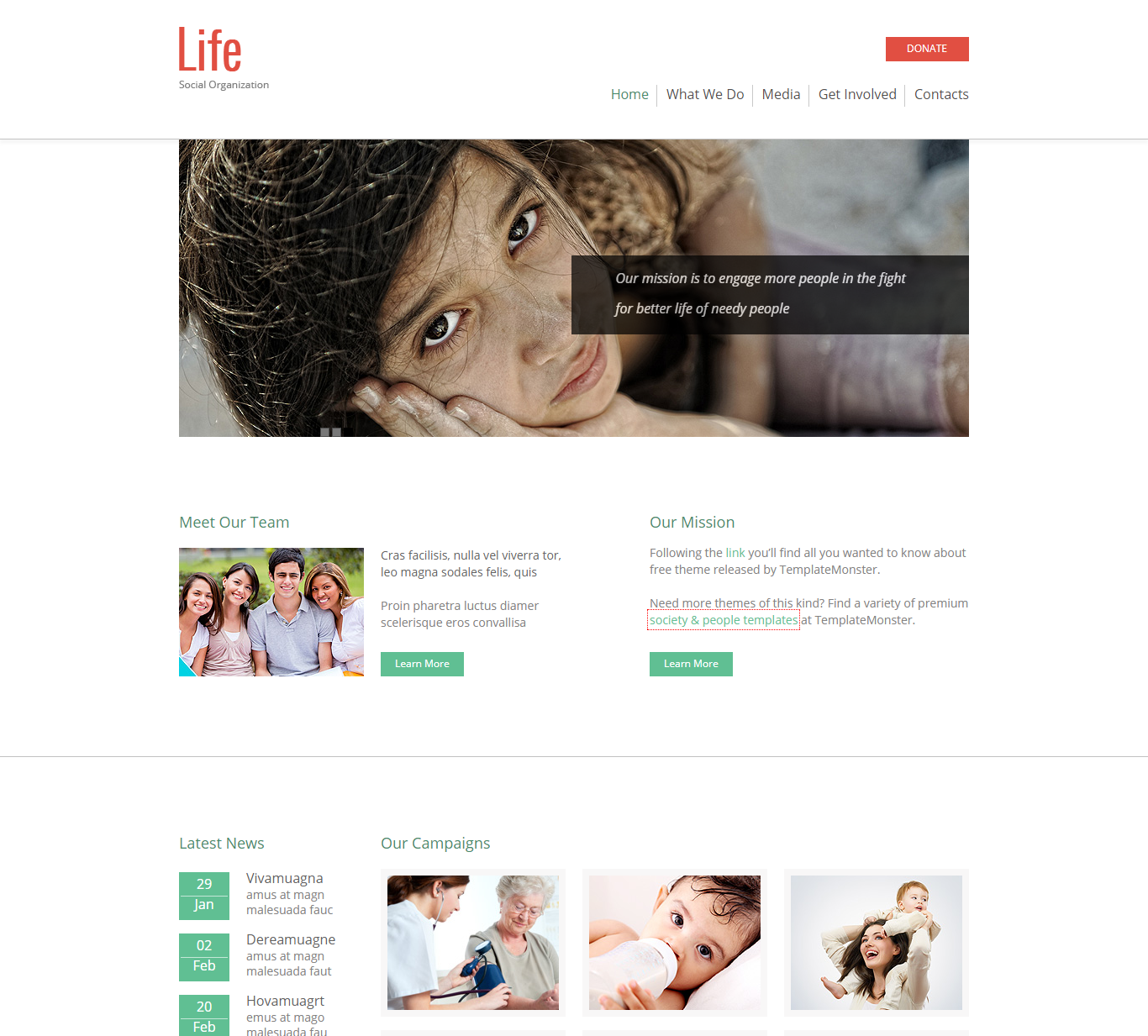 Not only the corporate sites need to be professional and engaging, but also charity website templates need to be the same. People who are connected with your charity may want to see what you're doing and know what have done. To please them and to inform the world, your website must be a great piece of work. But you're all the way confused how to do that? You see the whole point of the post is to help find the right tool to go advance. Life is a mesmerizing template to face the challenges and to stand on the front line. As a matter of fact, a free HTML5 template is a bless if it carries exceptional qualities.
Features:
Responsive Web Layout
Beautiful Slider
In-detail Contact Form
Social Media Links
Clean and Simple Design
Google Map Integrated
---
Candidate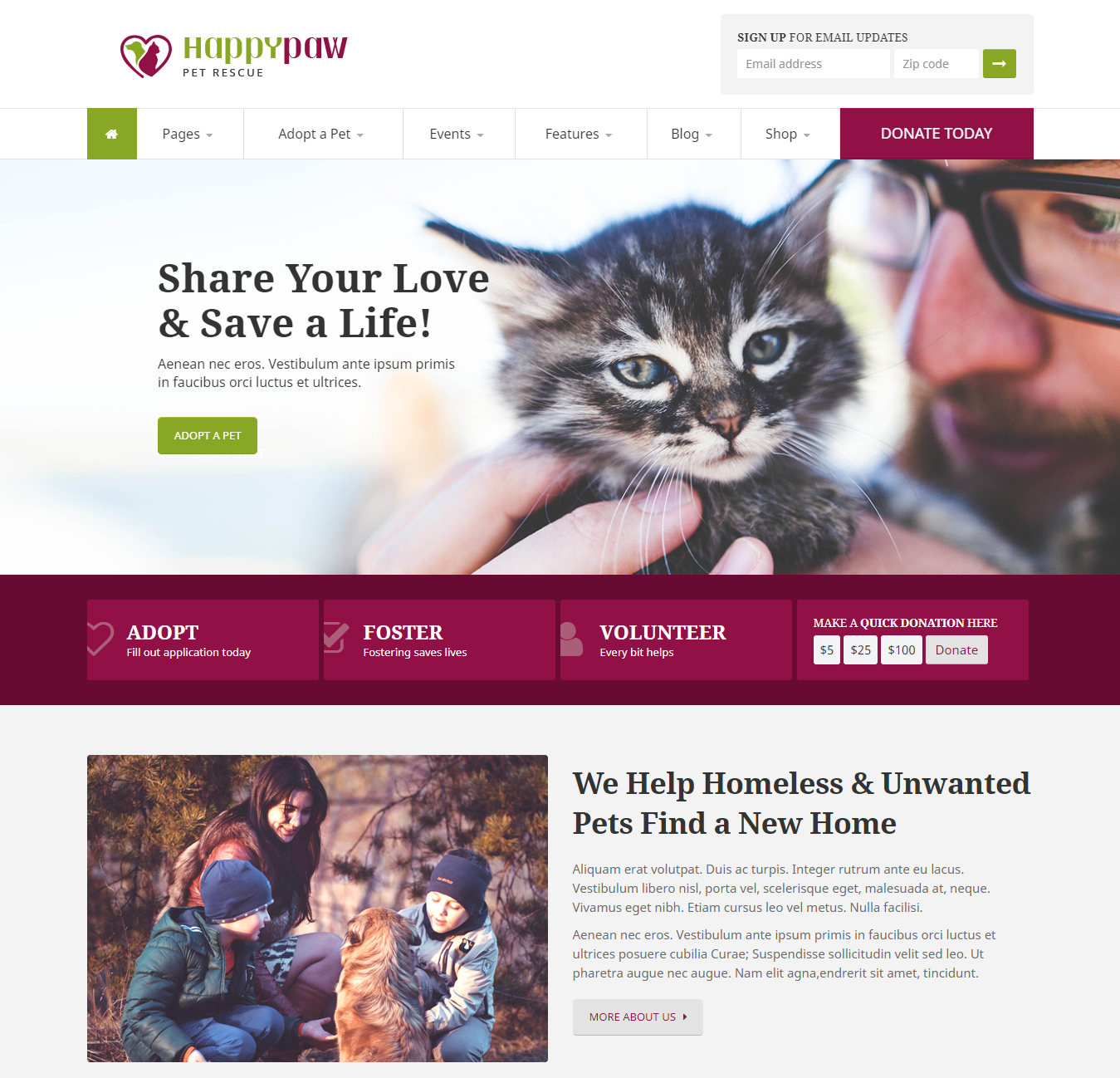 Canditate is a multipurpose template which is available on ThemeForest, and suitable for nonprofit websites such as social campaign, charitable foundation, pet care etc. It comes up with pre-built pages that make web development process easy and comfortable. We handpicked this template since it's so enticing to catch the attention at the first look. The crafty design and malleable setting are also some other options for users who have non-IT background. Cnadidate will give you the opportunity to build your own identity while you're making others impressed. Above all, it has multiple ready pages and sections which are reusable and helpful to create something awesome.
Features:
Touch-enabled Carousels
3 Variants of Homepage
3-level Drop-down Menu
45 Different HTML
Social Media Widgets
Gallery and Blog Pages
---
Charity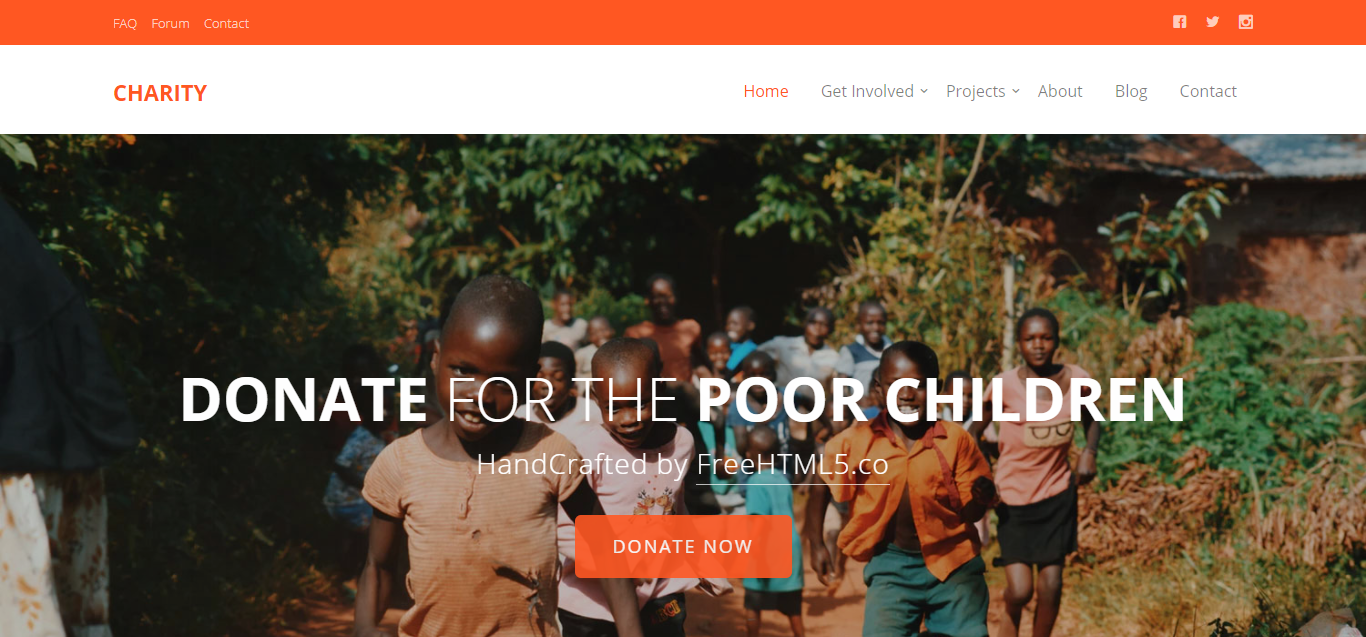 Charity is a non-profit website template made with the ideal Bootstrap framework. It comes up with an array of highly engaging features and a mind-blowing design. However, if you want to build the site with your hand, without asking help from any friend, Charity is the right kind of template, no doubt on that. Tweak your success to the top by following a few steps, and make a strong appearance. From the ready elements, you can combine and deliver a full site that commensurates with your concepts and ideas. This one is one of the great charity website templates and has some creative features although it's free of charge.
Features:
Clean and Multiverse
Sticky Top Menu
Nice Contact Form
Parallax Effect
Social Media Icons
Google Map Included
---
Be Human
Be Human is a premium template with an ample amount of features to create a website for non-profit organizations. Amidst the high-end charity website templates, Be Human is significantly a superb option for those who want to show excellence and professionalism. The design of this template is ready for crowdfunding, gallery, news, blog, programmes and such other relevant things to add on a charity website. People who need a feature-rich yet engaging online appearance, this template is for them. Coalesce your organization with an outstanding support from a user-friendly HTML5 template. The famous Bootstrap framework empowered Be Human to be organized as well as fit to the screens across multiple devices.
Features:
Responsive HTML5 & CSS3 Template
Valid, Well Commented Code
jQuery Enhanced Slider and Effects
CSS Based Dropdown Navigation
PHP Contact Form
Google Web Fonts
---
Charity Hub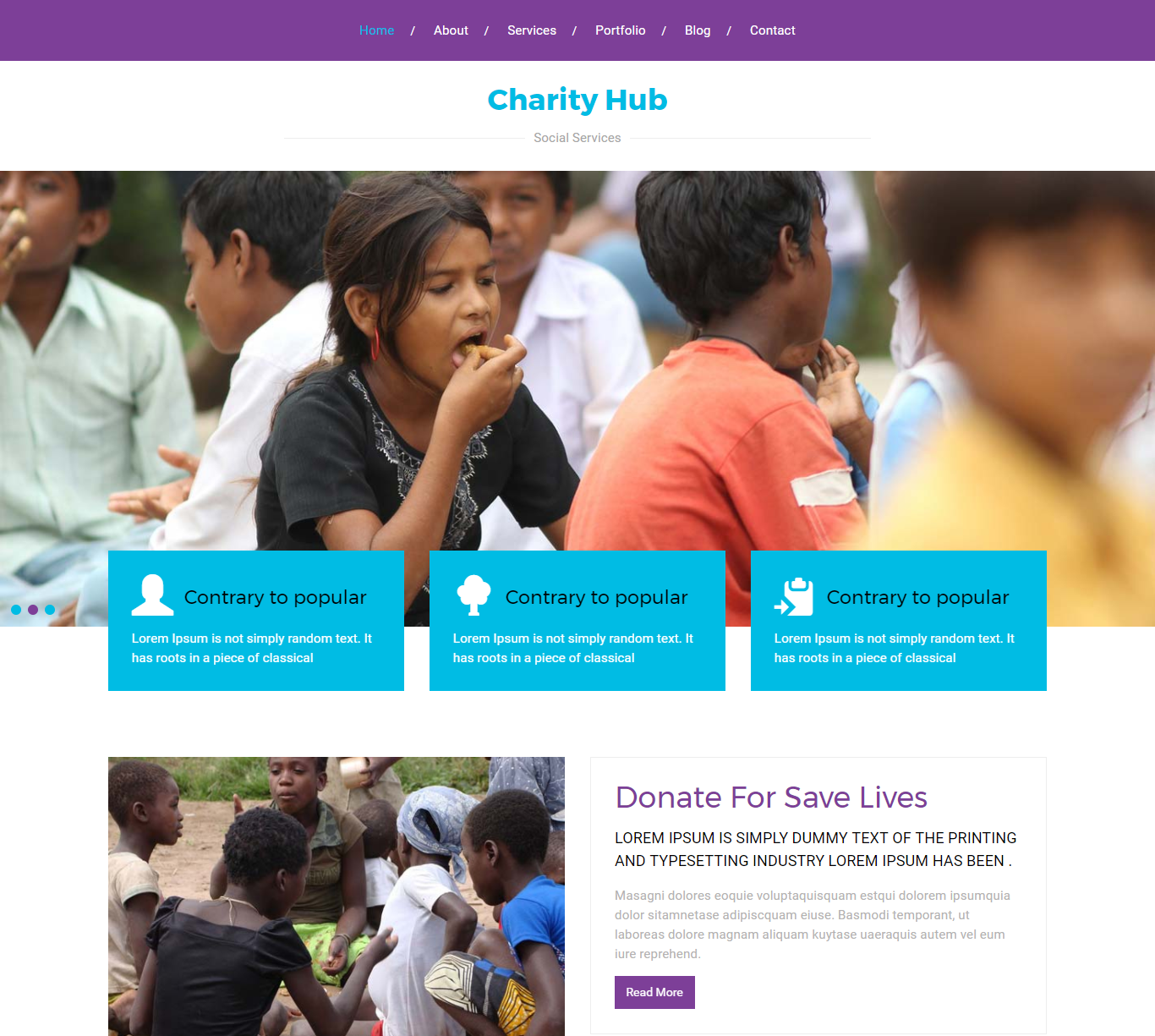 Commencing a charity organization is a hard and strenuous task. It's equally important to show what you're doing to the people who are directly connected to your programmes. Of course, a well-equipped website is the best solution for that. But when you're busy with your other activities, creating a website seems an additional burden. Here's we give you hand. Download this template, unzip it first, replace the contents with yours. That's it! You're done. Charity Hub is such an enthralling template which is a fantastic choice for all level professionals. It's flat and clean yet compatible with browsers and platforms.
Features:
Easy Customization
High Resolution
Flat, Responsive Template
Compatiable in Browsers
Easy To Maintain
Free of Charge
---
Alchemist
Alchemist is a super-quality template in HTML category which is too engaging to draw viewer's attention. There are many charity website templates to construct your online identity. But Alchemist brilliantly surpasses all other contenders easily and impressively. Don't just waste your time in quest of the right theme while you're getting the perfect one here. One hundred plus ready HTML files are surely a mentionable benefit since they're saving your time. Above all, it has an array of top-grade options that will enable you to organize a website for better user experience.
Features:
116+ HTML files
100% Responsive Layout Design
Sass (SCSS syntax)
CSS3 Animation
Font Awesome Icons
700+ Google Fonts Usable
---
Run Charity Lite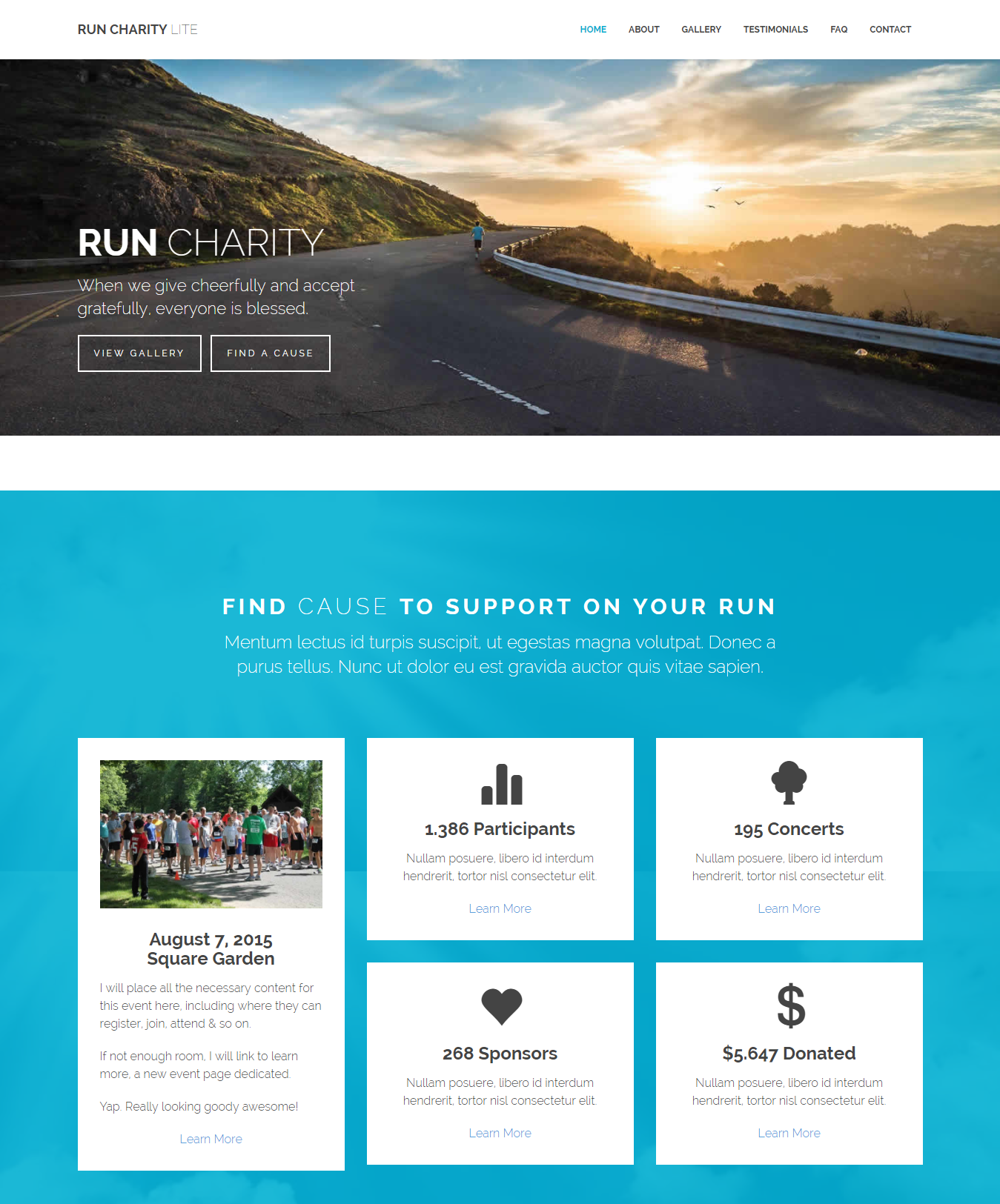 Run Charity Lite is a prolific, outstanding, superior, responsive, and fabulous template. If you're in need of a free HTML template which can perform as the premium ones, go for this product. It's an awesome creation for the people who want to show their caliber and be special through admirable works. Let's build your website right now without getting help from a web developer because you're having a bootstrap template that's capable of doing numerous things. All the way it's a superb inclusion among charity website templates.
Features:
High-quality Design
User-friendly Layout
Mobile-conscious Template
Easy To Edit
Clean, Valid Coad
Ready To Download
---
Heal
Heal is a supremely built and elegantly designed non-profit web template to use for charity websites. Its cool features will let anybody create a brilliant and mesmerizing website that is arranged to attract users with positive signs. It's a one page HTML5 template built with Bootstrap framework. The code quality is industry-standard and well-commented. Moreover, it has parallax slider and sharp scrolling which makes the theme more interesting to try. Use it for websites like child rights, human rights, charities, crowdfunding, religious, and political. Other features like Google Map, pricing section, and gallery are the top options Heal.
Features:
One Page Parallax Template
Smooth Scrolling
Parallax Effect
Pretty Photo Gallery with Effects
Google Map Included
Pricing Table Included
---
Donate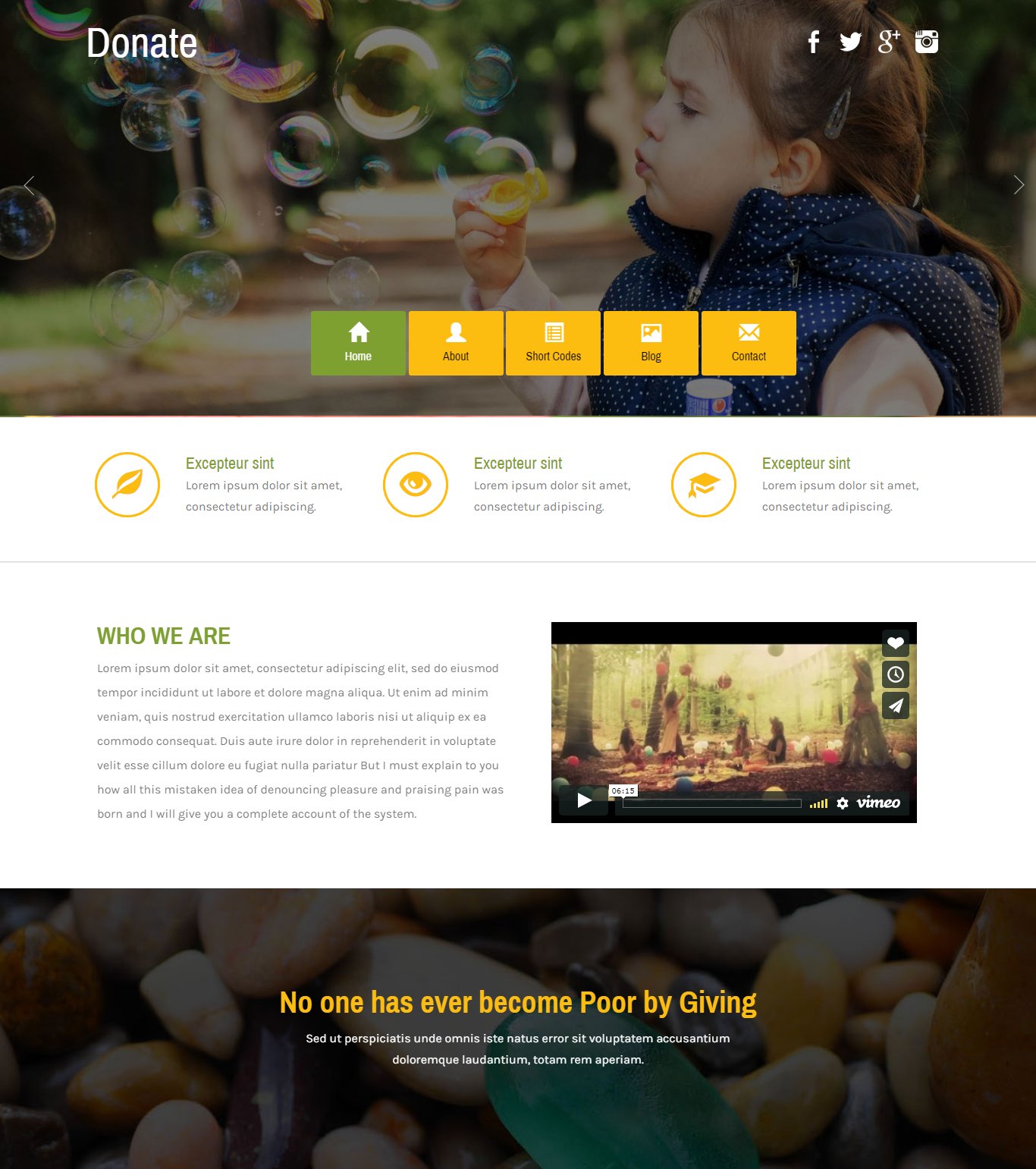 Donate has an eye-pleasing design and powerful build quality. However, it has the capability to cover all the tasks you need with a website template. If you want to do something for a humanity, people, society, destitute, and poor, start an organization to help others. And, Donate is here to accompany you even if you had no idea where to begin in terms of online id. All the works – planning, implementing, showing, serving – are harmonious. Letting other see what you're up to is a crucial act. Donate is adaptive to the device with various sizes. Now users from any device can visit your site and do what they like to.
Features:
Flat and Responsive
Bootstrap Framework
Hover Animations
Compatible With Different Platforms
Cross Browser Support
Amazing Design
---
TownPress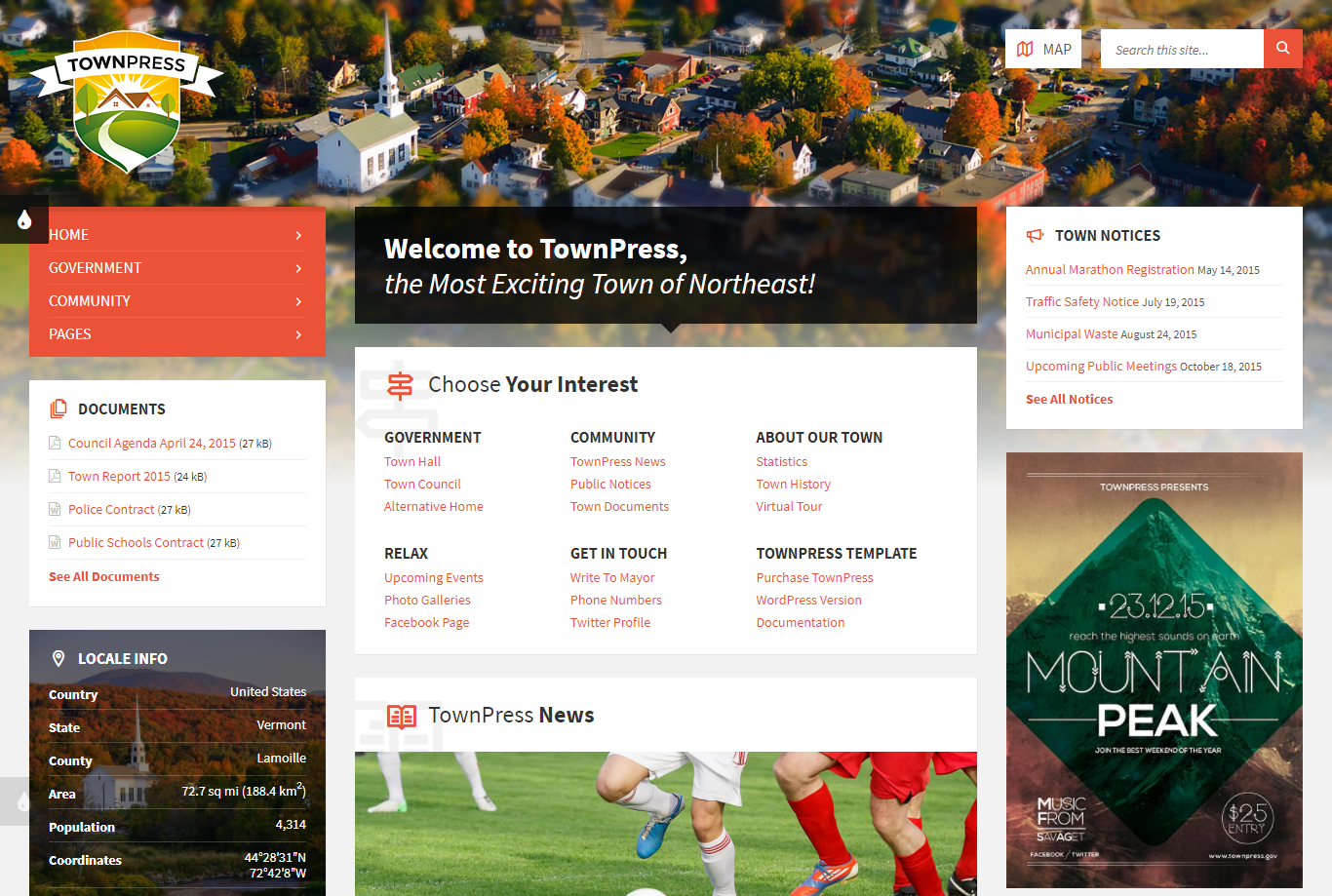 Among non-profit website templates, TownPress has very engaging and niche-specific design. Our reviews are honest because we want to share only the quality items that add value to our readers. Therefore, this template is a powerful tool to launch a website with a few easy steps. Pre-made pages and sections will let you set your offers and services. Based on latest technology, TownPress is for a beginner website which doesn't require high maintenance. It included galleries and widgets and other features that's a wonderful thing to mention. It's an excellent bootstrap template for more freedom.
Features:
User-friendly Design
Valid HTML5 and CSS3
Non-profit Niche
Mobile-Friendly Layout
Retina Ready Graphics
Easy To Organize
---
Tempo
Tempo is an unbelievably beautiful, astonishingly powerful, marvelously practical, and wonderfully advanced free website template to start a professional website. It will help you with a copious collection of features that enable you making gorgeous websites. The template is an ideal match for non-profit and charity organizations. It features a large hero header, sticky menu, call to action buttons, sortable gallery, contact form, team members, and customer testimonial. Get inspired by Tempo and deliver a well-polished site to show your identity to the world. Although it's a free HTML template, it can work same as a premium bootstrap template.
Features:
One Page Beautiful Template
Parallax Background Effect
Top Sticky Navigation
Social Media Links
Sortable Portfolio
FontAwesome Icons
---
Electoral
Electoral is a fresh and up-to-date HTML5 template to organize websites for political activities. You can happily use this template for non-profit organizations. It's simple yet powerful, creative and inventive, easy to handle and feature-rich. Before making the decision whether to buy the template or not, check the live preview first. Seeing helps to believe. The custom elements like sliders, galleries, pricing section, call to actions, Google map, animations, and such other sections are available with the Electoral. As long as you're looking for charity website templates, Electoral is a trusted companion.
Features:
Beautiful, Unique design
Google Maps API
Pricing Tables, Buttons, Accordions, Tab
CSS Animations
Responsive 6 column grid
3 & 4 Column Sortable Galleries
---
Fame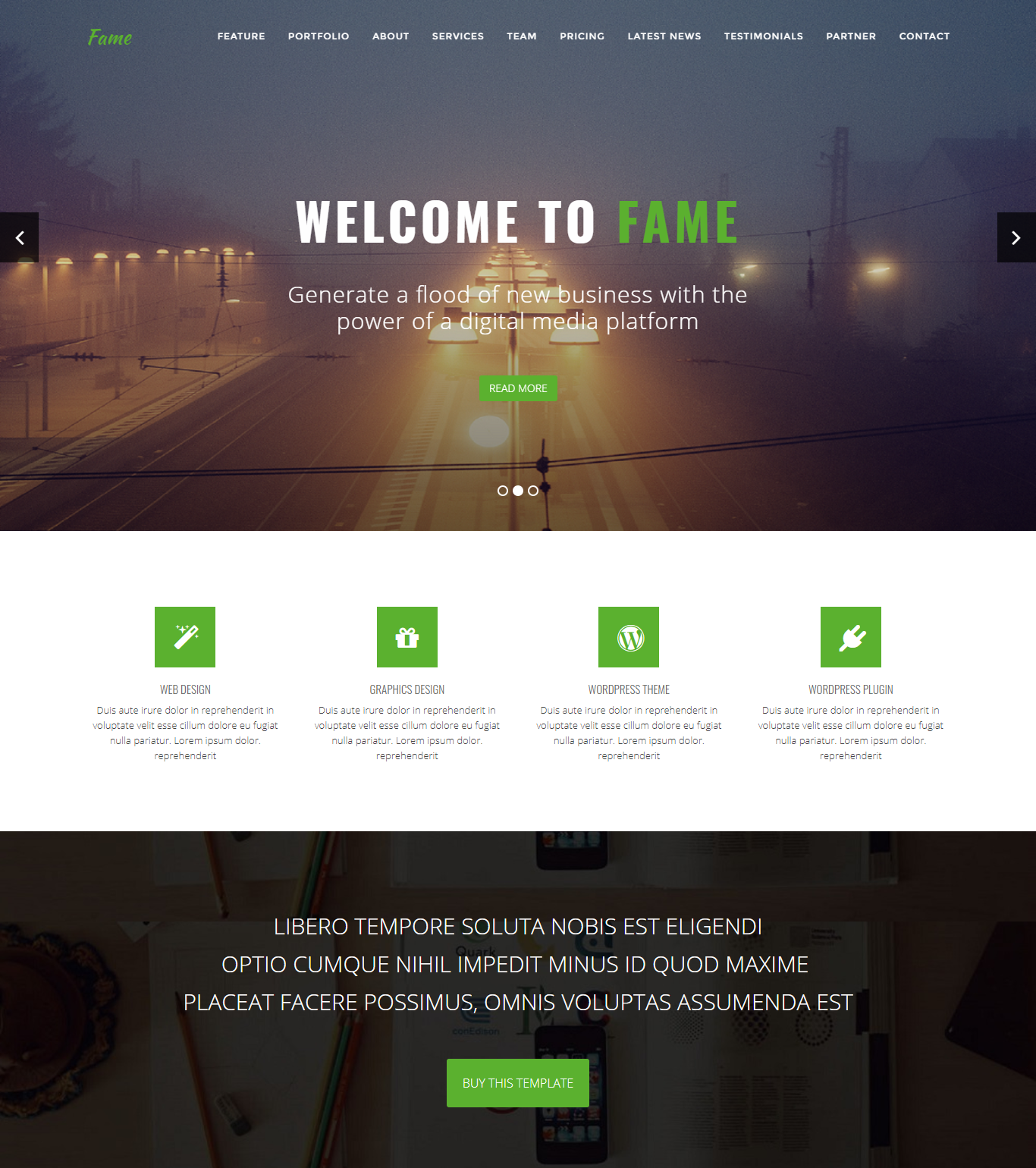 This template is engaging and visually satisfying, astonishing for the visitors who will come and get the warm feel. Developers made this template with care and meticulous revisions to present it so the users can enjoy its flexibility. The aesthetic feel of Fame ensures visitors long-time stay on your site and interact more. Google must love your site if you make it by using this template because it followed SEO guideline during the development. Fame is incomparable to build a fast and robust site. Fame is one of the best non-profit HTML5 templates so far we've seen.
Features:
One Page HTML template
well-organized
6 Color Variations
built with Bootstrap 3
SEO friendly Codebase
W3C validated
---
Deeds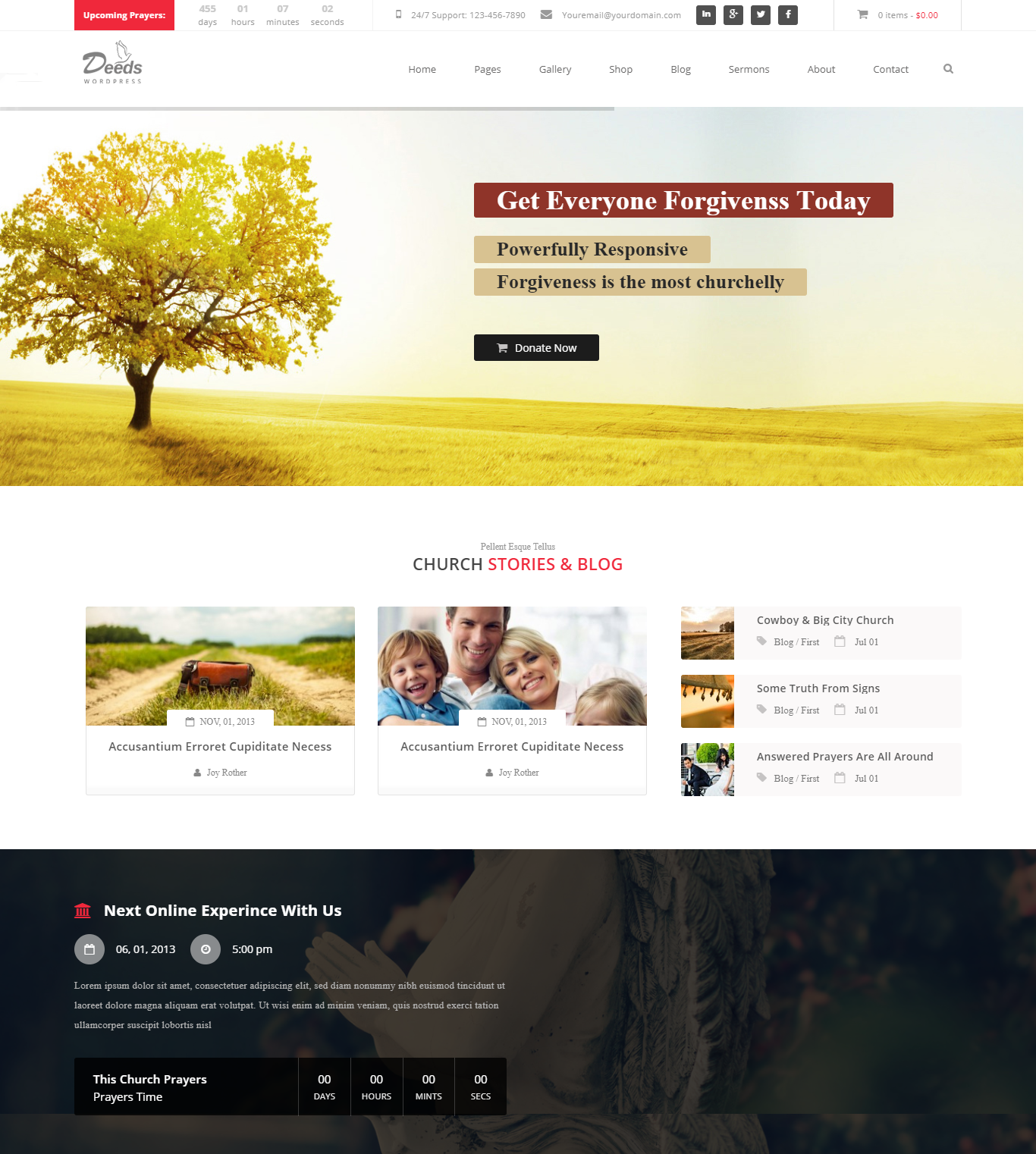 A good template for a religious purpose can help you building a purposeful website. As Deeds offers a clean, strong, amicable, and cozy ambiance – it's a blessing for the webmasters, undoubtedly. The catchy and organized front of this HTML5 template makes visitors spend some more time while they come. It incorporates innovative features, appealing design, fresh colors, and multiple styling options. Creating a beautiful website is no more a dream. Buy this template and stun your audience. Likewise, it also holds masonry gallery sections, 7 unique homepages, sticky header, and cross-browser support.
Features:
Structure Based on Bootstrap 3.1
SEO Optimized
7 Home Page Styles
Boxed and Wide Layout
Php Contact Us Script Included Free
Masonry Gallery Page Styles
---
Humanity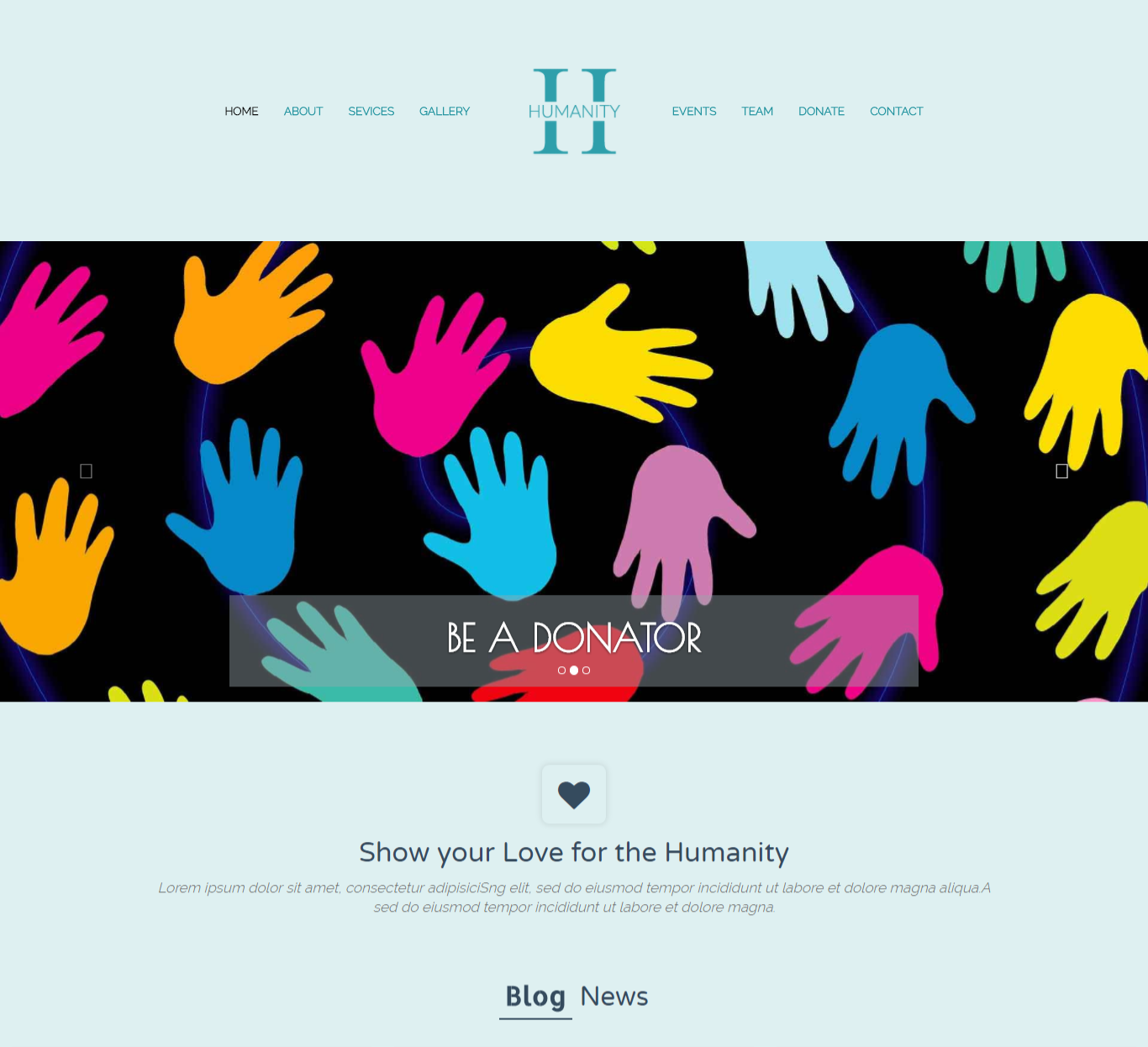 With a free and top-standard template like Humanity, you can start a new website or redesign your existing one. ThemeWagon always offers fresh, industry-top, peerless quality, mobile-adaptive, and user-engaging templates. A mobile-friendly template should always be your first priority if you have no wish to lose a significant number of potential traffics. It integrates a splendid slider and other noteworthy design elements. Make your non-profit site building plan real with Humanity. Among all the free and premium charity website templates, it's genuinely an admirable one worth to try for your long-cherished project.
Features:
Responsive Multipage Template
FontAwesome Icon Integrated
Cross-browser Compatibility
3D Parallax Effect
100% Fully Customizable
CSS Framework – Bootstrap 3
---