… Try to absorb what is useful, discard what is useless, and add what is essentially your own. – BRUCE LEE
In this modern era of the expansion of internet and web technology, only the fast and adroit ones win. Smart people always love the way that's quick yet produces desired outputs.
Have you ever thought of a "Template for every need" in your wildest imagination? You might not be brave enough because there were no Posh then. Curious? Yeah, we know how it feels when you're looking for templates after templates that could meet your desire. But you end up with a deep sigh!
Leave those days in the history when you checked a template or maybe even bought one for a project. Then you look for another one because this time you're working on a different job. We have been there, too. Let's shuffle the cards once again and see; you're winning!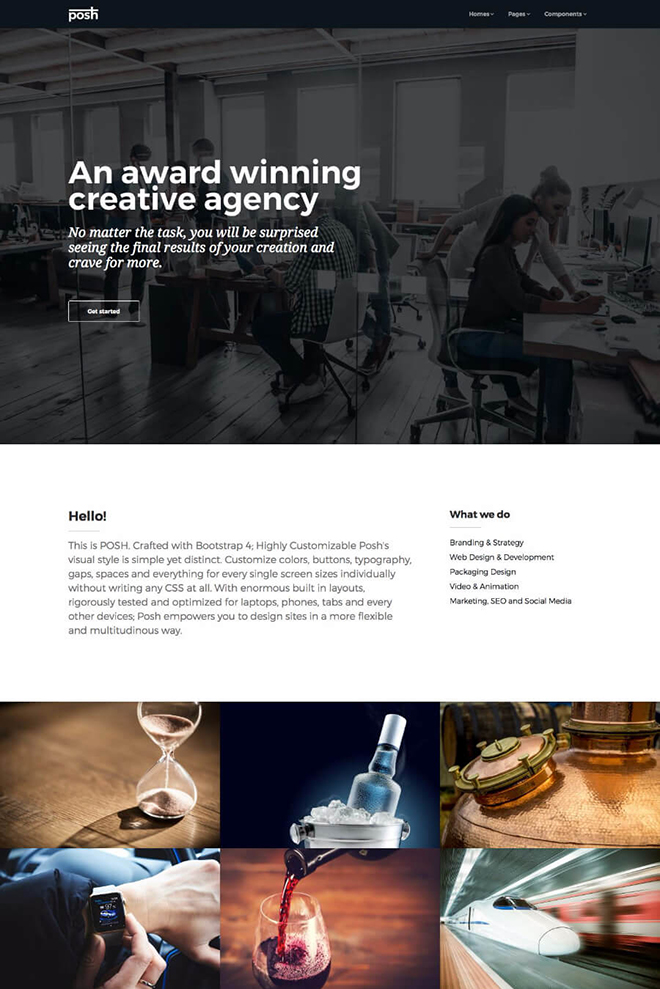 What's Posh?
Posh is an assiduously built, gorgeous, exquisite, overwhelming, magnificent, multifold HTML5 and Bootstrap 4 template. The breathtaking design will blow your mind and fill your heart with total satisfaction. We have built and sold many themes in last few years. Our year-long experience shows us how important it is to keep up with good work not with the money solely.
When we've started to build Posh our priority was to offer people something more than a product, more than a device to generate money for us. We'd like to grow along with the people who love us, who admire our works, and who support tremendously what we do.
Technology Used:
Bootstrap 4
HTML5
CSS3
FlexSlider
Owl Carousel
PHP Files Included
jQuery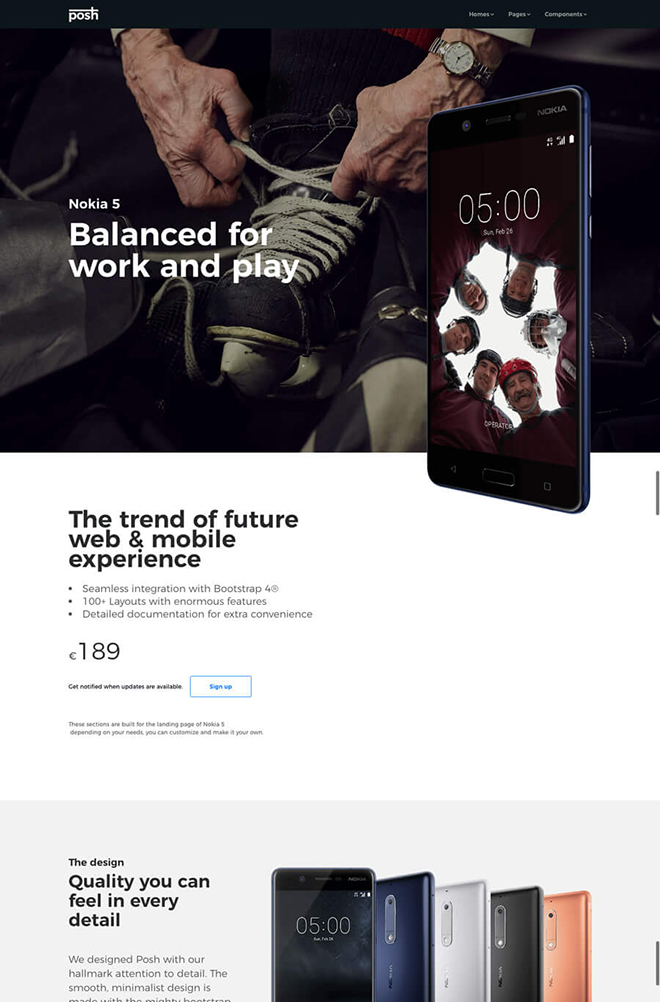 The Next Question is Why?
The design of Posh isn't simply pretty; it's efficacious and competent. The giant companies sometimes use a word "next generation" and the acrimonious truth is it used in exaggeration most of the time. In Posh you can see yourself what's next generation pattern looks like.
Salient Features
We have no wish to kill your time by telling what this template has and what not since you can see that yourself right after checking out the live preview. Furthermore, if you download it, you'll understand what were you missing in past. Let's see some of the most noteworthy features.
Top-notch Technology
Beautiful, Robust Typography
Ultra Responsive with Bootstrap 4
Super Easy Customization
Multiple Demos, Countless Pages
Hundreds of Elements
Lifetime Support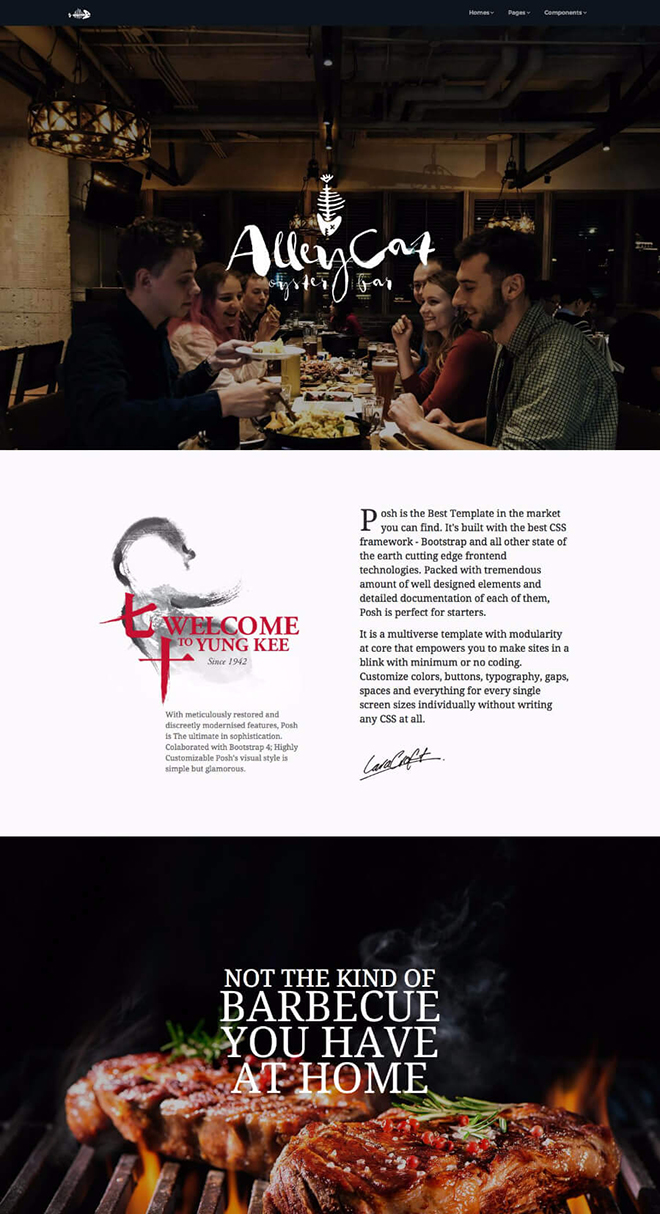 Top-notch Bootstrap 4 Template
Bootstrap 4 is the most recent release of Bootstrap – the most wonderful framework of the earth. The final release is yet to come, but the beta version is useful to create mobile-ready websites. Posh perfectly utilizes the full features of Bootstrap 4. Therefore, you'll get an amazing website with a fluid layout that fits itself on any screen no matter the screen size or the platform.
Template for "all"
When we use the term "all" it means both people regardless of their technological background, and every single niche existed in the world as of today. Like the first human stepped on the moon, we feel the same way on the web. Why do you need a template? For restaurant, conference, education, hotel, landing page, eCommerce, you name it. Posh can cover all your desire for making a website with no complication at all.
Demo Home Pages:
With the demo home page variations, you can easily create your site no matter what it is. We've created sites for some of the most used niches. That's not the limitation anyway. Make your imagination real using the highly flexible layout. Here are some examples:
Conference
Digital Agency
Education
Hospital
Hotel
Restaurant
Online Shop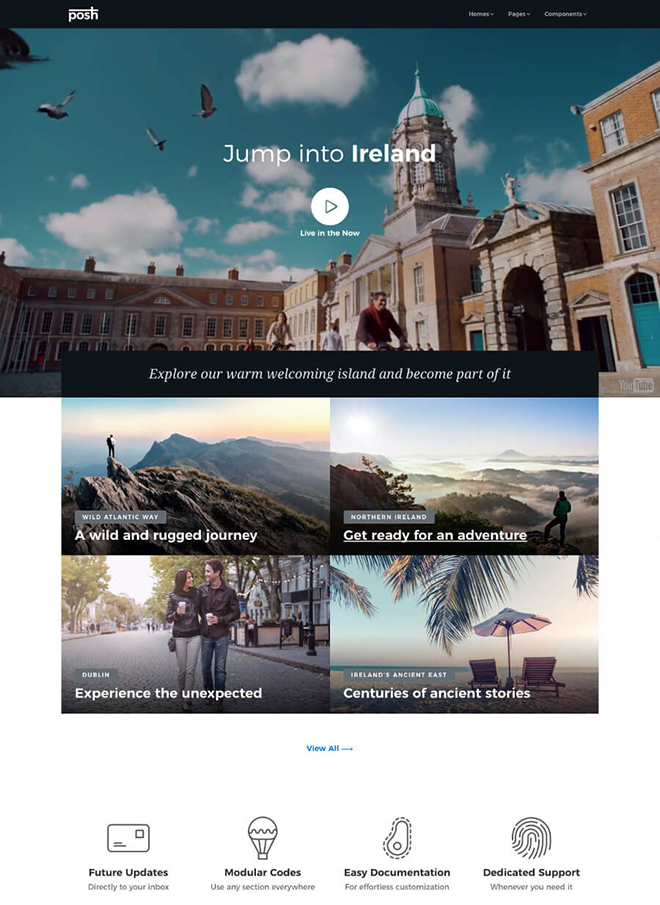 The Easiest and Most Beneficial
Our painstaking effort in the making Posh was for your benefits only so that you don't feel any distress. So many helper classes were included that you can edit the whole site right down from HTML, without touching the CSS. The Posh will give you endless flexibility, full control, and not to mention a divine feeling.
Time for Action
Get this template right away and make yourself unbeatable in the competition. It's the nest generation Bootstrap 4 template. Stay out from ordinary and go forth to show the caliber. Like the Posh, you are unique out in a million.