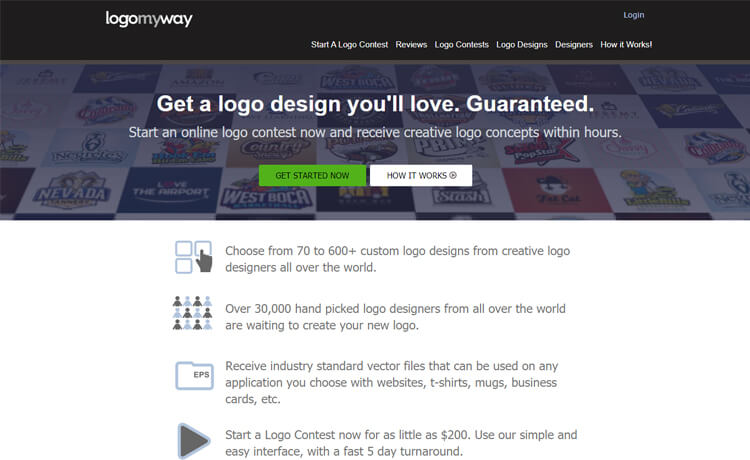 So you're building your new business. And with that business, there will be a particular brand that you want to promote. While there are a number of things that you want to do to promote that brand, nothing compares to the way a well thought, and well-designed logo can do that promotion. After all, your logo will stand on the front lines of your brand awareness campaign from day one. It could be argued that your trusted company logo is your number one employee.
But how do you want to go about the design process of this beautiful, authentic, one of a kind logo? With the advent of the online logo makers, it has never been easier, or more cost-effective to go headlong into designing your own logo. But which one do you trust with the task of creating the item that will represent THE next big thing. Your thing.
Most online logo makers include a free service whereby you can obtain ready-made logos from a logo library. And those same logo makers also allow you the option to employ a graphic designer to add that professional touch to your logo.
Listed here are The Top 10 Best Online Logo Makers beginning with the overall best at the top of the list at number one.
Overall the #1 Logo Maker is LogoMyWay
The bottom line on Logo My Way? Head and shoulders above the rest. Another way to look at this logo leader is this way. There are only 2 online logo makers, Logo My Way and everybody else.
From the initial design to whichever package you purchase in the end, Logo My Way is THE way.
Their logo maker has thousands of logos to select from, 30,000 hand-picked graphic designers to help, and an online logo contest option that will give you concepts in mere minutes. Their average review from clients is an astonishing 4.9/5.0
No matter which package you choose you get two things from LogoMyWay. Solid promise and over-deliver.
#2 Tailor Brands
While not as value-packed as Logo My Way, they do offer a pretty good overall logo service. Tailor Brands will offer the same free version that Logo My Way offers as well as several other branding solutions.
The pricing, however, is a bit odd considering it is a subscription-based service and most customers aren't a fan of this. But a solid Number 2.
#3 Wix Logo Maker
If you want to design your own logo but time is not of the essence…go with Wix. Again nowhere near Logo My Way but they do have a fair logo maker to generate several choices based on your input.
Many of the Wix customers don't care for the generated type logos that they tend to push but an overall customer rating of 4.8 isn't too shabby.
#4 Design Crowd
The best way to sum up this contender is very simple. Design Crowd is a Logo My Way wannabe. To the novice, the sites tend to mirror each other. But then again somebody's got to be number one so everybody else can follow.
They do offer a few novel services such as t-shirt design, business cards, flyers, etc. Design Crowd also offers the same design contest service.
#5 Looka
The Looka logo editor is quite limited. You can not drag and drop items wherever you want to. The overall layout and spacing have been carefully calculated and they tend to not want to give the user an option to mess it up.
Looka also employs the same t-shirt designing and business card printing offered by Design Crowd. Their customer rating of 4.7 is surprising.
#6 99 Designs
99 Designs comes off a bit pricey for what they deliver. The same before mentioned logo contests for just about any design project from logos to product packaging to book covers.
For an extra fee you can run a private logo design contest so your competitors can't see what you're up to. That in itself sounds a bit shady.
If you don't want to go the conventional contest route you can choose from several designers that are available for hire. 99 Designs also comes in with a 4.7 customer rating.
#7 Design Evo
About the only thing that makes Design Evo stand the least bit out is the fact that you can do whatever you want with their free version logos, even use them commercially. As long as you link your website to Design Evo.
These cheesy backlink builders also will let you build your own icon from scratch using their custom shapes library. And if you have absolutely no experience whatsoever Design Evo is simple to use. Rather than using a wizard to ask you questions about your logo, they let you browse through a library of logo templates that allow you to choose your favorite.
#8 The Logo Company
While you can certainly find cheaper logo services on other platforms, The Logo Company offers a fair at best quality of final product. Some of their concepts can be considered a bit radical, but they do offer unlimited redraws and revisions to get it just right. Or as close to right as they can.
Their initial process too is a bit different. They start out with a design brief questionnaire, and then 5 designers are assigned to your account for you to work with, unlike the top dogs that allow you to choose the people you are going to work with.
#9 Squarespace Logo Maker
From the very people that brought us the ever-popular Squarespace website builder comes this simplistic, easy peasy logo maker that you can download and use for free…no strings attached.
This logo maker is poorly equipped as far as some of the others on this list, but it does incorporate a rather large icon library.
Squarespace Logo Maker's customer reviews tell the tale at a meager 3.8. It goes without saying that you get what you pay for with Squarespace Logo Maker.
#10 Logo Nerds
Coming in at the bottom of the barrel is Logo Nerds. Somebody has to be last, right? In the same vein as Squarespace, you get what you pay for. And at Logo Nerds, that isn't much.
Their design process only allows you 1 redraw or revision. But if you already have a good logo and just want to spruce it up a bit, they can do that.
And it's no real shocker that their customer rating is a disappointing 3.0. And those were the good reviews.
#11 Smallseotools
The logo maker on smallseotools.com is another amazing online utility for creating logo designs. It's free of cost tool with hundreds of pre-made logo templates falling to different categories, such as business, architecture, photography, 3D, abstract, etc. There's no limitation on the usage of this free logo maker tool. You can make as many logos as you desire without even getting registered with the website. It provides the users with full authority to customize the logo design as per their requirements. You can edit text, add shapes and backgrounds, adjust opacity and shadow, etc. with this online logo maker.
So What Does All Of This Mean?
The actual hard data speaks for itself. When you provide a quality product at an excellent price point and then you service the heck out of it you are going to be in the league with Logo My Way. It's all about going above and beyond, that's what your business does and that is what Logo My Way can do for your business.