Would you like to re-invent the wheel each day? I don't think so. That'll be an arrant waste of time & resources, wouldn't it? That's where something like a Web UI Kit comes into play. All the pre-made UI-blocks, elements & sections make life easy for you. Then, if you are a web developer, it saves ample of your time too. Theamwagon team has always been working for the betterment of you. So, no exception this time as well. We are adding a new & fresh Free Bootstrap 4 Web UI Kit just for you!
A Brand New Free Bootstrap 4 Web UI Kit
Wrapkit is the new arrival, the web UI kit we're introducing you today. Like other UI kits, it includes some state of the earth UI blocks and elements. These UI kits can be used to create any of your landing pages, coming soon or home pages. Even, these have the potential to create a complete website if used smartly. Not to mention, they are ready to use right from the word go! In other words, this is a paradigm how cool & smart a free UI kit can be!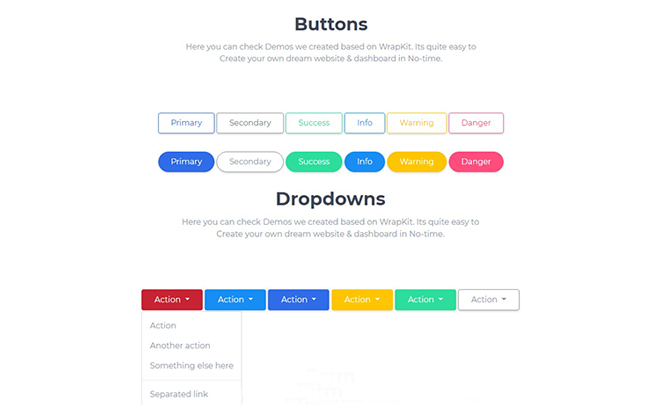 Therefore, let's not wait any further. Let's get to know about some of the beautiful examples of the kit. In the meantime, do not forget to check out the Live Demo of Wrapkit to have a profound idea!
Sections
The fun of working with a UI kit is its ability to innovate and renovate! Not only you can create new websites but also re-define & re-design your existing websites with the help of its available sections. And when it comes to this Free Bootstrap 4 Web UI Kit, it has ample of them!
When we start to talk about some of its sections, we might take into consideration the Header section. Every site needs a way to navigate, and this is it. The free version includes two color schemes for the navigation bar with animation and ghost buttons on it. Then, if you intend to land any of your upcoming product or app, a Landing page is also included. Again, you might have a site where you need to introduce lots of people. A Team section is ready for that. You might also own a shopping site. So, the creators thought about including a Pricing table too! Furthermore Call to action, Testimonial, or Blog sections are there for your convenience. Lastly, a site often needs to communicate with its users. A Functioning Contact form also enhances the usability of this Free Bootstrap 4 Web UI Kit.
Elements
Wrapkit lite brings two types of UI kits for you. We already have discussed different sections. Now, it's time to look at some of the Elements. This UI kit has some beautiful elements available. Various elements like Buttons, Labels, Breadcrumbs, Dropdown, Cards are some examples.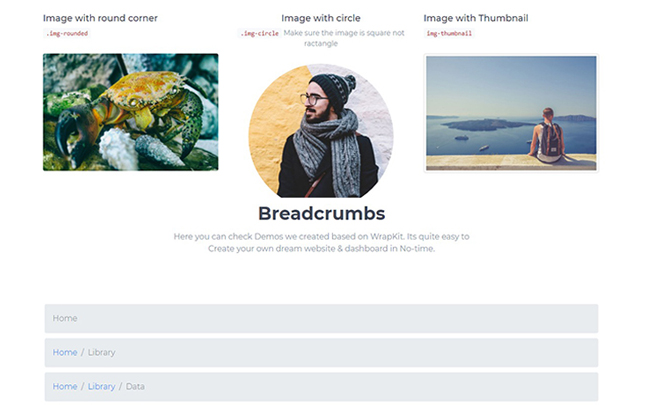 To make your life more easier, these can be implemented directly into any of your running projects. Furthermore, different Tooltip & Pop-over styles, Notification Styles, Javascript Components are ready for your project. Just grab and use them!
Responsiveness & Bootstrap 4
Famous CSS framework Bootstrap released their latest version recently. What really exciting is, this UI Kit is built over the awesomeness of Bootstrap 4 beta. So, using this UI kit will not only save your time and money, but also reduce a lot of headaches! Because, when you have Bootstrap 4, responsiveness is guaranteed all throughout!
Features to Look for
Bootstrap 4 Beta
Retina Ready
Amazingly Fast
SaSS Base CSS
One Landing Page
Smooth Animation
Easily Customizable
Multilevel Dropdown
SEO Optimized Code
W3C Validated Code
Call to Action Button
Great CSS Animations
25+ Useful UI Elements
17+ Ready to Use UI Blocks
Credits
Team WrapPixel is behind this beautiful UI Kit. Because of them, this kit is up and running & available for free. Three cheers to them!
Just A Little More before You Leave
Recently, we've been distributing some really cool UI Kits. You might have skipped those because you're just not sure what they can do. What they are capable of doing. Please don't do that. Cause, surely you're unaware of what you're missing! Cause it's not just about copying and pasting at all. Who doesn't like to invest less and get more? Using a UI kit ensures a higher ROI (return on investment). It's about getting an incredibly better end result by working a lot lesser than you anticipated. It's about the improvement of your workflow! So, let's jump into the world of UI Kits! Wish you all the very best!