Those business owners who run their business online know that there are two types of search results on Google – organic and paid. Paid results are shown when you pay Google for clicks. Organic results are the ones that Google believes are the most relevant for the query.
Both these types of results drive traffic to the website. So, what should you use and when?
In this guide, you will find out when and how to use SEM and SEO or both.
Let's cut to the chase!
SEO vs. PPC vs. SEM
First and foremost, you need to know the difference between these channels. Let's start with SEO.
Search engine optimization (SEO) stands for optimizing content to make it visible across search engines as organic results. Search engines like Google use lots of ranking factors to decide what page to rank for the specific query.
It is hard to count all these factors. However, there are major ones you should know. SEO specialists divide these factors into three categories.
1. On-page SEO
On-page SEO is all about optimizing individual web pages on the site. This SEO strategy includes the following tactics:
Using descriptive URLs that should be short
Write title tags and meta descriptions
Create easy-to-read content
Match search intent
Optimize your content for target keywords
Cover topics in-detail
2. Off-page SEO
Off-page SEO involves tactics that help improve a website's rankings on search engines. Off-page SEO includes:
Build links from third-party resources
Optimize Google My Business listing
Earn brand mentions and positive reviews
3. Technical SEO
Technical SEO helps you implement changes on your site to make the process of crawling, indexing, and ranking content more resultative. Technical SEO suggests:
Page speed improvement
Preventing duplicate content using canonical tags
Optimize robots.txt
Use hreflang tags for multilingual content on the site
Pay Per Click (PPC) is one of the advertising that charges your money for website clicks. If you don't pay money – you stop getting website clicks. Making an advertisement has a positive effect when it is done on a long-term basis. It helps you see some progression in the number of leads that satisfy the objectives of your goals.
Search Engine Marketing (SME) is a collective term that embraces both SEO and PPC. However, SEM tends to refer to paid search marketing these days.
What are the main SEM platforms?
SEM platform can be any search engine where businesses place their search ads that users can see performing a search. There are two major SEM platforms – Google and Bing.
When you deal with SEM (paid ads) you need to know the right keywords for your campaigns. These keywords are the terms or phrases that users search on the web. Hence, if you want people to stumble upon your ads, you should optimize them with the right keywords.
There are four types of SEM keywords you should consider for your campaigns. Let's review them:
Broad match keywords – these keywords include different variations of a specific term (singular, plural, synonyms, misspellings, etc.)
Phrase match keywords – these keywords target the exact phrase (it may include words before or after a target keyword)
Exact match keywords – these keywords include all forms of the related words with the same search intent of the exact match term
Negative keywords – these keywords are ones that you don't want to use in your campaign (variations of the other three types of SEM keywords)
Create your SEM ads based on the keyword analysis right SEM targeting.
SEM targeting helps you customize your ads. Thus, you will be able to set up when your ads will be shown and for what audience.
There are four types of SEM targeting:
Location targeting – people within a certain location (area, ZIP code) can see the ads
Ad scheduling targeting – you set the ads to appear online at a specific time
Demographic targeting – you create ads based on people's demographic categories like age and gender
Device targeting – the ads are shown for people according to the device they use (tablets, desktop, mobile phones)
And lastly, talking about the SEM ad copy, it should consist of two headlines, a description, and the URL of the site. Besides, you can include the following:
Sitelink extensions
Callout extensions
Location extensions
Price extensions
Structured snippet extensions
Advertiser ratings
Now, let's see what direction to choose.
SEO vs. PPC What Direction to Choose?
On one hand, SEO provides free, consistent, organic traffic. You don't invest your money in SEO but this way is time-consuming. On the other hand, you can get traffic in a blink of an eye by paying for PPC.
Which strategy to choose?
Sometimes you can go with SEO, sometimes with PPC. But why not use both strategies at the same time?
Here are four ways on how you can do this.
1. Create ads for the competitive keywords
Some keywords are too competitive. It means that you will have to wait years to rank them.
For instance, you produce content design tools. These tools help people create visually appealing content. One of the services is the flowchart maker. If you attempt ranking for this keyword, it will be extremely hard. According to Keyword Explorer from Ahrefs, it has a Keyword Difficulty of 67.

Do you think that you should focus on PPC instead of SEO in this case?
Since it will take time to rank for such competitive keywords, you can use PPC for sure. But don't forget about SEO as well.
What are the benefits of using PPC?
You are aware that PPC works for money. When people click the ads – you get traffic to your site. Therefore, it makes sense to promote relevant pages optimized for conversions. Plus, don't confuse revenue with profit. Each click costs money. Thus, you won't get profit by promoting pages that have a low price.
If you want to increase the price of the product, you should stick to two rules:
a) Increase conversion rate
b) Decrease CPC(post per click)
Be ready to wait months before things start rolling.
Test and optimize for conversions
When users see a positive return on the ad spend, they keep on investing money. Hence, if you want to get more profit from the ads, run a controlled test to improve ads' conversion rate.
Get revenue in a blink of an eye
You should realize that paid traffic isn't an infinite source of leads. You stop acquiring leads once the paid advertising stops working. Hence, it makes total sense to send this traffic to the pages that drive conversions. It will help you make more sales with no hassle.
But keep in mind – revenue and profit aren't the same.
For example, your product costs $10, PPC is $10, and the Conversion Rate is 20%. Eventually, you're turning every dollar spent on ads into two. Here is how it looks in numbers.
Sale price – $10
Number of clicks – 100
CPC – $1
Conversion Rate – 20%
Ad Spend – $200
However, if your product costs $6, you will lose money.
Sale price – $10
Number of clicks – 100
CPC – $1
Conversion Rate – 20%
Ad Spend – $200
Costs of Goods Sold – $120
Profit – (-)$20
How to solve the situation without increasing the price of the product then?
You can increase the conversion rate and decrease CPC. It works, you will see.
2. Mix PPC and SEO to boost ads with competitive keywords
Competitive keywords have a high level of keyword difficulty. Besides, such profitable keywords attract many advertisers. Check out the keyword "SEO tool" which has four ads in a row.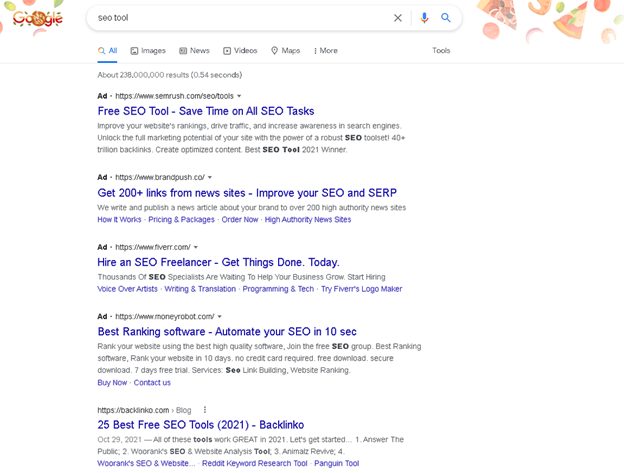 These ads push down the organic results that will cause fewer clicks.
You might wonder why there is a need to mix PPC with SEO if the paid ads work great?
The answer to the question is simple – have a look at estimated organic traffic for one of the top organic results pages that rank for this keyword.

The first organic result per the "SEO tool" search request gets 13.9K of organic traffic monthly. To sum up – if you can combine PPC and SEO, you will gain positive results in traffic and rankings.
To sum up – if you can combine PPC and SEO, you will gain positive results in traffic and rankings.
3. Target informational keywords with your SEO strategy
If you analyze the type of queries people search on Google, you will see that these queries are "informational" mostly. People want to get some information, learn something, not buy.
For instance, when you're curious about branding, you want to find out general information first. You start searching for queries like "what is branding". This search request has a search volume of 6.6K.

Plus, it has a very high keyword difficulty metric. This means it will be super-hard to rank for this keyword organically.
Nevertheless, one of the top results could rank in the SERP taking the first position after the advertising.
This page gets 21.2K organic visits. And the estimated PPC value of the traffic is $26.5K.

To put it simply, this would be the amount of money you will have to invest in your time and effort trying to rank organically.
4. Control the search results with the help of SEO and PPC
Unfortunately, not only ads are a kind of stumbling rock on your way in the SERP. There are featured snippets, "People also ask" boxes, and video carousels that don't give you a chance to put your page in front of people's eyes.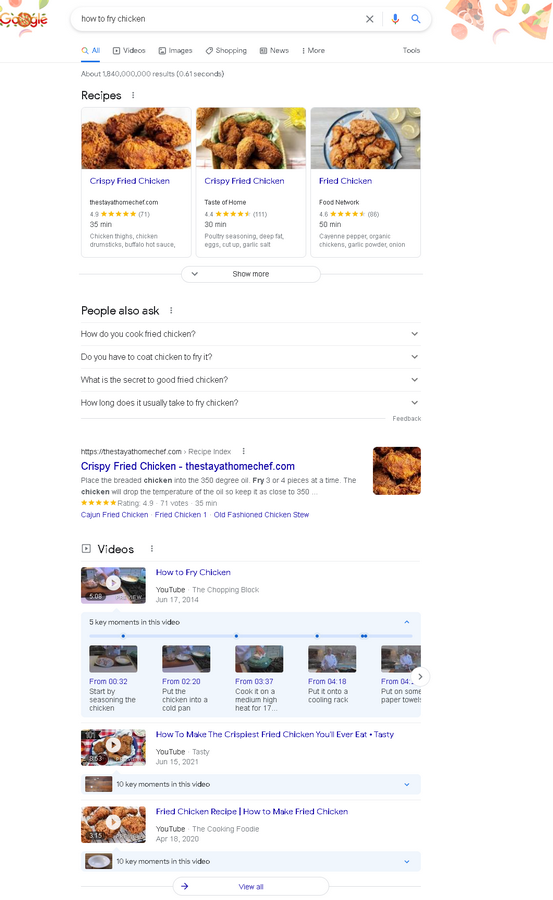 Fortunately, you can appear in all these SERP features as well. How?
Cover the topic in-depth, repurpose content, upload videos on YouTube, and don't forget to use SEO tips for optimization. Eventually, some of your pages will be shown as one of the SERP's features.
Conclusion
Don't bother promoting your pages on Google. Don't choose between SEO and PPC. Instead, focus on SEM that will help you mix up both strategies – PPC and SEO.
The practice shows that it all depends on the situation and what direction to follow. Start small and move ahead competing for the organic top-ranking positions. But don't shy away from helping yourself with PPC (if you have a budget).
If you think this post lacks more tips, feel free to share them in the comments below.