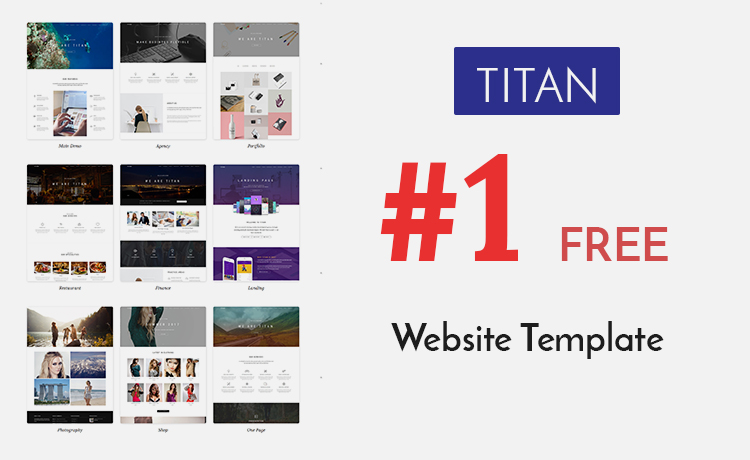 From this moment, the WWW template history is changed. Because the Mighty Titan is here. The Themewagon team released this unexplainably awesome HTML5 template after several months of sleepless nights and hard work with a touch from their heart. This is a product cooked with passion, hard work and love from the team. Titan is the Best Free HTML5 Bootstrap Website Template. Yes! It's free. You can download it and use it for personal and commercial use.
Why is Titan the Best Free HTML5 Bootstrap Website Template
I've told you that Titan is the best free HTML5 Bootstrap website template till now. I'm sure you want to know why? But I ain't going to answer the question. But I will tell you what Titan has.
Features of Titan
Titan is not a single template. It is equipped with enormous premium quality features that a paid template even can't be. Let us have a look at what the features are-
Multipurpose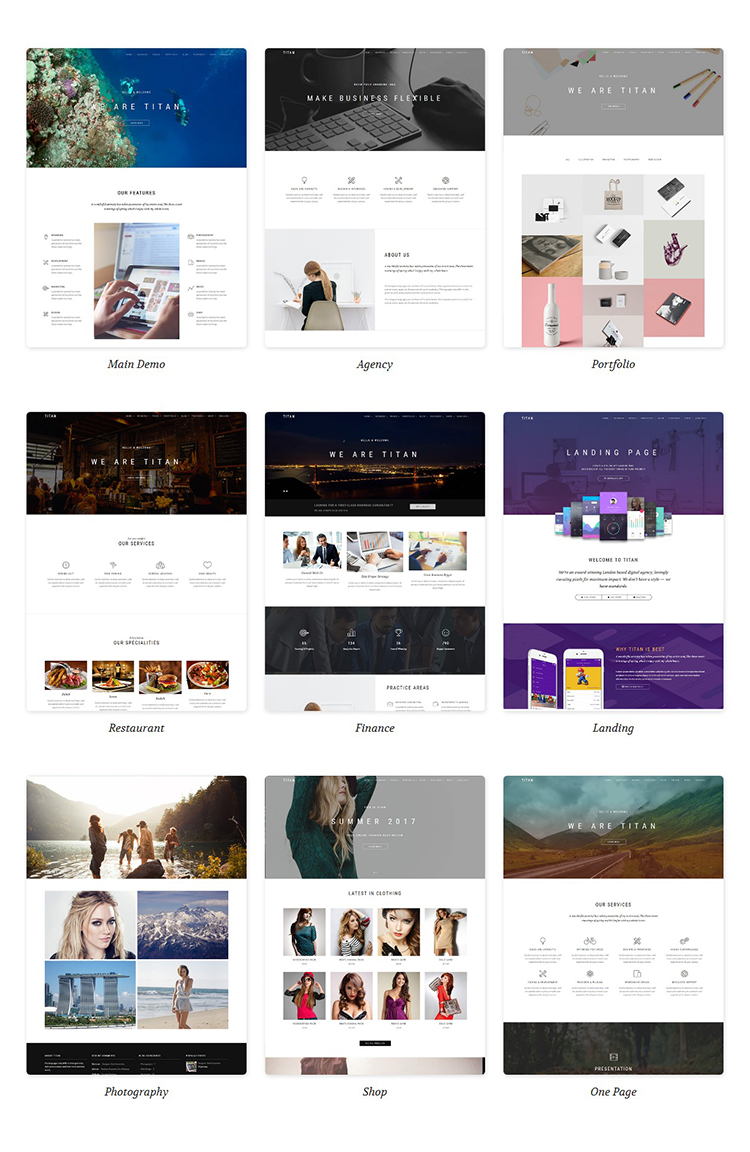 Titan is a multi purpose template. You can use it for any websites. But it's not a conventional multipurpose template we usually see. Rather it's a bunch of templates in a single pack. Titan has many different pages for different types of websites. It includes-
Home Page: Common for any category website
Agency: For business/agency/startup company/consultancy firm site page
Portfolio: For personal/portfolio/cv category website
Restaurant: For cafe/restaurant/hotel/coffee shop websites
Finance: For financial consultancy websites
Landing Page: For product/app/software landing page
Photography: For photography and project showcasing type websites
Shop: For E-commerce websites
The good news is, you don't have to download these differently. Just one click and all these categories of Titan is yours. So, Titan is a cluster of 8 templates. Thus, Titan is a multipurpose template without the limitations other multipurpose templates have.
View Live Demo Download Titan Free
---
Multi Layouts
Titan is the Best Free HTML5 Bootstrap Website Template having different layouts pattern. Actually, Titan includes each and every kind of layouts available till now. These variety layouts are-
Single Page Layout:
All the information in one page. The latest trend of designing a template. Faster and smoother than multipage layout.
Multi Page Layout:
It is said that "Old is Gold". Despite some drawbacks, some people like and some need the multipage layout. So, thinking of them, Titan comes in multi page layout too.
Header Layouts:
"The First Impression is the Best Impression". The first thing we look of a website or template is the header. If the first thing we see is not good, then the whole point of making a site goes in vein. So, the great minds have designed many header variants to make the site/template useful. And, Titan blesses us with every single one of them.
Static Image Header
Flexslider Header
Video Background Header
Text Rotator Header
Gradient Overlay Header
Each one comes with another two variants – Full Screen and Classic. You can decorate your website with any of these you like.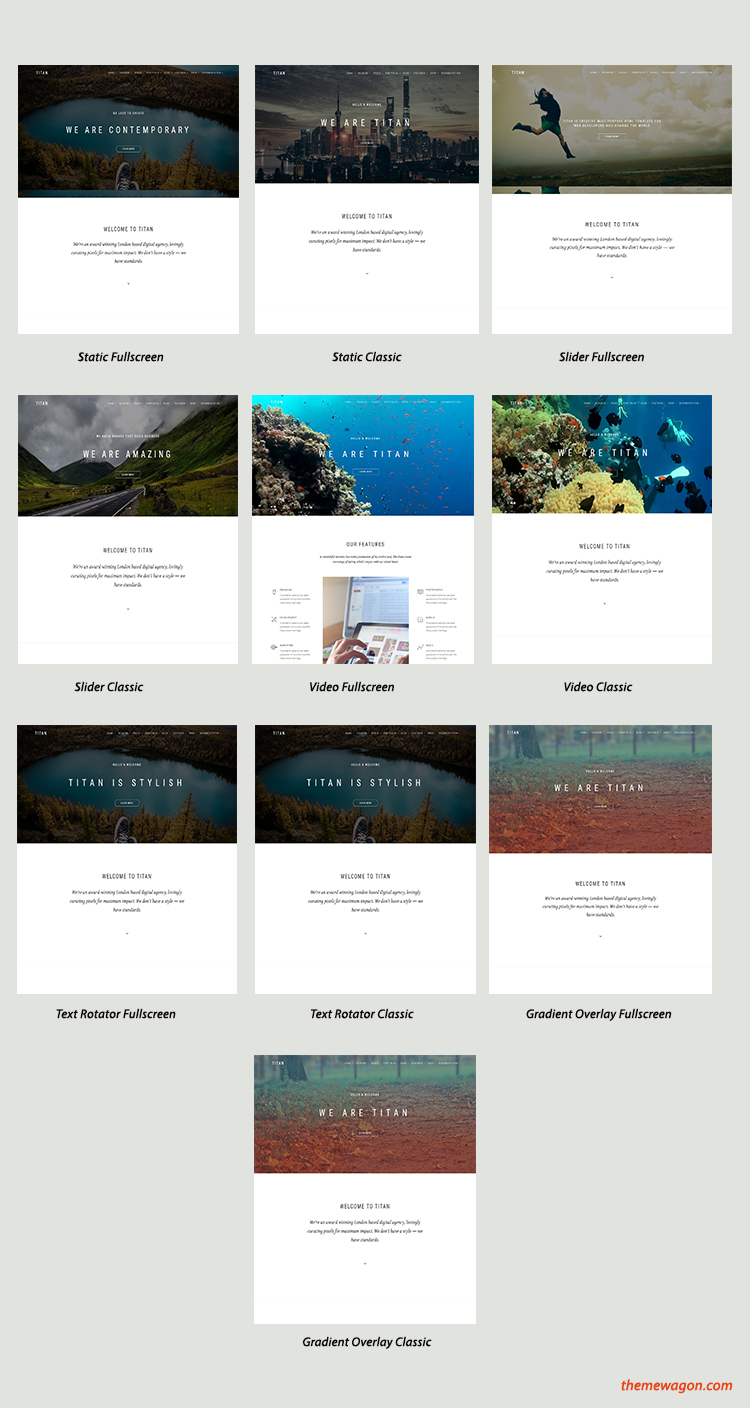 Portfolio Layouts:
7 Portfolio layouts up to 4 columns.
Boxed
Boxed-Gutter
Full Width
Full Width Gutter
Masonry with boxed and full width layout
Hover style with black and gradient layout
Single Layuot
Blog Layout:
4 blog style layouts up to 4 columns
Standard
Grid
Masonry
Single with left and right sidebar option
View Live Demo Download Titan Free
---
Pages:
Titan is perfect for exhibit any and every information needed with its different pages and sections. It has pages and sections like –
About
Service
Pricing
Gallery
Contact
Restaurant menu
Login/Register
FAQ
404 Page
Several of them has various layouts(upto 5) you can choose and use. If you need more pages and sections, you can contact Themewagon team.
Other Features:
Titan is equiped with many other features other templates doesn't have like-
Allerts and Wells
Custom Icons
Buttons
Tabs and Accordions
Content Box
Forms
Progress bars
Good Typography
Count Up Timer
You Decide Whether Titan is the Best Free HTML5 Bootstrap Website Template or Not
I have explained a lot of features Titan has and there are much more I haven't. All of these functions are Free. Now it's up to you to decide whether Titan is the Best Free HTML5 Bootstrap Website Template or not. Let us know what you think.
View Live Demo Download Titan Free
---
Free and Premium Responsive HTML5 Website Templates @Themewagon
You can browse also all premium templates and free responsive templates offered byThemewagon.