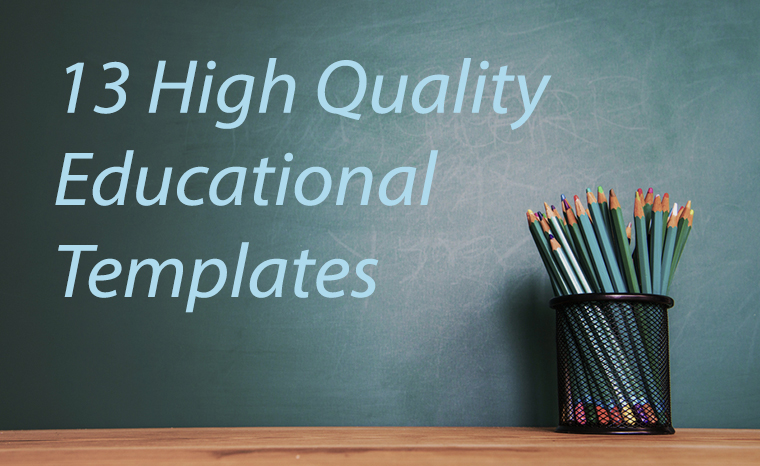 Though the necessity of education is axiomatic, as the new era of online website based community emerges, the scenario of how people teach and learn is transforming dramatically. More and more people are liking the idea of giving their lectures or attending classes from home. In other words, they have become inclined towards online education.
This phenomenon indicates us towards a new possibility. It shows the potential of online education. Where the classroom isn't a "room" anymore and spread globally. Where the opportunities are limitless. So if your educational institution doesn't have a website till date, definitely it needs one. That even, as fast as you can imagine!
However, no matter how important it is to have a website for your educational institute, you're into helping people learn. Chances are, you do not have the time or opportunity to build from square one. That's where this post comes into play. It is the time to introduce you with some of the coolest High Quality Educational Website Templates made with HTML5, Bootstrap, jQuery and more.
Selection Process For The Best 13 High Quality Educational Website Templates
Amount of available HTML5 templates on the web isn't small. In fact, it is huge. But when it comes to High Quality Educational Website Templates, the number falls rapidly. So yes, it has been a challenging journey in search of premium, state of the earth. High Quality Educational Website Templates. Though it was boisterous, it has ended blissfully! During the selection process, I took into account both the quantitative and qualitative measures. How do the template look and its functionality, how people rated it, how many times was it sold? Who's the author? What about the code quality? Is the template responsive? Did the demo load smoothly? Everything was considered thoroughly, which leads us to this handy list of 13 High Quality Educational Website Templates.
1. Posh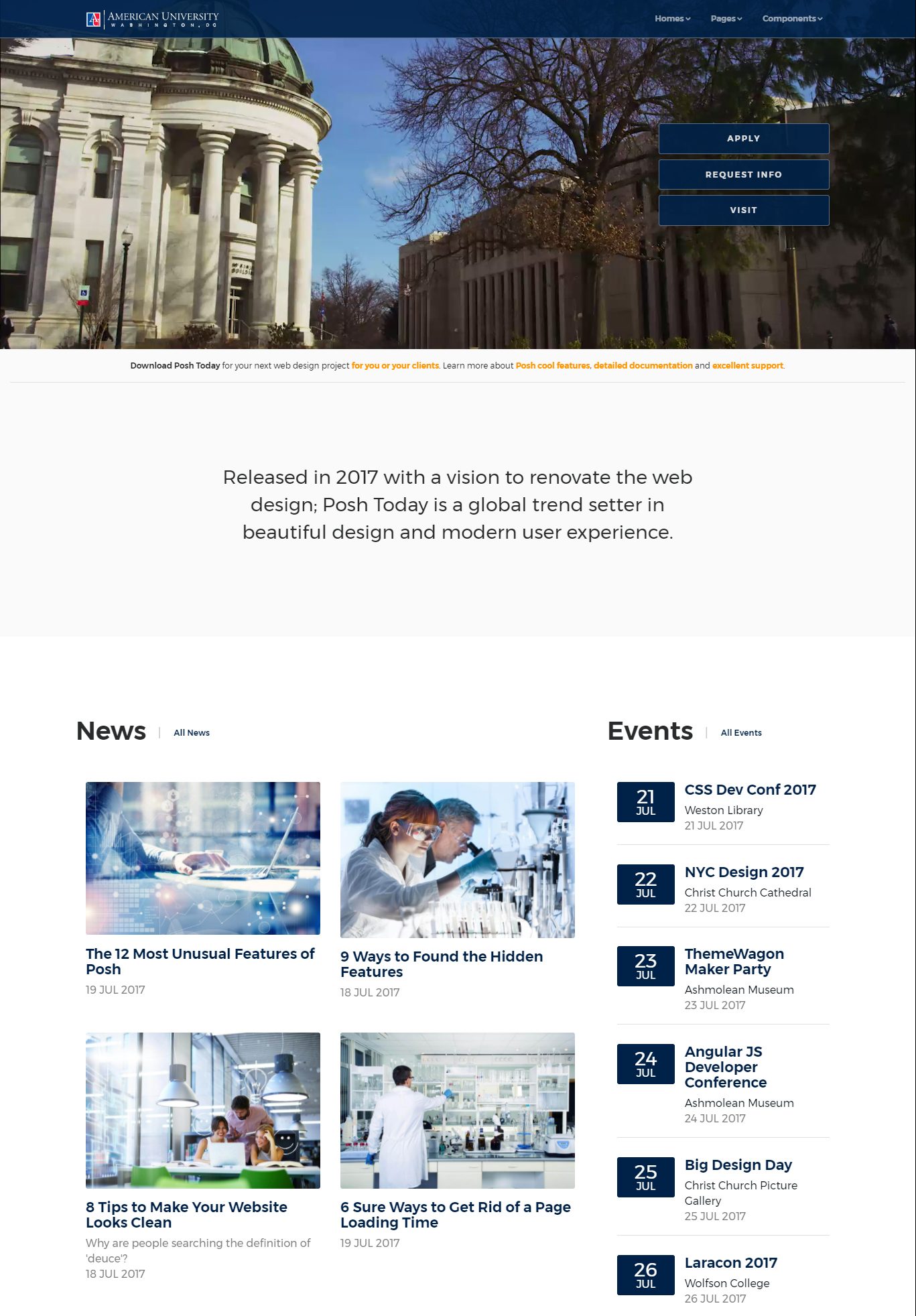 Twitter Bootstrap is famous for making websites responsive in every possible place. When it comes to Bootstrap, it can't be newer than the all-new Bootstrap 4.0. A human being has an irresistible affinity towards new and modern creations. In that case, what would be better than kicking off this list with a Bootstrap 4.0 powered Educational Institute template? Then again, as new as Bootstrap 4.0 is, finding an educational Institute template built with that wasn't a straightforward job. Fortunately for me, there was POSH!
To be exact, Posh is a multipurpose template, not a dedicated Educational website template. Still, I strongly suggest you to take a look at the demo page named "Education". Hopefully, you'll get the idea what I'm talking about. It has every necessary section a school, university or any other educational website might need. Nevertheless, Posh has a whole lot of other possible uses as well! Developed by Themewagon you can try posh for 39$.
Key Features
Super Responsive
Cross-browser Compatible
Bootstrap 4.0
Atomic Code Structure
Parallax Effect
Fully Working Contact Form
Header Video Background
---
2. LearnPLUS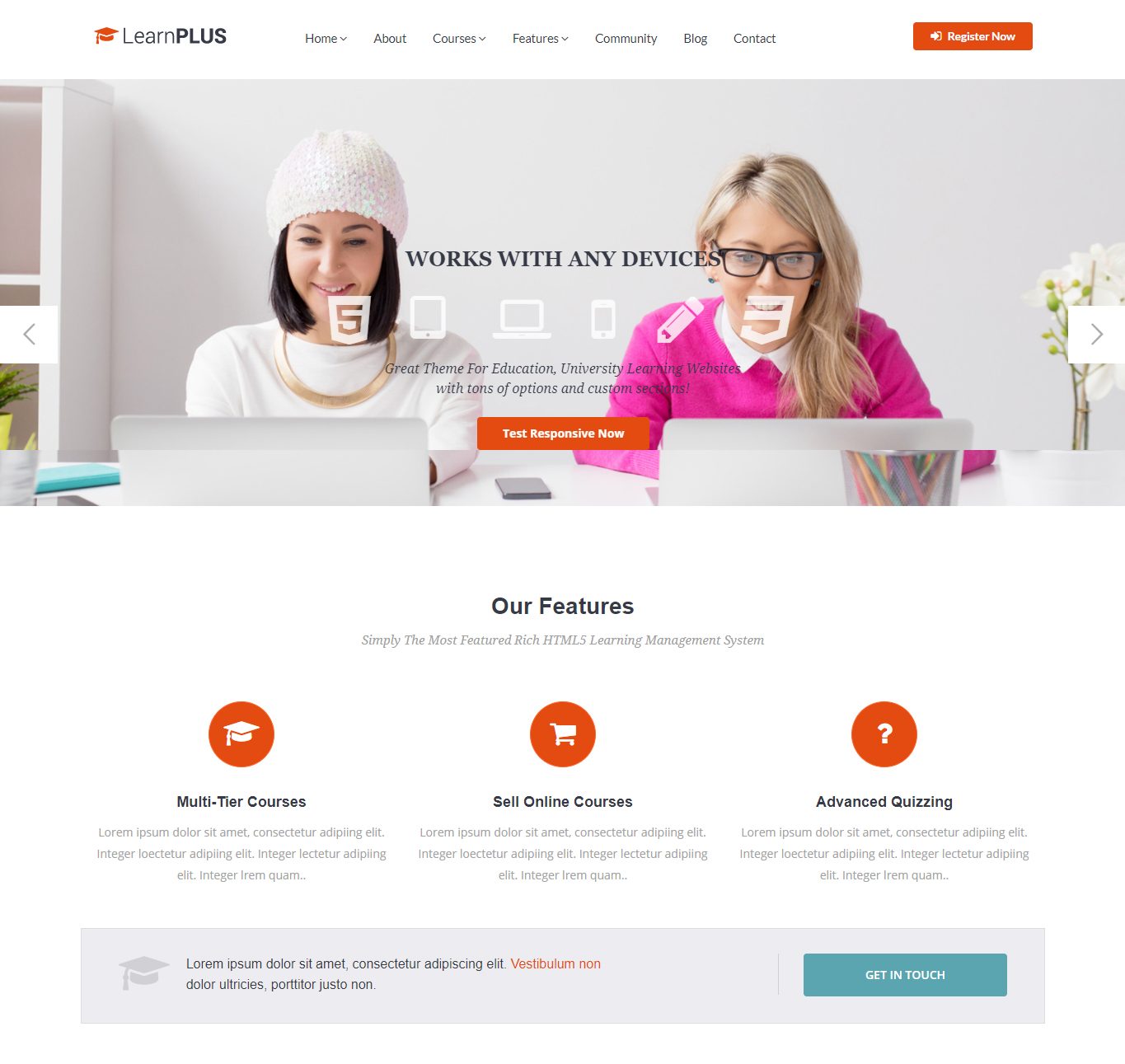 LearnPLUS is a popular HTML5 educational template from Envato Author Template-World. It is well documented, responsive and built with Bootstrap 3. Furthermore, this template is suitable for any school, university or education websites. It has 30+ HTML files, 10 different homepage layouts, video slider and more. With hundreds of sales and an average rating of 4.78 it ensures a place in this list. Lastly, you can Purchase this template for 25$
Key Features
Educational Template
Cross-browser Compatible
10 Different Homepages
Fully Custom Course Pages
Powered by Bootstrap
PHP Contact Form
Parallax Background
---
3. EduGate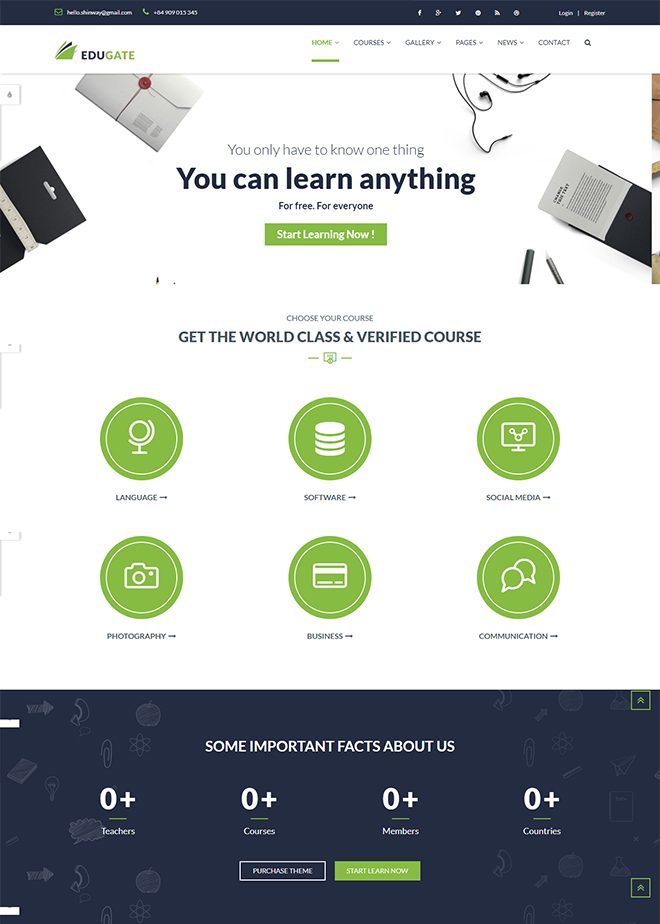 Edugate falls under the category of modern, High Quality Educational Website Templates. It is among the top-selling educational purpose website templates of Themeforest. Their elite author The Rubik Themes developed it. Edugate has 23 pages which include numerous sections. This clean and clear designed template comes with 10 predefined color variations. Moreover, it's equipped with modern animation technologies like Parallax scrolling effect, CSS animations, Carousel slider etc. Together, they give an elegant look to this template. As it is compatible with Bootstrap 3, it is responsive to all modern browsers and devices. So, Edugate is suitable for any school, university, training center, online courses and more. This template sells for 21$ and have a nice overall rating of 4.44/5
Key Features
Cross Browser Support
10 Predefined Color Variations
Caraosel Slider
HTML & CSS Validation
Count UP Counter
Fully Responsive
Parallax Scrolling Effect
FontAwesome Icons
Useful Documentation
---
4. Rochester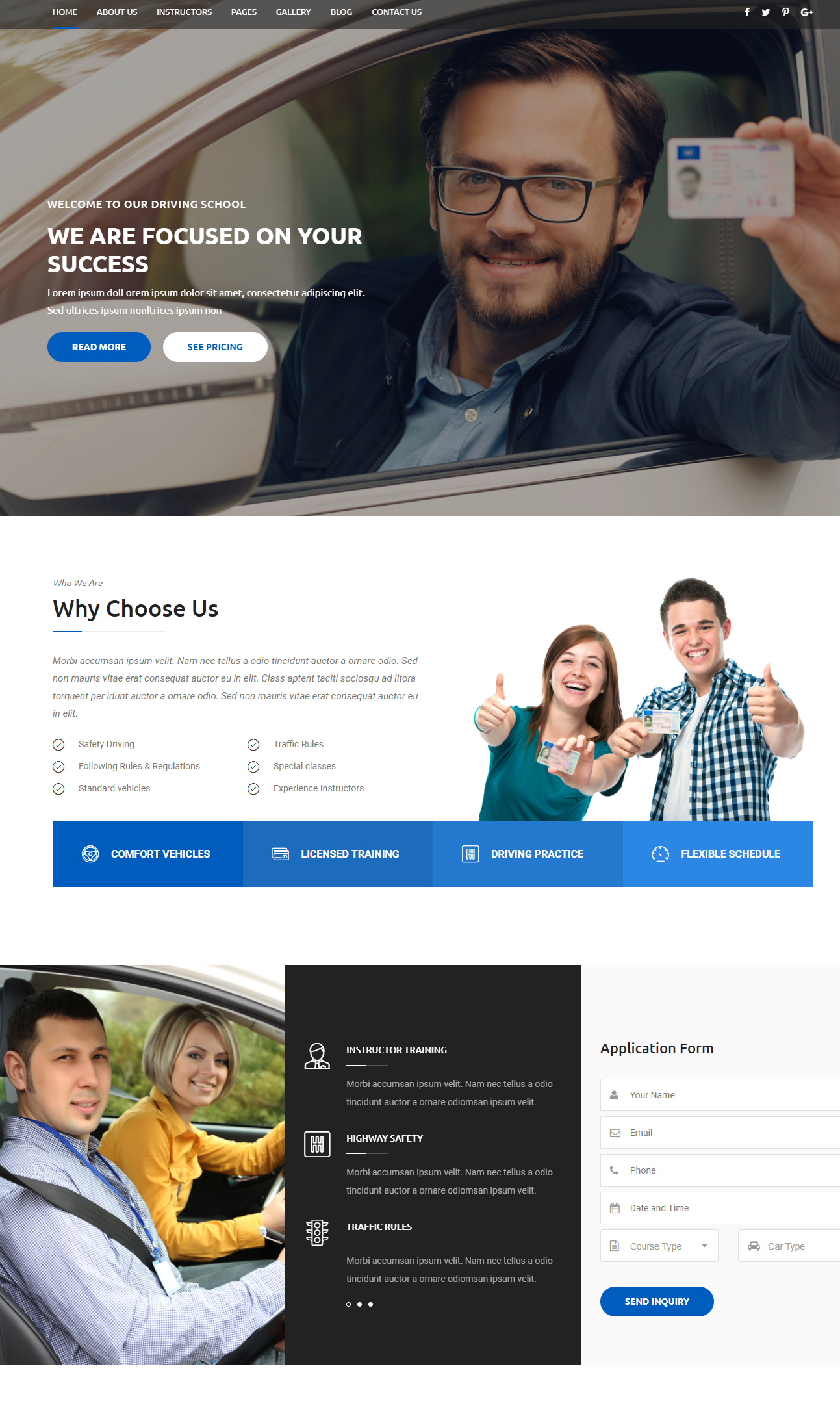 Learning doesn't always include a pen or paper, nor it is necessarily needed. To continue living, you need to learn a lot of other things as well. Driving is one of them. Rochester is a driving school template built with HTML5 and suitable for all types of driving schools. Released just a few days back this is a fresh template and yet to have tons of ratings. Nevertheless, it's eye catchy design, clean looks and potential functionality helps it to climb up the ladder and make a place in this list. Creator of Rochester is Envato's elite author template_path.
The template comes with 17 HTML pages each containing multiple sections. It has three homepage variation. Moreover, the header is sticky which also has three styles. In addition, different pages for instructors, gallery, features, pricing, blog and a fully working PHP/ AJAX contact form differentiates it from other High Quality Educational Website Templates. This responsive driving HTML5 template costs 17$.
Key Features
Retina Ready
3 Homepage Styles
Cross-browser Compatible
Smooth Transition Effect
Unique Preloader
Sticky Navigation Bar
Count-up Counter
Parallax Effect
Awesome Design
Working PHP Contact Form
Driving School Template
---
5. Educamp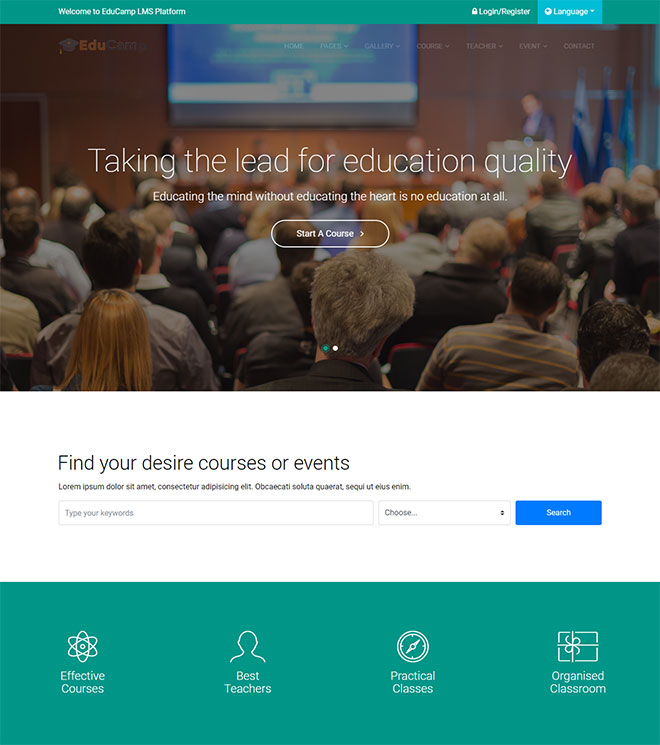 You can find some stunning High Quality Educational Website Templates in WrapBootstrap like Educamp. It is not only a smart and elegant HTML5 educational template but also a full LMS (Learning Management System) template as well. Most interestingly, the latest update of Educamp has Bootstrap 4 compatibility. So, pixel-perfect responsiveness is ensured. Whatever the necessity may be, for your online presence this template is up for it. If you decide to create your website using this premium template you have to spend at least 12$
Key Features
Bootstrap 4
Valid HTML5 / CSS3
Cross-browser Compatible
Contact Form with PHP & AJAX
Google Maps & Web Fonts
Easily Customizable
Fontawesome Icons
Counter up & Countdown Counter
Pixel Perfect Design
Education Website Template
---
6. College Green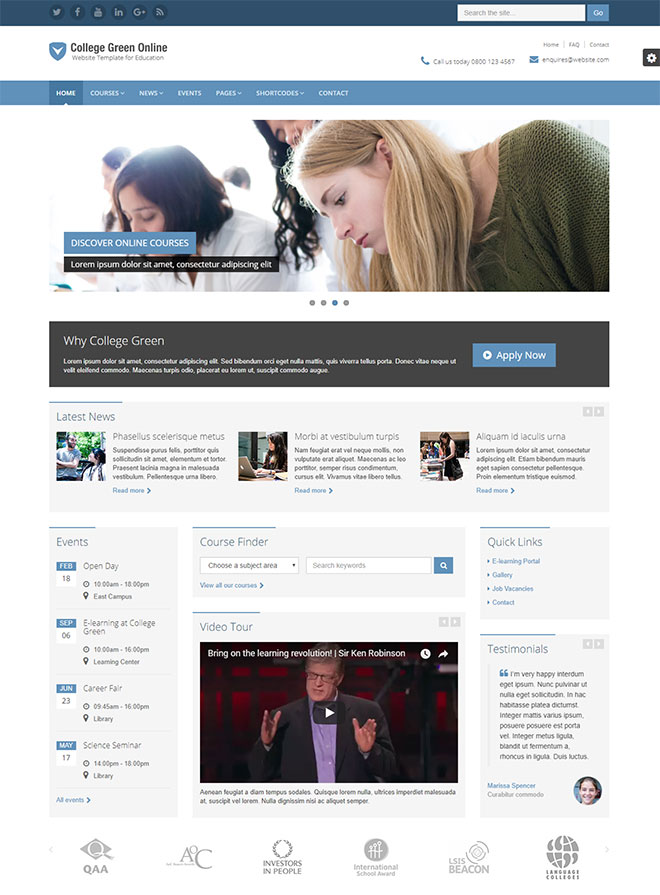 College Green is another top-class educational template available at WrapBoostrap. Crafted specially for educational institutes (both online & offline) this template suits perfectly for any school, college, university and online educational establishment website. If your client needs a clean and professional user experience, this template is for you. The template comes with multi-level (up-to 3 nested levels) drop-down menu and four beautiful interchangeable color schemes. Moreover, this simple yet powerful template is highly customizable and ready to use on desktop, tablet or mobile. With more than 1500 sales and positive reviews from the users, this is one of the best High Quality Educational Website Templates available right now. By spending 24$ you can start using this template.
Key Features
Designed for education
25+ HTML5 Page
Built With Bootstrap 3.3
4 Different Color Schemes
FontAwsome icons
HTML Valid and SEO Friendly Code
Carousel and Slider
Customizable Google Map
LESS files included
Owl Carousel
Various Built-in Shortcodes
---
7. Educate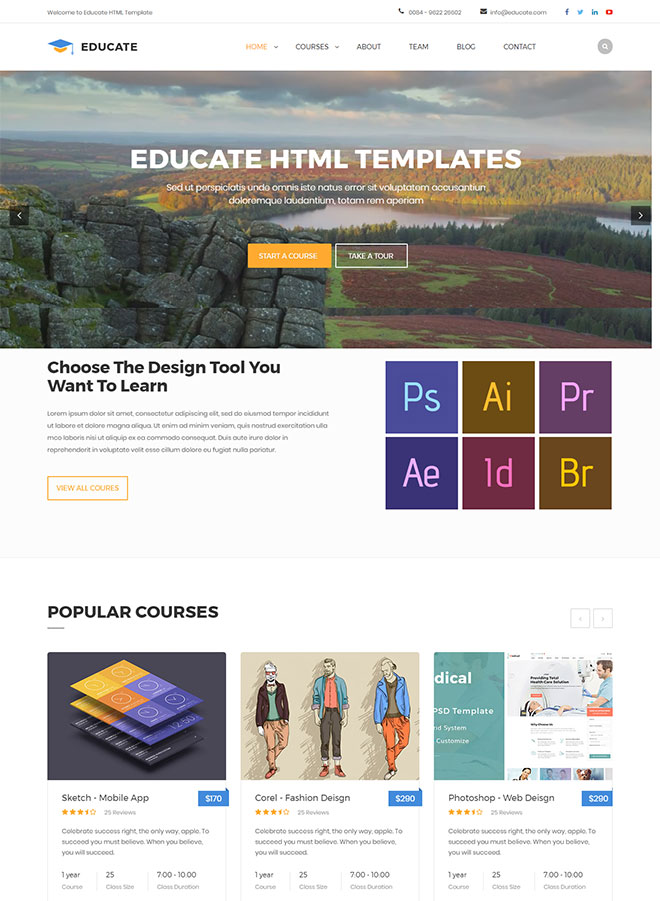 Educate is a beautiful, feature rich HTML5 Bootstrap theme. This one is specially crafted for educational institutions like universities and colleges, online courses or online learning and other events. Available on ThemeForest, this modern, responsive template has to offer a variety of different styles, dark and light background mode, unlimited color schemes etc. Besides, it has slider image & video background, boxed & wide layout versions with single-page and multi-page variety. Overall, strong focus on typography, usability and color scheme makes Educate one of a kind. This educational template has a price tag of 18$ which is not more than other High Quality Educational Website Templates available online.
Key Features
Slider Image Background
Mobile Friendly
Wide & Boxed Layout
Light and Dark Background Mode
Clean and Unique Design
CSS3 Animations
Cross Browser Compatible
Easily Customizable
2 Portfolio Pages
Ajax Contact Form
---
8. Unisco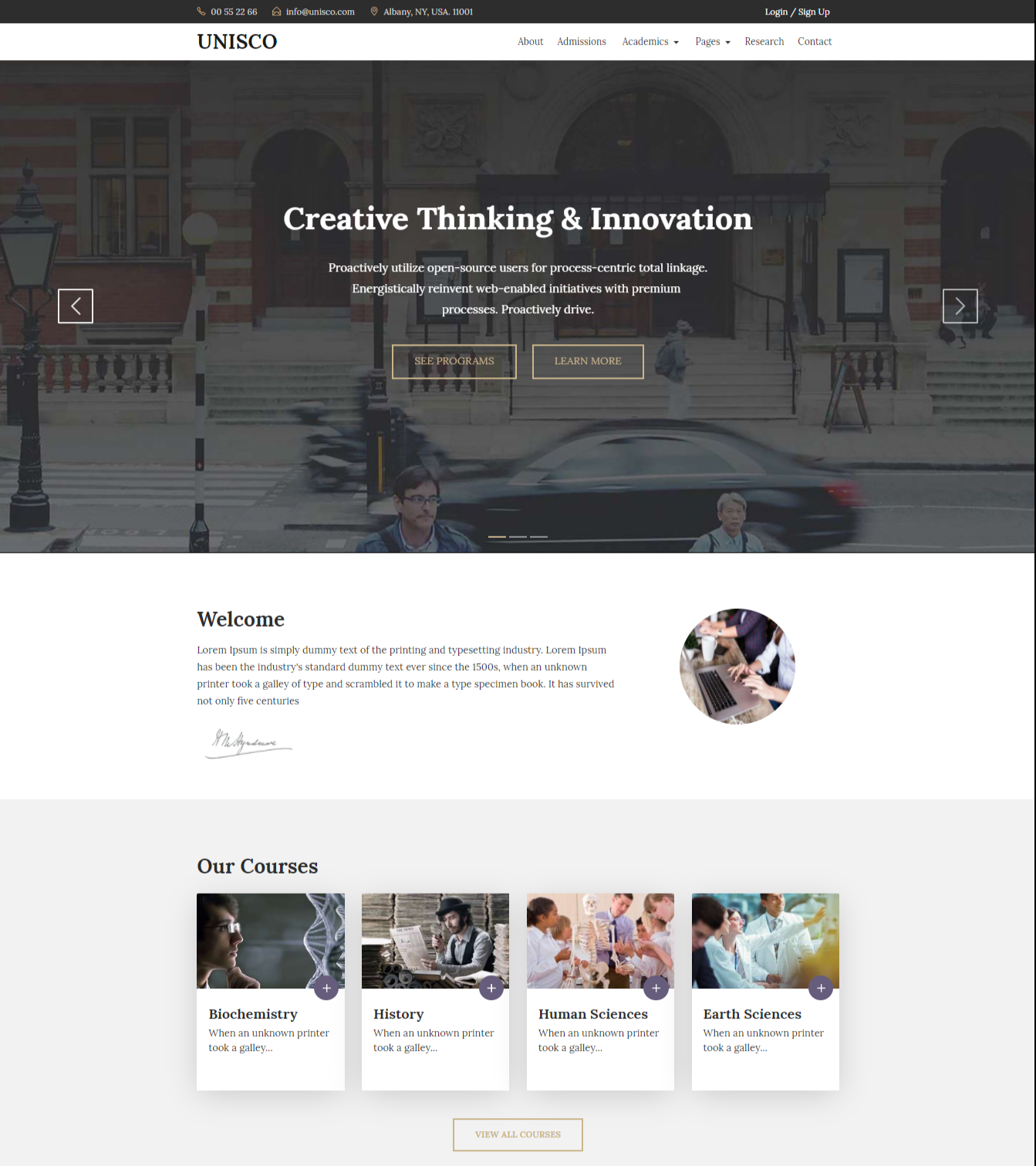 Built at ThemeForest by one of their elite authors, Unisco aims to act as a template for a fully-functioning website. Both for your online or offline educational institutes as well as other business or services. Recently version 2.0 of this template was released which includes 26 pages and 2 different homepage designs. RTL (Right to Left Language) support is a feature to look for inside Unisco. In addition, Twitter and Instagram feed, embedded styled Google maps, integrated Google calendar, working Admission & Contact form makes this bootstrap build template a template to get. The most interesting part is, Unisco is compatible with Bootstrap 4. This template is currently on sale and available at 16$ only!
Key Features
Modern, Creative and Minimal Design
Homepage Background Video
Instagram and Twitter Feed
RTL Support
Cool Animations
Bootstrap 4.x
Admission and Contact Form
Exclusive Documentation
26 HTML pages
Easily Customizable
---
9. Bright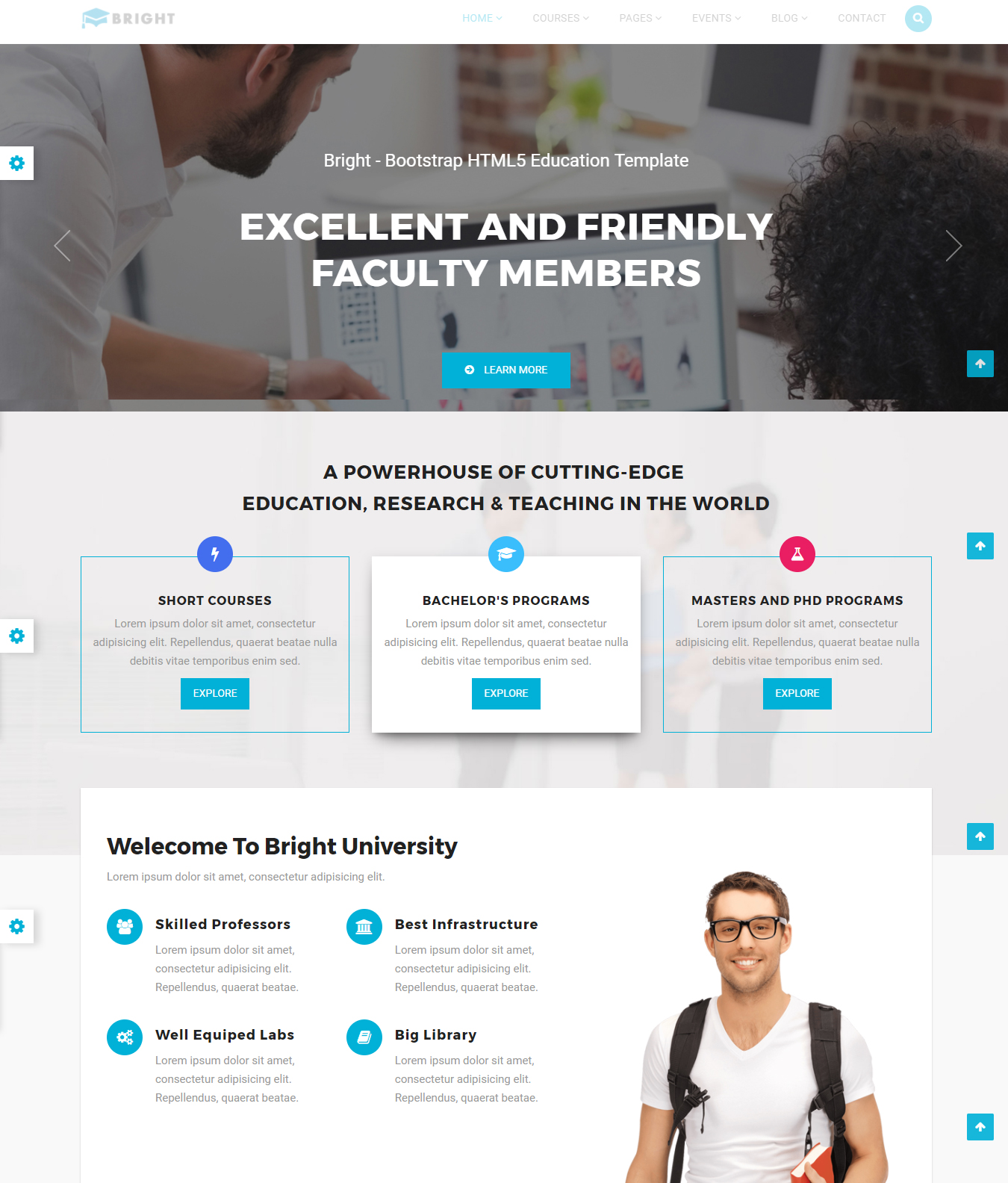 Bright is a fully responsive HTML5 education template developed by Graygrids. With refreshing and clean design, multiple homepage variations, over 50 ready HTML pages and blocks, various colors, well-documented codes and useful shortcodes, it was almost certain that the template will secure a place in this list of High Quality Educational Website Templates. No matter what type education institute you have, from school to university, from training institute to online course site, this template is up for it. Besides, what makes it even more interesting is there's a lite version of Bright available for download. As a result, you can try out the free version before deciding if you really want to give the authors 14$ for this template or not. Whereas, I see a bright future of "Bright" ahead!
Key Features
2 Homepages
More than 50 Ready HTML Pages
Multipurpose Template
Working AJAX Form
Easily Customizable
Countdown Counter
Bootstrap, CSS3 & HTML5
Different Color Palettes
Handy Documentation
---
10. Academica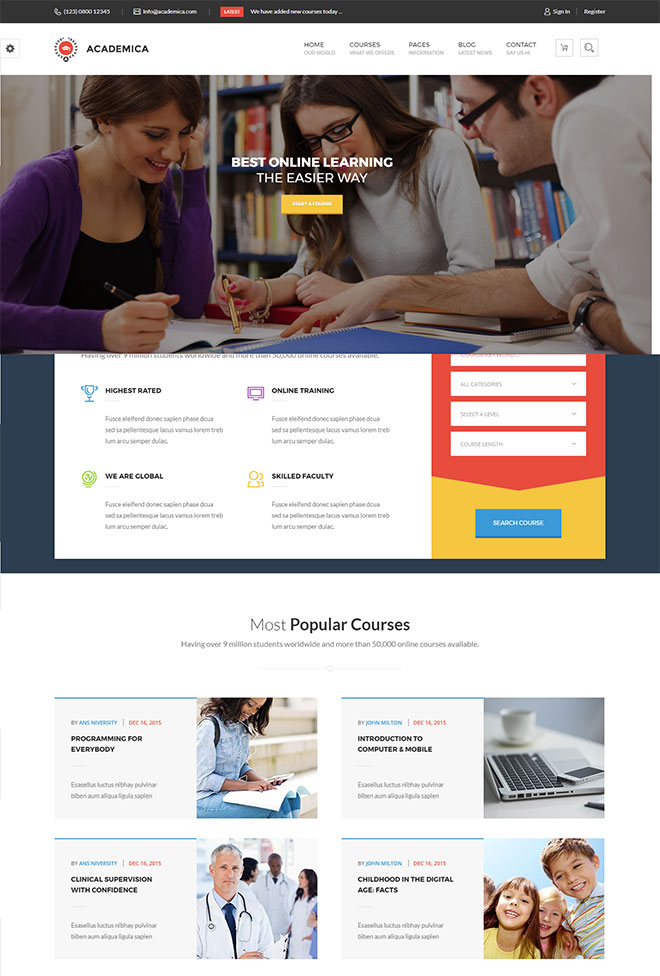 Another Modern, responsive, easy to use, multipurpose educational template from ThemeForest is Academica. It's a PSD template suitable for various kinds of educational institutions, both online and offline. Any website for College, University, online education courses or events can be built easily by this premium template. To start with, it contains several fully editable Photoshop files (PSD) & equipped with 2 homepage and 2 header variations. Additionally, responsive design, easy customization option along with owl carousel and free Google web fonts increases its effectiveness. Lastly, Academica has a reasonable price of 17$.
Key Features
14 Layered PSD Files
Bootstrap & HTML5
Parallax Effect
Google Web Fonts
Owl carousel
Device Responsive
Functional Contact Form
Clean Design
Easily Customizable
---
11. Education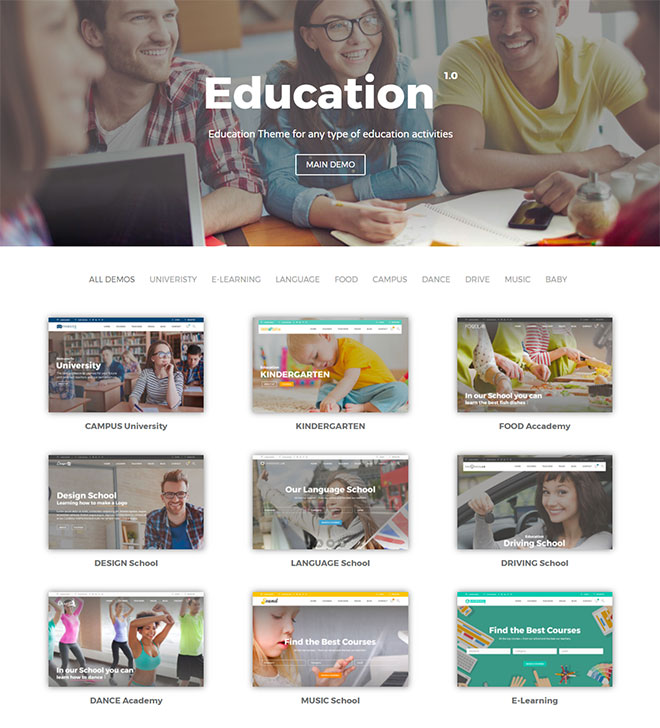 Education is a superb template from Themeforest's Elite author nicdark. With this powerful HTML5 template you can build any school, high school, college, university or online educational website easily. 9 different types of demos and more than 70 HTML pages makes this is an excellent choice for any educational websites. You get different demos for University, Language, Design, Driving, Cooking & Music school, Dance Academy, Kindergarten and E-commerce site. Basically, it is a 9 in 1 educational template. Additionally, it has a dedicated drop-down for all archived, running and upcoming courses offered which has both online and offline uses. The clean, crisp and simple design will save a lot of your effort. Moreover, it is a retina ready template, optimized for the best devices with high definition display. Another fascinating feature was PayPal integrated course payment system. As the theme is specially designed for institutes offering online courses, online payment method also comes within. You can get this HTML5 responsive template at 17$.
Key Features
9 Different Demo Pages
Fully responsive
Paypal Integrated Payment System
Rating Option for Students
Cross Browser Compatible
Built with Bootstrap
70+ HTML Page
Included PHP Files
Retina Ready
Built in Search Box
---
12. Learn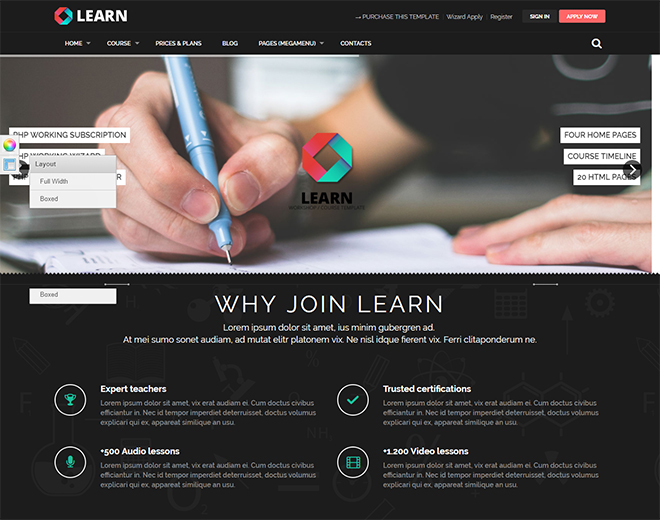 Learn is a high-quality, responsive, HTML5 educational template from ThemeForest. To start with, it has tons of features a premium template should have. Different homepage styles, detailed course page, 3 color schemes, boxed & full width layout, teachers profile page are just some examples. This template is full ready for any online course or learning site. Fully working login and register page with password strength meter, subscription and wizard subscription page, search bar with auto complete option makes this even more useful. Finally, you can have this Bootstrap 3 build, valid HTML5 & CSS code enriched, SEO optimized template by spending 19$ only.
Key Features
Valid HTML5, CSS3 Code
Boxed & Full Width layout
4 Homepage Variations
Search Bar with Autocomplete
Login & Register Page with Password Strength Meter
SEO Optimized
Retina Ready
Working Newsletter & Subscription Page
---
13. Jonathan Carroll University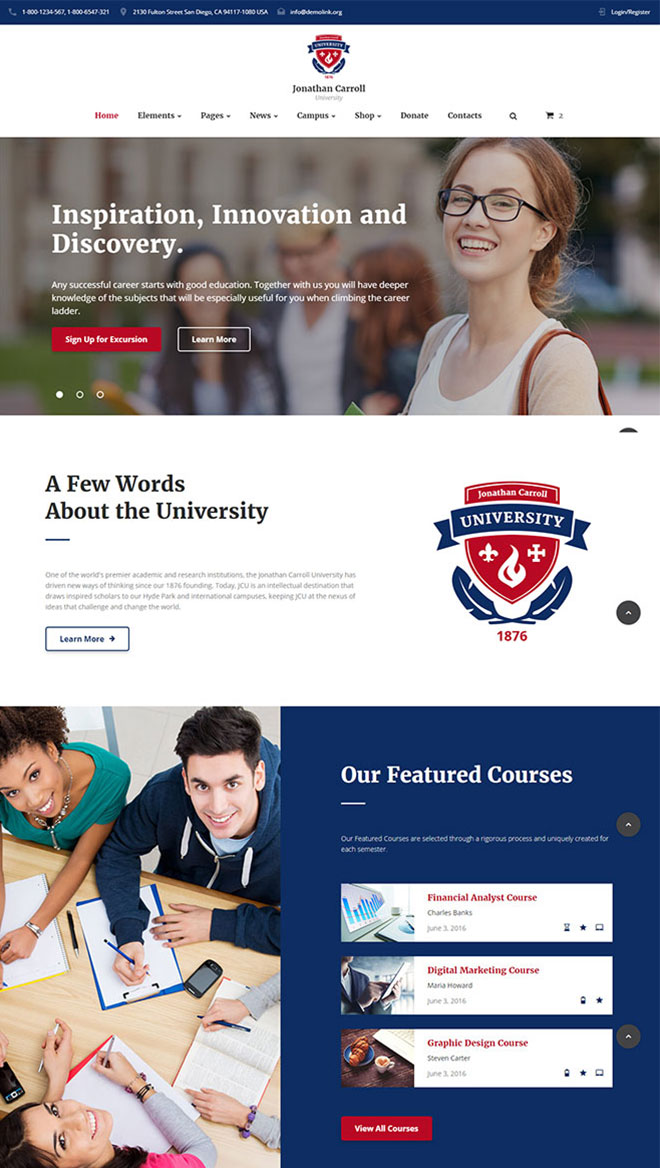 Jonathan Carroll is a Multipurpose HTML5 template from TemplateMonster. Firstly, it is equipped with rich UI Kit and over 45 ready HTML5 pages. In addition,
multiple header and footer layout, live search box and fully working contact form, multiple types of gallery and 6 different types of blog layouts hands you the power to customize your site just as you wish. As a multipurpose template, it has an e-commerce page built-in. So, this page can be used for displaying any product related to the service you offer. Furthermore, ghost buttons with hover effect add an attractive look to the template. More importantly, W3C valid, well commented and SEO friendly code helps your website to get a better rank in the search engines. You can Purchase this template by spending 75$.
Key Features
Sticky Header Section
Multiple Header & Footer Layout
Cross-browser Compatible
Live seach & Contact Box
SEO Friendly Code
Integrated Google Maps
Teacher's Testimonial
Hover Effect
Ghost Button
Smooth Parallax Effect
Multipurpose Educational Template
---
Wrapping up
So, that concludes the list of 13 High Quality Educational Website Templates. Let me wrap up this post with a quote. Michelle Obama, former first lady of USA said during her speech at National Arts and Humanities Youth Program Awards,
"The one thing people can't take away from you is education. And it is worth the INVESTMENT."
I hope you invest in the right place to create an excellent website for your educational institute. I hope this list of 13 High Quality Educational Website Templates help you decide!