In 2015 and 2016, Restaurant Pro was the best Restaurant website template and still continuing its popularity. The elegant restaurant website template comes with powerful sections that you need to make a stunning restaurant website. People love the bold, beautiful design. Whatever you love to do with your restaurant website, there's a section in Restaurant Pro to help you do it.
Restaurant Pro is a high-quality premium template for making an outstanding website for your restaurant, cafe, coffee shop, cuisine, food cart or any other catering website.
A very brilliant work done by Technext Limited .
Check out the Video Demo
For quick overview of Restaurant Pro template, here is the video demo. It illustrates the sections included in the template. You will get the look and feel, user experience and animation styles in the video. Please take a look at the video if you don't have time to go to the live preview of this elegant restaurant website template.
What's Inside in Restaurant Pro?
Gorgeous Pricing Menu:
Restaurant Pro has a very well organized pricing bar for the customers. Very nicely arranged the pricing table diving into four different parts; Breakfast, Special, Dinner, Deserts.
And if someone wants to have a complete view of all the foods there is an all button.
And all the price comes with a picture of the food!! Isn't it Cool?
Watch! Think! Decide! Opportunity for the customers.
Featured Dishes Menu:
Every restaurant has some very special dishes for different days and occasions. There is a very nice slot for the featured food menu. This menu also comes with images of the foods. Let the customers know what different items they are going to get.
Why do you prefer Restaurant Pro – the Elegant Restaurant Website Template?
One-page layout:
When it is about a restaurant, it is comfortable for the visitors to have a look on the entire website at one single run. Visitors and customers are going to find all the things they need to know in a single page. It is one affirmative option. A one page layout website loads faster than multi page template and reduces the complexity of jumping from page to page to view the desired information. So, Restaurant pro is designed using the One Page layout and you can easily put every content suitably.
Graceful design:
Restaurant Pro-Elegant Restaurant Website Template is created using HTML5, CSS3, Bootstrap. The amazing bright design is very usual to increase public interest. It's hard to imagine a more beautiful and decent view for a restaurant template. We arranged every possible image and details here.
Mobile responsive:
People nowadays mostly do their works on their cell phone or tablets.
Checking one restaurant menu or making a reservation has a high possible rate of cell phone using.
The most frustrating moment is when the very expensive template you've bought doesn't have a smooth response on smartphones. So it is very important for the template to be mobile responsive and we confidently assure that Restaurant Pro comes with 100% mobile responsive ability. Yes, 100%!!
The template is designed with powerful CSS framework Bootstrap.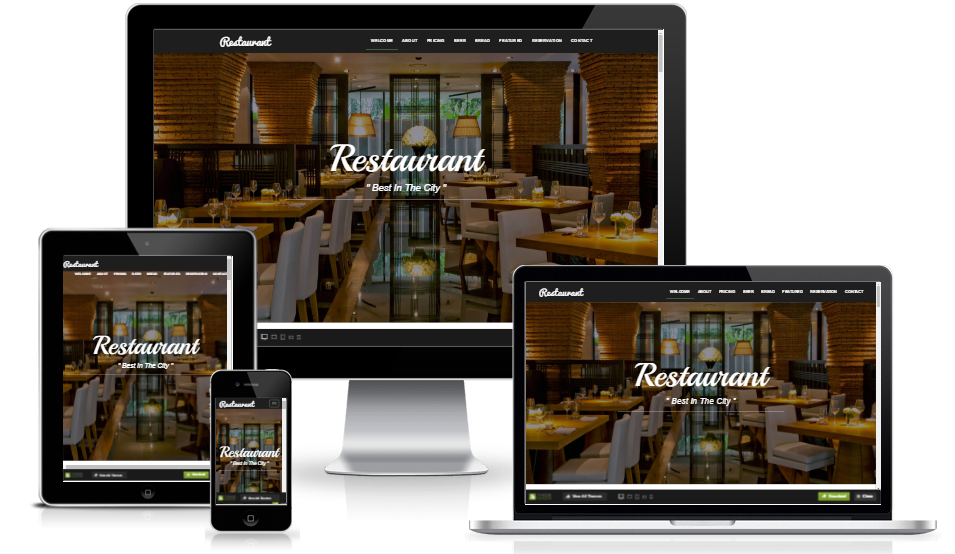 Features
The template is designed with Bootstrap, HTML5, jQuery and CSS3. It has sleek and clean layout with modern design trend.
Twitter Bootstrap
Responsive – 100% Mobile-Friendly
Elegant look and feel
Most Downloaded Restaurant Template
Cross Browser Support
Lifetime Updates
5 Star Support
It is you who decides!
Restaurant Pro is the best elegant restaurant website template in this price range. Just make sure that you invest your most valuable money on the best product around.
Thanks in advance for using!