Freelancing is the most popular buzzword in today's commercial world. If you are good at something and want to work from home, then you know what the word "Freelancer" means. People like you are more interested in freelancing because it has more benefit over office business. To do so, you need a place where you can show to your client in which you are good at and what you want to do or even showcasing your previous works or projects. So, you need a site for online presence. Here we are giving you John Doe– Free Responsive HTML5 One page Template for your complete portfolio or resume.
This HTML5 Template is free for personal and commercial use, please don't remove the ThemeWagon credit link from this free HTML5 template.
Recommended Reading:
Dark Joe – Responsive One Page Personal Website Template with Bootstrap
Creative and Elegant Design
John Doe has an unusual classic design that surely will catch your clients attention. It is built with the best CSS Framework- Bootstrap and with the latest version of it. Also, it comes with eye catchy CSS3 animation and jQuery plugin. The color combination of John Doe is impressive and classy and just works great with the subtle design, which is perfect for your portfolio.
Usable Free One Page Portfolio Site for Resume
The design does matter so do the usability. Free doesn't mean crap. So the main focus on building this Free Template was a better usability along with a standard design. John Doe is a combination of these two most important things. You can check the live demo and decide for yourself. This Free Template is a one page portfolio template which will fulfill your every need. Check for yourself.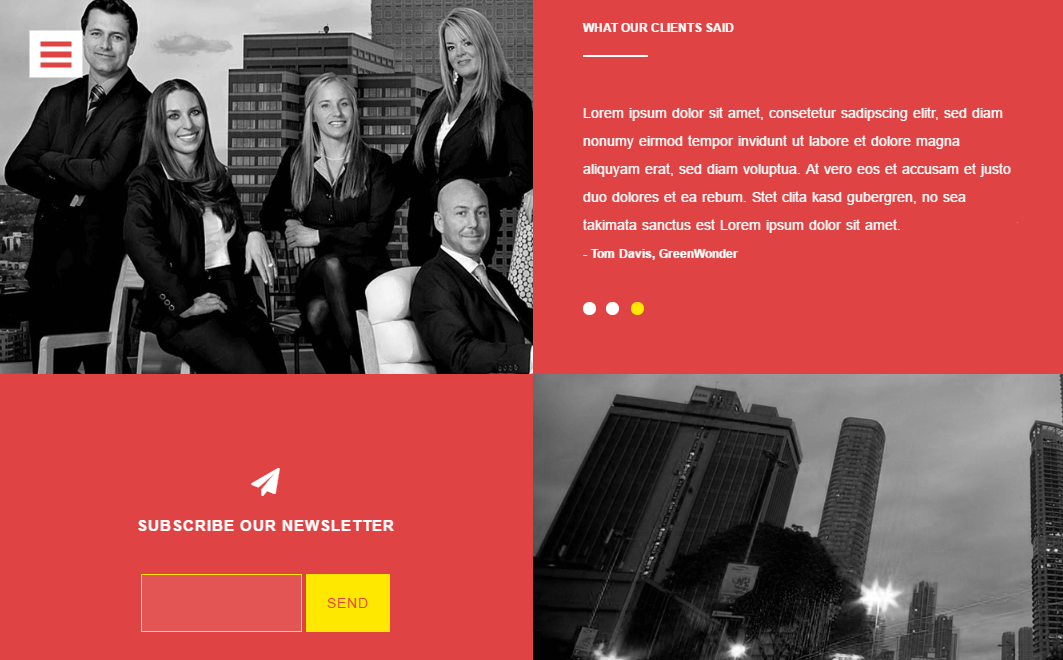 Mobile First – Responsive Portfolio Website Template
A cool and classy template mean nothing if it's not mobile friendly. Around 90% people browse the internet from their handheld devices nowadays. So if your site doesn't work properly on their devices then why design a site? We thought of this and built John Doe with the mobile first design concept. We developed this template for mobile first and then for larger devices. So it is entirely responsive.
JohnDoe – the free one-page portfolio website template has a responsive layout with the bootstrap grid system. It will fit well in your mobile phones and tablets along with desktop and laptop. Check out how Google is taking action on the non-responsive websites from 21st April, 2015.
Check this out. All device resolution supported. We have checked by ourselves.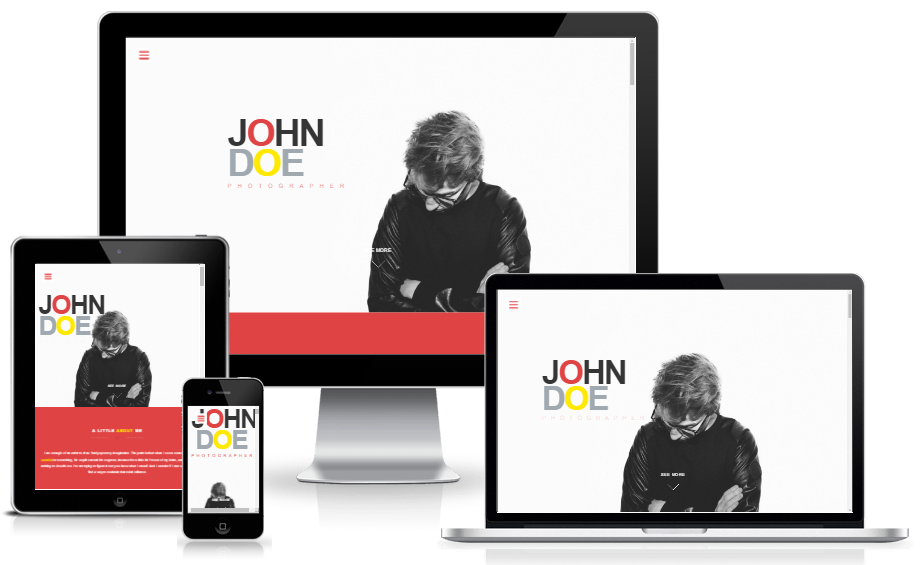 One Page Portfolio/Resume Website Template Free Download
A portfolio or resume website can be a multipage or single page. But why bother with a multipage site when you can show everything in a one page template? Nobody does that. Because single page site means the easy to use, less data, more speed. That's why John Doe comes with one page concept. There are a lot of fresh section like about section, the project showcasing section, blog section, address section and social icons. What more do you need?
Think for yourself. You can use this template for different works like,
Portfolio Website
Resume Website
Personal Website
Gallery Website
Consultant Website
Coach Website
Other
SEO Friendly Free One Page Portfolio Website Template
SEO friendliness is another major criteria of any website. You have a website which doesn't show up on search engine list is good for nothing. So you must have a site that is SEO friendly so that Google or Bing index your site in around first position. John Doe is an SEO friendly Free Responsive HTML5 template. Just replace the texts and images with your one and Google will surely rank your site.
Proper Documentation
Why are we providing this template in the first place? So that, people who don't have any developing skills but needing a site can create one all by themselves. No wasting time on learning web development and no money waste on hiring a developer. If you have no coding skill, it's not a problem. You can customize John Doe and launch your website. John Doe has proper documentation. There is a meaningful comment on every section of the code, so you will know where to look and what to change. Still, if you face any problem, please contact us for support. But, if you have even a little bit knowledge of HTML5 and CSS3 you can redecorate John Doe and design it more the way you like.
Some Cool Features
Creative and Unique Design
Full width header with image background
Optimized Code
Agency Website Template
Free One Page Portfolio Website Bootstrap Template
Cross-browser Compatibile
Smooth CSS3 animation
SEO Optimized
100% Fully Customizable
Sticky Header
Google Fonts
Built with HTML5 & CSS3
Strong focus on Usability and User experience
Responsive layout
CSS Framework – Bootstrap 3
FontAwesome Icon Integrated
stylish UI
Well commented coding
Easy to use
It's Free!
Some real websites using this Free One Page Portfolio Website Bootstrap Template
Link 1: MARK DAVIES – IT CONSULTANT
Link 2: موقع مؤسسة إدارة البناء للمقاولات العامة
Most Downloaded, Most Popular and Widely Used Free Portfolio Template
Over the years, John Doe is downloaded around 5000 times. It was a great pleasure for us to see you using this awesome template. We humbly promise you to create more free & high-quality HTML5 Bootstrap CSS3 templates for you!
If you like this Free One Page Portfolio Website template useful, please don't forget to buy us a coffee!
Free Responsive HTML5 Bootstrap3 Website Templates | Responsive Bootstrap Themes @Themewagon
There are a lot of free responsive html5 website templates and responsive bootstrap themes in Themewagon.
You can browse all of our Free HTML5 Website Templates | Responsive Bootstrap Themes here.
Help us by sharing Pebble Time with your friends!
Know someone who would be just as stoked as you are about Pebble Time? Share our campaign with them through the "Share this project" button at the top or below. Sharing is caring! Thanks in Advance for using!