Savory – Free Multi Page HTML5 Portfolio Template
When it comes to introducing free, fresh and fully working templates for you, ThemeWagon has always been a step ahead. As a result, it has become officially the number one site for free HTML5 templates. This time we present you another free yet excellent bootstrap template. Savory, a free multi page HTML5 portfolio template supported and designed by Mashup Template.
If you are new to the web development and plan to develop your online portfolio or blog site with a starter template, giving Savory a try will be a nice idea. Undoubtedly, it's cool enough to satisfy both the creator of the website, which would be you and the person visiting it, which would be most important to you! Then again, for the actual premium template with state of the earth design, excellent graphics, premium support and unlimited possibilities, I strongly suggest you to check out all of the high-quality premium website templates.
Will You Want This Free Multi Page HTML5 Portfolio Template?
If you want to be a personal website owner and you think your portfolio and previous project work needs showcasing, this template is the template to get for you. It will perfectly fit any personal websites or blogs. Additionally, any agency can use this Free Multi Page HTML5 Portfolio Template. And, with necessary modifications, it can be used for other purposes too!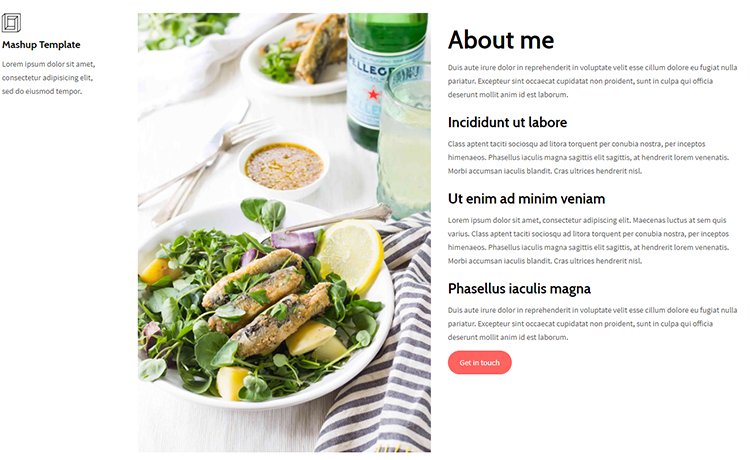 Responsive and SEO Friendly Free Template
The importance of your website to be an SEO (Search Engine Optimized) is high. Because, it is the work of an SEO friendly template to make sure that your website gets the proper rank for a particular search result in GOOGLE and other search engines. In this case, our free HTML5 multi page portfolio template takes care of that too! Its unique URLs and meta descriptions help you to get higher ranks in the search results
Afterwards, it is a template based on Twitter Bootstrap. Meaning, no matter what device you are from, your site will look stunning. It ensures an uninterrupted view on bigger screens as well as on tiny displays. Moreover, apart from being mobile-friendly, Savory also works on modern and popular browsers very fine.
Multiple Pages at a Glance
Multiple pages of Savory are
A Homepage containing different portfolio cards which will link to your probable projects.
An About section with image that enables you to describe you or your blog/agency.
The Service section is there to help describe the services you offer.
It also contains a Contact page with social media icons!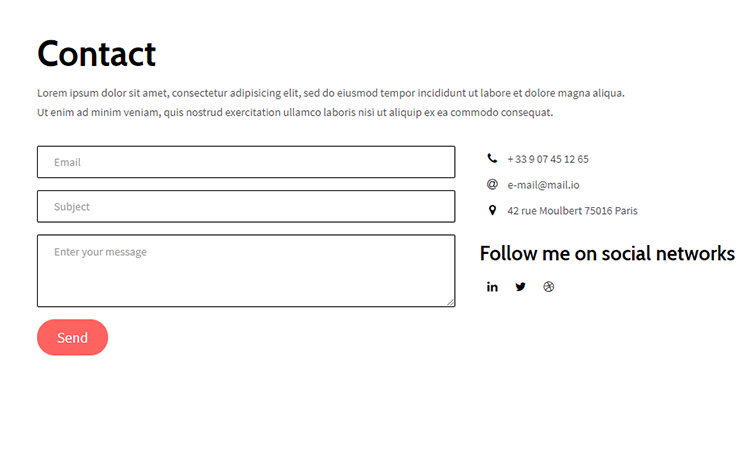 Key Features
Sticky Side Bar
CSS3 Animations
Responsive Layout
On Hover Hover-lay
Social Media Icons
Bootstrap 3.x Based
FontAwesome Icons
Built-in Contact Form
Clear & Minimal Design
Cross Browser Support
Four Built-in Demo Pages
Necessary Components Available
Slide-out Menu on Smaller Screen
More Free and Premium Responsive HTML5 Website Templates
A vareity of premium templates and free responsive templates offered by Themewagon. You can always check them. Then, if you're interested to know further about niche-specific free themes and other web technology, visiting our blog would be a nice idea!
Got something to discuss?
---
Guest
hello, when you browse on cell phone the image logo disappears, why?
Guest
como hago para que la pag de conctactos envie lo que introducen a mi correo
Guest
Guest
Why can't I edit the css ? 🙁
Guest
What's wrong with editing? Isn't the file opening or you can't write something on it?
Guest
Why can't I edit the css ? 🙁
Guest
What's wrong with editing? Isn't the file opening or you can't write something on it?
Guest
Guest
Guest
Savory – Free Multi Page HTML5 Portfolio Template
Live Preview
Open source
Use in commercial projects

Life time free updates
Get new themes or big discounts in your inbox. Never spam.