Taste – Engaging Free Bootstrap 4 Restaurant Template
Taste, the free Bootstrap 4 restaurant template is the new HTML5 template with under-the-hood capabilities to make your performance better. With a distinct look and 9 distinguished sections, Taste is offering you the chance to cook beautiful dishes in terms of constructing an authority website for food and catering business. Create an impression on the audience and give them an unforgettable experience so they decide to come again.
About Taste: Free Bootstrap 4 Restaurant Template
Taste is a one page HTML template with Bootstrap 4 in its core and have an ample of beautiful sections. It will allow you to describe your offer, show the food menu, update the news, upload image to the food gallery, and more. Since the template is well-crafted with multiple sub-categories in mind, one can easily adapt it to any food-related shop. Use this free website template for cafe, fast food, bakery, pastry shop, food lounge, and catering other than the restaurant.
The typography is clean and beautiful: Playfair Display for the headings and Raleway for other texts from Google Fonts. You can create a new website or update your existing one by downloading and customizing Taste. The seamless and flexible layout of Taste will be helpful for you. Slick animation, pop-up reservation form UI, appealing menu, lightbox image gallery, and blogging section – all those features will be appreciated by your users. Responsiveness is another crucial factor for modern websites and Taste is completely mobile-friendly. Your visitors can easily access the website from their mobile phones, tablets, and any other hand-held devices.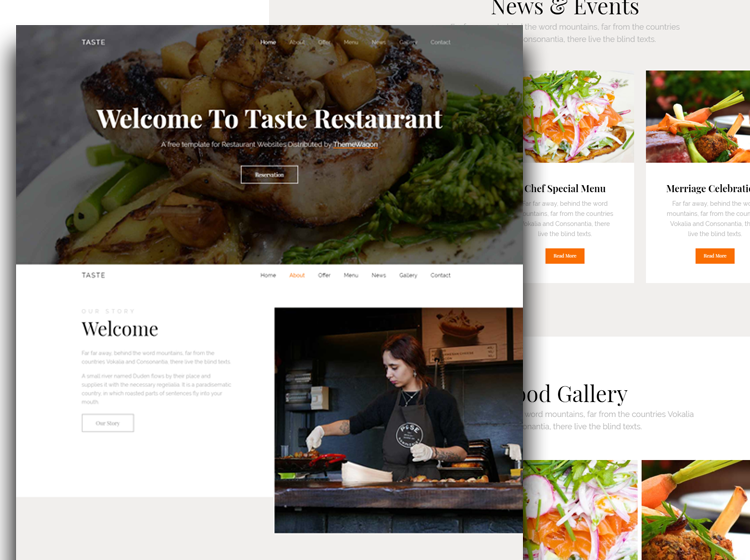 TL;DR We have a long blog post covering different types of website templates. In that post, you will find a couple of top free restaurant website templates. Also, you can check our high-quality templates built with bootstrap 4.
Features:
Carousel Slider
Date Picker
Fixed Top Navigation
Sortable Food Menu
Google Maps
Hero Header
Reservation Form UI
Scroll Animation
Lightbox Image Gallery
Social Media Options
Inside The Box
1 HTML File
SCSS File
Demo Images
9 Unique Sections
11 JavaScript Plugins
Credits
Suggestion for you (Premium template)
Meet Posh, a great template that has 174 built in layouts and 32 set of components. It has a restaurant demo which you can use to make a cool restaurant website.
FYI: This is an HTML template, don't assume it as a WordPress theme.
Got something to discuss?
---
Guest
You need to know back-end coding such as PHP/Ajax. Otherwise, search on Stackoverfolw or get help from a developer. Thanks.
Guest
Un buen tema muy completo.
¿Como ponemos hacer funcionar el formulario de contacto y el de reserva?
Gracias.
___________________________________________________________
A good template, very complete.
How do we put the contact form and the reservation form to work?
Thank you.
Guest
Hi
A nice template but how do I set the mailto details?
Thanks
Tony
Guest
Hi
A nice template but how do I set the mailto details?
Thanks
Tony
Guest
who can i set mail to receive message or order ?
thanks.
Taste – Engaging Free Bootstrap 4 Restaurant Template
Live Preview
Open source
Use in commercial projects

Life time free updates
Get new themes or big discounts in your inbox. Never spam.