Law – A Bootstrap 4 Template for Your Law Firm
Let's assume you're thinking of building a website for a law firm or something similar. And, you're in search of a template for that. Congratulations! You're in the right place! Themewagon has always been a step ahead to present you with new and useful templates regularly. This time we are offering you a brand new Free Bootstrap 4 Law Firm Template. Firstly, the template "Law" is an all-in-one, responsive, HTML5 lawyer website template. Then, it is beautifully crafted and very easy to use. So, without any further delay, let's get an inside view of this Free Bootstrap 4 Law Firm Template
Multipurpose Usage
This template has multipurpose usage. Its structure fits any Lawyers, Attorneys, Legal Advisers, Law Firms, Legal Offices & other legal and law-related services. To add, it is completely free and suits smoothly with any legal affairs or consultancy website. Furthermore, with necessary changes in images and customizing the text, the creation of any of the agency website can be possible. Though, it helps if you know the basics. But, you require no extraordinary coding knowledge!
Available Features & Technologies Used
First of all, this Free Bootstrap 4 Law Firm Template used some modern technologies like HTML5, CSS3, Bootstrap 4, jQuery, etc. These ensure super flexibility and responsiveness of any website which took this template as their building block. Furthermore, this template offers tons of features as well. For example, slider, fixed menu, contact menu are some of them. A sticky header sticks all throughout the page. A change in color in the sticky header text makes the navigation even smoother! This color change actually works as a navigation anchor which lets you know where you are at the site. Then, further multiple necessary sections are also at your service.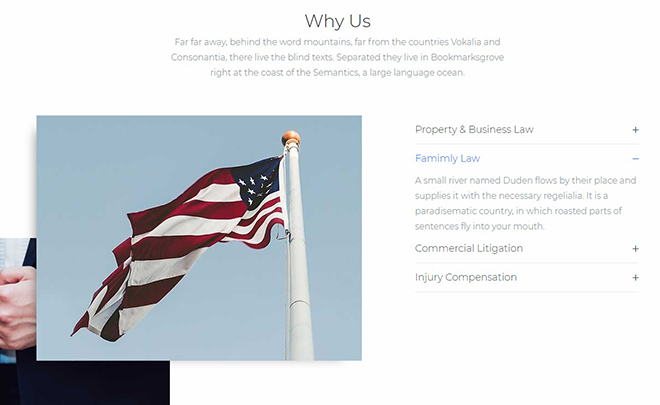 A testimonial section takes opinions from your previous customers and helps you to build up the trust of your visitors. Though, sections like about us, services, team come with different names, (i.e. why us, practicing areas & attorneys, accordingly) they serve the same purpose. Additionally, features like social media icons, ghosts buttons enhance the beauty of this Free Bootstrap 4 Law Firm Template.
Awesome Responsiveness with Bootstrap 4
Bootstrap is a famous CSS framework. Hundreds of thousands websites use this to create a fabulous website. Latest release from them is Bootstrap 4. This stunning creation is here to dominate the market. And this Free Law Firm Template is built over the awesomeness of Bootstrap 4. So, no matter if the screen is smallest or biggest, responsiveness is assured.
Features of This Free Bootstrap 4 Law Firm Template
Bootstrap 4
Stylish UI
Slick Slider
Ghost Button
Google Fonts
Sticky Header
SEO Optimized
Multiple Sections
Responsive Design
One-page Template
Eye-catchy Preloader
Anchors on Sticky Header
Cross-browser Compatibility
FontAwesome Icon Integrated
Burger Menu (On Smaller Screens)
Drop-down Menu (On Smaller Screens)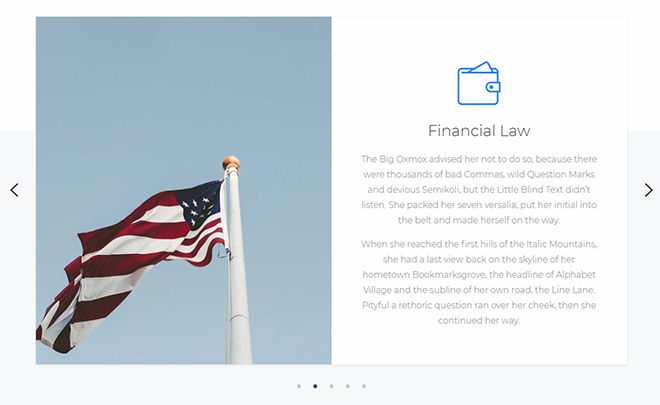 Credits
Probootstrap took all the responsibility to create this stunning free law firm template. A huge round of applause for them!
Wrapping Up
If you like this template, we offer a lot more Free Templates at Themewagon. However, top-quality, stunning, value for money Premium Templates are also available here. So, why don't you visit them all?
Got something to discuss?
---
Guest
I pay a visit each day some web pages and
sites to read articles or reviews, except this web site gives quality based content.
Guest
Guest
I pay a visit each day some web pages and
sites to read articles or reviews, except this web site gives quality based content.
Guest
Guest
My brother suggested I may like this web site. He
was once totally right. This put up truly made my day. You can not imagine just how a lot time I had spent for
this information! Thank you!
Guest
Error when install the theme: missing style .css file
Guest
It's not a WordPress theme
Guest
At the moment, I'm not sure what code to put in to make the 'contact form' send details to my email (I'm a beginner with html coding), or what to insert into the link for the 'read more' sections….hopefully, someone can advise?!
Guest
Hello Geoff,
Hope you're doing fine. The thing is, free templates usually do not contain a working contact form. I'll suggest you to hire a developer who can code this for you or simply go through the Premium Templates to buy one which is convenient for your project and also has a working contact form built-in.
Guest
Hi
The theme is looking cool and HTML structure is very good. but at the responsive layout is having some issue at 1024px and 768px, please check or review in this specific screen size
Open source
Use in commercial projects

Life time free updates
Get new themes or big discounts in your inbox. Never spam.