Resume – A Bootstrap 4, Simple Yet Exquisite CV Template
Having an online presence is a crying need in today's world. Be that on social media or your personal website. However, in today's hectic world, most precious thing for anyone is time. You might feel like having a personal website but managing time might be a tough job. In that case, you have plenty other choices as well. That includes going for a clean, fresh, simple template.
And believe me, there are hundreds of them out there. That even, totally free and open to use! Today, at Themewagon, we're presenting a beautiful and simple Free Bootstrap 4 CV Template. "Resume" is a free CV/ Portfolio/ Resume template. Though very flat and simple in design, this template carries some top-notch and advanced, modern technologies. Let's see!
Simple, Minimal, Clean, Flat template
Nowadays, the idea is quite simple, the lesser, the better! People never like overcrowded things. This Free Bootstrap 4 CV Template bears the idea arrantly. Cause, it contains a real simple, minimal, clean & flat design. But that covers all the necessary areas. So, though being quite simple, it never fails to serve the purpose. Rather, because of the real swift UI, site's visitor gets a better impression. Animated social icons are present. Then there is the left aligned, fixed navigation bar. A smartly placed marker keeps track of the position you are on the page. Additionally, a sweet little burger menu/drawer menu appears to fit the screen size when needed.
Technologies Used
Though it is quite simple, it doesn't lack behind when it comes to the technologies it carries within. It uses technologies like HTML5 for smoothness, CSS3 for animations. jQuery framework also serves its purpose. Moreover, modern technologies like Bootstrap 4 works to ensure the pixel perfect responsiveness. In combination, these technologies ensure a smooth, stable, easy experience throughout all the major browsers and platforms.
Multiple Sections
This clean and flat template contains almost no image. Still, it's beautifully crafted with smartly aligned texts and animations. Multiple sections allow you to demonstrate your education, experiences, and skills.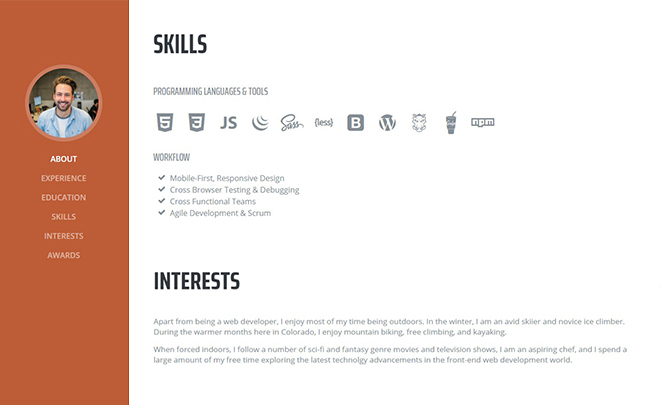 However, there are sections to describe your interests and your achievements too! Make sure you use of all of them and create a cool CV of your own. Because, this is a perfect CV template.
Powered by Bootstrap 4
The awesome responsiveness of this template is ensured by the famous CSS framework Twitter Bootstrap. So, no matter from which screen people see your resume, from a 5″ smartphone to 27″ Mac, from the latest version of IE to Chrome to Safari, it'll look stunning.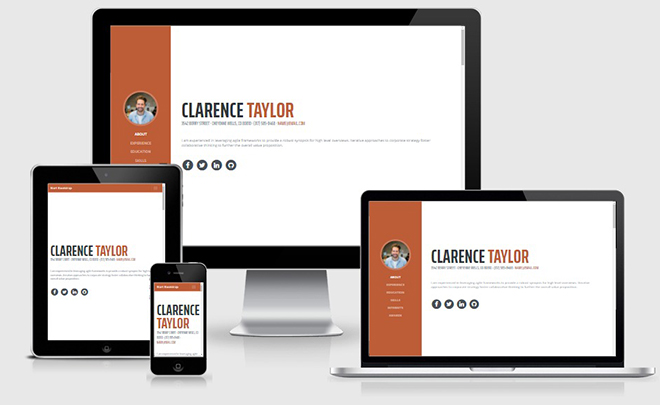 However, it doesn't stop there. Our free resume template uses Bootstrap 4, the newest arrival of Bootstrap family. As a result, pixel-perfect awesomeness is assured!
How to Use
Using this free CV template is as easy as pie! You just download it & find out the HTML and CSS files provided. Then, make necessary text or image changes there, and you're ready to go! Seriously, you can ignore everything else! However, if you think you have the ability to play around a little more, you can find out the way of advanced usage on the Github page.
Key Features
Bootstrap 4
1 HTML File
Burger Menu
HTML5 & CSS3
Multiple Sections
Smooth Animation
One-page Template
FontAwesome Icons
Cross-browser Support
Clean & Minimal Design
Fixed Left Aligned Sidebar
Hover Animation on Icons
Animated Social Media Icons
Navigation Scrolling Page Anchors
Credits for This Free Bootstrap 4 CV Template
Start Bootstrap is the original author of this eye-catchy, responsive resume / CV template. So, they are the one who did all the hard-work and made it available for free. Big cheers to them!
Got something to discuss?
---
Guest
Hi. Thanks foe this!
Just want to ask. How to make the profile image appear in mobile view? Thanks
Guest
Hello! Will you kindly submit a ticket describing your issue?
Guest
Hi. Thanks foe this!
Just want to ask. How to make the profile image appear in mobile view? Thanks
Guest
Hello! Will you kindly submit a ticket describing your issue?
Guest
Thank You so much. I feel burdened by your generosity.
Guest
I downloaded this template and it works tremendously. The overall design and functionality are very smooth. Editing existing content, or adding additional content was very easy.
Guest
Thank you Jack. Your kind words mean a lot to us.
Resume – A Bootstrap 4, Simple Yet Exquisite CV Template
Live Preview
Open source
Use in commercial projects

Life time free updates
Get new themes or big discounts in your inbox. Never spam.