Digital marketing is the new sensation today. You can not ignore the absolute necessity of your digital presence. It's really beneficial to have a personal or portfolio website for you or your own agency. Now, it's been long since you needed something and Themewagon didn't provide! As a consequence, here we are now. Presenting you a new Free Responsive HTML5 Portfolio Template known as "Neat." It is a multi-page, multi-purpose, free HTML5 template. Furthermore, it has usage as personal, portfolio, blog, agency or freelancer website. So, continue with me, let's get to know a little more about this template!
Multipurpose Free Responsive HTML5 Portfolio Template
Neat is a multipurpose template. Though it looks like only a portfolio template at first glance, it fits right into other similar categories as well! Those categories include any personal or freelance websites. In addition, the creation of a website for any small agency or start-up is also possible with this beautiful template. The requirement for lots of coding knowledge? What's that? You just take care of the texts and images. Your site will soon be up and running!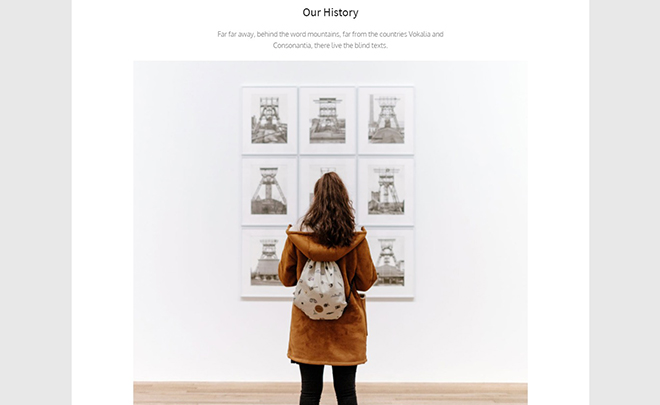 Multiple Pages & Attractive Features
This is not only a multipurpose but also a multi-page template as well! It has several distinct pages serving different purposes. On top of everything, the home page gives an overview of the total content. This page is equipped with some attractive features like on-hover animation over images, count-up counters, slider and more. Then, the work page is a nice place to showcase your works or projects. This page also contains eye-catchy animations. The blog page has possible usage too. Moreover, this page contains drop-down option on the navigation menu. About page is perfect for introducing yourself to the visitors. Apart from that, with the decrease in the size of the screen, it adjusts itself with a burger menu. Upon clicking on that menu, a beautiful navigation panel arrives from off-screen with an eye-catchy animation.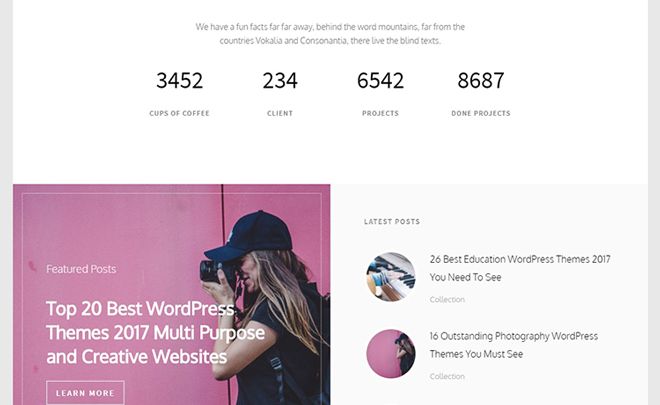 Now, there is a pre-made contact page in the template. Unfortunately, the free version does not provide a working contact form. But, you can easily get rid of that handicap by using some technique. A footer section is available on the bottom of each of the pages. One of the techniques may be, using the social media icons located near the footer section. Provide ample of links to your social presence there, redirect the crowd to your desired places!
Awesome Responsiveness
You never know who might visit your site from where. In that case, you have to be prepared for everything. Thanks to the creator, while creating this template they used Twitter Bootstrap v3.3.5, a CSS framework which has a reputation for making sites responsive everywhere. So, no matter the device, the screen size, the browser, your site will fit them all. Just make sure to use this Free Responsive HTML5 Portfolio Template while creating.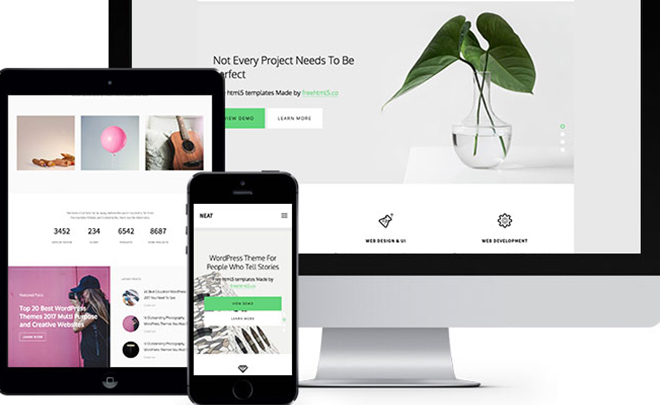 Technologies Used
This multipurpose template holds some of the top-notch technologies out there. They include HTML5, CSS3, jQuery and Sass. Because of them, features like counters, animations, sliders are easily available. Special SCSS files are also available. It makes the customization even easier!
Key Features
Pre-loader
Flex Slider
Burger Menu
Ghost Button
Bootstrap 3.3.5
CSS3 Animations
Count-up Counter
Easy to Customize
Social Media Icons
Back to Top Button
On-hover Dropdown
SCSS Files Available
Multi-page Template
Hover Effect on Image
Multipurpose Template
Cross Browser Support
Widgeted Footer Section
Custom Icons from IcoMoon
Credits
FreeHTML5 team designed and developed this beautiful Free Responsive HTML5 Portfolio Template. They deserve appreciations for their arduous effort!