Restaurant, A free restaurant template designed by ThemeWagon. A very elegant, responsive, one-page restaurant website template designed with Bootstrap 3, HTML5, jQuery & CSS3. This is one of the most beautiful & useful free restaurant website template on the internet. Check yourself to believe it.
Very clean and professional design! With awesome jQuery effects and CSS animations. This is one of the best free restaurant cafe html5 templates so far with bootstrap!
A completely free restaurant template you can use for your personal or commercial use.
This template is free for personal and commercial use, just don't remove the ThemeWagon credit link from this free HTML5 template until you donate.
Check out all the free & premium Restaurant website templates built with Bootstrap & HTML5

Some real websites using this Free Restaurant Template
More than 5000 developers have already downloaded this free restaurant template. Many of them built a restaurant website easily without making a lot of changes. Some people kept every element, every section of this free bootstrap template as it is and add their own content. This proves that this free restaurant template is usable, easy to customize, easy to make a restaurant website with it without any coding knowledge, without making a lot of changes. This is really really great for any developers or any not technical personal who loves to create a website with their own.
Link 1: Pfadibeiz – Der Treffpunkt
Link 2: The Greenhaus Cafe
Elegant Design
The FREE Restaurant Cafe HTML5 Template is a one of the best elegant restaurant template so far! Ask me why? Well, it has the elements, icons, fonts and all so great, you will be overwhelmed. Knowing that it's free will surprise you literally. We bet you won't find any other elegant template of this kind on the web!
Using elegant and clean images with parallax effects make it very unique and eye catchy! If you have a great restaurant with awesome foods or have a catering business, we guarantee you that your sell will increase and your customers will be delighted browsing your elegant restaurant website!
The Best Free Restaurant Cafe HTML5 Template on the web!
Off course, there are many other free restaurant cafe html5 templates on the web, but definitely, this one is the best one. You can get it free, use it easily and the design is world class. You can't deny it, can you? Check and see the differences between the other restaurant templates in the market and you will easily understand.
One Page Restaurant Website Template
One page is a new web design trend. People feel it easy to browse a one-page website. Everything is organized in the same place without having so much effort to find all the contents in the various page. Themewagon designed the free restaurant cafe html5 template in such way so that your customers find it easy and make themselves comfortable while browsing your elegant one-page responsive restaurant website!
Responsive Template – Mobile Friendly Design
Using world's best CSS framework Bootstrap, we have designed free restaurant cafe html5 template a responsive one. In past few years, the number of mobile visitors has rapidly increased! So if you don't use a mobile friendly responsive website template in your restaurant or cafe or any catering business website, you will gradually loose your business.
The Free Restaurant Cafe HTML5 Template is 100% responsive template and mobile ready. You can test it from google mobile friendly test!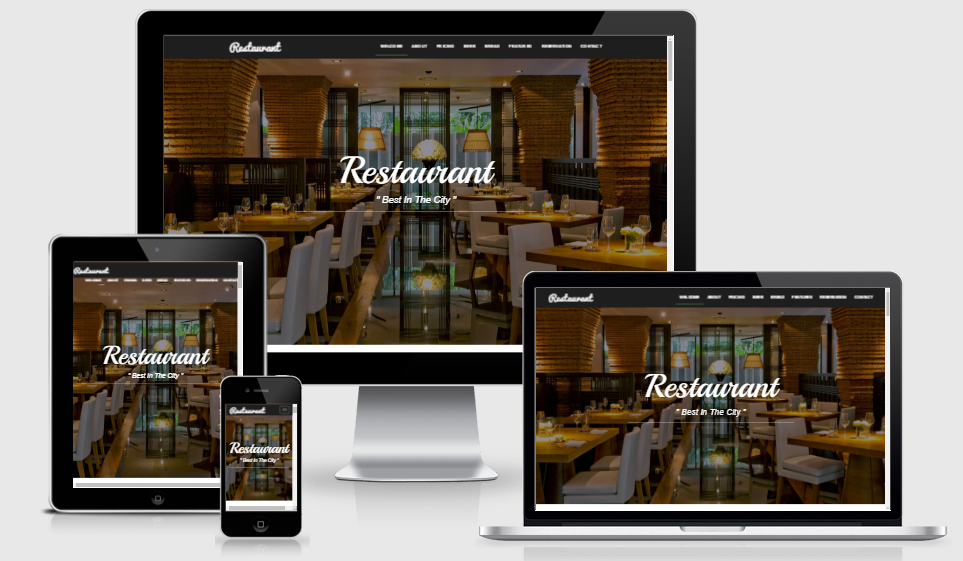 Free Restaurant Cafe HTML5 Template
Some asked me recently, what is the alternate of WordPress. People feel insecure using it as it requires maintenance and updates all the time. People are claiming that many plugins help hackers to create back door and their website are hacked now and then. So my suggestion was, if you don't need content management system, you don't need to use WordPress actually. Instead, you can use plain and simple HTML5 website template. There are a lot of free HTML5 templates there. Just pick the right one for you.
If you have a great coffee shop or the best restaurant in the city or a popular catering business, you may try this responsive one-page free restaurant cafe html5 template to grow your business and impress your customers!
Coffee Shop
Restaurant
Takeaway
Fast Food
Catering services
Easily customizable, SEO friendly template
The restaurant cafe html5 template is a flexible and easily customizable template. There is well documented code – you can publish your website by adding your contents within less than an hour without having any coding skill.
If you find any problems or errors, don't hesitate to contact us for support. We are ready to help.
Some Cool Features
Unique Modern Design
Full Screen Header Background
Optimized Code
Elegant Design
Free Restaurant Cafe HTML5 template
Clean Code
Cross-browser Compatibility
Smooth CSS3 animation
SEO Optimized
100% Fully Customizable
Sticky Header
Google Fonts
Built with HTML5 & CSS3
Strong focus on Usability and UX
Responsive layout
CSS Framework – Bootstrap 3
FontAwesome Icon Integrated
stylish UI
Well commented coding
Easy to use
It's Free!
If you like this Free Restaurant Cafe HTML5 Template useful, please don't forget to buy us a coffee!
150+ Free Bootstrap HTML5 Templates for Responsive Websites
There are lot of free responsive html5 website templates and responsive bootstrap themes in Themewagon.
You can browse all of our Free HTML5 Website Templates | Responsive Bootstrap Themes here.
Help us by sharing Pebble Time with your friends!
Know someone who would be just as stoked as you are about Pebble Time? Share our campaign with them through the "Share this project" button at the top or below. Sharing is caring!